The First and Only Weekly Online Fanzine Devoted to the Life and Works of Edgar Rice Burroughs
Since 1996 ~ Over 15,000 Webpages in Archive
Volume 0846
Presents
ERB ECLECTICA
ERB Newsmagazine 2003.10.17


Now in Archive
~ As Part of Our Series of Bios on Burroughs Family Members ~
FLORENCE GILBERT BURROUGHS
From The
Danton Burroughs
Family Archive

A rare
Florence Gilbert clipping
from a Chicago newspaper

The Johnstown Flood (1926)
Starring
George O'Brien
Florence Gilbert
Janet Gaynor

FLORENCE GILBERT BURROUGHS
ERBzine Bio I
ERBzine Bio II & Filmography
The IMDB.com Mini-Bio

Born and mostly raised in Chicago. Mother took her and brother Eddie to Los Angeles when she was 14 (c. 1918) but reportedly looked a few years older, and got her into movies. Worked for Christy and Fox Studios. Around 1926, married entrepreneur Ashton Dearholt and bore him two children, son Lee and daughter Caryl Lee, and left show business permanently to tend home and family. Divorced Dearholt after he returned from a business trip to Guatemala with would-be starlet Ula Holt in tow & insisted on Holt living in the Dearholt home. Married Dearholt-family friend Burroughs, 28 years her senior, who had admired her from afar, had recently also separated from his wife. Left this marriage allegedly because, after a period of happiness, during which they moved to Hawaii, Burroughs began drinking, treated her coldly, and was verbally hostile towards her son, while lavishing affection on her daughter. Florence Gilbert's third husband was Albert S. Chase who legally adopted both her children. She remained socially connected to the film community through her professional friendships and marriages. Daughter Caryl Lee eventually became an animal trainer in Hollywood, using the name Cindy Cullen.
---
Travis Fimmel as Tarzan - John Clayton Jr.

Australian-born Travis Fimmel, best known for his striking Calvin Klein advertising campaign, makes his acting debut as the legendary Tarzan in The WB's Tarzan, a modern-day retelling of the classic adventure story. Fimmel was raised on a dairy and beef farm in the small town of Echuca in Victoria, Australia. The youngest of three brothers, Fimmel worked on the family farm, milked cows, fished, hunted, camped and rode motorcycles on their land. After an injury forced him to quit the Australian Football League, Fimmel enrolled in the Royal Melbourne Institute of Technology to study commercial achitecture and engineering. After one year at school, he decided to join a friend on a trip to London with the intention of returning to finish school, but ended up traveling and living in Europe for two-and-a-half years. Growing restless, and with only a small amount of money, Fimmel headed to Los Angeles to pursue his dream of acting. Within a matter of days, modeling scouts discovered him and booked him for the now world-famous Calvin Klein campaign. Fimmel, still determined to make it as an actor, continued working with an acting coach and auditioning. Fimmel was tapped for the role of Tarzan after a worldwide search over four continents to find the perfect actor. Fimmel has relocated to Toronto while filming the series.
Sarah Wayne Callies: Jane Porter on Tarzan

Starring in her first leading role on television, Sarah Wayne Callies plays Jane, the level-headed detective whose world is turned upside-down by the mysterious Tarzan. Raised in Honolulu, Hawaii, Callies is the daughter of two university professors. She placed a strong emphasis on education and balanced her schoolwork with her passion for the stage. In high school, she landed her first lead in a production of Shakespeare's As You Like It. After graduating from the Ivy League's Dartmouth College with an undergraduate emphasis in Feminist Studies and a Senior Fellowship in Indigenous Theology, she attended Denver's National Theatre Conservatory to pursue her love of acting and to complete her Masters of Fine Arts degree. Once finished with school, Callies moved to New York City and secured her first acting job on camera, a role opposite Oliver Platt in Queens Supreme. She has since appeared on Law and Order: SVU and Dragnet. During this time, she was also chosen as one of the new faces of L'Oréal, and has been featured in an advertising campaign for the company.
Read more about the new Tarzan series
and all the other Tarzan TV series from years past at
ERB-TV ERBzine 0014
---
E-BAY WATCH
---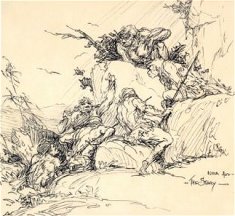 ---
LOOKING NORTH: Royal Canadian Mounted Police Illustrations
---

The Potlatch Collection by Karal Ann Marling
A look at Hal Foster's legendary Mountie paintings...and much more. When the Northwest Paper Company wanted to promote their high-quality printing paper, they chose the symbol of strength, integrity and virtue: the Mountie. These vividly colored and inspiring images were produced on calendars from the 1930s-70s, where the heroic figure appealed to
"man's world" sensibilities. Collecting 140 wonderful color illustrations by 16 artists including Hal Foster (10 pieces), J. Allen
St. John,Burne Hogarth, Frank Godwin, Studley Burroughs, Benton Clark, Arnold Friberg (many dozens of fine paintings), Paul Proehl and others. Brilliant work by Harold Michaelson. This is a fine presentation of the stunning story-ads that were a part of one of the longest-running ad campaigns in American advertising history.
http://www.budplant.com/prod.itml/icOid/12586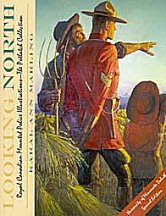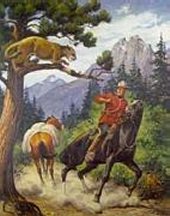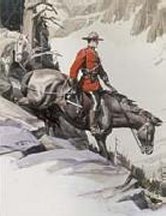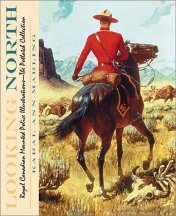 ---
Nyoka in Australia
---

NYOKA THE JUNGLE GIRL #25 is a rare 1951 comic published by Fawcett Publications in Australia. The comic has a photo cover and contains the stories "Weird Jungle Herbs" and "The Bloom of Doom". These exciting comic strip stories are based on the popular Jungle Girl serial which in turn was based on Edgar Rice Burroughs "Jungle Girl" novel. In the case of the comics, no mention is made of the Edgar Rice Burroughs connection. The back cover contains a rare full page advertisement for Captain Video comics and features a photo of Captain Video imposed over a TV set illustration.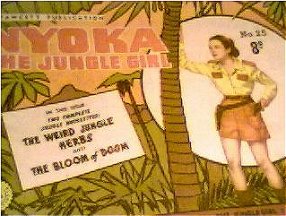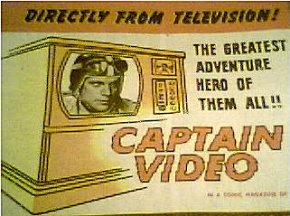 ---
ERB ECLECTICA
---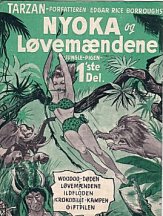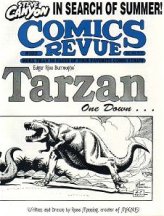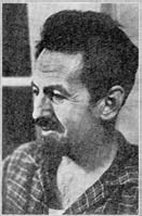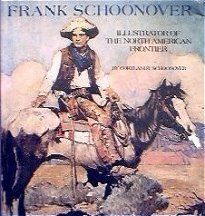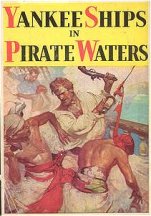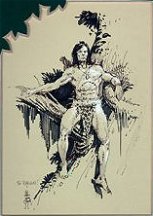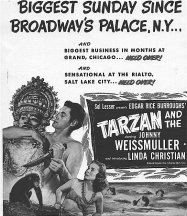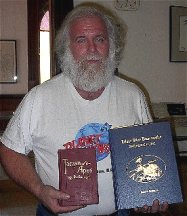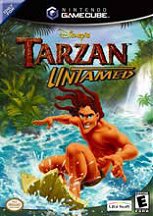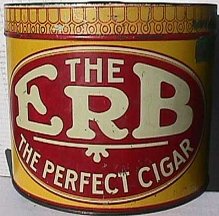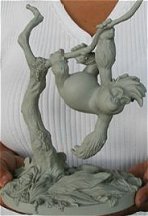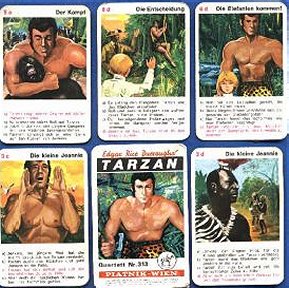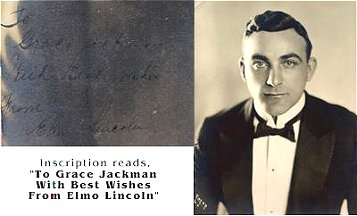 ---
INFLUENCE OF BURROUGHS
---
| | |
| --- | --- |
| | An ERB-Related Excerpt from an Interview by S.C. Ringgenberg in which reference is made to John Carter's influence on Flash Gordon |
Ringgenberg: I always thought Flash Gordon was more like John Carter than Buck Rogers - it wasn't so much the technology… Williamson: That's right. Alex Raymond, as a young kid, read the John Carter books. A friend of mine is doing a book on Alex. He's working with the family and he's got an interview where Alex talks about reading John Carter of Mars and Tarzan by Edgar Rice Burroughs. So he did read Burroughs and was a fan. That's kind of nice.
---
CHEETAH IN THE NEWS
---
Cheeta: Old star still swings
Herald Sun ~ www.news.com.au~ September 12, 2003
Many Hollywood stars retire to Palm Springs where they while away their golden years painting, taking strolls, playing the piano and flipping through magazines. Such is the life of Cheeta, 71, the chimpanzee star of Tarzan and Dr Dolittle fame.

After a 30-year career in films, Cheeta is enjoying retirement despite having to give up beer and cigars. Cheeta still likes to get a hamburger and a soft drink, say his carers. And he watches TV, expertly opens soft-drink cans and loves watching his old films on video.

Tour guides say there is almost as much interest in Cheeta as in the homes of stars such as Bob Hope, Lucille Ball, Frank Sinatra and Kirk Douglas. "He's in excellent condition," said Dan Westfall, who cares for him and several other retired showbiz primates.

Cheeta the Chimp is best remembered for playing alongside Johnny Weissmuller and Maureen O'Sullivan in the classic Tarzan series of the 1930s and 1940s. Chimpanzees in the wild usually live for 40 to 45 years and to the mid-50s in captivity, but Cheeta shows no signs of slowing down. Cheeta even helps pay for his keep with his brightly-coloured abstract paintings - nicknamed "ape-stracts" - which sell for about $240 each. He was stopped from drinking beer, a habit that reportedly reached 10 pints a day, after animal activist Brigitte Bardot complained it could damage his health.

The 1.45m tall, 65kg creature starred in the first of his 12 Tarzan films after being discovered at just a couple of months of age in Africa by trainer Tony Gentry. During his long Hollywood career, Cheeta worked much longer than any other trained chimps, who rarely act after the age of 10 because they become less manageable.When showbiz chimps were retired from films, many were sold for medical research. But Dan Westfall adopted Cheeta.

---
Tarzan's Cheeta's Life as a Retired Movie Star
By John Roach for National Geographic News ~ May 9, 2003

Many Hollywood stars retire in the oasis of Palm Springs, California where they while away their golden years splashing paint on canvases, taking leisurely strolls, playing the piano, and flipping through the pages of magazines.

Such is the life of 71-year-old Cheeta, the chimpanzee of Tarzan fame who celebrated his birthday a month ago.

"He's the world's oldest chimp and in excellent condition," said Dan Westfall, who cares for Cheeta and several other retired showbiz primates at the Cheeta Primate Foundation in Palm Springs. Cheeta's "world's oldest" title is noted in the Guinness Book of World Records.

Chimpanzees in the wild tend to live for 40 to 45 years and to the mid 50s in captivity, according to chimpanzee researchers.

Photograph copyright
Bettmann/CORBIS
Activists for the proper care and treatment of chimpanzees and other nonhuman primates applaud Cheeta's age record, but caution against celebrating the lifestyle of chimpanzees that were stars in the entertainment industry. "Would you go to a movie if you knew the child actors had been kidnapped and been forced through abuse by their kidnappers to perform silly, demeaning acts?" asks Roger Fouts, co-director of the Chimpanzee and Human Communication Institute at Central Washington University in Ellensburg.

Activists say that retired entertainment chimpanzees engage in human behaviors such as watching television and reading magazines because they were deprived of a natural lifestyle and were instead trained to behave like humans, often through physical abuse. "You don't have to be a rocket scientist to know that they are pretty dysfunctional," said Gloria Grow, co-founder of the Fauna Foundation which cares for neglected and abused animals in Quebec, Canada. For example, Grow said that several of the chimpanzees in her foundation's care, including those that were in the entertainment industry, do not know how to have intercourse or how to look after their young. "It is common scientific knowledge that taking mothers from babies has very serious consequences for the psychological well-being of both the mother and the infant, yet this is what happens to every trained chimpanzee," said Fouts.

The Good Life?
Abe Karajerjian, a biological anthropologist who works with Westfall in the caretaking of the animals at the Cheeta Primate Foundation, says Cheeta and his companions are provided with an environment and social structure that is more suitable to their species rather than perpetuating their human-like lifestyles and behaviors. "We just love them and love to do things for them," he said. "They made tons of people happy, they had to endure a lot to make people happy, and we want to give back to them, provide them with friends." Westfall, a comedian and actor, adopted Cheeta about 10 years ago from his uncle Tony Gentry, an animal trainer who worked in Hollywood and discovered Cheeta while on an animal talent scouting trip to Africa in the 1930s.

The 4 foot (1.2 meter) tall, 142 pound (53 kilogram) chimpanzee starred in 12 Tarzan movies and had his last role 36 years ago in the 1967 musical film Doctor Doolittle. Cheeta now spends his days socializing with other apes and human caregivers. At times he seems fascinated by looking at other animals on television and in the pages of magazines like National Geographic, said Karajerjian

On a few occasions the media has spotted Cheeta taking a ride in the car with Westfall, who said that Cheeta "likes to go through the drive-thru and get a hamburger and a Coke." Cheeta's staple diet consists of fresh fruit, vegetables, and monkey chow, which is a nonhuman-primate version of dog food. In his earlier years Cheeta had a penchant for beer and cigars, reportedly drinking several cold ones a day. Westfall and Karajerjian said booze and smoke have not been a part of the old chimp's life since he came into their care ten years ago. "Where he lives now nobody smokes and drinks," said Karajerjian. "I hate smoking and drinking and so why would I offer it to apes?"

At the sanctuary the apes are provided with a variety of activities to stimulate their intellect and curiosity. One of the activities is painting, which Karajerjian says allows chimpanzees to mimic their innate behavior of inventing and using tools.Westfall says that Cheeta has developed a particular talent as an abstract artist and has trademarked Cheeta's creations as "Ape-stract." Cheeta uses a paintbrush and bright colors for his creations which are full of sweeps, swirls, and straight lines.

"They are very pretty, actually," said Westfall, who sells his companion's work for $125 a piece. The proceeds go to support the Cheeta Primate Foundation, which Westfall started to raise money for unwanted showbiz animals.

Entertainment Abuse
Cheeta is a rarity among chimpanzee actors in that he was used for films into his 30s. "Most of the chimpanzees used in the entertainment industry are used when they are quite young," said Rick Bogle of the Primate Freedom Project in Santa Barbara, California. The organization works for the protection of nonhuman primates. Chimpanzees rarely act beyond the age of ten because they become less manageable and less willing to follow directions, said Bogle. When the chimpanzees are retired, many of them are sold into biomedical research.

Gentry, Cheeta's previous owner, feared a research laboratory was Cheeta's destination so he had asked in his will that Cheeta be put to rest. Westfall talked his uncle out of having Cheeta put to rest by promising to take good care of the chimp. Ex-entertainment chimpanzees are unfit for zoos, said Fouts, because they do not behave like regular chimpanzees. "And often times they are not socialized to other chimpanzees so they would be difficult to integrate into a social population," he said.

Westfall said primate researcher Jane Goodall inspired him to start the foundation for unwanted showbiz primates. The other chimpanzees, orangutans, and monkeys in his care have starred in television commercials, nightclubs, and theaters, but none reached the star status of Cheeta. "There are also some from labs that we'd love to get sometime to save their lives and give them a good, healthy home to live in," he said. All of the animals in Westfall's care interact on a daily basis and with each
other and their human caregivers. Westfall's house is not open to the public, but tour buses and children often stop in front where there is a statue of Cheeta.

Living Longer
Terry Wolf, wildlife director at Lion Country Safari in Loxahatchee, Florida, which cares for about 35 chimpanzees, said that captive chimpanzees that were picked up from the entertainment industry and research facilities are living longer because humans are taking better care of them. "The quality of health care and diet in the past was traditionally not all that great," he said. Now humans have a better understanding of chimpanzee dietary, physical, and social needs, including the need for interaction to prevent the onset of deadly bouts of depression.

Little Mama, a chimpanzee who starred in a traveling ice skating show before coming to Lion Country Safari in 1967, is thought to be 65 years old and like Cheeta is in good health. She is social and gets along well with her mates, who she lives with on a series of islands in the drive-through zoo, said Wolf. "Old age is something to be celebrated," said Virginia Landau, director of the Jane Goodall Institute's ChimpanZoo in Tucson, Arizona, which coordinates the study of chimpanzees in zoos and other captive settings.
Donations or a request for a piece of Cheeta's Ape-stract art can be sent toWestfall:
Dan Westfall ~ Cheeta Primate Foundation ~ PO Box 8162 ~ Palm Springs, CA 92263
---
Elusive African Apes: Giant Chimps or New Species?
---
John Roach for National Geographic News ~ April 14, 2003
Photographs and more information is available on Karl Ammann's Web site
A mysterious group of apes found in the war-torn Democratic Republic of Congo in central Africa has scientists and conservationist scratching their heads. The apes nest on the ground like gorillas but have a diet and features characteristic of chimpanzees. The apes are most likely a group of giant chimpanzees that display gorilla-like behavior. A far more remote possibility is that they represent a new subspecies of great ape. Researchers plan to return to the region later this month to collect more clues to help resolve the mystery.

The detective story began in 1908 when a Belgian army officer returned home with several gorilla skulls from near the town of Bili on the Uele River and gave them to the Belgium's Royal Museum for Central Africa in Tervuren. In 1927 the museum's curator classified the skulls as a new subspecies of gorilla, Gorilla gorilla uellensis.

Intrigued by the subspecies, Colin Groves, now an anthropologist at the Australian National University in Canberra, examined the skulls in 1970 and determined that they were indistinguishable from western gorillas, one of the two known species of gorilla. No further specimens of this gorilla from Bili have since been found.

In 1996, Swiss-born, Kenya-based wildlife photographer and conservationist Karl Ammann embarked on a quest to rediscover the mysterious gorillas. To date, Ammann has not found the gorilla. But he has collected a wealth of information including skulls, ground nests, hair and fecal samples, footprints, and, most recently, photographs of what appears to be a chimpanzee that behaves like a gorilla.

A remote camera trap captured this shot of a "Bondo mystery ape" in the Democratic Republic of Congo. Most experts believe the unusual band of apes are giant chimpanzees that display gorilla-like behavior. One countervailing theory, however, holds that the band represents a new subspecies of great ape.Scientific analysis of this data is still being conducted. Ammann awaits the results before making an official announcement about the finds. Meanwhile, he continues to recruit scientists to study the case.

Shelly Williams, an independent primate behavior specialist in Atlanta, Georgia, who has a doctorate in experimental psychology, spent two months in the northern Democratic Republic of Congo last year trying to determine the identity of these apes. She said "at the very least, we have either a new culture of chimps that are unusually large or hybrids with unusual behaviors." Williams and Groves will meet Ammann in Kenya this month before traveling to the Congo to conduct further studies on the mysterious apes.

Ground Nesting Chimp?
Since Ammann launched his quest, he has led expeditions into the Bili forest in the northern Democratic Republic of Congo where the original skulls were recovered. On his first trip, Ammann recovered a skull which had a pronounced ridge on its forehead characteristic of gorilla. The rest of the measurements link the skull to that of a chimpanzee.

For the next several years civil war in the Democratic Republic of Congo made travel to the Bili forest difficult. Ammann recruited a bush meat hunter from Cameroon to visit and survey the area. The hunter returned with photographs and reports of gorilla ground nests in an area north of Bili.

In 2000, Ammann returned to the area described by the bush meat hunter with a group of ape researchers. Although they did not find a live ape, the group did stumble across several well-worn ground nests in swampy river beds. Ground nests are characteristic of gorillas. Chimpanzees are thought to prefer to sleep in trees. However, an analysis of feces found in the nests suggests that whatever left them was eating a diet rich in fruits, a diet characteristic of chimpanzees, not gorillas. Other evidence collected from the site includes hair samples, which have been sent out to various laboratories for DNA analysis. The initial results indicate they belong to a chimpanzee. All of this evidence is causing the researchers to believe that what Ammann has found is a chimpanzee that behaves like a gorilla.

"It is a chimpanzee," said Esteban Sarmiento, a functional anatomist at the American Museum of Natural History in New York who traveled to the region with Ammann in 2000. "There are presently three recognized subspecies of common chimpanzee Pan troglodytes and it could represent a fourth subspecies or change our present understanding of where to draw the divisions between subspecies."

Giant Chimps
Local hunters in the region added to the mystery when they told Ammann and his colleagues about two kinds of chimpanzees in the region. Normal chimps, so-called "tree-beaters," are easily killed with poisonous arrows when they feed in trees. Another, large chimpanzee seldom climbs trees and does not succumb to the poison arrows shot by the hunters. Called "lion killers," these big chimpanzees flee through the thick forest and disappear when shot at by hunters. Evidence for these giant chimpanzees collected by Ammann includes a photograph of a cadaver alongside the hunter that killed it and casts of some large footprints. The pronounced ridge, called a sagittal crest, on the skull that Ammann found in 1996 is thought to be formed to support large jaw muscles, an indication of large body size.

"Giant chimpanzees occasionally occur here and there in the central and eastern subspecies, but evidence so far indicates that Karl [Ammann] may have a population of giants in his area," said Groves. "Presumably their giantism is relevant to their ground nesting behavior." This group of what appear to be a distinct culture of ground-nesting chimpanzees is the now focus of Ammann's research. "Work has started on habituating one of the ground nesting chimp groups. This is done by provisioning them with sugar cane," he said.

This habituation will allow the researchers to document this new culture of chimpanzee as the researchers await the results of nuclear DNA analysis to determine if what they have is indeed a new subspecies of chimpanzee or simply a unique culture. Either way, the scientists are intrigued. "Discovering an isolated group of apes exhibiting unusual cultural behaviors is just as important as identifying new DNA profiles. That's why continuous observation, habituation, and surveying are so important," said Williams.

Additionally, researchers have not yet given up on the possibility of finding gorillas in the area. "I would think there is a strong possibility that south of Bili on the other side of the Uele River there may be gorillas, and this would seem an important area to turn our attention to," said Sarmiento.
---
TARZAN RECORD COVERS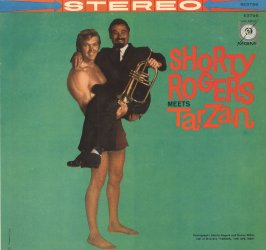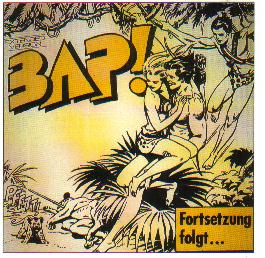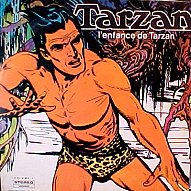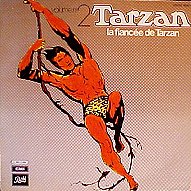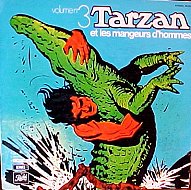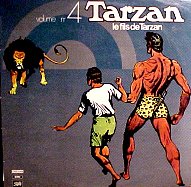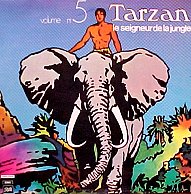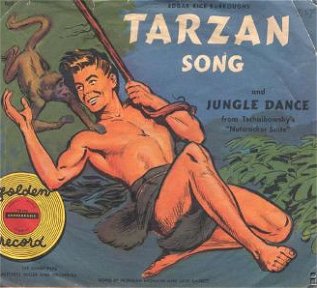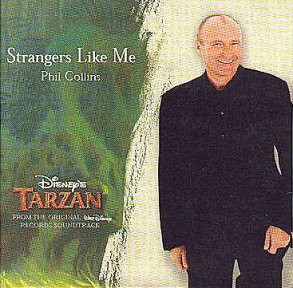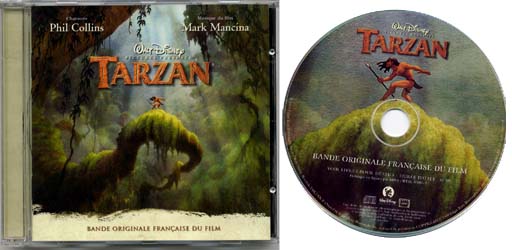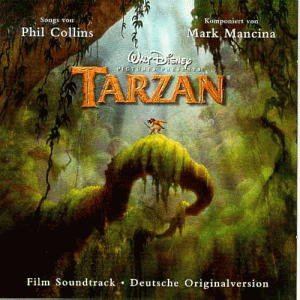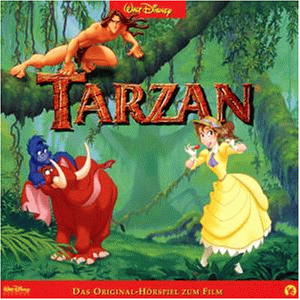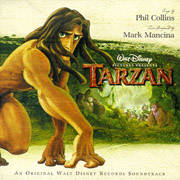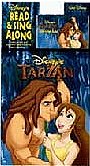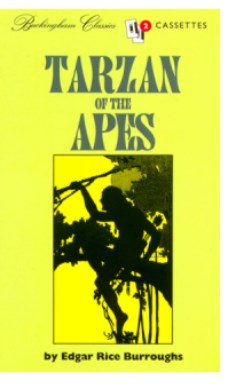 List of Tarzan-Related Music Albums
Ref: http://www.geocities.com/borneolaan/tarzan-cover.html
Shorty Rogers Meets Tarzan (1966) MGM (lp)
Tarzan (1974) Mark 56 Records "Russ Manning" (lp)
Tarzan (1978) Mark 56 Records "Russ Manning" (picture disc) (lp)
Television Record: Hornet, Tarzan + The Man from U.N.C.L.E. (?) Wyncote (lp)
Tarzan: L'enfance de Tarzan (197?) P.E.S. "Harold Foster" (lp)
Tarzan: La fiancée de Tarzan (197?) Pathé EMI "Harold Foster" (lp)
Tarzan: Tarzan et les mangeurs d'homme (197?) Pathé EMI "Harold Foster" (lp)
Tarzan: Le fils de Tarzan ( ?) Pathé EMI "Harold Foster" (lp)
Tarzan: Le selgneur de la jungle (197?) Pathé EMI "Harold Foster" (lp)
Tarzan: Record Album (1984) Kid Stuff (lp)
BAP: Fortsetzung folgt... (1988) EMI "Russ Manning" (7")
BAP: Fortsetzung folgt... (1988) EMI "Russ Manning" (12")
Tarzan: Tarzan of the Apes (1993) Dove Entertainment Inc 2 mc's in a box) (mc)
Tarzan: Tarzan of the Apes (1993) B & B Audio Inc (2 mc's in a box) (mc)
Tarzan: Read & Sing-Along (1999) PGD Disney Blisterpack (mc)
Tarzan: Read-Along (1999) PGD Disney Blisterpack (mc)
Tarzan: You'll be in My Heart Tarzan (1999) Disky (cd-single)
Tarzan: Strangers like Me (1999) Disky (cd-single)
Tarzan: You'll be in My Heart Tarzan (1999) Disky (cd-single)
Soundtrack: Tarzan (1999) PGD Disney Blisterpack (english release) (mc)
Soundtrack: Tarzan (1999) PGD Disney Blisterpack (english release) (cd)
Soundtrack: Tarzan (1999) PGD Disney Blisterpack (spanish release) (mc)
Soundtrack: Tarzan (1999) PGD Disney Blisterpack (spanish release) (cd)
Soundtrack: Tarzan (1999) Walt Disney Record (german release) (cd/cd-rom)
Soundtrack: Tarzan (1999) Walt Disney Record (france release) (cd)
Soundtrack: Tarzan (1999) Walt Disney Record (france release) (cd/cd-rom)
Radio Play: Tarzan (1999) Walt Disney Record (german release) (cd)
Radio Play: Tarzan (1999) Walt Disney Record (france release) (cd)
Radio Play: Tarzan (1999) unknown (france release) (cd)
---
ERB FANS MAKE MUSIC
---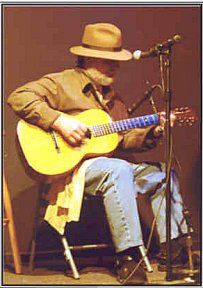 Dr. Bob
Traditional Acoustic Blues Guitar
Watch for him in concerts around Southern California
... and beyond
---
Issued by ERB, Inc. in 1975 to Commemorate the Centennial of ERB
---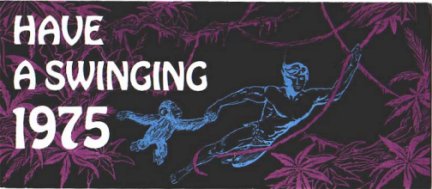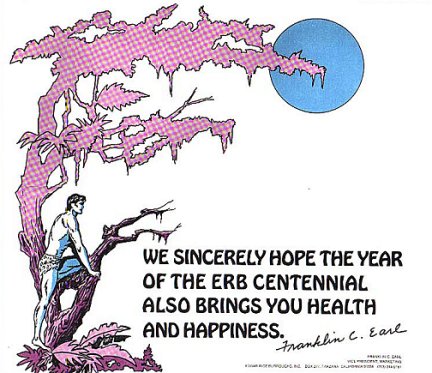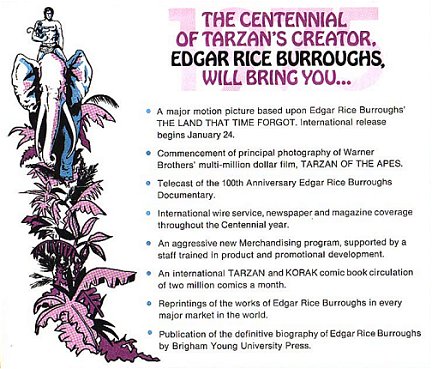 ---
MAILSTROM
---
A Query from Sweden
Hello!
I¹ve read in a Swedish paper that the origin of the Tarzan stories comes from a Swede. A Swede called Tord Grey worked as a military in South Africa where he found a boy living with the apes. The papers wrote about Tord Greys ape-boy, Edgar Rice Burroughs read about it an created Tarzan. As a thank to this Tord Grey he named Tarzan with the "sound like name" Lord Greystoke.
True or false?
Askes
Johan Tell
Stockholm/Sweden
---
MAJOR GEORGE TYLER BURROUGHS ~ The Last Letter ~ January 15, 1913
---
(The last letter written by my father. The last probably of thousands.)
ERBzine0942
A Major Tribute to Major George Tyler Burroughs
Bio ~ Letters ~ Photos ~ Awards ~ Memoriam
---
Alex Simmons has put together a gallery show of Tarzan comics art in Greenwich Village.
---
- Tarzan Exhibit -
From the vines of Africa, to Hollywood and Vine, Tarzan really swings!
Since 1912, the tales of Edgar Rice Burroughs Lord of the Apes has fired the imagination of millions of readers. The mighty Tarzan has also inspired some of the most striking artwork in modern fiction. Illustrators have penciled, penned, and painted magnificent images of the ape-man from moody repose to dynamic battle.
Now see samples of that art as the
Museum of comic and Cartoon Art (MoCCA) brings you
TARZAN: IMAGES OF AN ICON!
At The Museum of Comic & Cartoon Art Corporate Headquarters
32 Union Square East (between 16th and 17th Street)
Suite 600 ~ NYC, NY
November 7th through 29th
Marvel at the talents of Neal Adams, Eric Battle, David Michael Beck, Mike Grell, Gil Kane, Bob Lubbers,
Russ Manning, Gray Morrow, Rudy Nebres, Louis Small Jr., Thomas Yeates, and much more.
Be sure to attend our Opening Night Safari Reception (Nov. 7th), to meet some of the of the comic industry's
other talented artists, and receive a few wild surprises.
For reservations contact us at: 212-254-3511
* Many thanks to United Media, and the Edgar Rice Burroughs Estate, and a number of wondeful collectors for making this exhibit possible.



Volume 0846



WEBJED: BILL HILLMAN
Visit our thousands of other sites at:
BILL & SUE-ON HILLMAN ECLECTIC STUDIO
All ERB Images© and Tarzan® are Copyright ERB, Inc.- All Rights Reserved.
All Original Work © 1996-2002/2018 by Bill Hillman and/or Contributing Authors/Owners
No part of this web site may be reproduced without permission from the respective owners.