Official Edgar Rice Burroughs Tribute and Weekly Webzine Site
Since 1996 ~ Over 15,000 Webpages in Archive
Volume 0842
Presents
SHAUN RAYMOND HOADLEY
Shaun with the logo for his new T-shirt line

SHAUN HOADLEY ERB ART AVAILABLE
LARGE PRINTS ON HIGH QUALITY PORTFOLIO PAPER

"Film Tarzans Through the Years"
The Tarzan montage was created in three separate yet connected pieces,
so that each actor would be well represented.
Johnny Weissmuller was made the most prominent because he is the most recognised Tarzan
and because he played Tarzan in films more than anyone else.
Gordon Scott and Lex Barker come in second and third.
The prints are each 11" x 17"
The set of three Film Tarzan prints may be purchased directly from the artist for $25 plus shipping.
---
UNDER THE MOONS OF MARS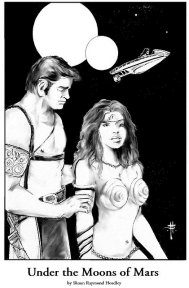 The single Mars and Tarzan prints are $10 each.
---
A TARZAN PORTFOLIO OF SEVEN PRINTS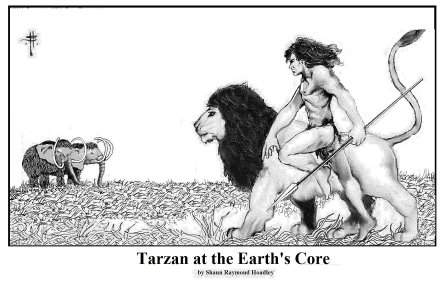 Before his death, Shaun offered this for sale
Portfolio of Seven Tarzan Prints
plus Under the Moons of Mars
$60 plus shipping
Payment may be made via Paypal or Postal Money Order sent to:
Shaun Raymond Hoadley
10226 Eton Avenue, #120
Chatsworth, CA 91311
eMail: phantassee@yahoo.com
Note: No Longer Available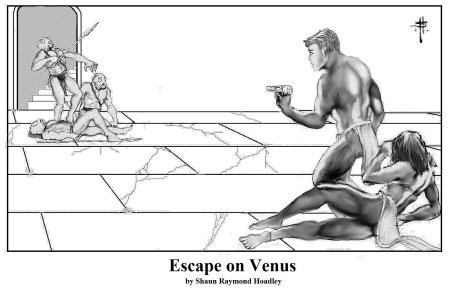 Beyond Thirty
In my reckless youth great tales I read
Of the lands beyond the 30th parallel.
Of warriors and kings and wizards long dead
And of the eternal battle between heaven and hell.
I climbed every tier, swung through every forest
Clinging tightly to the vines of imagination.
Towering cities of silver, of gold and of amethyst
And on the heels of Lastrade to mysterious destination.
I survived the holocaust, in my ship from Krypton
My father taught me the tongue of the great apes
I licked frosting from the bowl at my mothers apron.
I flew to the stars on wings of sorcerers magic capes!
I've been Gulliver and Kickaha and Balthus and Enoch
And Merlin and Francis Burton and Korak the Killer
An immortal holy warrior reborn in every epoch.
A Vulcan at the helm and an Ishmael at the tiller!
- Copyright 2002 by Shaun Raymond Hoadley
Shaun Raymond Hoadley was born in Kalamazo, Michigan on October 11, 1952. He has had several shows of his work, and has had pieces published in Fanzines as well as professional publications, advertising and more. His work includes all of the illustrations used in the motion picture "High Strung" with Steve Odekirk and Jim Carey, business card designs for several businesses in Ojai, California, and artwork for a video game called "Star Island." He has also done web-page design for several companies. His interests include art, Harley Davidson motorcycles, collecting Edgar Rice Burroughs 1st editions and eating good food! He currently resides in Lake Balboa, California (right next to Tarzana!) and has been married to wife Michele since 2009.

Jerry Schneider of ERBVille Press has commissioned him to work on many of the ERB Uniform Limited Edition Hardcover Series editions: The Man-Eater (4 black & white interior illustrations, 1 color frontispiece/DJ), The Cave Girl (4 b/w interiors), The Cave Man (4 b/w interiors), "Lost Inside the Earth" (magazine version of At the Earth's core) (cover/frontispiece), The Mad King (4 b/w interiors), Barney Custer of Beatrice (4 b/w interiors), The Rider (4 b/w interiors), The Oakdale Affair (cover/frontispiece and 4 b/w interiors)

Shaun's current projects also include: A Complete Original Tarot Card Deck. . . all in full color. . . limited edition 1000 copies. . . $39.95 per deck. Also, a limited edition print of "Tarzan and the Golden Lion" printed on canvas in high quality. Limited to 500 pieces. $15 per print -- hand signed and numbered by the artist: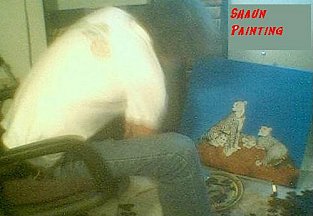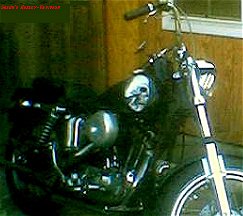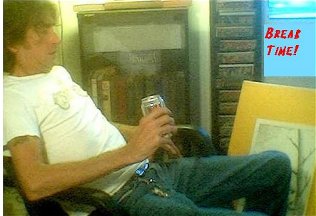 The Leopard Woman by Shaun Hoadley
Part 1 of a set of 4 - 9 1/2" x 14" 4 high-quality prints ~ 9" x 14" high-quality canvas print!
Limited to 500 pieces...hand numbered and signed by Shaun
$20 each plus $5 shipping and handling
Print Numbers 2 and 3:


La, High Priestess of Opar
and
Jad-Bal-Ja, the Golden Lion


Dian the Beautiful
of
Pellucidar
---
Artist's progress on the Leopard Woman artwork from first sketch to finished product.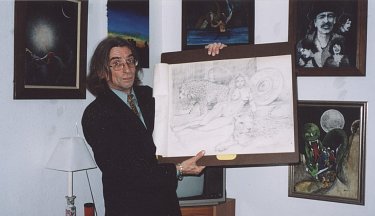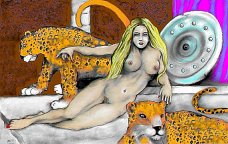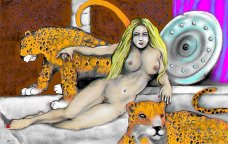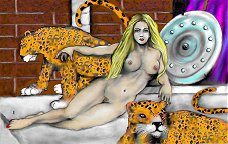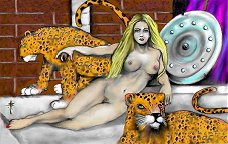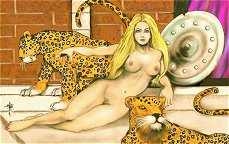 ---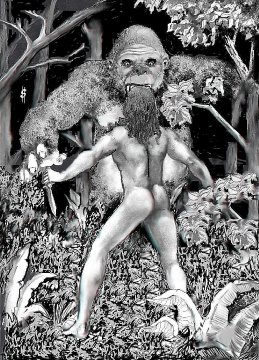 Jungle Tales: Tarzan and Bolgani

Lost Inside the Earth
Art from the new ERBville edition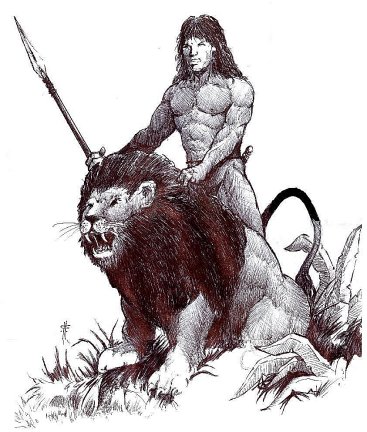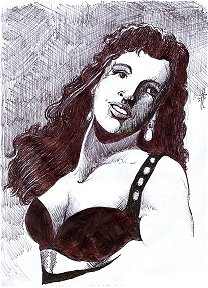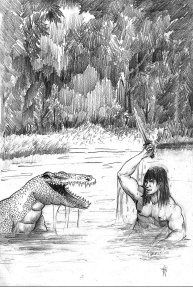 ---
WORK IN PROGRESS
---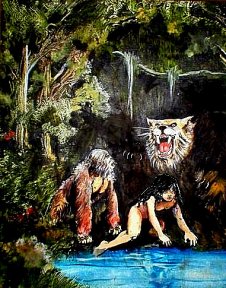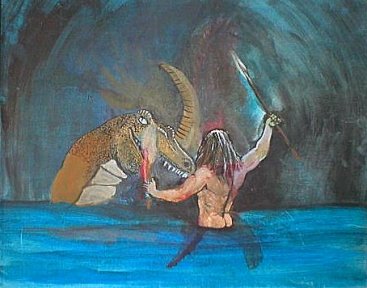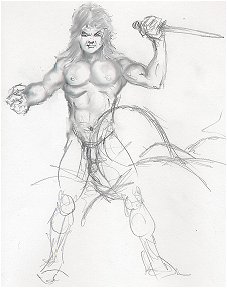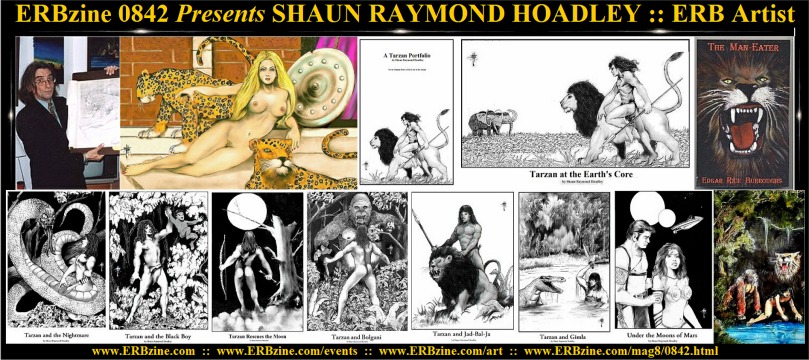 Volume 0842



WEBJED: BILL HILLMAN
Visit our thousands of other sites at:
BILL and SUE-ON HILLMAN ECLECTIC STUDIO
ERB Text, Images and Tarzan® are Copyright ERB, Inc.- All Rights Reserved.
All Original Work ©1996-2006/2012/2019 by Bill Hillman and/or Contributing Authors/Owners
No part of this web site may be reproduced without permission from the respective owners.