| | |
| --- | --- |
| The First and Only Weekly Online Fanzine Devoted to the Life and Works of Edgar Rice Burroughs | |
Volume 0799


MOTES & QUOTES NEWSMAGAZINE
ERB-Date: 02.08.09


CRAZED BURROUGHS FAN ORGANIZES PRIVATE SCREENING

I discovered the description of this film quite by accident. It is a 1933 comedy that I think might be interesting to Burroughs/Tarzan fans and film buffs. In the interest of researching this as a possible future presentation at a Dum Dum or other official event, I have set up a private screening. Please consider yourself invited. Admission is free, though I would appreciate donations to offset the cost of the screening (about $225). RSVP is required, as I must provide a list in advance so that you can use the security parking lot in Hollywood. Please e-mail me or call my office, and leave your name and phone number (in the unlikely case that we overbook). The screening room holds 25.

WHO:
This screening is organized by Hugh Munro Neely, crazed documentary filmmaker, Burroughs fan, and director of theatrical production of "You Lucky Girl!"

WHAT
"So This Is Africa" Columbia Pictures, 1933 (released 13 months after M-G-M's "Tarzan, The Ape Man.") Running time: 67 minutes.
The following information comes from imdb.com:

Bert Wheeler and Robert Woolsey play a couple of broke, hungry vaudevillians who are holed up in a hotel room with a few (tame) lions. They are hired by a movie producer who wishes to send them and their lions to Africa with a great naturalist, in order to make a jungle picture. An earlier expedition by this same naturalist was a failure, because she is afraid of animals. Once in the jungle they have to fend off the amorous advances of the naturalist, of a vine-swinging native girl named Tarzana, and of a gorilla. They then run into the fearsome Amazon tribe, made up entirely of nubile females. Eventually they disguise themselves as Amazons to avoid being "loved to death." But these disguises lead to further difficulties when the all-male tribe of Tarzans show up for their annual mating ritual with the Amazons.
A new 35mm print was made by Sony Pictures a few years ago, but it has not been released on video.
We will screen this print curtesy of Michael Schlesinger at Sony.

WHEN:
Next Monday night, August 12, 2002. 8pm

WHERE:
The new screening room at
Crest National Optical Media
1141 N. Seward Street
Hollywood, CA 90038
Security Parking is available with RSVP (if possible, by 12 noon this Friday).
RSVP by e-mail to hughmn@aol.com or RSVP by telephone: (310) 268-0399 (ask for Hugh).
The parking lot is on the south side of the building. Your name will be left with the guard. After parking, come the front door, and press the buzzer for entry.

WHY:
This is an extremely rare film. It does not appear to exist on home video or in the collections of any private film collectors, so far as I know. It has been shown (quite rarely) on television in the past, but I have not yet found a Burroughs aficionado who has ever seen it, or heard of it before.

IN CONCLUSION
This screening will take place at a Hollywood screening room that I am hiring for the ocassion. It is a beautiful, fancy studio, that holds 25 people. For the sake of my sanity please try to RSVP by Friday at noon. You can e-mail me at hughmn@aol.com, please put RSVP in the subject line... or you can call my office, Timeline Films, at (310) 268-0399. Be sure to leave a callback number or e-mail address.


---

SO THIS IS AFRICA CREDITS

---


So This Is Africa
1933 - USA - 68 min. - Feature, B&W
Director: Edward F. Cline
Genre/Type: Adventure, Comedy
Produced and Released by Columbia
Edward F. Cline - Director
Norman Krasna - Screenwriter
Leonard Smith - Cinematographer
Wheeler Wright - Editor
CAST
Robert Woolsey - Alexander
Bert Wheeler - Wilbur
Raquel Torres - Leader of Amazon Women
Esther Muir - Mrs. Johnson-Martini
Henry Armetta - Street Cleaner
Spencer Charters - Doctor
Clarence Moorehouse -
Berton Churchill - President

See All Movie Guide for the Wheeler and Woolsey Filmography

The Screwball Satirists: Wheeler & Woolsey
---
JUST RELEASED AND HIGHLY RECOMMENDED
---

Edgar Rice Burroughs
and the Silver Screen
(Second Printing)
By Jerry L. Schneider

Edgar Rice Burroughs is the world famous author and creator of Tarzan, as well as many other series and novels. Since 1917, fifty-six feature length films and serials, seven television films, and 188 television episodes have been created based on the Tarzan character and other of his creations.

EDGAR RICE BURROUGHS AND THE SILVER SCREEN is an exhaustive illustrated history of these films and television shows AND is the first book to deal with all the authorized American films and television shows based on his writings.

EDGAR RICE BURROUGHS AND THE SILVER SCREEN has gone to the original source for much of the material in the book: the filming scripts, media trade papers, local area newspapers, and more, including multiple viewings of all existant films.

Expect to see the most complete cast and production credits, detailed synopsis, trade and newspaper reviews, and production history for each film/serial ever assembled.
Color illustrated cover ~ 464 pages ~ Over 360 illustrations
---


CAUGHT IN OUR SITE: ERB
Appearances on the Web of interest to ERB Fans


---
A HISTORICAL OVERVIEW OF HEROES
IN CONTEMPORARY WORKS OF FANTASY LITERATURE
PART THREE: SWORD & SORCERY
By John L. Flynn
http://www.towson.edu/~flynn/swordsor.html
". . . But the single, greatest influence upon Howard and his contemporaries were the scientific romances of Edgar Rice Burroughs.

"Nearly twenty years before Howard created the character of Conan, Burroughs began his illustrious career by writing about powerful fighting men whose far-flung adventures on a mythical Mars or a forgotten Africa made them champions of their own destiny. In Under the Moons of Mars (All-Story, 1912, later released as A Princess of Mars, 1917), he whisked former Civil War Captain John Carter of Virginia to Barsoom and challenged him to battle with the barbaric yet highly technological natives for the hand of the beautiful Dejah Thoris. With his cavalry sabre and six-shooter, Carter is equal to the challenge, and eventually conquers the entire planet. In Tarzan of the Apes (All-Story, 1912), Burroughs first orphaned John Clayton, the English Lord Greystoke, in the African jungle, then placed the young Tarzan into the protective care of intelligent apes. Like Carter, Tarzan battles strange peoples, finds lost cities, and confronts odd beasts. Both heroes use their wits and endless adaptability to conquer these strange worlds.

"The fantastic adventures of A. Merritt and Talbot Mundy also exercised a major influence on the genre, particularly those writing in the pulp magazines of the thirties and forties. A(braham) Merritt first distinguished himself with "The Moon Pool" (All-Story Weekly, 1918) and "The Conquest of the Moon Pool" (All-Story Weekly, 1919), two stories set in a mythical, subterranean world reachable through a force field in a pool. His Ship of Ishtar (Argosy, 1924) featured a literary descendant of John Carter of Mars who travels to a magical world to win the hand of a beautiful ship's captain."

---


ERB TRIVIA
Q: Where is Dum Dum Airport?
A: Calcutta


---
TURNER CLASSIC MOVIE CHANNEL CULT MOVIE PICKS
http://www.turnerclassicmovies.com/
TARZAN, THE APE MAN (1932)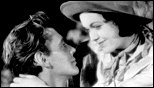 Despite the many different Tarzans who have graced the screen, from the silent Elmo Lincoln to the decidedly contemporary Christopher Lambert, there is only one Tarzan in the eyes of true film lovers - Johnny Weissmuller. When the 28-year-old Olympic swimmer took on the role of Tarzan, the Ape Man for MGM in 1932, he became a Hollywood anomaly, the only star to build his career almost entirely around a single role. His popularity also helped make MGM's backlot epic the definitive Tarzan film.

Originally, MGM executives planned to feature Tarzan in a sequel to their popular 1931 adventure Trader Horn, the first sound film to feature extensive location footage shot in Africa. In fact, the studio had so much location footage left over after making Trader Horn that they were looking for another story that would let them use it. Tarzan author Edgar Rice Burroughs' general manager suggested teaming the heroic Trader Horn with Tarzan, so MGM picked up the rights. Then they decided to focus on Tarzan alone.

The studio considered several candidates for the title role, including Clark Gable, Joel McCrea, Charles Bickford and two future Tarzans, Olympic swimming champion Buster Crabbe and the gold-medallist in the shot put, Herman Brix (later known as Bruce Bennett). Then they found Weissmuller. The swimming star had won five gold medals in the 1924 and 1928 Olympics, in addition to 67 world and 52 national titles. He had broken 174 individual records, including every freestyle record from the 100 yards to the half-mile. There was only one problem. He was under exclusive contract to model BVD underwear. To win Weissmuller's release, MGM had to work out a deal for their top stars - from Greta Garbo to Marie Dressler - to appear in BVD ads.

For a while, it was just as hard to cast Tarzan's mate, Jane. They couldn't find anybody with the right combination of sophistication and innocence until casting received a photo of a young Irish actress named Maureen O'Sullivan. They immediately signed her to a long-term contract, and she made her MGM debut in Tarzan, the Ape Man.

The stock footage was added to location work shot in the then-undeveloped Toluca Lake region north of Los Angeles, where the only delay was caused when two trained rhinos being used in the film were given a bath in the lake and refused to leave. Sound technicians created the famed Tarzan yell by amplifying and repeating Weissmuller's voice. They even played parts of his yell backwards to get the right effect. The result was so distinctive it turned up in Tarzan films for almost 50 years.

Tarzan, the Ape Man was a huge hit, bringing in almost $1 million in profits, leading MGM to feature Weissmuller and O'Sullivan in five sequels. Ironically, Edgar Rice Burroughs, the character's creator, was not happy with the MGM version, which turned his cultured British lord of the jungle into a monosyllabic ape man. Others have derided the film for its depiction of native Africans as bloodthirsty savages, its cheesy man-in-a-gorilla suit monster and the rampant sexuality of Tarzan's relationship with Jane, which was frowned upon by religious groups. Yet, if anything, these are all part of the mix that has made the film an enduring classic.

Producer: Irving G. Thalberg
Director: W.S. Van Dyke II
Screenplay: Cyril Hume, Ivor Novello
Based on characters created by Edgar Rice Burroughs
Cinematography: Harold Rosson, Clyde De Vinna
Art Direction: Cedric Gibbons
Music: Georges Richelavie
Cast: Johnny Weissmuller (Tarzan), Neil Hamilton (Harry Holt), Maureen O'Sullivan (Jane Parker), C. Aubrey Smith (James Parker), Doris Lloyd (Mrs. Cutten), Forrester Harvey (Beamish), Johnny Eck (Bird creature).
BW-100m.

By Frank Miller
---

www.movie-mistakes.com
Disney's Tarzan "Mistakes"
When Tarzan fights with the leopard, it scratches his chest. However after they falls into the pit and Tarzan comes out carrying the dead leopard, the scratches on his chest have amazingly healed.
Also, when the humans are capturing the gorillas, Clayton fires about 15 rounds on his shotgun. This is pretty impressive, considering this is the early 1900's.
When the gorilla goes into the house with Tarzan you can see the window is broken, How did they get windows? [By writing to Microsoft. Ahaha. Aha. Ahem.]
You can look in the clouds when Jane decides to stay with Tarzan and see an angry gorilla and Jane's father. They are in the clouds to the left.
When the apes are playing with the typewriter, the carriage goes the wrong way.
Tarzan was only a baby when his parents were killed, and apparently a nonverbal one. When he learns English, his teachers speak with an English accent. Why doesn't he pick up their accent too?
When Tarzan grows into an adult, why doesn't he grow a beard?
Tarzan has killed the leopard with the spearhead he made, but when Tarzan emerges from the pit with the dead leopard, neither he, the spearhead, nor the leopard, have any blood on them.
When Tarzan decides to become the new leader of the apes, his hair is waving in a strong wind, but the rain is pouring straight down.
When Kala (Tarzan's ape mother) finds baby Tarzan at the house on the tree she also finds a portrait of his dead parents which has the glass broken. Later on the film, the glass is perfectly OK before Tarzan steps on it and breaks it once again.
When Tarzan and Clayton are in the tree fighting and tarzan gets the gun, he breaks it on the tree. Or does he? On the DVD it appears in slow motion that the gun breaks before it hits the tree, right where it would hit Clayton's crotch. Ow.
The tea set in the movie is the tea set from "Beauty & The Beast". There is even a tea cup with a chip in it.
When Jane and Tarzan return to the camp and the ape knocks Jane down, she picks up a ladle. Thefirst ladle is bent and then the next shot shows a straight ladle, and then the bent one is back.
After Tarzan fights the leopard, and at the point when the gorillas and him run off, the dead leopard is missing.
When Clayton is drawing on the chalkboard his shotgun is leaning against it. After Tarzan takes the chalk and draws all over the chalkboard, the gun has disappeared.
When the humans are capturing all of the gorillas, why is Clayton the only one with a gun? They want them alive, but hunting gorillas unarmed is not wise.
Tarzan has obviously been eating all along and hadn't brushed his teeth, yet they're still shiny white.
When Tarzan is discovered by the female gorilla he is wearing a nappy. He has it on for the whole time he is a baby. Who changes it?

---

Man Recovers After Battling, Killing Cougar
Sat Aug 3, 9:00 AM ET
By Allan Dowd

VANCOUVER, British Columbia (Reuters) - A man was recovering from serious injuries on Friday after he managed to use a pocketknife to fight off a vicious attack by a cougar on a remote road on northern Vancouver Island. Attacked in the head, 62-year-old David Parker was able to pull out his small folding knife and kill the cat during the incident on Thursday evening. He then walked more than half a mile to get help from workers at a log-sorting facility.

"The will to live was definitely in this person," said Corporal Jeff Flindall of the Royal Canadian Mounted Police in Port Alice, a small coastal logging community about 195 miles northwest of Vancouver.

Police said Parker was walking alone down a private road in the woods outside Port Alice when the adult male cat weighing about 90 pounds attacked him from behind, injuring his head and face. The logging workers took Parker to Port Alice's medical clinic, but because of the extent of his injuries he was quickly transferred to a hospital in Victoria. He was listed in critical but stable condition after surgery on Friday. Vancouver Island is estimated to have between 1,000 and 1,200 cougars. Although it is rare for the carnivorous cats to hunt humans, there have been at least four attacks in recent years on the northern end of the island.

An 8-year-old girl from Nevada received minor wounds in June when she was attacked in June while on a kayak trip, and in February 2001 a man was injured when a cougar pounced on him as he rode his bicycle into Port Alice. Wildlife officials advise people in the area they should always be aware of potential of cougars while in the woods. If confronted, you are warned never to attempt to flee because running away only provokes the cat's hunting instinct.

"It's very seldom that person is a winner in a cougar attack. Usually it's the cougar, so its quite something for Dave to do something like this all by himself with a small knife," Port Alice mayor Larry Pepper, a long-time friend of Parker, told CBC Radio. Attacks on humans often involve cougars that are injured and unable to catch other prey such as deer. The cat involved in Thursday's attack was described by a conservation officer as thin, but "not starving."

Pepper said the deer population in the area is lower than usual this year, and cougars will wander into the relatively isolated community looking for other prey. "When they come to town usually cats and dogs are the first choice, but eventually it will get to be a person if they (the cougars) hang around," Pepper told CBC.

---

DEJAH THORIS ART ON THE WEB
---
ERB ART BY BOB McLEOD
Check out the beautifully crafted, full-sized originals at:
http://www.bobmcleod.com/commiss.html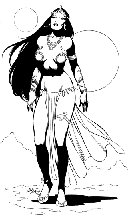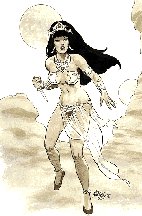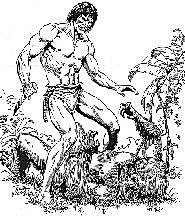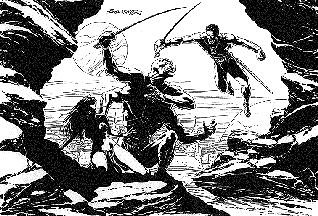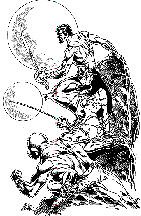 These are some examples of comic pages before and after being inked,
to show what can be involved in inking a page.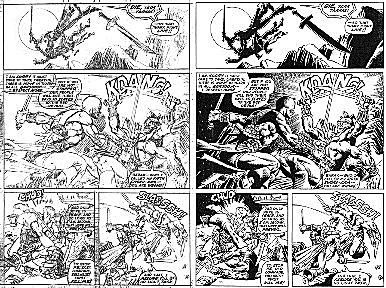 John Carter of Mars: Pencilled by Frank Miller ~ Inked by Bob McLeod
This was one of Frank Miller's first jobs, and his pencils were great fun,
but required some help here and there.
He was trying to pencil a bit like Gil Kane, the regular penciller on the book,
and I was trying to ink like Rudy Nebres, the regular inker.
---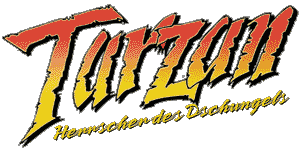 Check the German Website: http://www.tarzan-ist-da.de/index.html for this Tarzan parody
---
New Comic Release
League of Extraordinary Gentlemen, volume II, number 1.
From the review in Comics Buyer's Guide:
"It's set on Mars and involves writer Alan Moore and artist Kevin O'Neill reconciling various literary interpretations of the red planet (so Gullivar of Mars rides a flying carpet to meet John Carter, and they're fighting the H.G. Wells aliens, who use the tripods, and so on)."

---
Watch for Excerpts in Future Issues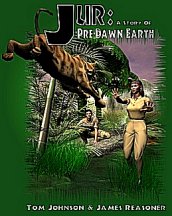 ---
Passages:
Animal trainer Frank Inn ("Benji") has died. Astute Burroughsologists will remember that he employed Cindy Chase (ERB's stepdaughter), who eventually ran the company. Cindy passed away last year.

Burroughs' former home at 414 Augusta Street in Oak Park has been purchased by new owners.

Submitted by Hollywood Correpondent Lord Passmore
---


Volume 0799

BILL HILLMAN
Visit our thousands of other sites at:
BILL AND SUE-ON HILLMAN ECLECTIC STUDIO
All ERB Images© and Tarzan® are Copyright ERB, Inc.- All Rights Reserved.
All Original Work © 1996-2002/2010 by Bill Hillman and/or Contributing Authors/Owners