First and Only Weekly Online Fanzine Devoted to the Life and Works of Edgar Rice Burroughs
Since 1996 ~ Over 10,000 Webpages and Webzines in Archive
Volume 0705
presents
A BURROUGHS BIBLIO-PRO-PHILE FEATURE
Bob Hyde's
ODYSSEY
OF A
TARZAN FANatic
The 1980s Decade
Part 1: 1980-1984
Chapter XLVII: 1980
This segment first appeared in ERBapa 64
---
1980 was a slow year in the Edgar Rice Burroughs world for me. No new films nor new editions of Burroughs books appeared during the year, except for George McWhorter's excellent publication, the University of Louisiana's 36-page Library Review 30 in May.

The most important event was the 21st DUM-DUM on the first and second of November. Vernell Coriell set it up to be with the annual Fantasy Convention at the Marriott Hunt Valley Inn in Hunt Valley, Maryland, outside of Baltimore. We had no Burroughs banquet, just the convention banquet.

Boris Vallejo was our Guest of Honor and the recipient of our 22nd Golden Lion Award. An Honorary Lifetime membership was given to Paul Allen, publisher of the fanzine The Barsoomian. We held a meeting, with about forty members attending. Vern and I gave speeches. We talked abut the editing of the new paperback editions of Ballantine books. I asked Don Wollheim, editor of Ace Books, how much editing he had done when he published a Burroughs story. His answer was that he did none at all. Some of his books were from the magazine versions and some were from the early book editions.
| | |
| --- | --- |
| Bob Hyde, Vernell Coriell, Boris Vallejo 1980 | Bob Hyde and a very young Boris Vallejo |
Boris Vallejo had a large display of his original art work and I was able to get him to autograph his 1978 book The Fantastic Art of Boris Vallejo.

Donald Grant was one of the featured speakers at the Fantasy Convention banquet. Stephen King was presented with the award for Fantasy fiction that year. Even one of the Thurians (Walter Albert) attended the convention. A rare event.

This DUM-DUM was the last time I was able to visit with Vernell Coriell, although he lived several more years.

We lost the great Burroughs story analyst and fanzine author John Harwood, on July 15, 1980. We have missed his thoughtful articles published in several of the Burroughs fanzines. He was also the author of the 1963 book The Literature of Burroughsiana.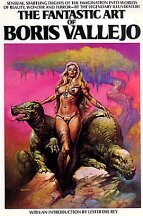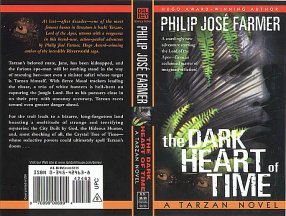 BOOK REVIEW (January 2000)

I have just finished reading Philip Jose Farmer's The Dark Heart of Time. He is a gifted writer, as attested to by his winning three Hugo awards. This book uses a character called Tarzan, but Farmer is no Edgar Rice Burroughs, and Farmer's Tarzan is not the Tarzan of Edgar Rice Burroughs. It is an interesting read, but it is not Burroughs. I liked it, but it disturbed me because Tarzan did not actor or think like Tarzan. But I recommended it because we have it, and we do not have Edgar Rice Burroughs to write another Tarzan tale.
---
Bob Hyde's Odyssey of a Tarzan FANatic
Chapter XLVIII: 1981
This segment first appeared in ERBapa 65
---
The 22nd Burroughs Bibliophiles DUM-DUM was held at the Hilton Hotel in Denver, Colorado, on Saturday, September 5, 1981. This was in conjunction with a Science Fiction Convention. Unfortunately for me, I was not able to attend that DUM-DUM.

Peter Ogden, editor and publisher of Erbania, did go to the DUM-DUM and decided to spend a few days with me in Pittsburgh before flying on to Denver. Fellow Thurian Jack Daley also joined in the visit with Pete. It is always great to visit with Pete, either in Pittsburgh or in Tampa, Florida.
| | |
| --- | --- |
| Jack Daley and Pete Ogden in Pittsburgh, 1981 | Danton Burroughs and Frazetta paintings at Tarzana (1981) |
There was no Burroughs Bibliophile luncheon in Denver. Vernell Coriell presented the artist Michael Whelan with the 23 Golden Lion Award at the Convention banquet. This apparently was a regional Science Fiction Convention because only 70 people attended the banquet. A World Convention would have drawn a much larger number.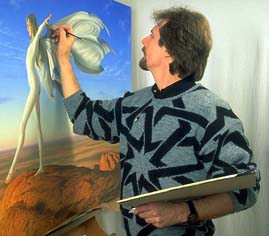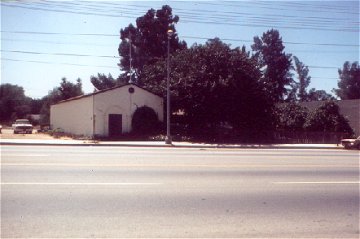 Later in September, my wife Alice and I made a vacation trip. We flew to San Francisco, a great town for visitors. We then drove down the Pacific coast to Los Angeles and, of course to Tarzana. This was Alice's first time in Tarzana. We both had a visit with Danton, and Alice received the office tour. Danton was the usual friendly greeter, especially when just the three of us were there together. He was not the usual busy businessman trying to do six things at onc time. Great visit!
After the Los Angeles and Tarzana visit we traveled to San Diego and on into Mexico, where I found a few Tarzan collectibles. Then back to Los Angeles, to fly back to Pittsburgh.

Enid Markey, who played Jane to Elmo Lincoln's "Tarzan of the Apes" in 1918, left us on November 15, 1981, and one of the great Burroughs artists, Russ Manning, died on December 1, 1981.
---
Bob Hyde's Odyssey of a Tarzan FANatic
Chapter XLIX: 1982
This segment first appeared in ERBapa 66
---
1982 was a very slow year for advancement in my Burroughs collection. I made no trips to Tarzana, no trips to interview movie actors, and no trips to Chicago to seek out Burroughs' old homes.

The Burroughs Bibliophiles DUM-DUM that year was held in Chicago at the Hyatt-Regency Hotel on Sunday, September 5, with approximately 90 members attending. I was unable to attend. Donald Wollheim of ACE Books (and DAW Books) was the recipient of our 25th Golden Lion Award, but he was unable to attend this DUM-DUM. He did finally receive it eight years later.

One of the better Tarzan artists, Mike Grell, was a Special Guest. George McWhorter and Mike Conran received Honorary Lifetime Memberships.

We lost one of my best friends, Stanleigh Vinson, on April 6, at age 73. He was then our Vice-President of the club, a truly dedicated Edgar Rice Burroughs admirer. We also lost the great Tarzana and Prince Valiant artist Harold R. Foster on July 25 at age 89.
---
Bob Hyde's Odyssey of a Tarzan FANatic
Chapter L: 1983
This segment first appeared in ERBapa 67
---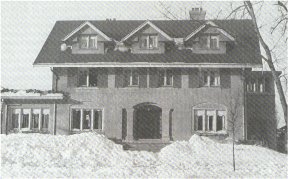 In July of 1983 I was again visiting Chicago. I went out to Oak Park to view the former homes of Edgar Rice Burroughs. I had done this in 1975, but I had heard that since that earlier visit a plaqu had been placed in the front yard at 700 Linden Avenue. It had been placed there in 1975, but after my earlier visit. The bronze plaque is in a corner garden, easily seen from the sidewalk, so I was able to view it on this visit.

The wording is:
IN THIS HOUSE RESIDED

EDGAR RICE BURROUGHS

MASTER OF THE ADVENTURE STORY
IN THE FIELD OF SCIENCE FICTION WRITING.
CREATOR OF TARZAN OF THE APES
AND JOHN CARTER OF MARS
A RESIDENT OF OAK PARK 1910 - 1919

PLACED TO MARK THE CENTENNIAL OF HIS BIRTH

SEPTEMBER 1, 1875 - 1975

BY THE HISTORICAL SOCIETY
OF OAK PARK AND RIVER FOREST.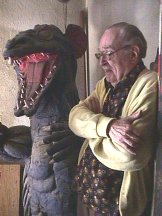 I was unable to attend the Burroughs Bibliophiles 1983 DUM-DUM at the Holiday Inn in the Inner Harbor area of Baltimore. Three Guests of Honor did attend and were awarded the Golden Lion Awards. The science-fiction author Jack Williamson received No. 26 and science-fiction fan and collector Forry Ackerman received No. 27. Mrs. Rex Maxon was the third guest. She belatedly accepted the 18th Golden Lion Award at the 15th DUM-DUM in Washington, D.C.

Bill Ross was given an Honorary Lifetime Membership status. George McWhorter presented Vernell Coriell, our founder, with the Outstanding Achievement Award.

With the death of Stanleigh Vinson, our Vice-President, in April 1982, my long-time friend and charter member Allan Howard was appointed to fill the position of Vice-President by Vernell Coriell.

There was an average attendance of 65 members at the banquet for this gathering of the Great Apes.

In November my wife Alice, and I traveled to historic Colonial Williamsburg in Virginia for a Thanksgiving vacation. While we were there I uncovered a little-known fact. We ate dinner one night at the remodeled Kings Arm Tavern, on the Duke of Gloucester Street. This is probably the most famous of the taverns in Colonial Virginia. It was noted that George and Martha Washington had dined there in 1772.

What I found most enlightening was on the back of the menu, the history of the building. In the 1760s it was the home of Captain John Carter. So, apparently before fighting in the Civil War, our John Carter was a Captain in the British Virginia Militia. He would have fought in the Revolutionary War with the rebels of the Virginia Colony against the British. He probably was involved in the last major battle, at Yorktown Virginia that ended the war. No wonder he can't remember any childhood. His history in Virginia goes back too far!

We lost Jim Pierce, the fourth movie Tarzan and first radio Tarzan, on November 12, 1983 at age 83. He and we had lost his wife, Joan Burroughs Pierce back on December 30, 1972 at age 64.

---

Bob Hyde's Odyssey of a Tarzan FANatic
Chapter LI: 1984
This segment first appeared in ERBapa 69

---
In May of 1984 I made a vacation trip to the East Coast. Among other sites I visited, I went to the Museum of Comic Art in Port Chester, New York. It was an old house, built like a castle or fort. The Museum had been started and was supervised by Mort Walker, the writer and illustrator of "Beetle Bailey." It was full of original comic strips and Sunday comic-page drawings. There were many of Tarzan, some from Hal Foster and Burne Hogarth, as well as some of the daily-strip illustrators. In addition to those, there was a life-size drawing of Tarzan by Joe Kubert that was hung in a stairwell. The Museum is no longer in Port Chester. It has been relocated to Boca Raton, Florida, still with the same theme.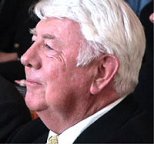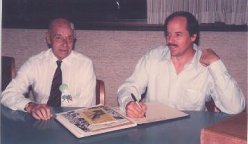 The first official ECOF gathering was hosted by the late John Carson in Toronto, Canada. The Guest of Honor was the long-time Burroughs fan and correspondent with Edgar Rice Burroughs and his family, Frank Shonfeld from England.

Vernell Coriell had had at least one stroke by 1984 and decided he could not organize a DUM-DUM gathering at the Worldcon, held in Los Angeles on September 1, 2, & 3, 1984. And by this time the Worldcon committees were making us an unwelcome addition to their program. Bill Ross did attend the Worldcon and with some other ERB fans had a dinner in Tarzana. So at least that was an unofficial substitute for the DUM-DUM.

On January 20, 1984, the greatest reel Tarzan of them all, Johnny Weissmuller, died at age 79 after a long illness. He died and was buried in Acapulco, Mexico. He reigned as the film Tarzan longer than any other actor, from 1932 to 1948, starring in Twelve Tarzan films before leaving to portray Jungle Jim in films and TV. In my opinion, Johnny Weissmuller had as much influence as Edgar Rice Burroughs in making Tarzan as popular as he became.

We lost James Michael Pierce in June of 1984 at age 49. He was the son of Jim and Joan (Burroughs) Pierce. He had been a Marine Corps pilot and retired in 1980 to become President of Edgar Rice Burroughs, Inc.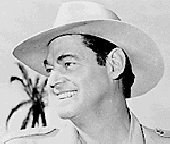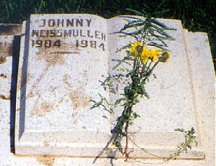 ---
BACK TO
Bob Hyde's
ODYSSEY OF A TARZAN FANatic
Navigation Chart and Introduction



Volume 0705



WEBJED: BILL HILLMAN
Visit our thousands of other sites at:
BILL AND SUE-ON HILLMAN ECLECTIC STUDIO
All ERB Images© and Tarzan® are Copyright ERB, Inc.- All Rights Reserved.
All Original Work © 1996-2002/2010 by Bill Hillman and/or Contributing Authors/Owners