First and Only Weekly Online Fanzine Devoted to the Life and Works of Edgar Rice Burroughs
Since 1996 ~ Over 10,000 Webpages and Webzines in Archive
Volume 0704
presents
A BURROUGHS BIBLIO-PRO-PHILE FEATURE
Bob Hyde's
ODYSSEY
OF A
TARZAN FANatic
The 1970s Decade
With sidebars and added illustrations by Bill Hillman
---

Bob Hyde's Odyssey of a Tarzan FANatic
Chapter XXXIX: 1973-1974
This segment first appeared in ERBapa 56

---

My personal Odyssey through the worlds of Edgar Rice Burroughs continued in 1973, but with reduced activity. Family obligations and job requirements prevented any trips to meet any of the people connected with the Burroughs mythos.

I did continue my lifelong commitment of reading and collecting the Sunday Tarzan strips, and I slowly continued a task of re-reading every one of Burroughs' stories. I also kept buying and collecting the new editions of Burroughs' books and comic books as they were being published, as well as those pseudo-Tarzan books by Philip Jose Farmer.

I was unable to attend the 1973 Burroughs Bibliophiles DUM-DUM, which was held a the Royal York Hotel in Toronto, Canada in September as part of the 31st World Science Fiction Convention.

Guest of Honor was Buster Crabbe and Phil Farmer was the Guest Speaker. Vernell Coriell presented our Golden Lion Award to Crabbe. That year, for the first time, the Award was a bronze sculpture of Tarzan and Jad-bal-ja, in place of the silver bowl we had previously been giving. Vern also received a Golden Lion Award, but it was a plaque, not a sculpture.

Approximately 100 members attended the banquet.

During 1973 the following people unfortunately made the journey down the River Iss: Joan Burroughs Pierce, Rex Maxon and Lex Barker.

1974 was also a slow year for me. However, I was able to attend our DUM-DUM, held in Washington, D.C. as part of the 32nd World Science Fiction Convention. About 125 Bibliophiles gathered at the Sheraton Park Hotel the last weekend in August. The DC comic-book writer and artist Joe Kubert was our Guest of Honor and recipient of the Golden Lion Award. Rex Maxon's widow also received the Award for her late husband, in absentia.

All of my family, my wife Alice and children, Wendy, John and Susan, were able to attend this DUM-DUM, for a change. They also enjoyed the Science Fiction costume contest. They had a chance to see the premier showing of the film based on Harlan Ellison's story "A Boy and His Dog." This was probably the childrens' first Science Fiction film, and it left a lasting impression, especially the ending.

In 1974, we lost Glenn Morris and Bibliophiles member P. Schuyler Miller. Miller was a technical writer for Fisher Scientific and a good friend. His talents also were those of a published Science Fiction writer and book reviewer for ASTOUNDING/ANALOG magazine.

---

Bob Hyde's Odyssey of a Tarzan FANatic
Chapter XLIII: 1977
This segment first appeared in ERBapa 60

---

January 1977 saw the release of a Tarzan film that was not seen by many Burroughs fans. It was an unauthorized X-rated picture: "Tarz & Jane & Boy & Cheeta." But it was widely distributed in the Pittsburgh area, so Jack Daley and I saw it one night with a sold-out audience. Perhaps the big crowd resulted from the theater being in walking distance from the University of Pittsburgh. Those in attendance appeared to be mostly college students. The film had an amusing story line, apparently written by someone familiar with the Johnny Weissmuller films. Again, Edgar Rice Burroughs, Inc. sued to stop it. It was released a month later as "King of the Jungle, and Jane, and Boy and Cheeta."

In 1977, the Saturday morning animated Tarzan series continued, with a very good rating in its time period for that type of program. Marvel Comics started printing the Tarzan and John Carter comic books in March, 1977. The Tarzan art work was by John Buscema and the John Carter drawings by Gil Kane. In my opinion, good, but not the best.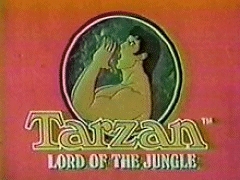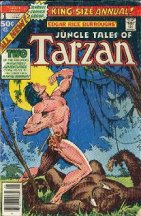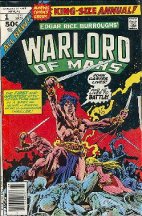 | | |
| --- | --- |
| | Ballantine Books published the paperback version of the Irwin Porges' Edgar Rice Burroughs biography in a boxed set of two volumes. Mirage Press published Richard Lupoff's book Barsoom. This is an analysis and evaluation of Burroughs' Martian tales, rather than a description of each story. Lupoff attempts to show us an "understanding of the Martian cycle on a number of levels and in a number of concepts other than a series of romantic adventures." He claims that John Carter is really Edgar Rice Burroughs' alter ego. This was an excellent follow-up to John Flint Roy's bookd A Guide to Barsoom, published by Ballantine Books in 1976. |
| | |
| --- | --- |
| | The film "The People That Time Forgot" was released in June, 1977. It was a fairly close adaptation of ERB's story, yet different, as all book-to-movies are. An interesting sidelight of that film is that the producers were using a helicopter to fly over the mountains of Scotland in the winter of 1776-77, filming the snow and ice to be used as the high ice wall of Caprona. The helicopter flew into a blizzard and crashed into Lake Avon. The pilot and cameraman were rescued by the Royal Air Force, but the helicopter and the film sank into the lake. Ace Books published a movie tie-in paperback edition with cover art and 16 photo stills from the motion picture. |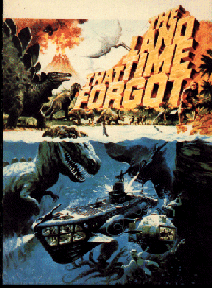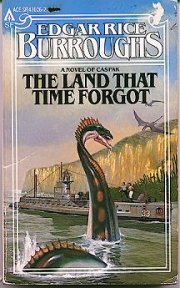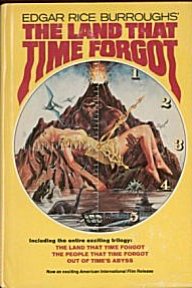 | | |
| --- | --- |
| | The 18th Dum-Dum was held on Saturday, September 3, 1977, as part of the 35th World Science Fiction Convention in Miami Beach, Florida. The location was The Fountainebleau Hotel, which described itself as "America's premier hotel resort." Once again I was unable to attend. The Guest of Honor was Leigh Brackett, a loyal Burroughs Bibliophile. She was an early admirer of Burroughs' works, especially the Mars stories, and she created her own hero, Eric John Stark, who romanced and adventured in Brackett's own Solar System. Her system included Mercury, Venus, Terra, and Mars in some undetermined future time. Her Mars was similar to Barsoom - a dying, desert world, with barbaric tribes and decaying cities, yet different in her own style. She was awarded the 20th Golden Lion Award at our luncheon with only a small group of about 40 members attending. |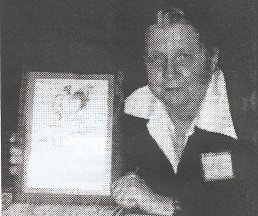 Leigh Brackett with her Golden Lion Award,
September 1977, Fontainebleau Hotel, Miami Beach, FL.
Leigh Brackett's major work was in the field of science and fantasy fiction (over 200 titles) but her work included many crime novels and short stories. She also wrote screenplays for several highly acclaimed films by Howard Hawks, television scripts for Checkmate and Suspense series, and a play, "Terror at Northfield," for the Alfred Hitchcock Presents. Shortly before her death, Brackett scripted The Empire Strikes Back for the director and pulp fiction fan George Lucas. Other screenwriter credits included The Long Goodbye, Rio Lobo, El Dorado, Hatari! and The Big Sleep.
On August 5, 1977 we lost another charter member of the Burroughs Bibliophiles, Maurice Gardner (Bantan series), at age 72.

Bantan, "the bronzed giant," a South-Pacific imitation of Tarzan, debuted in Bantan--God-Like Islander (1936). The orphaned three-year-old Arthur Delcourt is washed ashore on the South Seas island of Beneiro. He is found by the native chief and raised by him, but educated by the local French missionary, Father Lasance. When Arthur, now called Bantan by the natives, reaches 18 he begins his adventures (the usual Tarzan variety, only on uncharted South Pacific islands full of Lost Civilizations, dinosaurs, amazons, and weird science) in a series of novels.
1936 Bantan - God-like Islander (also published as Bantan of the Islands)
1942 Bantan and the Island Goddess
1955 Bantan Defiant
1957 Bantan Valiant
1959 Bantan's Island Peril (illustrations by British pulp artist Jim Cawthorn)
1960 Bantan Incredible (illustrations by David Prosser)
1961 Bantan Primeval
1963 Bantan Fearless
---
Bob Hyde's Odyssey of a Tarzan FANatic
Chapter XLIV: 1978
This segment first appeared in ERBapa 61
---
1978 was an adventurous year for me.

On July 30, my son John rented a single-engine propeller airplane and flew me to Mansfield, Ohio for a visit with Stanleigh Vinson, then Vice-President of The Burroughs Bibliophiles. John was a student in the flying program at Purdue University and was home on summer vacation. Stan and I had been good friends for twenty-plus years. I had visited him and his fabulous collection of books and original paintings at least fifteen times over those years.

Stan and his daughter Sue met us at Mansfield's small airport, then drove us to Stan's new home. We had a great time at his home and library. Everything had been rearranged from his previous library.

We flew back that same evening, in the clouds all the way. John flew strictly on radio instruments. We came down out of the clouds with the Pittsburgh runway right in front of us. With this plane it took us about three hours for the trip.

Sad to say, that was the last time I was ever to see Stan. Not long after our visit he had a series of strokes and went into a coma that lasted several years.

In August, my wife Alice and I flew to Las Vegas for a few days at the slot machines. Then we drove to Hoover Dam, the Grand Canyon, and on to Monument Valley in Utah, site of several John Ford western films. Those beautiful stone columns, carved out by the weather eons ago, are an awesome sight. From there we drove through the Petrified Forest and the Painted Desert of Arizona, staying in Springerville, Arizona overnight. I had written earlier to Hulbert Burroughs about our trip. He sent me a map showing how to find the Steinberg Ranch where he and his father had vacationed in 1933. This was the location used by ERB in his Prologue to Swords of Mars. They stayed in "a tiny cabin, near the headwaters of the Little Colorado River." Here Captain John Carter again returned to Jasoom to visit his "nephew" and to tell him the story that was published as Swords of Mars. I believe that original cabin had been torn down or had fallen apart. But I located a more modern cabin at the ranch, and imagined it to be at the same location. Along the back of the cabin property ran the Little Colorado River. I almost imagined ERB there, listening to John Carter relate his latest tale of Barsoom.

Leaving the Steinberg Ranch, we traveled south on the crest of the White Mountains to Mt. Graham and found the location of old Fort Grant, where ERB was stationed with the U.S. Army 7th Cavalry in 1896-1897. It was at the base of Mt. Graham, on the west side, and is now a maximum-security prison. A perfect spot for a prison, nothing around it but desert, with Mt. Graham (el. 10,720 feet) to the east. I asked an officer at the Administration office if any buildings of the old Fort still existed. His answer was that they had all been destroyed over the years. After all, it was nearly a hundred years since ERB had served there.

Prison at foot of Mt. Graham, 1978


Mike Pierce, Bob Hyde, Vernell Coriell
1978 DUM-DUM luncheon ~ Adams Hotel, Phoenix

The Quartermaster's Storehouse

FORT GRANT

Fort Grant, now a prison, was originally a United States Army Cavalry Post. Because of unhealthy living conditions at Old Camp Grant, General Crook relocated the post some 45 miles northeast of the old camp at the foot of towering Mount Graham. On December 19, 1872, Fort Grant was established at the foot of Mount Graham by the direction of General Crook. In January of 1873, eleven companies of cavalry and infantry were transferred to Fort Grant, under the command of Major Brown. They immediately started work on the construction of a commissary building, officers' quarters and a wagon road up the side of Mount Graham.

Troops patrolled Southeast Arizona and Western New Mexico, chasing small marauding bands of Apache Indians and keeping the peace. Ft Grant was a hub of activity during the Apache Campaigns. It boasted a quartermaster store second to none. The building later called Brown's Folly was over 200 feet long and 40 feet wide. It was constructed of solid stone and is still in use. Troops from Fort Grant participated in the military campaign against Geronimo which ended with Geronimo's surrender in August of 1886. In 1888, the Buffalo Soldiers of the 10th Cavalry were used in civil duties and for chasing train robbers. On May 11, 1889, Paymaster Major Wham was robbed of $29,000 in gold and silver coins while en route to pay the soldiers at Fort Thomas and Fort Apache. Starting in 1900, Fort Grant was a collection point for troops going to the Philippines during the Spanish American War. On October 4, 1905, Captain Jenkins marched Troop D across the parade grounds for the final time. The troops were transferred to Fort Huachuca and Fort Grant was left to a caretaker. In 1912, the federal government turned over Fort Grant to the new state to be used as the State Industrial School for Wayward Boys and Girls. Ft Grant had a taste of delinquency long before the State Industrial School was moved there. William H. Bonney (AKA Billy the Kid) allegedly killed a man at this frontier outpost in a fight.
We continued to Tucson, with a side trip to the filming location of an old western town - "Old Tucson." We saw a film crew filming something there, doing it about ten times to get it right.

During the whole trip I kept searching for the John Carter cave, but I was not successful in finding it.

We left there and traveled to the 19th DUM-DUM at the Adams Hotel in downtown Phoenix. James Pierce was scheduled to be our honored guest, but he was too ill to attend. Vern contacted Buster Crabbe, then living in nearby Scottsdale, to be the substitute guest. Buster Crabbe was a good choice, even though he had been a guest before, because he was very talkative. Also attending was James Pierce's son Michael, who had retired from being a Marine Corps pilot to take over the position of President of Edgar Rice Burroughs, Inc. This was the only time I was able to meet and talk with him. He died of cancer six years later at age 49. About 65 guests were at the DUM-DUM, which was pretty good for a far western city.

Alice and I flew back to Pittsburgh after the DUM-DUM, since our three children had to start a new school year.

We lost the Burroughs Bibliophile 1977 Guest of Honor Leigh Brackett on March 18, 1978 at age 62.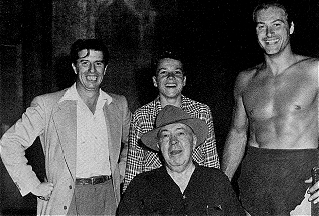 ---
BACK TO
Bob Hyde's
ODYSSEY OF A TARZAN FANatic
Navigation Chart and Introduction



Volume 0704



WEBJED: BILL HILLMAN
Visit our thousands of other sites at:
BILL AND SUE-ON HILLMAN ECLECTIC STUDIO
All ERB Images© and Tarzan® are Copyright ERB, Inc.- All Rights Reserved.
All Original Work © 1996-2002/2010 by Bill Hillman and/or Contributing Authors/Owners