Official Edgar Rice Burroughs Tribute and Weekly Webzine Site
Since 1996 ~ Over 15,000 Web Pages in Archive
Volume 6428

DARRELL RICHARDSON
Fanzine Appearances in the 1940s
Part One
From the David Sorochty Collection
Click for full-size pages

Fantastic Adventures ~ April 1944 ~ V06n02
Letter: CAN ANYONE HELP HIM!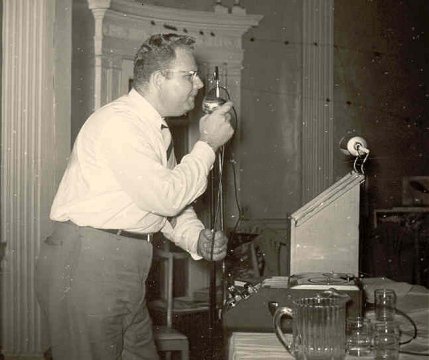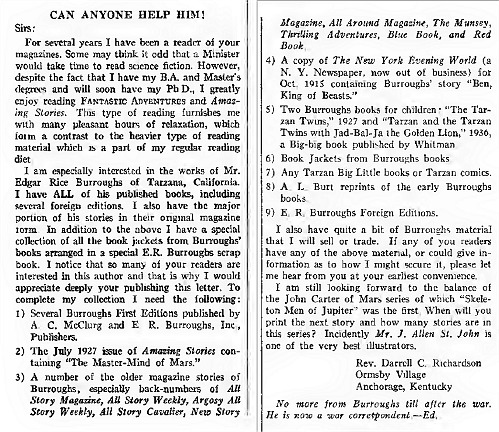 For several years I have been a reader of your magazines. Some may think it odd that a Minister would take time to read science fiction. However, despite the fact that I have my B.A. and Master's degrees and will soon have my Ph.D.., I greatly enjoy reading FANTASTIC ADVENTURES and AMAZING STORIES. This type of reading furnishes me with many pleasant hours of relaxation, which form a contrast to the heavier type of reading material which is part of my regular reading diet.

I am especially interested in the works of Mr. Edgar Rice Burroughs of Tarzana, California. I have ALL of his published books, including several foreign editions. I also have the major portion of his stories in their original magazine form. In addition to the above I have a special collection of all the book jackets from Burroughs' books arranged in a special E.R. Burroughs scrap book. I notice that so many of your readers are interested in this author and that is why I would appreciate deeply your publishing this letter. To complete my collection I need the following:
1) Several Burroughs First Editions published by A C. McClurg and E. R. Burroughs, Inc., Publishers.
2) The July 1927 issue of Amazing Stories containing "The Master-Mind of Mars."
3) A Number of the older magazine stories of Burroughs, especially back-numbers of All Story Magazine, All Story Weekly, Argosy All Story Weekly, All Story Cavalier, New Story Magazine, The Munsey, Thrilling Adventures, Blue Book, and Red Book.
4) A copy of The New York Evening World (a N. Y. Newspaper, now out of business) for Oct. 1915 containing Burroughs' story "Ben, King of Beasts."
5) Two Burroughs books for children: "The Tarzan Twins," 197 and "Tarzan and the Twins with Jad-Bal-Ja the Golden Lion," 1936, a Big-big book published by Whitman.
6) Book Jackets from Burroughs books.
7) Any Tarzan Big Little books or Tarzan comics.
8) A. L Burt reprints of the early Burroughs books.
9) E. R. Burroughs Foreign Editions

I also have quite a bit of Burroughs material that I will sell or trade. If any of you readers have any of the above material, or could give information as to how I might secure it, please let me hear from you at your earliest convenience.
I am still looking forward to the balance of the John Carter of Mars series of which "Skeleton Men of Jupiter" was the first. When will you print the next story and how many stories are in this series. Incidentally Mr. J. Allen St. John is one of the very best illustrators.

Rev. Darrell C. Richardson
Ormsby Village
Anchorage, Kentucky

No more from Burroughs till after the war. He is now a war correspondent. ~ Ed.





Fantasy Fiction Field ~ June 1944
Facts On The Works of
Edgar Rice Burroughs
Compiled by D.C Richardson



Click for full-size pages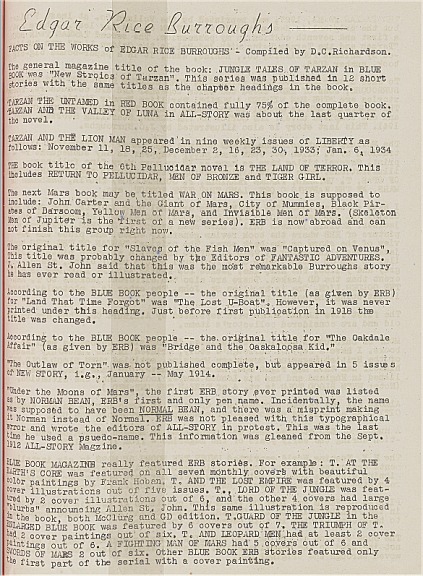 .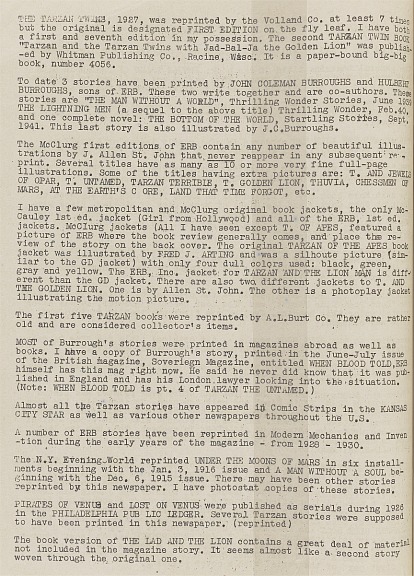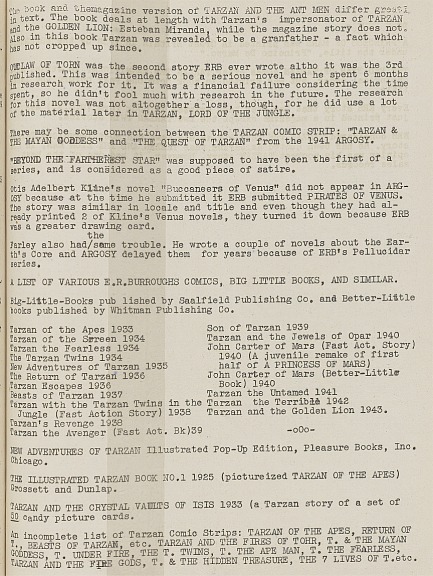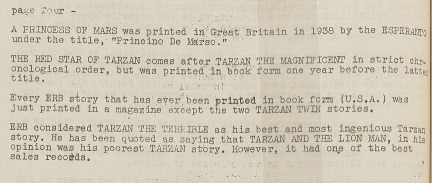 DARRELL RICHARDSON
Fanzine Appearances in the '40s

Read the Other Chapters in the
DARRELL C. RICHARDSON
Biblio-Pro-Phile




BILL HILLMAN
Visit our thousands of other sites at:
BILL AND SUE-ON HILLMAN ECLECTIC STUDIO
ERB Text, ERB Images and Tarzan® are ©Edgar Rice Burroughs, Inc.- All Rights Reserved.
All Original Work ©1996-2018 by Bill Hillman and/or Contributing Authors/Owners
No part of this web site may be reproduced without permission from the respective owners.