The First and Only Weekly Online Fanzine Devoted to the Life and Works of Edgar Rice Burroughs
Since 1996 ~ Over 15,000 Webpages in Archive
Volume 6307
Presents
Presents

ERB of the Silver Screen
A Resource Guide to the Movies of Edgar Rice Burroughs
An ongoing ERBzine and ERB C.H.A.S.E.R. ENCYCLOPEDIA project
www.erbzine.com/mag5/0502.html

FILM CENTENNIAL CELEBRATION
PART VI
From TARZAN ON FILM by Scott Tracy Griffin
Celebrating the Tarzan Film Centennial #50


Edgar Rice Burroughs' negotiations with producer Pliny Craft for the third ape-man picture hit a snag when Craft saw William Parsons' "The Romance of Tarzan" in theaters, and felt it infringed on his intent to shoot the second Tarzan novel, "The Return of Tarzan," which sees Tarzan pursuing Jane back to civilization, only to return to the jungle. Parsons paid the incensed Craft $3,000, then demanded author Burroughs reimburse him.

Parsons and Burroughs both retained lawyers, but reached an amicable conclusion, with Craft's scenario writer Charles A. Logue assuring him that he could craft a storyline from the book that wouldn't overlap with Parsons' effort. Burroughs suggested Craft title the third film "Tarzan of the Jungle," with "The Return of Tarzan" as a subtitle. Craft instead chose to title the picture simply "The Return of Tarzan."

Above: Tarzan (Elmo Lincoln) is unable to assimilate with high society, as Jane (Enid Markey) and Professor Porter (Thomas Jefferson) look on with horror in this still from "The Romance of Tarzan" (1918). Producer Pliny P. Craft felt that the Tarzan-in-civilization scenario infringed his own rights to the novel "The Return of Tarzan."

Celebrating the Tarzan Film Centennial #51

T. Hayes Hunter ~ Eugene Strong ~ "The Border Legion"

On January 25, 1919, Monopol Pictures producer Pliny P. Craft wrote to author Edgar Rice Burroughs about his proposed film "The Return of Tarzan":

"I have made tentative arrangements with T. Hayes Hunter to direct the first picture . . . He made the [Zane Grey Western film] 'Border Legion' which he has just released through Goldwyn Pictures Corp. I wish you would see this picture and tell me what you think of Hunter as a director . . . Also let me know if you think Eugene Strong, who plays the lead in 'The Border Legion' would make a good 'Tarzan.' He is handsome and a real actor, but is he big enough for the part? Will the public expect to see a man as big as Elmo Lincoln? Lincoln is now working on some serial picture at the coast. I don't think he is the right many, anyway."

---


6'2" siIent actor Eugene Strong (1893-1962) played cowboy Jim Cleve, the lead in the Zane Grey Western "The Border Legion" (1918). Monopol Pictures producer Pliny P. Craft considered Strong for the lead in the third Tarzan picture, adapted from the novel "The Return of Tarzan"--a role eventually won by fireman Gene Pollar for his screen debut.

---

In the Zane Grey Western "The Border Legion" (1918), wrongly accused cowboy Jim Cleve (Eugene Strong) is rescued by outlaw Jack Kells (Hobart Bosworth) and joins the bandit's gang. When Joan Randall (Blanche Bates) is taken prisoner, Cleve has a change of heart and escapes with her. Due to their solid performance, Strong and director T. Hayes Hunter were candidates for lead and director on the third Tarzan picture, "The Return of Tarzan."

Celebrating the Tarzan Film Centennial #52

On January 28, 1919, Tarzan author Edgar Rice Burroughs responded to Monopol Pictures film producer Pliny P. Craft, describing his conception of his ape man:

"In the matter of a man for Tarzan, it may help you some to know that Elmo Lincoln was . . . far from my conception of the character . . . Tarzan was not beefy but was light and graceful and well muscled. The People who could see Tarzan of the Apes and the Blacksmith of Louvain [Lincoln's role in the lost 1918 war propaganda film 'The Kaiser, the Beast of Berlin'] as identical characters had just about as much conception of my story and of the characters as one might expect after seeing some of the atrocious things they did to the picture and the story.

"In the first place Tarzan must be young and handsome with an extremely masculine face and manner. Then he must be the epitome of grace. It may be difficult to get such a man but please do not try to get a giant or a man with over-developed muscles. It is true that in the stories I often speak of Tarzan as the 'giant Ape-man' but that is because I am rather prone to use superlatives. My conception of him is a man a little over six feet tall and built more like a panther than an elephant. I can give you some facial types that will give you an idea of about what I conceive Tarzan to look like though of course it is impossible to explain an ideal. I should say that his face was more the type of Thomas Meighan's or Tom Forman's but not like Wallace Reid. In other words, I conceive him of having a very strong masculine face and far from a pretty one."

---


Tom Forman ~ Thomas Meighan ~ Wallace Reid

---

Texan Tom Forman (1893-1926) was a silent film actor whom Tarzan author Edgar Rice Burroughs felt had the facial type to portray Tarzan. In 1923, Forman directed the silent screen vision of "The Virginian"; the Owen Wister novel was one of Edgar Rice Burroughs' favorite books.

---

The stern visage of Thomas Meighan (1979-1936), here in barbaric garb from the Cecil B. DeMille picture "Manslaughter" (1922), gives an idea of the sort of Tarzan he would have made. Tarzan creator Edgar Rice Burroughs felt that silent matinee idol Meighan (then 40 years old) was the proper type to play the ape man.

---

Tarzan author Edgar Rice Burroughs felt that silent screen idol Wallace Reid (1891-1923), "the screen's most perfect lover," was too pretty to play Tarzan. Reid became addicted to morphine after a train accident, and died in a sanitarium--one of a series of Hollywood scandals, including the 1922 murder of William Desmond Taylor and the 1921 Roscoe "Fatty" Arbuckle rape trial, that may have inspired Burroughs to write his 1923 Tinseltown expose "The Girl From Hollywood," which contrasted the seedy life of Hollywood with the sort of wholesome outdoor life found on Tarzana Ranch.

Celebrating the Tarzan Film Centennial #53


Producer Pliny P. Craft assigned production duties to the Weiss brothers, Louis, Max and Adolph, who formed Numa Pictures Corporation to film "The Return of Tarzan" (numa was the generic name for lions in the ape-speak of Edgar Rice Burroughs' novels).

With Elmo Lincoln unavailable, shooting serials for Universal, the brothers launched their search for Tarzan in New York City. Joseph C. Pohler, a fireman and local athlete, won their role after a screentest in a Yonkers studio. Pohler was a shell rowing champion and member of the fire department's basketball and handball teams, as well as the winner of the 100-yard dash in the annual competition between the police and fire departments.

Pohler, born September 16, 1892 to second-generation German immigrants, changed his name to Gene Pollar, after a son who died of a childhood illness. The 6'2", 215-pound Pollar earned $100 a week to wrestle lions without a stunt double (though trainer Charles Gay stood nearby with a gun at the ready). His animals co-stars included Joe Martin, the orangutan and Charlie the elephant from Universal's menagerie.


Celebrating the Tarzan Film Centennial #54


Karla Schramm was cast as Jane opposite Gene Pollar as Tarzan in "The Return of Tarzan." Schramm and her older sister Paloma were child prodigies and concert pianists before Schramm caught the acting bug.

Born February 1, 1891 in Los Angeles, she and Paloma toured the world at ages 9 and 12, landing in Chicago, where they continued their music education. Returning to Los Angeles as an adult, Schramm appeared as an extra in the 1919 film "Broken Blossoms" when director D.W. Griffith discovered her and gave her a small role. After a few small parts and two turns as Jane (she reprised the role in "The Son of Tarzan," also released in 1920), Schramm returned to her first love, music, and began teaching piano at the studio of Thilo Becker, her childhood instructor.

Schramm died at her home in Los Angeles on January 17, 1980, just short of her eighty-ninth birthday. She was cremated and her remains were spread in the garden of her home.

Celebrating the Tarzan Film Centennial #55


The plotline to "The Return of Tarzan" (1920) followed that of the second ape man novel from which it was adapted. Tarzan (Gene Pollar), having lost Jane to civilization, returns to Paris on an ocean liner. En route, he exposes a pair of card sharps, Rokoff (Armand Cortez) and Polawitch (Walter Miller), who seek revenge, first by hiring eight thugs to unsuccessfully attack Tarzan, then through attempting lure the apeman into a compromising position with the Countess De Coude (Estelle Taylor), enraging her husband the Count (George Romain). To extricate his friend from these entanglements, D'Arnot (Franklin B. Coats) sends the ape man to Algeria on a foreign service mission, where Tarzan is captured and bound by his enemies, to serve as bait for a pride of lions. Freed by a loyal Bedouin girl, Tarzan later sails for Cape Town, but is tossed overboard by his antagonists and swims to the African coast. He is reunited with Jane (Karla Schramm) when she is shipwrecked nearby and he rescues her from a lion.

Celebrating the Tarzan Film Centennial #56


Harry Revier directed "The Return of Tarzan," supervised by George M. Merrick, from a script by Robert Saxmar. The film shot in studio in Yonkers and a palatial home in Lakewood, New York in late 1919, with exteriors shot in Florida and later California in December 1919–January 1920. A press release stated that Revier worked with a cast and crew of 600 and 63 animals, including 9 lions (with 4 L-Ko cubs born during the production, making their film debut), 5 leopards, 15 apes, 6 tigers, 2 chimpanzees, 2 elephants, and 24 monkeys. Ten days were devoted to filming the scenes with the ocean liner, yacht, and lifeboat, with the yacht blown apart and burned on camera. Producers claimed 3,000 extras were employed in the story, which portrayed 18,000 miles of travel.

Revier, born March 16, 1889 in Philadelphia, Pennsylvania, began his directing career at Universal, and followed "The Return of Tarzan" with "The Son of Tarzan," a 15-chapter serial shot in 1920. In 1921, Revier married starlet Doris Velegra (1904-1993), and guided her to stardom on Poverty Row before their 1926 divorce. Revier's career in exploitation films culminated with the 1938 picture "Child Bride," a salacious take on Appalachia. Revier died August 13, 1957 in Winter Park, Florida.

Celebrating the Tarzan Film Centennial #57


In April 1920, Louis Weiss of Numa Pictures sold world-wide rights to the completed "The Return of Tarzan" to Goldwyn Distributing Corporation for a $100,000 advance and a percentage of the box office. (In an interesting bit of déjà vu, Samuel Goldwyn's grandson, Tony Goldwyn, later voiced Tarzan in the animated 1999 Walt Disney hit "Tarzan.")

Harry Reichenbach, whom producer William Parsons had refused to hire for "The Romance of Tarzan" (despite his outstanding success in promoting "Tarzan of the Apes") was retained by Goldwyn to work his PR magic. This time, Reichenbach hired an actor to register as timber magnate Mr. T.R. Zann at the Belleclaire Hotel on May 23, a week before opening of film. He had a large piano case delivered to his room, and ordered 15 pounds of raw meat from the bellboy. When the bellboy brought the meat, the actor unveiled a lion in his suite, which sent the startled bellboy screaming for hotel security (the hotel's owner, a friend of Riechenbach, assisted in the stunt). As with the prior "Prince Charley" episode, the stunt was a big hit with the press, and Mr. Zann appeared at the Broadway Theatre with the lion as a pre-show prologue, with the ravenous feline devouring several pounds of meat for the audience's edification. Trainer Walter Beckwith, whom ERB had referred to the film, provided his lion Jim for the stunt.

The film, running 104 minutes in nine reels, sold out its four-week engagement. After the successful opening, theatrical exhibitors expressed their concern that the title, "The Return of Tarzan," led to the mistaken public impression that the picture was simply a re-release of Elmo Lincoln's film. For the July wide release, Goldwyn retitled it "The Revenge of Tarzan," and is usually referenced by this title. Though an archival copy of the film exists, it has not been restored for public release.

Celebrating the Tarzan Film Centennial #58



In this scene from "The Revenge of Tarzan," Tarzan (Gene Pollar) accosts Count De Coude (George Romain), who has caught is wife, the Countess (Estelle Taylor) alone with the ape man—a carefully crafted plot by the ape man's arch nemesis, the fiendish Rokoff (Armand Cortez).

One of the most beautiful and glamorous stars of the silent era, Estelle Taylor began her career with a small part in a Broadway musical and soon relocated to Hollywood. One of her film earliest roles was Countess De Coude in "The Return of Tarzan" (1920). Taylor's role as Miriam in Cecil B. DeMille's "The Ten Commandments" (1923) garnered a Paramount contract and bigger roles. She left Hollywood in 1932 to sing in vaudeville and nightclubs.

Born in Wilmington, Delaware on May 20, 1894, she was married three times, most notably to heavyweight boxing champion Jack Dempsey. Taylor's best friend in Hollywood was actress Lupe Velez; Taylor was the last person to see Velez alive before the "Mexican Spitfire" committed suicide. Taylor died of in her home of cancer on April 15, 1958 and is interred at the Hollywood Forever Cemetery.

George Romain, born in Bordeaux, France in 1878, relocated to the U.S. after appearing stateside with a French opera company, switching stage careers to drama in 1904. His part as Count De Coude in "The Return of Tarzan" was one of his largest film roles. Romain suffered a heart attack during the first act of a new play, "Chinese O'Neil" at the Walnut Street Theater in Philadelphia, Pennsylvania on May 7, 1920, and died soon afterward.

Celebrating the Tarzan Film Centennial #59


Castaways Polawitch (Walter Miller), Rokoff (Armand Cortez), and a sodden Jane (Karla Schramm) wash up on the African shore in this rare still from "The Revenge of Tarzan."

Cortez (also spelled Cortes) was born in Nemes France on August 16, 1880 and was educated in New York City, where he launched his acting career by appearing on Broadway. Cortez took his violin to sea to entertain the cast and crew, but rough seas made everyone too seasick to enjoy any atmospheric music. A poor swimmer, Cortez nearly drowned in the scene where the trio dove off the sinking yacht to the lifeboat, and had to be rescued from rough seas by a cameraman. Cortez died of an automobile accident on November 19, 1948 in San Francisco, California.

Brawny Walter Miller, who played Rokoff's right-hand muscle, Polawitch (Alexis Paulvitch in the Tarzan novels) was born William Corwin Miller on March 9, 1892 in Dayton Ohio. He began his silent film career with director D.W. Griffith in 1911 and appeared in more than 250 films. Miller suffered a heart attack on March 30, 1940 while working on the Gene Autry Western "Gaucho Serenade," and died shortly afterward.

Celebrating the Tarzan Film Centennial #60


Perhaps hoping to repeat the success they'd had casting Elmo Lincoln in serials, Universal Pictures offered "The Revenge of Tarzan" lead Gene Pollar a two-year contract for $350 a week to make films and serials. Pollar eagerly acceded, but the Weiss brothers refused to release him from his Tarzan contract. As a compromise, they offered him to Universal for $800 a week, $700 of which they would pocket. Disillusioned with Hollywood, Pollar returned to his fire-fighting job at Hook and Ladder Company No. 20 in New York City.

In 1944, Pollar retired from the fire department to work as a purchasing agent for a retail store chain. Fourteen years later, he retired to West Hollywood, Florida. There he enjoyed an active role in local community organizations, taking long drives and regaling groups like boy scout troops with his Hollywood tales.

Hospitalized to have a toe amputated, Pollar went into a coma from shock and suffered a massive heart attack and died on October 20, 1971, at age 79. He and his wife are buried at Forest Lawn Memorial Gardens Central Cemetery in Fort Lauderdale, Florida.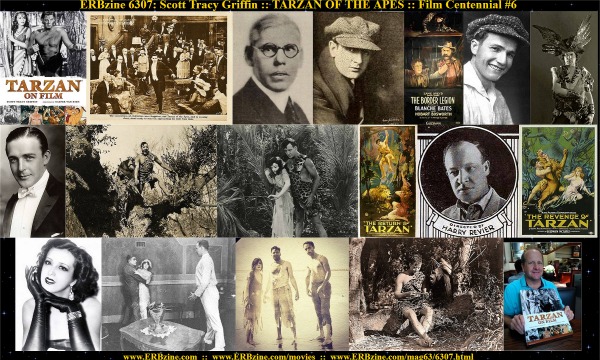 Click for full-size promo collage


Celebrate the 100th Anniversary of Tarzan of the Apes in film with
SCOTT TRACY GRIFFIN and his TARZAN ON FILM
PART I :: PART II :: PART III :: PART IV :: PART V :: PART VI :: PART VII :: PART VIII


ERBzine SILVER SCREEN SERIES
www.ERBzine.com/movies



BACK TO OUR INTRO PAGES FOR
TARZAN OF THE APES (1918)
www.erbzine.com/mag5/0503.html
THE ROMANCE OF TARZAN
www.erbzine.com/mag5/0504.html
THE SON OF TARZAN: SERIAL and FEATURE FILM
www.erbzine.com/mag5/0589.html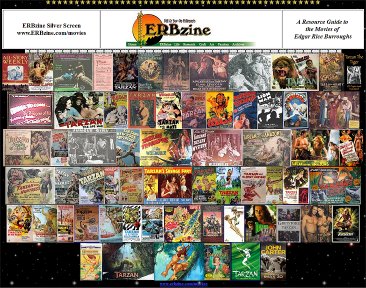 Celebrate the 100th Anniversary of Tarzan of the Apes in film with
SCOTT TRACY GRIFFIN and his TARZAN ON FILM
CONTENTS
PART I :: PART II :: PART III :: PART IV :: PART V :: PART VI :: PART VII :: PART VIII:: PART IX
:: PART X :: PART XI:: PART XII:: PART XIII:: PART XIV:: PART XV:: PART XVI:: PART XVII
:: PART XVIII :: PART XIX :: PART XX :: PART XXI:: PART XXII:: PART XXIII:






BILL HILLMAN
Visit our thousands of other sites at:
BILL AND SUE-ON HILLMAN ECLECTIC STUDIO
ERB Text, ERB Images and Tarzan® are ©Edgar Rice Burroughs, Inc.- All Rights Reserved.
All Original Work ©1996-2018 by Bill Hillman and/or Contributing Authors/Owners
No part of this web site may be reproduced without permission from the respective owners.