The First and Only Weekly Online Fanzine Devoted to the Life and Works of Edgar Rice Burroughs
Since 1996 ~ Over 15,000 Webpages in Archive
Volume 6302
Presents

ERB of the Silver Screen
A Resource Guide to the Movies of Edgar Rice Burroughs
An ongoing ERBzine and ERB C.H.A.S.E.R. ENCYCLOPEDIA project

TARZAN OF THE APES (1918)
www.erbzine.com/mag5/0503.html
FILM CENTENNIAL CELEBRATION
PART I
From TARZAN ON FILM by Scott Tracy Griffin
Valentine's Day with Tarzan and Jane
Invited by Scott Tracy Griffin
Open to Public · Hosted by Edgar Rice Burroughs
Wednesday, February 14 at 7:30 PM - 9:30 PM PST
Hollywood Heritage Museum
Los Angeles, California 90068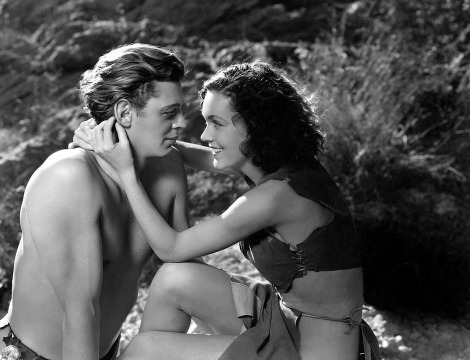 The 2018 Tarzan Film Centennial celebrations will kick off on February 14 with "Valentines Day with Tarzan and Jane" at the Hollywood Heritage Museum, where Scott Tracy Griffin, Director of Special Projects for Edgar Rice Burroughs, Inc. will discuss the film franchise's storied history.
For more information, see
http://www.hollywoodheritage.org/events-calendar

Celebrating the 2018 Tarzan Film Centennial #1

In October 1912, "The All-Story" pulp magazine printed, complete in one issue, the adventure novel "Tarzan of the Apes" by fledgling author Edgar Rice Burroughs, whose previous story, "Under the Moons of Mars" (later retitled "A Princess of Mars")
had run in the February-June issues of the magazine under the pseudonym "Norman Bean."

"Tarzan of the Apes" was an immediate sensation, and newspapers across the country began reprinting the story in serialized form.

The novel presaged great things for Burroughs, and was a turning point in American pop culture.

Recognizing the commercial potential of his creation, Burroughs soon embarked on a sequel, "The Return of Tarzan," launching what would eventually become a series of 24 novels and a media empire.

Celebrating the 2018 Tarzan Film Centennial #2

In 1914, the pulp story "Tarzan of the Apes" was published as a hardback novel by Chicago publisher A.C. McClurg.

Author Edgar Rice Burroughs, ever the entrepreneur, retained agent Cora Wilkening, to shop the book to movie producers and studios in the nascent film industry.

Burroughs met with Colonel William Selig, who was producing jungle pictures through his Selig Polyscope company,
but the Colonel eventually passed on Tarzan, opting instead to produce Burroughs' story "The Lad and the Lion," which was released on May 14, 1917.

Celebrating the Tarzan Film Centennial #3

By 1916, Edgar Rice Burroughs was a prosperous author (having written two dozen stories in four years), who posed for this formal studio portrait at age 41.

On June 6 of that year, Burroughs sold the film rights to his novel "Tarzan of the Apes" to producer William "Smiling Bill" Parsons
for a $5,000 cash advance, stock, and five percent of the gross box office.

Celebrating the Tarzan Film Centennial #4


William E. "Smiling Bill" Parsons (seen here in a 1919 promotional photo for "The New Breakfast Food") was a former insurance salesman-turned comedy actor and producer.

Upon optioning "Tarzan of the Apes" on June 12, 1916, he immediately encountered difficulties meeting deadlines and paying author Edgar Rice Burroughs' advance, until he was finally able to raise the money by hiring David Watkins as a sales agent.

Watkins procured the capital from a Wyoming cattlemen's association. On Oct. 28, 1916, Burroughs received $10,000 in stock and the balance of his $5,000 advance for film rights to his novel.

Burroughs was already growing impatient with the false promises and glacial pace of the production.

Celebrating the Tarzan Film Centennial #5



In early 1917, producer William E. Parsons moved his operation from Chicago to Hollywood, establishing his National Film Corporation at L. Frank Baum's former Oz Manufacturing Studios at Gower Street and Santa Monica Boulevard.

There, Parsons began pre-production on his planned epic, "Tarzan of the Apes." Former newspaperman William E. Wing was hired to script, which became a bone of contention with author Edgar Rice Burroughs, who was unhappy with Wing's changes to the original novel. Parsons assured Burroughs that other writers would smooth out the script; Fred Miller and Lois Weber were eventually credited for the scenario.

Wing later returned to the franchise to script "Tarzan and the Golden Lion" (1927), starring James Pierce as Tarzan.

Celebrating the Tarzan Film Centennial #6


After considering South America and Tampa, Florida for the "Tarzan of the Apes" location shoot, producer William E. Parsons chose Morgan City, Louisiana, and the surrounding Atchafalaya Basin swamp as a stand-in for the African jungle.

On August 1, 1917, the cast and crew, numbering 21 people, and including leads Stellan Windrow (Tarzan) and Gordon Griffith (Tarzan the child) departed Hollywood by train for the six-week shoot.

A team of professional acrobats, hired to play the apes, was supplemented by athletes from the New Orleans Athletic Club.

The shoot date was chosen to accommodate the local sugarcane harvest; 300 local workers were to be hired in the off-season to play natives. In the photo below, the sailor Binns (George B. French), castaway on the shores of Africa with Tarzan's parents, is captured by slavers.

Celebrating the Tarzan Film Centennial #7

"WANTED: DIRECTOR and Technical Staff
LEADING MAN
For the production of the Super-feature
'Tarzan of the Apes'

From the celebrated novel by Edgar Rice Burroughs. Director must have proven ability of the highest order. Leading man must be six feet or more in height and athletic in build and by experience. Letters treated in strictest confidence."

The above advertisement ran in the April 19, 1917 "Motion Picture News" Hollywood trade paper.

After casting call lasting three months, Stellen S. Windrow was chosen to portray Tarzan in the National Film Corporation's feature film. Windrow was born September 2, 1893, in Chicago, Illinois to a pair of Swedish physicians, Sven Vindruvva and Anna Mamqvist Holm. A 6'2", 200-pound University of Chicago athlete, Windrow excelled in swimming, track and field, while working summers at Essanay's Chicago studios.

Unfortunately, Windrow's Tarzan tenure was cut short when he was drafted for World War I service as he was shooting arboreal sequences in the Louisiana swamps. Although his footage was incorporated into the final film, Windrow was given a $1,000 buyout to remain uncredited, and the role was recast with Hollywood strongman and D.W. Griffith player Elmo Lincoln.

Celebrating the Tarzan Film Centennial #8


When "Tarzan of the Apes" leading man Stellan Windrow was drafted for military service in World War I, actor Elmo Lincoln was selected as his replacement. Lincoln had already auditioned (his tryout consisted of climbing a telephone guy wire hand-over-hand), and was known in Hollywood as a "Maciste" strongman type, due to his 53-inch chest.

Lincoln was born Otto Elmo Linkenhelt on February 6, 1889, in Rochester, Indiana to businessman Louis R. Linkenhelt and his wife Eldora Hunter Linkenhelt. Following high school, he drifted west, working as a railroad fireman and deputy sheriff before arriving in Hollywood. There he was discovered by one of director D.W. Griffith's scouts at the beach in Santa Monica.

Lincoln's film debut was a small role as a cavalry sergeant in the two-reel Western "The Battle at Elderbrush Gulch". He appeared in other Griffith films including "Judith of Bethulia," "Birth of a Nation," and "Intolerance," and in Hobart Bosworth's "Burning Daylight" and "John Barleycorn." Lincoln typically played soldiers, blacksmiths, and other physical roles.

Lincoln received $100 per day to play Tarzan, and chose a wolfskin as his wardrobe to avoid the circus-strongman cliché of leopardskin trunks. Due to his hirsuteness, he was shaved twice a day during the production. Though he wasn't author Edgar Rice Burroughs' conception of Tarzan, he performed credibly in the role; his delivery was ingenuous and unsophisticated, as befitted the ape man.

Celebrating the Tarzan Film Centennial #9


Gordon Griffith portrayed the ape man as a boy in "Tarzan of the Apes," cavorting with the trained chimps Sally and Prince Charles, wards of the E&R Jungle Film Company, as the youthful jungle lord learned to survive in the wild.

"Gordon Griffith covers himself with glory as Tarzan, the Boy," announced the "Exhibitor's Trade Review" (February 9, 1918). "This youngster plays the role like a veteran and gets more out of it than one would naturally expect from a boy in his teens."

Griffith was born on July 4, 1907, in Chicago, Illinois to actors Harry Sutherland Griffith and Katherine Kierman Griffith. He began acting at age four with Universal, and worked for Vitagraph, Keystone, Metro, and Monogram. Brother Graham was also an actor.

Griffith returned to the Tarzan franchise in "The Romance of Tarzan" (1918) and "The Son of Tarzan" (1920). Following his acting career, Griffith worked as an assistant director and production manager, before becoming a Columbia production executive under Harry Cohn.

Celebrating the Tarzan Film Centennial #10


Popular silent film ingénue Enid Markey was cast as the first Jane, opposite lead Elmo Lincoln, in "Tarzan of the Apes". Markey returned to the role for the sequel, "The Romance of Tarzan," before abandoning Hollywood for the Broadway stage, where she earned leads in numerous productions. Decades later, she returned to film and television for roles like Gomer's "Grandma Pyle" on "Gomer Pyle" and Barney Fife's landlady "Mrs. Mandelbright" on "The Andy Griffith Show."

Born Enid Virginia Markey on February 22, 1893 in Dillon, Colorado to Irish immigrants John Markey and Catherine Childress Markey, Markey got her start on the local stage and attended high school in Denver. When her father, who owned mines and ran a livery stable, died in 1909, Enid and her mother struck out for California, determined to break into the fledgling motion picture industry. After shooting a pair of pictures for Bison in San Diego, Enid caught the eye of Thomas Ince, who began casting her in his Inceville productions. There, she worked for director Scott Sidney, with whom she would reunite on "Tarzan of the Apes".

On October 15, 1942, Markey married businessman George Watson "Ty" Cobb, Jr.; the two took up residence at the Algonquin hotel, spending time whenever possible at their beach house on Fire Island.

On November 15, 1981, Markey died at South Side Hospital in Bay Shore, Long Island, New York, after a series of heart attacks. She had no children with Cobb, who pre-deceased her.

For more information on the 52 authorized Tarzan movies and 7 television series,
check out "Tarzan on Film" (Titan Books, 2016), by Scott Tracy Griffin.


In November 1917, production wrapped on "Tarzan of the Apes", filmed in the swamps outside Morgan City, Louisiana and in Hollywood at Griffith Park, E&R Jungle Film Company, and the old Selig Zoo.

Directed by Scott Sidney for National Film Corporation, the picture starred Elmo Lincoln and Enid Markey as the ape man and his mate. It premiered at the Broadway Theatre in New York City on Sunday, January 27, 1918, and became one of the first six silent films to earn more than one million dollars.

Enid Markey and Elmo Lincoln in Tarzan of the Apes (1918 film), shot in Morgan City Louisiana and Los Angeles in August-November, 1917.

It premiered at the Broadway Theatre in New York City on Sunday, January 27, 1918, launching the Tarzan film franchise (based on the series of 24 novels by American author Edgar Rice Burroughs), which currently includes 52 authorized films and seven television series.


Windrow poses as Tarzan in the treetops of Louisiana.

On September 18, 1917, the cast and crew of "Tarzan of the Apes," the first film based on Edgar Rice Burroughs' immortal apeman, were bound for Hollywood on a four-day train ride after five weeks of location shooting in the Atchafalaya Swamps outside Morgan City Louisiana.

The film crew had lost their first jungle lord, Stellan S. Windrow (né Vindruva) to the navy for World War I when his draft number was called up and Tarzan was found physically fit for service (no surprises there). He was replaced by Elmo Lincoln, a member of D.W. Griffith's stock company renowned for his 53-inch chest. Lincoln would go on to be remembered as the first film Tarzan when Windrow's arboreal footage and all rights associated with it were bought for $1,000, along with his silence.

A 6'2", 200-pound University of Chicago athlete, Windrow was born September 2, 1893, in Chicago, Illinois to a pair of Swedish physicians. After his wartime service, he married and settled in London later moving to Paris for several years, dubbing English films into Swedish for Paramount. He eventually returned to the U.S. and resettled in New York, where he worked as a news photographer and served in the Red Cross for World War II. He died November 25, 1959 in New York of hardening of the arteries.

---

More on Windrow in ERBzine at
www.erbzine.com/mag28/2876.html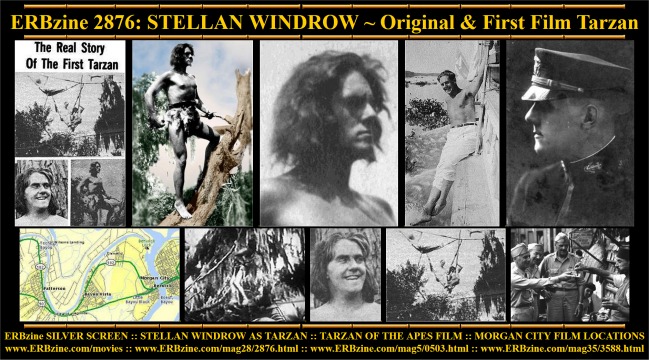 On July 31, 1917, director Scott Sidney arrived in Morgan City, Louisiana to begin scouting locations for "Tarzan of the Apes", the first ape-man film, which was in pre-production in Hollywood at Gower Studios, the former site of L. Frank Baum's Oz Film Manufacturing studios.

A few days later, Sidney's crew arrived by train from Hollywood and began shooting jungle footage in the Atchafalaya Swamp outside Morgan City.

When leading man Stellan Windrow, a 6'2" Chicago athlete, enlisted for service in World War I, Elmo Lincoln was cast in the role and joined the production. Here, Lincoln (as Tarzan) cradles the body of Kala, his ape mother, shot down by a cannibal's arrow.

Kala and the other apes were portrayed by circus acrobats and members of the New Orleans Athletic Club, wearing goat-skin suits crafted by E.M. Jahrhaus, the former head of the property department at Universal Studios.

The apes' faces were controlled by an ingenious system of wires which allowed the actors to grimace and make other simian expressions, similar to the effects achieved decades later by Rick Baker on "Greystoke: The Legend of Tarzan, Lord of the Apes".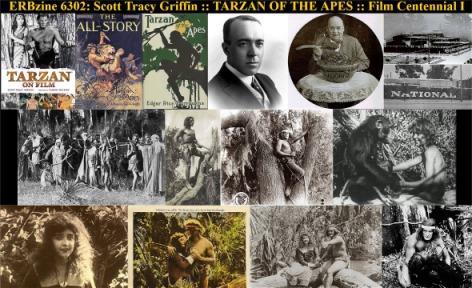 Click for full-size preview collage


BACK TO OUR INTRO PAGE FOR
TARZAN OF THE APES (1918)
www.erbzine.com/mag5/0503.html


Celebrate the 100th Anniversary of Tarzan of the Apes in film with
SCOTT TRACY GRIFFIN and his TARZAN ON FILM
CONTENTS
PART I :: PART II :: PART III :: PART IV :: PART V :: PART VI :: PART VII :: PART VIII:: PART IX
:: PART X :: PART XI:: PART XII:: PART XIII:: PART XIV:: PART XV:: PART XVI:: PART XVII
:: PART XVIII :: PART XIX :: PART XX :: PART XXI:: PART XXII:: PART XXIII: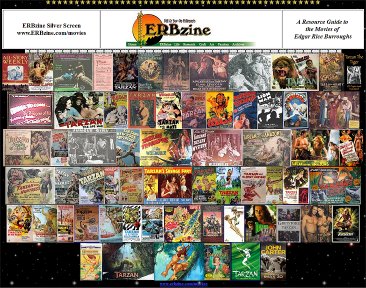 ERBzine SILVER SCREEN SERIES
www.ERBzine.com/movies







BILL HILLMAN
Visit our thousands of other sites at:
BILL AND SUE-ON HILLMAN ECLECTIC STUDIO
ERB Text, ERB Images and Tarzan® are ©Edgar Rice Burroughs, Inc.- All Rights Reserved.
All Original Work ©1996-2018 by Bill Hillman and/or Contributing Authors/Owners
No part of this web site may be reproduced without permission from the respective owners.