COLDWATER BUS EXPEDITION I
The Burroughs Connection
(with added notes in italics by Michael Hatt)

Click for larger images
The highlight of Day 2 was Michael Hatt's well-planned bus tour
of the Coldwater sites familiar to the Burroughs and Hulbert families.
During the jaunt we had a chance to view many of the homes and large buildings
that dated back to the 1910s
when Edgar Rice Burroughs spent many summer days in the area.
The first stops were at
Sunnyside Farm and the Burroughs Cottages at Morrison Lake.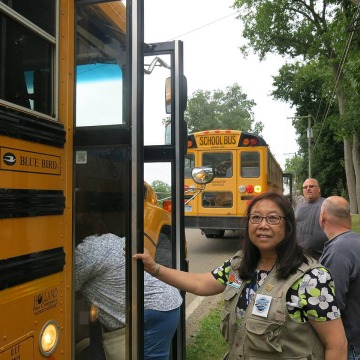 Sue-On and I boarded the second of two buses
used to transport our group of 70 attendees.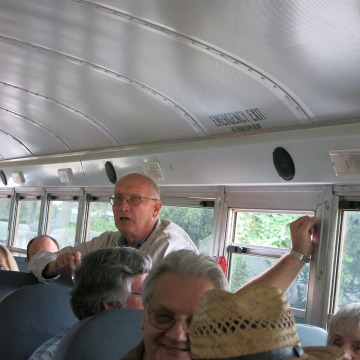 "Bob Neer was the only Coldwater resident to register for the Dum Dum.
Bob was also recruited at the last possible moment by me to point out local points of interest
on the second bus during Friday's bus tour."
Bob Neer, our local guide, had many interesting stories about buildings of note in the city.
One of the buildings produced plastic skeletons for medical schools.
An older building used to collect bodies, clean off the bones and put together skeletons!
That building is now "Taxation and Immigration".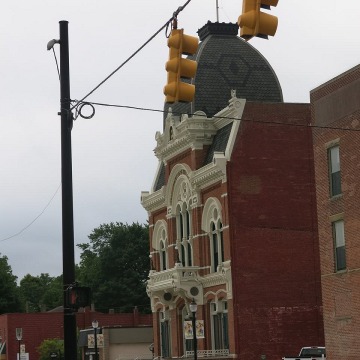 One of the many historic buildings in Coldwater.
This is the Tibbitts Opera House.
Built in 1885 and located in downtown Coldwater.
The front facade has just recently been restored to its original look.
Barton Tibbitts, original owner and builder, was the person who sugggested to
Alvin Hulbert (Emma Burroughs' father)
that he might consider Coldwater as an escape from Chicago.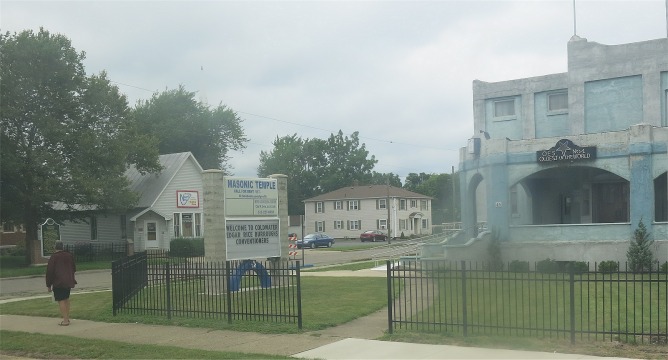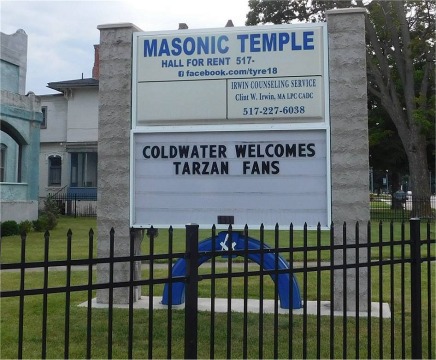 On our way to visit the Burroughs' cabins on Lake Morrison beach we passed the Masonic Temple.
Since ERB had often visited this building it was a good choice for our Saturday night banquet.
The marquee in front displayed a welcome to the Burroughs conventioners.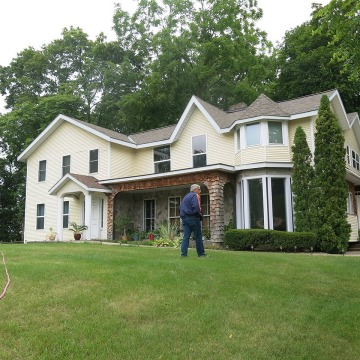 .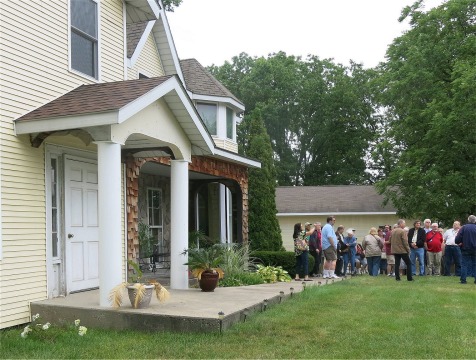 Sunnyside Farm: The Hulbert Family's Coldwater Summer Residence.
ERB's first wife Emma was a Hulbert.
The attendees gathered around to listen to Michael Hatt give the history of this home.
"The Hulberts' four young daughters were greatly influenced by their summers on the farm.
Two daughters, Leila and Julia went on to marry local boys and reside in Coldwater.
And youngest daughter, Emma, drew Edgar Rice Burroughs to the area."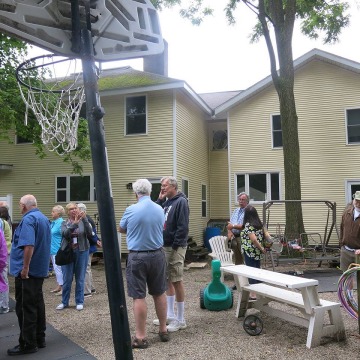 .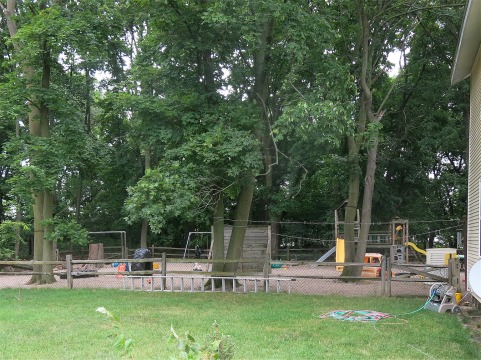 The farm buildings and cultivated fields are now gone but the large house is in excellent condition.
There is a large yard at the back, used as a play area for children who attend the daycare facility.


Approaching the Templar Beach Area On Lake Morrison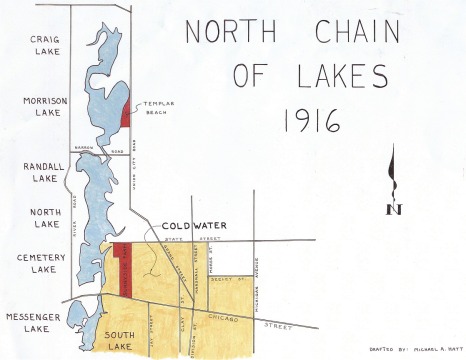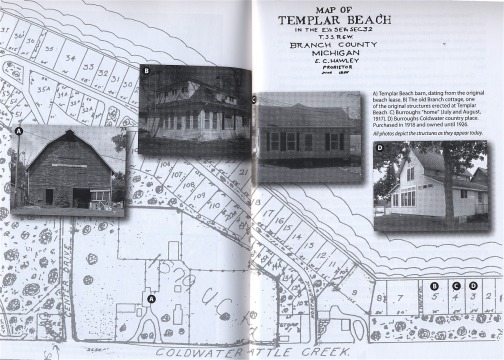 Scan from Michael Hatt's "Tarzan Slept Here".



Carrying on, a few kilometres brought us to Lake Morrison
and our few sight of the Burroughs summer cabins.
Burroughs visited, camped, rented and owned cottages on the lake.


EXPLORING THE BRANCH and BURROUGHS COTTAGES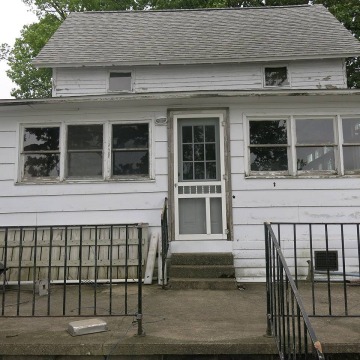 .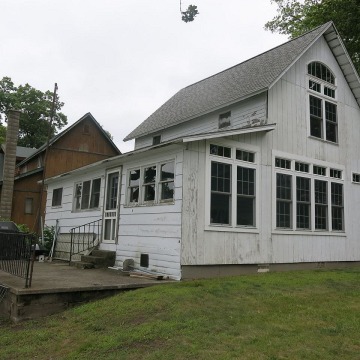 .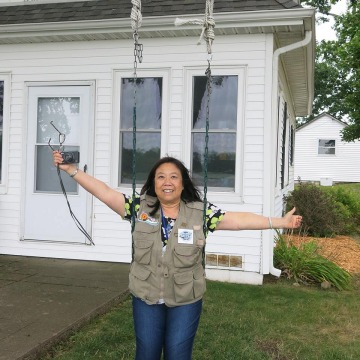 .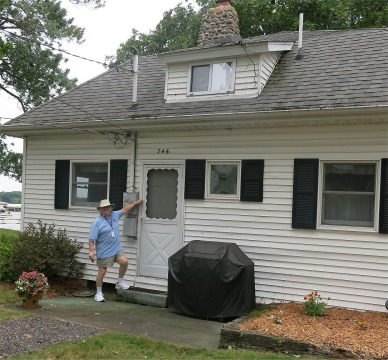 At 60F, with a brisk wind off Morrison Lake, it was a mite chilly even for two Canucks
Sue-On swings to keep warm while Bill looks for shelter in the cottage.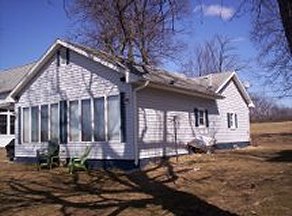 The Burroughs summer rental cottage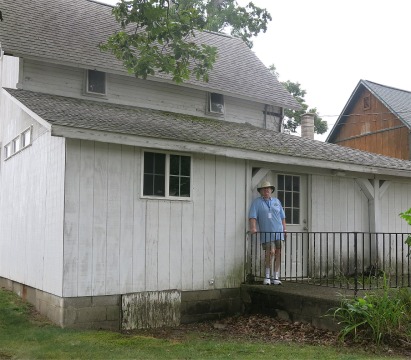 .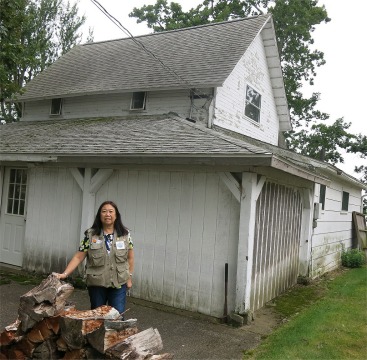 Hillmans explore the deck and woodpile of the cottage that ERB bought in 1918 and sold in 1926.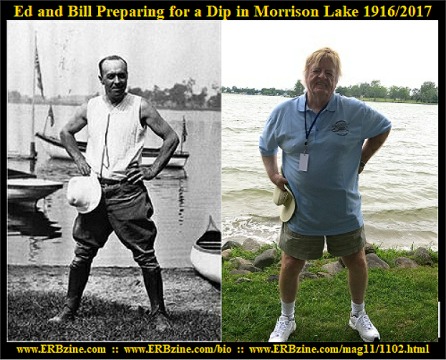 Bill Hillman emulated Ed's beach pose before jumping into the lake waters.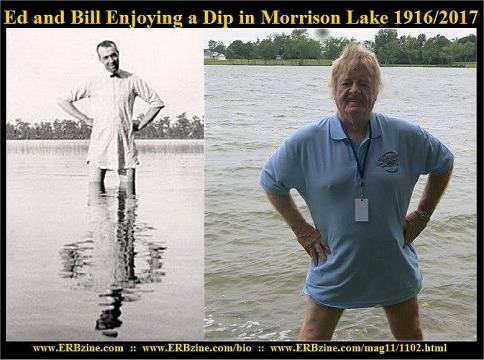 Bill joins Ed in the lake ~ 100 years later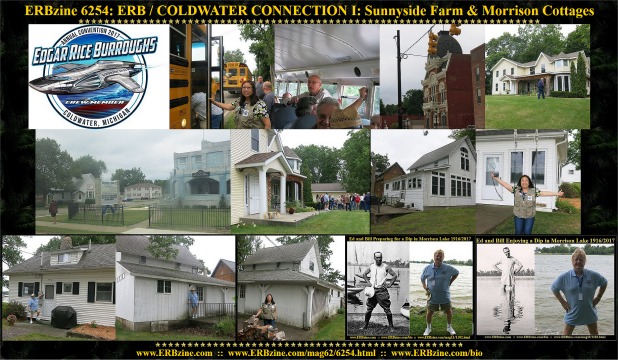 Click for full-size promo collage


COLDWATER 2017 DUM-DUM CONTENTS