First and Only Weekly Online Fanzine Devoted to the Life and Works of Edgar Rice Burroughs
Since 1996 ~ Over 15,000 Web Pages in Archive
presents
Volume 6028
TARZAN AND JANE
Forever In Fashion: Part II
From a PowerPoint Presentation
by DJ Howell
Adapted to the Web by Bill Hillman
PART I :: PART II :: PART III
Concluded in Part III

CLICK FOR LARGER IMAGES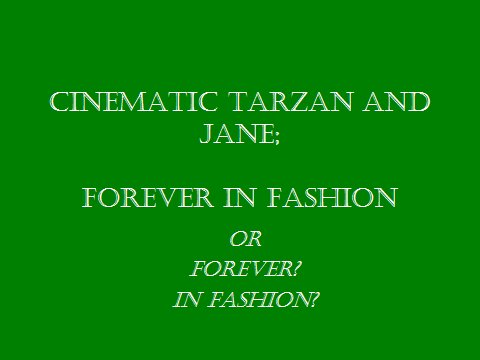 PART 2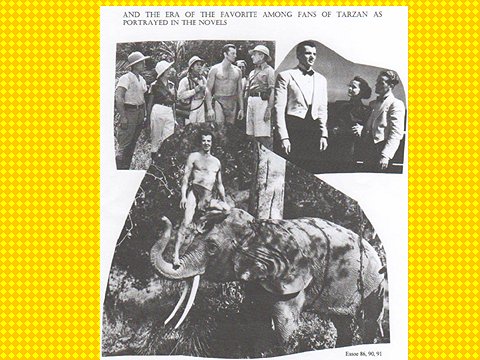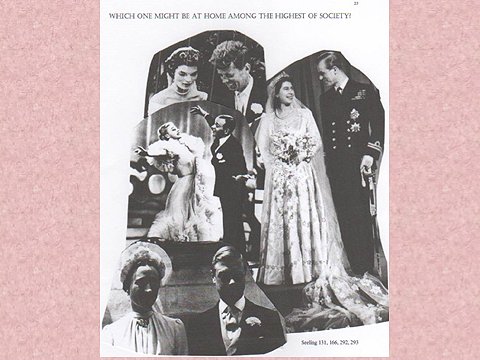 I COULD WISH ERB HAD TAKEN MORE TIME WITH TARZAN AND JANE IN CIVILIZATION.
WHAT DID THEY DO FOR AN EVENING'S ENTERTAINMENT?
THEATER? DINNER AND DANCING? NIGHT CLUBS?
DID THEY ASSOCIATE WITH THE NOBILITY, EVEN ROYALTY?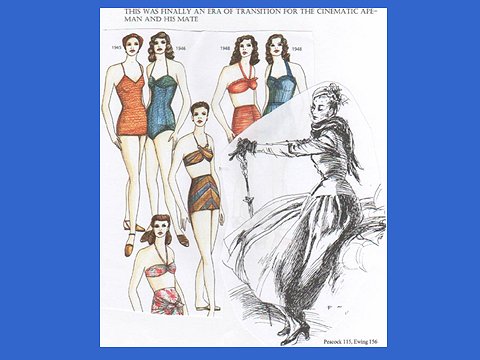 THE END OF THE WAR BROUGHT A SOFTENING OF WOMEN'S FASHION
WITH ACCESS TO MORE MATERIALS.
WEISSMULLER LEFT TARZAN TO BECOME JUNGLE JIM,
AND A NEW TARZAN CAME TO THE SCREEN,
ONE WHO COULD EASILY HAVE GIVEN US THE NOBLE LORD GREYSTOKE
BRUCE BENNETT PROVIDED IN THOSE EARLIER SERIALS
I REMEMBER A SATURDAY EVENING POST PHOTO-FEATURE
IN WHICH CELEBRITIES REVEALED SOMETHING OF THEMSELVES:
WEISSMULLER SPOKE OF WHY HE WAS LEAVING TARZAN.
I HAD NEVER HEARD OF THE APE-MAN; THAT WAS SOON TO CHANGE!




CLOCKWISE FROM UPPER LEFT:
VIRGINIA HUSTON, BRENDA JOYCE, DOROTHY HART,
JOYCE MACKENZIE, VANESSA BROWN


NOTICE WHO ARE AMONG THE POPULAR CINEMATIC MEN!

.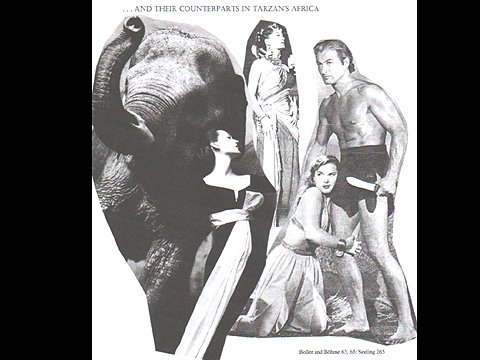 ISN'T IT INTERESTING THAT THE HIGH-FASHION MODEL
IS AT LEAST AS SLINKY AS LYRA – THE SHE DEVIL HERSELF –
AND JUST AS INTERESTED IN ELEPHANTS!
DENISE DARCEL WAS A FRENCH IMPORT WHO HAD ONLY RECENTLY
MADE HER PROVOCATIVE AMERICAN SCREEN DEBUT IN THE OSCAR-WINNING BATTLEGROUND.
HAREM PANTS CONTINUE TO BE IN VOGUE,
WITNESS THE RELATIVELY RECENT JOHNNY DEPP FEATURE, DON JUAN DE MARCO.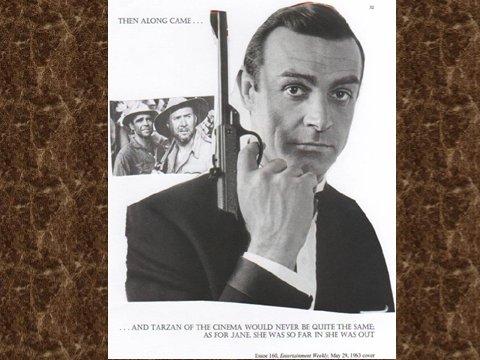 "TARZAN THE BEST" WAS IN GOOD COMPANY.
BADDIE SLADE WAS ANTHONY QUALE AND BADDIE O'BANNION WAS NONE OTHER THAN
A VERY YOUNG SEAN CONNERY, KILLED WITH A SINGLE ARROW WHILE TAUNTING TARZAN.
CONNERY WAS INVITED BACK FOR ANOTHER STINT, BUT DECLINED
BECAUSE SOME FELLAS HAD PICKED UP HIS OPTION.
CINEMATIC BOND, JAMES BOND WAS BORN.
NO, BOND IS NOT THE LONGEST RUNNING FILM FRANCHISE,
TARZAN HAS CERTAINLY BEEN AROUND MUCH LONGER. WHEN WAS IAN FLEMING BORN ANYWAY?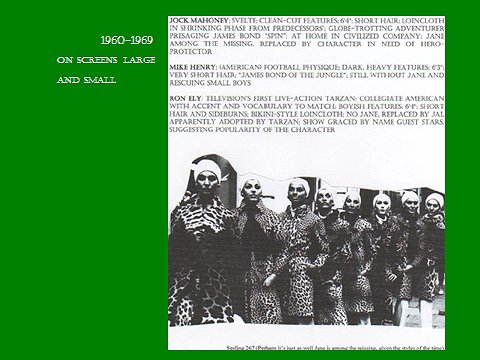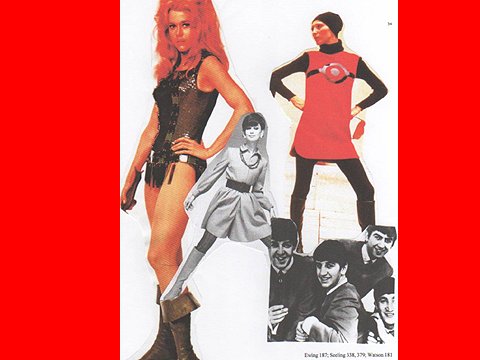 JANE FONDA, OF COURSE, IS SEEN AS BARBARELLA,
BUT THE OTHER TWO WOMEN ARE IN "STREET CLOTHES,"
MOD AND THE SHAPE OF THINGS TO COME; THINK "CLASSIC" STAR TREK.
ALSO NOTICE WHO THE HOT MEN ARE!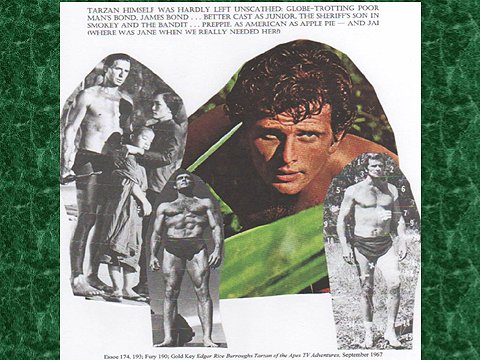 NOTICE THE VARIETY IN PHYSIQUES AND "LOOKS"
ALSO NOTICE THE MANY BOO-BOOS ELY SUFFERED DOING HIS OWN STUNTS,
SOME OF WHICH WAS FILMED, WITH AT LEAST ONE SHOW REWRITTEN
TO ACCOMMODATE THE INCIDENT – HE MISSED A VINE
WATCH OUT FOR THAT TREE!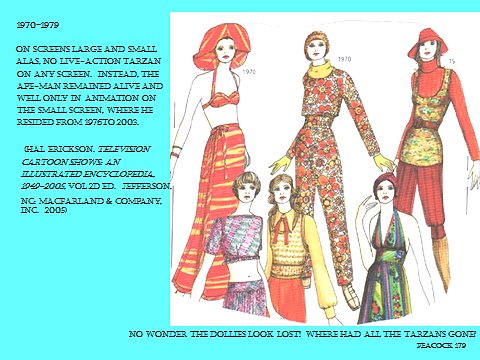 FURY BEGS TO DIFFER: TWO RON ELY FEATURES WERE RELEASED –
BOTH COBBLED TOGETHER FROM THE 60S TV SHOW:
TARZAN'S DEADLY SILENCE AND TARZAN'S JUNGLE REBELLION.




CONCLUDED NEXT WEEK
IN PART III


TARZAN AND JANE: FOREVER IN FASHION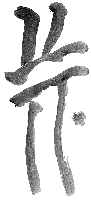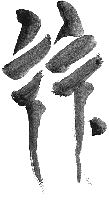 BILL HILLMAN
Visit our thousands of other sites at:
BILL AND SUE-ON HILLMAN ECLECTIC STUDIO
ERB Text, ERB Images and Tarzan® are ©Edgar Rice Burroughs, Inc.-
All Rights Reserved. ERB quotes ©ERB Inc.
All Original Work ©1996-2017 by Bill Hillman and/or Contributing Authors/Owners
No part of this web site may be reproduced without permission from the respective owners.