.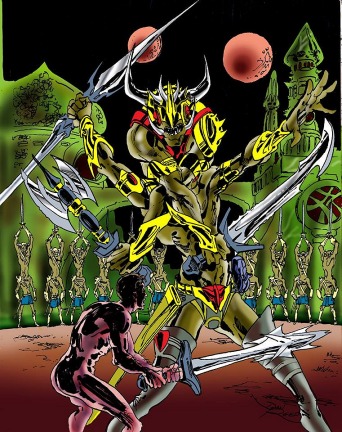 A Princess of Mars
Arrival on Barsoom
When John Carter first arrives on Mars and is confronted by the fierce Tharks!
I tried to make this scene more faithful to the books by having John Carter naked upon arrival.
I also wanted to re-think the look of the Tharks.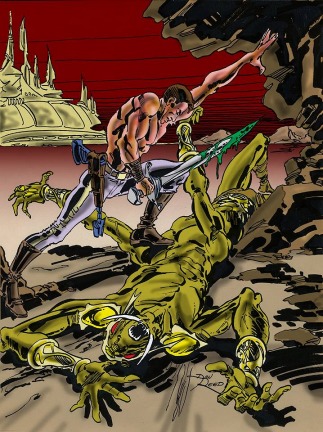 Carter and Slain Thark
This was my first picture done in the series and it was influenced by DC's version….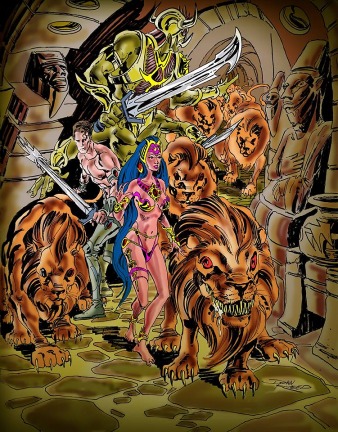 Gods of Mars
Thuvia lead John Carter, Tars Tarkas and her Banths through ancient tunnels….
Here I was starting to get my take on John Carter and crew…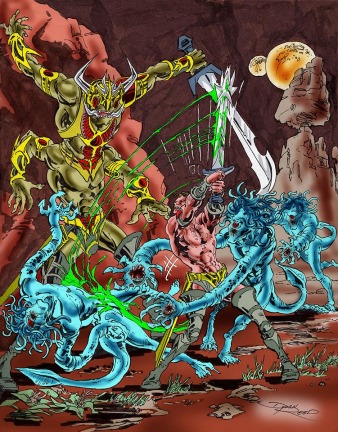 Gods of Mars
Fighting the plant people….
I felt that I was really reaching my stride with my version of costumes and weapons,
as well as the overall look of things.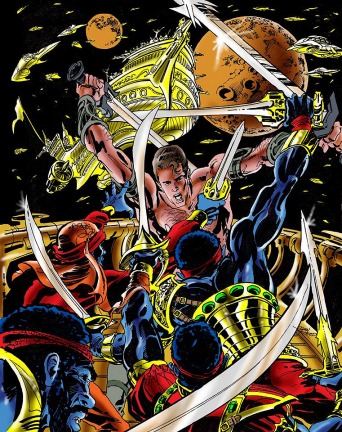 Gods of Mars
John Carter fighting the black pirates of Mars!
I really enjoyed the floating war galleon and the swashbuckling feel in general.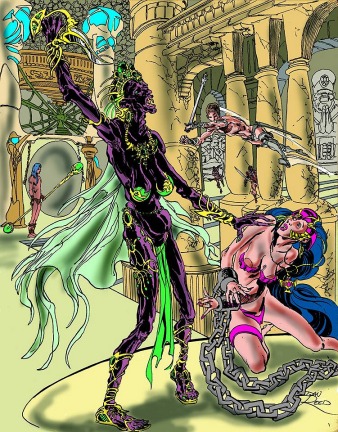 Issus of Mars
ERB described Issus in quite a vile manner and I tried to be true to his description.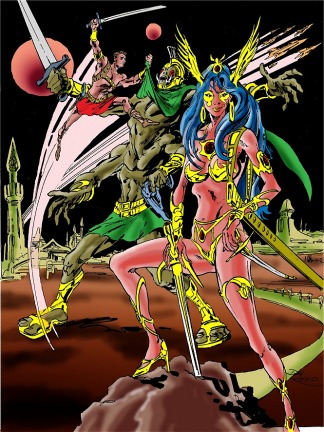 John Carter and Dejah Thoris
This was another of my earlier attempts at doing these…..
you can really see the influence of the 1960's paperback covers by Robert Abbett
in the Roman style kilt that John Carter is wearing
… but I think you can also see me trying to break away into something new
that was all my own with Dejah….
Although I'm not sure if the wings on her headdress quite worked.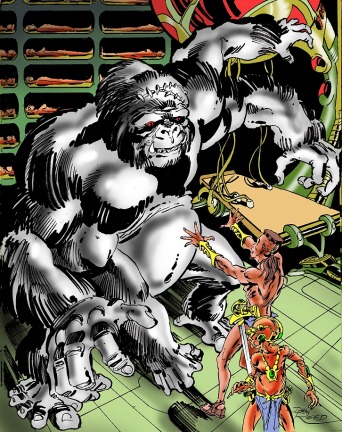 Master Mind and white ape
Here is one of several images I did of one of my favorite books of the Martian series…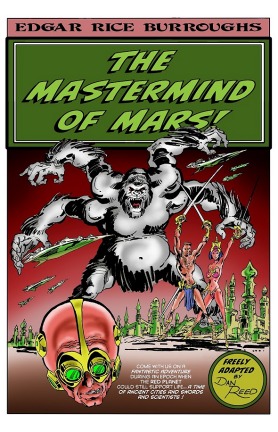 The Mastermind of Mars
Here I was thinking of what the first splash page of a
MasterMind of Mars comic would look like if I did it.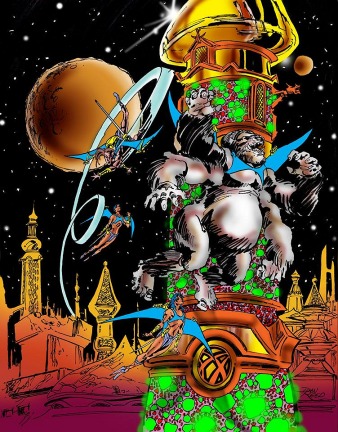 MasterMind of Mars
This is a wonderful scene almost never depicted from the book…
it was a lot of fun to portray it!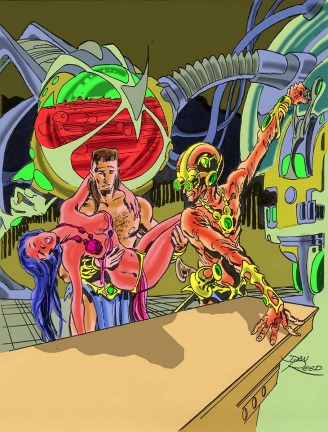 The Mastermind of Mars
Again, I was trying to be faithful to ERB
and all the other great artists that had come before me,
while still trying to bring a completely new look to the material.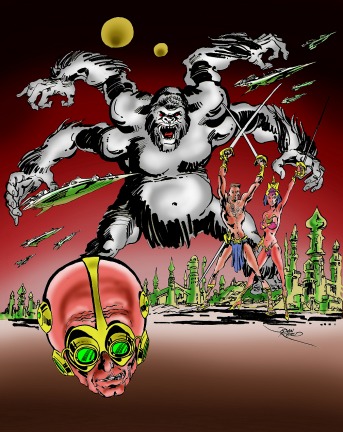 Master Mind pin up
Here is the drawing of the Master Mind of Mars
before I thought to make a comic book splash page of it.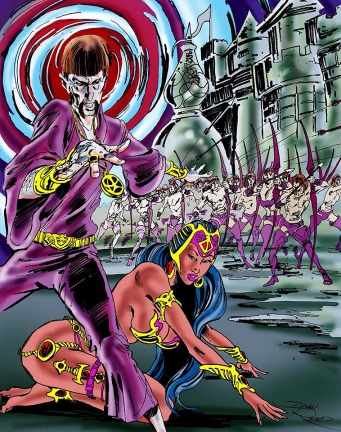 Thuvia, Maid of Mars
Thuvia, Tario and his Phantom Bowmen
I loved this scene from and had never seen it done before.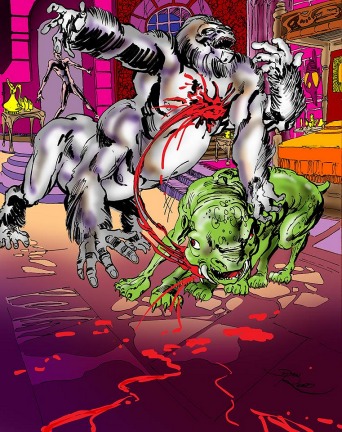 A Princess of Mars
The classic scene with Woola and the white ape
where Woola defends newly arrived John Carter
from one of the many dangers awaiting him on Mars.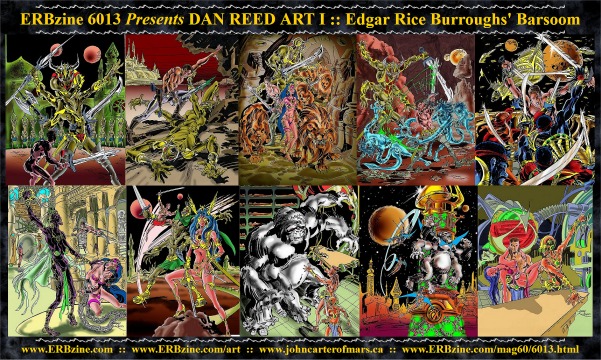 Click for full-size preview collage
Continued in Fantasy Worlds PART II: ERBzine 6014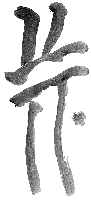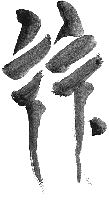 BILL HILLMAN
Visit our thousands of other sites at:
BILL and SUE-ON HILLMAN ECLECTIC STUDIO
ERB Text, ERB Images and Tarzan® are ©Edgar Rice Burroughs, Inc.- All Rights Reserved.
All Original Work ©1996-2017 by Bill Hillman and/or Contributing Authors/Owners
No part of this web site may be reproduced without permission from the respective owners.