BOB HYDE
June 25, 1925 - April 7, 2006
"It's been a long journey . . . "
We will miss you Bob.
Thanks for starting so many of us on this great journey.


Click photo for full size -
Photo by Bill Hillman with Bob Zeuschner's camera
The Bob Hyde Odyssey at ERBzine 1663

Official Edgar Rice Burroughs Tribute and Weekly Webzine Site
Since 1996 ~ Over 15,000 Webzines in Archive
Volume 0686
presents
A BURROUGHS BIBLIO-PRO-PHILE FEATURE
Bob Hyde's
ODYSSEY
OF A
TARZAN FANatic
Introduction & Contents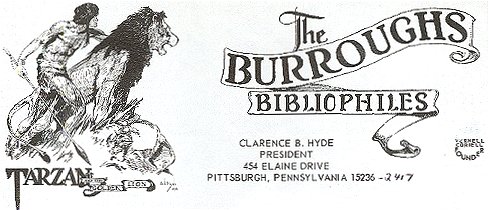 Over the next unknown chapters of this journey, not always will the account be in true chronological sequence
since my memory retrieval system will jog other memory cells into action,
and this will result in a long narrative of disjointed parts.
It's been a long journey, with still a way yet to travel. It hasn't been at all easy.
I've managed to pursue and acquire a very respectable collection,
in spite of some who have disapproved strongly of my way of life.


Bob Hyde's
ODYSSEY OF A TARZAN FANatic
Navigation Chart
Transcription and Added Photos and Links by Bill Hillman

THE BOB HYDE TRIBUTE

Thanks to George McWhorter of the University of Louisville: ERB Memorial Collection
We have added the contents of a one-of-kind document.
The rarest, and perhaps the most valuable item in Bob Hyde's Collection:
Bob's Personal Diary of his Memorable African Safari.
.


Presents

Transcribed and Formatted by Bill Hillman
..

COLLAGE POSTERS
Click for larger images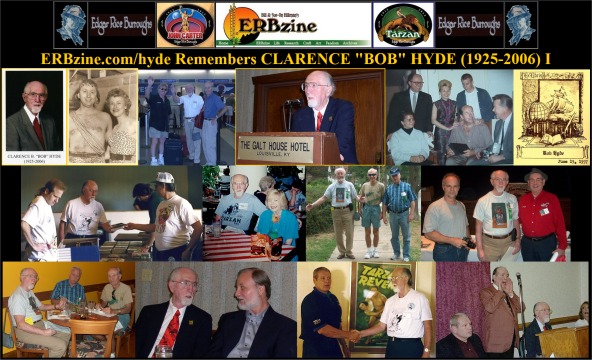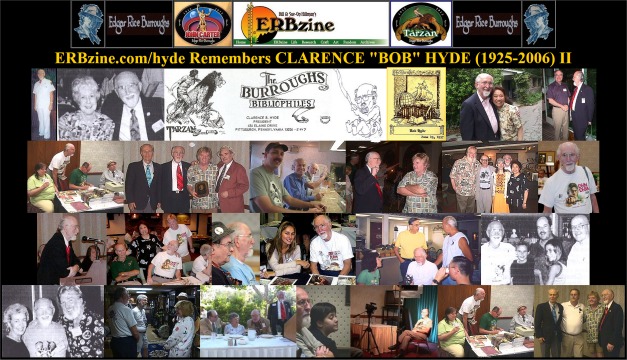 CLARENCE B. HYDE
TIMELINE of ODYSSEY MILESTONES


1925 June 25: Born to Mr. and Mrs. Ed Hyde of Warren, Ohio ~ a son ~ Clarence B. Hyde
1933: Receives the Tarzan to Color coloring book with Hal Foster art from his daily illustrated Tarzan of the Apes
1933 September: Father brings back a Tarzan souvenir sweatshirt from the Chicago World's Fair
1933: Views the film King of the Jungle starring Buster Crabbe
1933: Buys the Big-Little-Book, Tarzan of the Apes with Juanita Bennett art
1934: Reads an installment of "Tarzan and the Lion Man" in Liberty Magazine in the dentist's office
1936: Interest in Tarzan grows: BLBs, New Adventures Pop-Up Book, Tarzan Twins Big-Big-Book,
daily and Sunday strips, New Adventures of Tarzan serial
1936: Attends the Great Lakes Exposition to see Johnny Weissmuller
1936: Starts collecting the new Tip Top Comics series and playing Tarzan in the woods
1937: Reads his first Tarzan novel, a borrowed copy of Tarzan the Untamed
1937 June: Is given his first ERB book, Tarzan at the Earth's Core
1937: Starts life-long pursuit of saving ERB newspaper and magazine clippings
1937 Summer: Sees The Lion Man at a drive-in theatre
1938: Rides bike to drive-in theatre to see Tarzan and the Green Goddess
1938: The Comics On Parade series is added to the collection
1938: Sees Tarzan's Revenge later in the summer
1939: Sees Tarzan Finds A Son and starts collecting movie memorabilia
1939 July 19: Discovers ERB's "How to Become a Successful Writer" in the Saturday Evening Posts he is delivering
1939: Joins Tarzan Clans of America and receives free book: Tarzan the Magnificent with JCB art
inscribed to him by ERB
1940: Spends the summer in the woods at Lake Erie building tree huts and fighting wild monkeys
1940: Attends the New York Worlds Fair and sees Buster Crabbe swim in the Aquacade
1940: Discovers pulp mags through Tarzan Clan letters and is featured in Tip Top Comics Hobby-of-the-Month
1941: Completes collection of every Tarzan title
1941: Corresponds with JCB, Hogarth, St. John, Foster and Maxon - many of them send original sketches
1941 December: Salvages a giant billboard poster of Tarzan's Secret Treasure
1941: Starts saving paper route money for a trip to Tarzana
1942: Wartime rationing cancels the Tarzana trip but Bob's collecting hobby is featured in the local paper
1942: Visits Burne Hogarth in his studio in New York and discovers JCB's John Carter Sunday page
1943: Reproduces St. John's Tarzan and the Golden Lion in school art class
1943: May: Enlists in the US Navy and puts ERB collection into attic storage
1943: Two more visits with Hogarth in New York and receives a stack of free DJs from the G&D office
1943 July 1: Navy orders him to reports to Yale University
1944: Transferred to Lewistown, Maine ~ still collecting latest ERB releases and Sunday pages
1945 Sent to a Naval Midshipman's School in Chicago, visits J. Allen St. John and buys a Tarzan sketch
1945 April: Visits Hal Foster and is given an original Sunday page panel of Prince Valiant
1945-47: Serves aboard a submarine chaser along the Atlantic Coast and Bermuda
1946 July: While on leave in NY he meets Rex Maxon in the United Feature Syndicate offices
1947: At time of decommission is the ship's Commanding Officer
1947-48: Summer job as a seaman on a Great Lakes ore ship - sending ERB purchases home
1948 March: Visits Hogarth and Dan & Sy Barry of the School of Visual Arts, NY
1948 April: Receives an ERB autographed copy of Llana of Gathol from Tarzana
1949 April: Tours Eastern Color Printing Company plant and sees Sunday pages produced
1949: Applies unsuccessfully for a job with ERB, Inc.
1949 June: Obtains complete Foster Tarzan 1929 run from a friend and pays another visit to Hogarth
1949: Sends Life Magazine Tarzan article to Elmo Lincoln for autographing
1949: Graduates from Yale University with a B.S. in Industrial Administration
1949: Accepts job in with Bryant Heater Company, Cleveland, Ohio
1951: Marries Alice Engman from Cleveland, Ohio
1951: Moves to Lorain, Ohio for a tabulating job with U. S. Steel Corporation ~ collecting on hold
1954: Transfers to Pittsburgh to program the first commercial computer, the UNIVAC I.
1954: Builds a house with room to store the ERB collection
1954: Discovers great movie treasures at National Screen Service offices
1956: ERB collection finally retrieved from storage at parents' house
1956 November: Visits Hogarth and John Celardo in NY
1957: Discovers Bradford M. Day ERB Bibliography
1957 July: Featured in Pittsburgh Post-Gazette as a result of his "Hobby Theatre" display in the Mellon Bank
1957: Discovers Coriell's Burroughs Bulletin and Ogden's ERBANIA fanzines
1958 January: Day starts the Burroughs Boom with publication of Beyond Thirty and The Maneater
1958 April: Visits Stanleigh Vinson's ERB collection in Mansfield, Ohio
1958 August: Visits Bradford M. Day in Brooklyn
1959-60: Numerous visits with fellow-fan Waring Jones in Minneapolis
1959: ERB Presentation at the 17th World Science Fiction Convention, Detroit, Michigan
1959: Pittsburgh wins bid for 18th World SF Con
1959 October: Meets Allan Howard, Sam Moskowitz and Thomas Gardner in New Jersey
1959 October: Visits John Celardo and Bob Lubbers - obtains more original art
1960 Sept. 5: Fills in for Vern for the first organizational meeting of Burroughs Bibliophiles
1960: Burroughs Bibliophiles & Bulletin, Gridley Wave, Dum-Dum, and executive are all initiated
1960: Unveiling of the new ERB library room at the Hyde residence
1960 October: Discusses ERB with John Stewart on Program PM, station KDKA
1960 Nov/Dec: Presents an ERB display in the concourse of the Pittsburgh International Airport
1960 December: KDKA-TV launches Tarzan film festival with Tarzan Yell Contest
1961: More media features on the collection of a UNIVAC programmer
1962 April: Tarzan talks continue: A Boy Scout Troop at Clairton, PA
1962 June: The Hydes host a local Dum-Dum at their home and 60 people attend the backyard cookout
1962 Sept 2: Organizes a BB Dum-Dum at the Pick-Congress Hotel, Chicago with the 20th World SF Con
1962: Visits Dum-Dum G of H Mrs. St. John at J. Allen's studio who receives 1st Golden Lion Award
1962: Larry Ivie (Canaveral Press - Monsters & Heroes) has impressive ERB art display at World SF Con
1963 April 30: Press release on new ERB editions by Canaveral Press edited by Richard Lupoff
1963 September 1: Dum-Dum Washington, DC with L. Sprague de Camp & Sam Moskowitz
1963 November: Bibliophile gathering at Vice-President Stan Vinson's house to chat & view collection
1963 December: Tarzana visit with Hulbert Burroughs and the "unexplored" ERB warehouse
1963 December: Xmas party at Jack and Mary Burroughs' Malibu home - with Danton, Bob Hodes, etc.
1963: Visit with Jim and Joan Piece in Sherman Oaks and Sy Weintraub at Beverly Hills
1964May: Visit with Vern and Rita Coriell in Kansas City
1964 May: Tarzana visit with Hully, Sam Peeples, and receives Tarzan film clip from Frank Merrill
1964 July: Spanish language books and comics found on Nogales, Mexico trip
1964 September: Misses first Dum-Dum: Oakland, CA with Hulbert Burroughs guest
1965 Sept 4 & 5: Vern organizes Chicago Dum-Dum, divorced from Word SF Con (out of country)
1965: Dum-Dum speakers: Pierces, Brueckel, Ed Wood, Richardson, Heins, Caz, Resnick, Vinson, Howard
1965: Discusses Lincoln's Tarzan of the Apes on the Bwana Don's Safari TV show
1966 April: Publication of the "25th" Tarzan novel: Tarzan and the Valley of Gold by Fritz Leiber
1966 Sept 3 & 4: Dum-Dum Cleveland: GH Hulbert Burroughs given Golden Lion Award
1966: Dum-Dum: Hulbert Burroughs discusses new Ely TV series & JCB's novel: Treasure of Black Falcon
1966: Dum-Dum Panel: Coriell and Lupoff ~ Awards to Frazetta and Cazedessus
1966 October: Another ERB talk and showing of Lincoln clips to a church group
1967 January: Interview with Johnny Weissmuller in Pittsburgh
1967 June: A visit to K.K. Publishing factory, part of the Western Publishing Co. (March of Comics)
1967 Sept. 2: Dum-Dum luncheon at World SF Con, Penn-Garden Hotel, NY with awards to Foster & Frazetta
1967 Sept 2: ERB Inc. GM Bob Hodes presents the new ERB book: I Am A Barbarian

* * *

1989 Oct. 20/22: Chicago Normal Beans celebrate ERB's 75 Ann. ~ Gather at St. John's studio
1989 Oct. 21: Visit with Phil Farmer ~ Interview Nostagia Magazine ~ Dine at Adventurers Club - toast
1989 Oct. 21: Awarded plaque for BB Service ~ McWhorter & Ross awarded plaques for fandom contrib
1989 Nov. 18: Meets Tarzan artist Gray Morrow appearing as GH at Munroeville Comic Book Convention
1990 Beloved wife Alice dies from brain cancer
1991 Chicago Dum-Dum and flashbacks
1992 October 6: Leaves for an exciting 5 week African Safari out of Kenya and on to the Nile and Rome
1993 ECOF: Willows, California ~ Pittsburgh Dum-Dum
1994 Atlanta Dum-Dum: Guest Sam Moskowitz discusses the OAK/ERB "feud"
1995 Pittsburgh ComicCon ~ Plans to donate collection to Bowling Green U. ~ Portland ECOF ~ Rutland Dum-Dum
1996 Pittsburgh Comicon ~ Oak Park ECOF (St. John Studio & ERB Homes) ~ Tarzana Dum-Dum
1999 Tarzana Dum-Dum ~ Special showing of Disney's new Tarzan film on the Disney lot
2000 Clarksville ECOF ~ Renews acquaintance with JCB's second wife Mary Burroughs ~ Tours Jim Thompson collection
2001 Tampa Dum-Dum ~ Visits Pete Ogden Collection ~ Meets guests Steve Hawkes, Lydie Denier, Steve Korchak
2002 Tarzana ECOF ~ Tours ERB, Inc. offices & Tarzana Ranch ~ Interview for ERB TV documentary
2003 Louisville Dum-Dum ~ Visits gravesites of Joan Burroughs & Jim Pierce in Indiana
2004 Fort Collins Dum-Dum (Glenn Morris Olympic Tribute) ~ Sacramento ECOF (Richard Lupoff guest)
2005 Oak Park: The Last Dum-Dum ~ A tour of ERB museum, homes & offices ~ Site of 1893 Exposition
1996-2006 A look back at the Final Decade
2006 April 7: Bob Hyde passes away.

www.ERBzine.com/hyde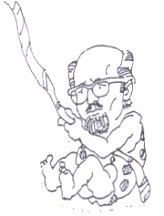 Clarence B. (Bob) Hyde
June 25, 1925 - April 7, 2006
President and Co-Founder of the Burroughs Bibliophiles
Age 80, on Friday, April 7, 2006, of Baldwin Boro. Devoted husband of the late Alice A. Hyde; loving father of Wendy H. (Pastor John Benigas), John (Indy), and Susan J. (Rick Katz); grandfather of Jeanette, Johnny, Adam, Michael, Brittany, Alyssa and Luke; brother of the late Richard Hyde; special friend of Margaret Herzog. Mr Hyde served as an Officer in the US Navy during WWII, was a 1949 Yale graduate, Tarzan Enthusiast and Computer Programmer at US Steel for over 35 years.

Friends will be received at the John F Slater Funeral Home, 412-881-4100, 4201 Brownsville Road, Brentwood PA Monday from 2-4 and 7-9 pm. Funeral services will be held on Tuesday in Baldwin Community United Methodist Church, chapel at 11 am, if desired, family suggests contributions to UPMC Montefiore Palliative Care Program, Suite 933 W 200 Lothrop Street, Pittsburgh PA 15213-2582.

Condolences may be sent to the family via the Pittsburgh Post Gazette from their website: www.post-gazette.com/gb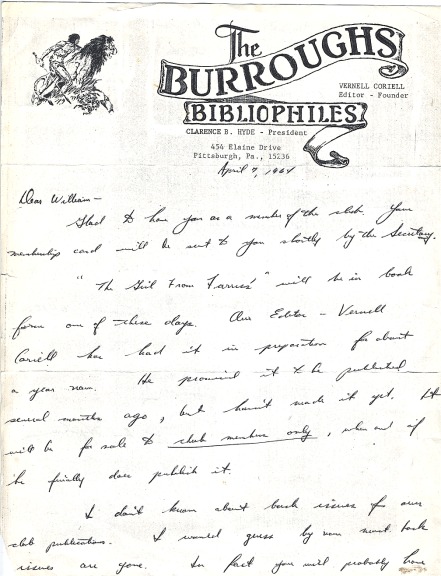 .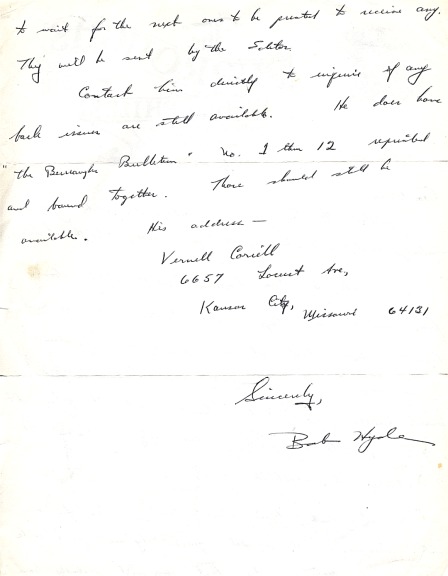 I joined the Burroughs Bibliophiles in May of 1964.
This began a long association with Vern Coriell, Bob Hyde and the Burroughs Bibliophiles.
Bill Hillman
Editor, Webmaster and Web Host of the BB Website
www.burroughsbibliophiles.com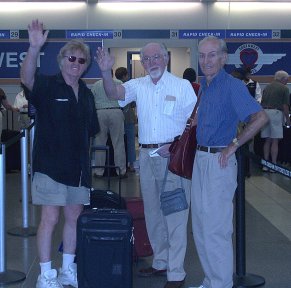 Photo by Sue-On Hillman
As Bob said when he started writing his Odyssey:
"It's been a long journey . . . "
We will miss you Bob.
Thanks for starting so many of us on this great journey.
~ Bill and Sue-On ~
ODYSSEY OF A TARZAN FANatic
Navigation Chart and Introduction



Volume 0686



WEBJED: BILL HILLMAN
Visit our thousands of other sites at:
BILL AND SUE-ON HILLMAN ECLECTIC STUDIO
ERB Text, ERB Images and Tarzan® are ©Edgar Rice Burroughs, Inc.- All Rights Reserved.
All Original Work ©1996-2007/2017 by Bill Hillman and/or Contributing Authors/Owners
No part of this web site may be reproduced without permission from the respective owners.