LANDMARK EVENTS I
PASTOR-AUTHOR OF FT. MITCHELL BAPTIST CHURCH TO JOIN ARMY
Rev. Richardson To Take Post As Overseas Chaplain
Won Acclaim For Writings; Starred As College Athlete
THE KENTUCKY POST
Monday, January 4, 1954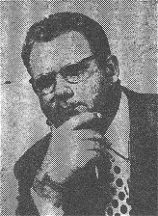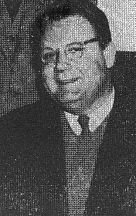 Rev. Darrell C. Richardson has resigned as pastor of Ft. Mitchell Baptist Church, effective Jan. 30, to become an overseas U. S. Army chaplain.

Rev. Richardson submitted the resignation Sunday at the church where he has served since March 1, 1947.

Currently president of the Northern Kentucky Baptist Pastors' Conference and moderator of the North Bend Association of Baptists, he served two terms each as president and vice president of the Kenton County Protestant Association. He is chairman of the social action committe of the county group at present.

During 1950, he served as president of the Kenton County Ministerial Association. He was a former member of the executive board of Booth Hospital, Covington, and is a member of the executive board of the Dan Beard Council, Boy Scouts of America.

A prolific author, he has sold approximately 75 stories and articles, many of them dealing with science fiction, to various national magazines. He wrote most of the stories under three pseudonyms "because ministers have practically no personal life."

"Max Brand, The Man And His Work," written by Rev. Richardson, is considered one of the most authentic books about the famous western (and Dr. Kildaire) writer (Frederick Faust - killed in WWII). The pastor's book and its author were given national attention by Time Magaizne and other publications.

Rev. Richardson has just completed a novel with a Kentucky Mountain setting which is being prepared for publication.

He was the only theology student to earn varsity letters in basketball, football, track, swimming and tennis at Furman.

He took graduate courses at Southern Baptist Seminary, Louisville; Yale and Columbia Universities, the University of Cincinnati and the University of Kentucky. He holds a doctorate degree.

Since Rev. Richardson has been minister of the Ft. Mitchell church, membership has doubled, as has the budget. Total gifts during his pastorship have amounted to $160,000.

He was active in northern Kentucky in a campaign against gambling and juvenile delinquency.

His wife and two sons, Coleman, 9, and Donald, 5, will return to Mrs. Richardson's native South Carolina until the chaplain is assigned to a permanent station. Mrs. Richardson, the former Miss Sarah Sanders, is a graduate of Furman University.

For his work in the field of literature, Rev. Richardson has been selected for inclusion in the next issue of Who's Who in America.

He will attend chaplain's school at Ft. Slocum, N.Y. before receiving a first lieutenant's commission. He applied for overseas duty.

Rev. Richardson, who originally applied for an Air Force chaplain's commision a year ago, reapplied for an Army commission after the number of chaplains in the Air Force was limited by an appropriations cut.
RELATED HEADLINES
Fort Mitchell Pastor Joins Army;
Richardson Author, Crime Fighter
THE CINCINNATI ENQUIRER
A Profound Loss
KENTUCKY TIMES-STAR EDITORIAL
Army Chaplain -- Richardson to Leave Ft. Mitchell Church
KENTUCKY TIMES-STAR
Fighting Parson With Literary Bent
KENTUCKY POST EDITORIAL
---
ANNOUNCEMENT FROM THE DEN OF THE OLD TIGER
OFF TO AFRICA
Darrell C. Richardson
Memphis, Tennessee
1 November 1982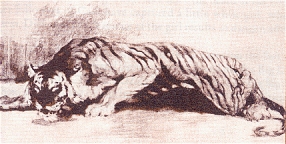 I am scheduled to depart for the interior of West Africa on Nov. 20. My Shots, Passport, Visa, Packing, etc. are all behind me. I travel via New York, Paris, down across the Sahara, Stop in ABIDJAN, IVORY COAST, then up to UPPER VOLTA (part of old French Africa) and OUAGADOUGOU, one of only 3 small cities in this hot-tropical, harsh, arid and unhealthy country. Then 135 miles East into Scrub Jungle villages near SANWAGO, where no true roads exist.

I will be on a Special Mission Tour for Southern Baptist Foreign Mission Board, and will preach, teach literacy, explore, be on safari, photograph big and little game, meet natives of 5 tribes, be in exciting, difficult and dangerous situations near Tarzan's country and expect to have the time of my life! Hope to be back home by Christmas.

ADDRESS:
Mission Baptiste, B.P. 580
Ougadougou, Upper Volta
West Africa
DCR


Memphis collector Darrell Richardson
has roamed the glove in search of Tarzan materials.
---
BAPTISTS HONOR RICHARDSON FOR LONG SCOUTING SERVICE
THE COMMERCIAL APPEAL
Memphis, Tennessee, Thursday Morning, August 3, 1995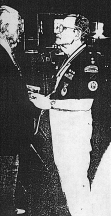 The Good Shepherd award of the Southern Baptist Convention was recently presented to Dr. Darrell C. Richardson, a member of the First Baptist Church of Memphis, 200 East Parkway N.

According to George Bristow Jr., Richardson was nominated for his background and his 60 years of Scouting dedication.

"I wrote about 50 people who knew him and asked them to send back letters of recommendations. The response was overwhelming. At least 99 percent of them wrote back, some with two and three pages," Bristow said.

Bristow, a longtime friend of Richardson and a church deacon, said it was rare for this honor to be bestowed on an individual. The last time was in 1908. The award, sponsored by the Baptist Committee on Scouting, is considered to be the highest form of praise any denomination can confer on a scout.

Dr. Kenneth Corr, church pastor, said, "The honor was given in recognition of outstanding service to young people in church activities, scouting and other programs."

Bristow also noted that Richardson served his country as a lieutenant colonel chaplain in the U.S. Army and supervised more than 50 of his neighbors' burials here during the Korean war.

Richardson has been a scoutmaster, district commissioner and has held numerous positions with the Boy Scouts of America.

The Midtown church has a roster of 1,500 members.
---
ABOUT THE DARRELL AWARDS

The Darrell Awards are sponsored by the Memphis Science Fiction Association (MSFA) to promote literacy in the Mid-South by recognizing the best published local science fiction, fantasy and horror.
To qualify, an author must live in the greater Memphis area (Shelby County, TN; Desoto County, MS; Crittenden County, AR; or any county adjoining one of those) OR the work in question must feature Memphis and/or the area in a prominent way. Additionally, the Darrell Awards are currently intended to recognize Science Fiction or Fantasy (including Horror), so general fiction and non-fiction do not qualify at this time.

The Darrell Awards are named in honor of Dr. Darrell C. Richardson, author, member of First Fandom, bibliophile, world traveler, founding member of the Burroughs Bibliophiles, pulp collector, founding member of MSFA, and all around very interesting person (See the Darrell C. Richardson bio page at http://members.aol.com/memphen/dcrbio.htm )

Nominations will be accepted from all parties each year until February 1st for short stories, novels, and other works. The Darrell Awards Committee will select the winners, who will generally be announced at MidSouthCon or another appropriate fannish event.

We will accept nominations for earlier-published works for a possible Hall of Fame category to be developed later. The Darrell Award Committee would appreciate receiving three copies of each nominated work in order to judge it, but this is not required so long as we can find copies locally for our Committee members to evaluate it.

QUESTIONS?
Email to the Darrell Awards Committee Chairman, Tim Gatewood at memphen@aol.com or write to Tim Gatewood, 3125 South Mendenhall Road, #353, Memphis TN 38115-2827.
---
BOOK FOLKS
by Fredric Koeppel
The Commercial Appeal Book Page Editor
Memphis, Sunday, July 19, 1998
WRITING AWARDS
Winners of the Memphis Science Fiction Association's annual Darrell Awards include several authors from the region.

The award for Best MidSouth Novel (Science Fiction, Fantasy or Horror) went to Jack McDevitt for Eternity Road, published by HarperPrism. Best MidSouth Short Story went to Steven Lee Climer for By Any Name a Devil, which appeared in the anthology Monsters from Memphis edited by local author and attorney D. Beecher Smith and published by Zapizdat Press. Monsters in Memphis also produced eight honorable mention awards for the short story. Honorable mention novels were Mississippi Blues, by Kathleen Ann Goonan, and Galen, by Allan Gilbreath.

The group's Website is http://www.netten.net/~msfa/