| | |
| --- | --- |
| The First and Only Weekly Online Fanzine Devoted to the Life and Works of Edgar Rice Burroughs | |
Issue 0662
The Many Worlds of

Presents


ERB MOTES & QUOTES NEWSLETTER
EDITION 02.06.28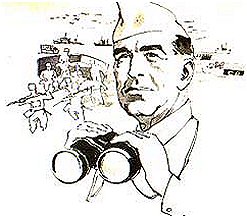 Congratulations to a Burroughs Princess
A Burroughs Princess of noble lineage:
Daughter of Danton and Linda Burroughs
Grand Daughter of Jane Ralston and John Coleman Burroughs
and Great Grand Daughter of
Emma Centennia and Edgar Rice Burroughs
---
TARZAN IN THE FUNNIES
---
9 CHICKWEED LANE ~ June 2002

SPOONER ~ June 16, 2002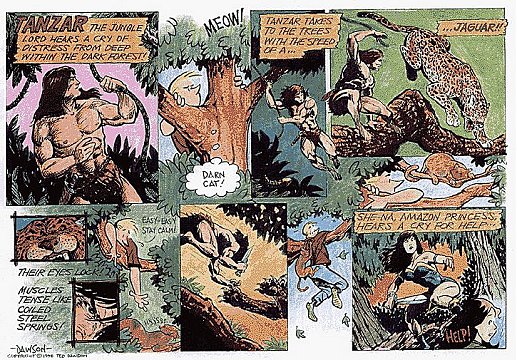 ---
CAUGHT IN OUR SITE
---
Mr. Jensens's plays include...
Cannibals Are Cooking (Monodrama)
In poor physical and mental health, Edgar Rice Burroughs tries to convince Hollywood to restore the dignity of his greatest creation, Tarzan of the Apes.
Development: University of Nevada, Las Vegas Poor Playwrights' Theatre 1992
Production: University of Nevada, Las Vegas Fall One-Act Festival 1992
---
As part of the
Philip Jose Farmer Official Website
www.pjfarmer.com
Wasn't the Future Great?
A PULP TREK TIMELINE:
A timeline certain to irritate Star Trek and Pulp Purists
By Matthew Baugh and Dennis E. Power
http://www.pjfarmer.com/secret/pulptrek/captain-future-timeline-web.htm
Below are culled excerpts featuring ERB references
---
13,000 B.C. To combat the rapidly drying rivers and inland seas, Martian City States dig massive system of canals channeling water from the oceans.

12,000 B.C. Martan Oceans nearly gone despite the best efforts of the Martian people. A strange ocher moss covers the covers the empty Ocean beds. Many Martians develop various methods to survive in a dying world, some races become oviparious, (Burroughs) others develop vast mental powers the Lotharians and an unknown race attempting to develop a gestalt mentality (Mars Minus Bishna-Brackett)

10,000 B.C. Believing himself dying, John Carter's somehow transports himself to Mars, from Earth 1866 A.D. It is not certain whether or not he physically transformed himself into energy and somehow reformulated a new body or if the effect of the transfer merely gave him the illusion that he was standing over his dead body, much like patients under anesthesia often claim to hover over their bodies and watch the operation. The fact that it seems to be an innate ability triggered by near death rather than a portal is indicated by the fact that he does uses this ability from differing locations.

John Flint Roy has speculated that Carter passed through a dimensional barrier to reach Barsoom, since the Mars was demonstrably not Barsoom. That is true but Carter passed through time and space to the Mars of the past. By having Carter's adventures take place in the distant past, the questions of where were the Barsoomian cities, animals etc in the Brackett, Moore, Hamilton future. Also it helps to explain the discrepancies between the martian desert of those books and Barsoom's moss covered planet.

10,000-9,500 B.C. Events of ERB's Martian series. Towards the end of the first book, John Carter saves Barsoom by fixing the Atmosphere Plant. This is very dramatic but possibly over-dramatized. The Atmosphere Plant was possibly the main humidifier, taking water from the underground table and atomizing and spraying it into the Barsoomian atmosphere as a means sustaining the moss and keep desertification at bay. The Plant was probably attacked by Green Men or by terrorists of some type and John Carter did have to rescue it else have the moss die and drastically change the planet's ecology.

Around this time the deciding to flee the dying planet Sarmaks launch an invasion of the earth which they expect to be in a very primitive state. However John Carter's travel through time and space and the use of the Gridley Wave has created a temporal anamoly around Barsoom which causes the Sarmaks to arrive in the future equivalent to John Carter's personal

John Carter destroyed the launching cannon and prevented a second wave.The Sarmaks studied the anamoly and regrouped and launched a second attack while John Carter was evidently occupied with another crisis. They traversed time and dimensional space to attack the parallel earth named Annwn. They were unsuccessful in this venture as well.

8,000 B.C. The giant humidifiers are destroyed and rapid desertification of Mars begins. John Carter and his family having discovered from further discussions with Jason Gridly and Carson Napier via the Gridley wave that he was living in Mars' distant past and that Mars was doomed to become a harsh desert planet despite everyone's best efforts. Carter and as many of his people as could fit into vessels designed by Fal Sivas and emigrated to Saturn, which was the real home of the Morgor and Savator. (In Captain Future's Saturn the inhabitants are blue skinned.) Shortly after John Carter physically left Mars the temporal anamoly surrounding it disappeared.

7,500 B.C. The great cities advanced cities of Helium, Gathol and others become buried in the desert sand. Even the immortal Rama perish finding their efforts at stopping rapid desertification futile. (Secret of Sinharat-Brackett) Gone are the green hordes, the apts, most of the cultures and animals described by John Carter.

* * *

c. 1930 Carson Napier builds his own rocket aided by Hans Zarkov. His intention is to fly to Barsoom, unaware that Barsoom lies in the distant past. He finds himself out of trajectory having forgotten to take into account the gravitational pull of the moon. He instead lands on Venus or Amtor as it is called by the citizens of the continent of Vepaja. Events of Pirates of Venus and Lost on Venus by E.R. Burroughs

c 1933. Events of Carson of Venus by E.R. Burroughs.

1935-8 Events of Escape on Venus by E.R. Burroughs

c. 1938 Events of Wizard of Venus by E.R. Burroughs

c. 1939 Unnamed pilot, but possibly of the Carter clan, is apparently shot down over Germany by a Messerschmidt. Utilizing the power that runs in his famly, he transports himself out of danger, although he believes himself to be dead. He lands on Poloda, a unique solar system several light years away from earth. A pocket of air traverses the entire solar system making interplanetary travel as simples as flying a plane. He is named Tangor (Man Who Came From Nowhere) Poloda is in a state of perpetual war which turns the the warrior into something of a pacifist. Unfortunately Beyond the Farthest Star was the only adventure that Burroughs wrote of Tangor.
---
THE HOMEPAGE FOR CANADIAN SCIENCE FICTION
VISIT THE MADE IN CANADA SITE FOR
THE FOLLOWING LINKS TO CANADIANS ASSOCIATED WITH SF

ACTORS

Enid-Raye Adams
Dan Aykroyd
Cameron Bancroft
Tom Braidwood
John Candy
Jim Carrey
Kim Cattrall
Rae Dawn Chong
Tommy Chong
John Colicos
Kim Coates
Matt Craven
Hume Cronyn
Nicole De boer
James Doohan
Brian Downey
Ellen Dubin
Brendan Fehr
Michael J. Fox
Matt Frewer
Lorne Greene
Dean Haglund
Phil Hartman
Bruce Harwood
Jayne Heitmeyer
Natasha Henstridge
Lisa Howard
Michael Ironside
Andrew Jackson
Ingrid Kavelaars
Peter Kent
Margot Kidder
Pamela Lee
Eugene Levy
Howie Mandell
Michael McManus
Rick Moranis
Barry Morse
Carrie-Anne Moss
Mike Myers
John Neville
Catherine O'Hara
Leslie Nielsen
Leni Parker
Barry Pepper
Walter Pidgeon
Roddy Piper
Christopher Plummer
Keanu Reeves
Stellina Rusich
Anita La Selva
William Shatner
Martin Short
Marc Singer
Sebastian Spence
Donald Sutherland
Kiefer Sutherland
Dave Thomas
Tracy Tweed
Shannon Tweed
Maurice Dean Wint
Filmmakers
Brad Abraham
James Cameron
David Cronenburg
Paul Donovan
Lex Gigeroff
Julian Grant
Jeffery Hirschfield
Norman Jewison
Michael Lennick
Lorne Michaels
Joseph O'Brien
Daniel Petrie
Ivan Reitman
Isaac Szpindel
David Winning

FILM MAKERS

Brad Abraham
James Cameron
David Cronenburg
Paul Donovan
Lex Gigeroff
Julian Grant
Jeffery Hirschfield
Norman Jewison
Michael Lennick
Lorne Michaels
Joseph O'Brien
Daniel Petrie
Ivan Reitman
Isaac Szpindel
David Winning

AUTHORS

Chris Atack
Margaret Atwood
Alison Baird
Bruce Ballon
Alan Barclay
Ken Basarke
Stephanie Bedwell-Grime
Robert H. Beer
Bob Boyczuk
James Cameron
Joel Champetier
Lesley Choyce.
Mary Choo
Eric Choi
J. Brian Clarke
John Clute
John Robert Colombo
Michael Coney
Julie E. Czerneda
Robertson Davies
Don DeBrandt
Barbara Delaplace
A .M. Dellamonica
Charles De Lint
James De Mille
Gorden R. Dickson
Cory Doctorow
James Doohan
Candas Jane Dorsey
Wayland Drew
Dave Duncan
Steven Erikson
Gemma Files
Timothy Findlay
Leslie Gadallah
Marcel G. Gagné
James Alan Gardner
Stephen R. George
William Gibson
Catherine Girczyc
Phyllis Gotlieb
Glenn Grant
Terence M. Green
Ed Greenwood
Robyn Herrington
Nalo Hopkinson
Tanya Huff
Matt Hughes
Monica Hughes
Jan Lars Jensen
K. V. Johansen
Dennis Jones
Guy Gavriel Kay
Welwyn Wilton Katz
Michael Kelly
Eileen Kernaghan
Crawford Kilian
Mark Leslie Lefebvre
Mark Leslie
Nicole Luiken
Scott Mackay
Derwin Mak
Ann Marsten
Sally McBride
Donna McMahon
Beverley J. Meincke
Judith Merril
Derryl Murphy
David Nickle
Fiona Patton
Mark Rayner
Spider Robinson
Garfield Reeves Stevens
Judith Reeves Stevens
Esther Rochon
Rhea Rose
Robert Runté
Sean Russell
Geoff Ryman
Robert J. Sawyer
Karl Schroeder
William Shatner
David Shtogryn
Alison Sinclair
Lisa Smedman
Douglas Smith
Jena Snyder
Dale L. Sproule
Sean Stewart
S. M. Stirling
Isaac Szpindel
Marcie Tentchoff
Edo van Belkom
A. E. Van Vogt
Elisabeth Vonarburg
Peter Watts
Carol Weekes
Karen Wehrstein
Andrew Weiner
Michelle Sagara West
Edward Willett
Robert Charles Wilson
Melissa J. Yuan-Innes
SUBSCRIBE TO THE MADE IN CANADA NEWSLETTER
---
National Capital Panthans
The local Washington - Annapolis - Baltimore area
chapter of the Burroughs Bibliophiles.
The group has monthly gatherings of 10 to 20 local collectors, with occasional guests from as far away as New York City, Memphis, Tenn., Jupiter, Fla., Sacramento, CA and London, U.K.
---
LOST WORDS OF ERB
---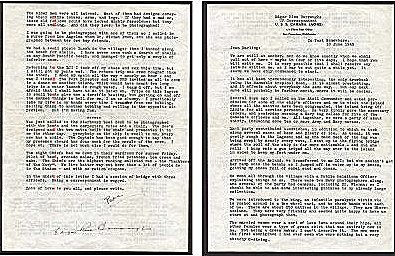 War Correspondent Edgar Rice Burroughs
Writes of Hijinks in the South Pacific
"In Port Somewhere,"
June 10, 1945

Excerpts:
Joan Darling:
"It has all been tremendously interesting, the only drawback being the damnable tropical heat... Several days ago I called on the Atoll Commander and asked permission for some of the ship's officers and me to visit the island where all the natives have been congregated...yesterday a navy tug called for five of the Cahaba's officers and me. All together we were a party of about thirty, including some ten or more Army and Navy nurses. Each party contributed sandwiches, in addition to which we took along several cases of beer and plenty of ice... We were introduced to the King, an infantile paralysis victim who is pushed around in a two wheel cart, and he shook hands with each of us...The married women wear a sort of lava lava skirt around their hips... The men were the first aborigines I had ever seen who wore nothing but a very sketchy g-string. The older men were all tattooed. Most of them had designs covering their entire torsos...And did they love to be photographed...The Port Director and the PRO invited us all to come to a dance on another island...I begged off, but am
afraid I shall have to do it later on....The Captain is good to say that my presence abroad has done much for the morale of the crew. I hope so. There is not much else I could do for them. The eight Chiefs had me down in their wardroom for supper Friday. Filet of beef...In the midst of this letter I have had a session of bridge with three officers. Being a correspondent is rugged..."
signed "Papa" and "Edgar Rice Burroughs" and "Papa."

---
LOOK AND LEARN MAGAZINE (Nov. 1973).
Published in England. 9 ¼" x 12" ~ 48 pages
Cover story "How Tarzan Was Born"
(about his creation by Edgar Rice Burroughs).
Cover and two pages of the article are pictured here.
The third page has the rest of text plus photos of Lex Barker and Johnny Weissmuller with Johnny Sheffield.

In 1941 Edgar Rice Burroughs witnessed the Japanese attack on Pearl Harbor, Hawaii, and at the age of 64 volunteered his services as a war correspondent, the oldest to cover the Pacific war. There have been some 15 film Tarzans played by screen strongmen often remembered more for their muscles than their acting ability.
---

To Edgar Rice Burroughs, a struggling writer with a family to support, the birth of Tarzan could not have come at a better time. By the 1930s, Tarzan stories and Tarzan films had a world-wide following of fans and even today this evergreen jungle giant is still something of a cult here.


---


As Japanese planes roared over Pearl Harbor to blast the unprepared U.S. fleet into ruin, among the amazed spectators was a tall, tanned American. His country was suddenly at war. Real life had finally caught up with his vivid and violent imagination. He was 66 years old but soon he would be volunteering his services as an official war correspondent, the oldest to cover the Pacific campaign.

It would not be his first time in uniform. In 1896 he served in Arizona with the famous 7th Cavalry until they discovered that he was underage. Between that time and Pearl Harbor he had been a ranch hand, a gold prospector, a railroad cop in Salt Lake City, a shopkeeper in Idaho -- and the author of more than sixty books, including "Tarzan of the Apes." He was Edgar Rice Burroughs.

Few writers make a good living entirely from acting. Even those who eventually become famous have usually worked at a number of jobs while selling their first stories. Burroughs did not quite fit this pattern. He had tried a variety of ways of making money, but they did not include writing. Only after he, his wife Emma, and his two children were reduced to selling their possessions and moving to his parents' home in Chicago, did he think of the fiction market. Magazines filled with adventure stories were being published by the dozen every month. Burroughs decided he could write the sort of colourful material they needed. At the age of 36 his real career was just beginning.

At first Burroughs kept his literary efforts a secret. He considered that writing was a shameful occupation for a healthy man! And a lady editor who interviewed him for her magazine in 1913, described his hands as looking better fitted for a sledge hammer than a typewriter. He was still ashamed of being an author when the novel "Under the Moons of Mars" was completed. It was submitted to All Story Magazine under a pen name. All Story accepted it and paid Burroughs a badly needed 400 dollars, which helped to cure his embarrassment. But he still kept his job in the office of a magazine. This was fortunate for his next novel, "The Outlaw of Torn," was rejected. In his first year of authorship, 1911, he had completed two novels, and now he began work on a third. He had studied 13th century English history for the background of "The Outlaw of Torn." For the third novel, he turned to "In Darkest Africa" by the famous reporter/explorer Henry M. Stanley. It was the first step in the creation of the most popular character in fiction, Tarzan of the Apes.

The facts about Tarzan are scarcely less incredible than the fiction. Twenty-six Tarzan books were written and published, each of them in several hard cover editions, over a period of 53 years. They had a world-wide appeal. Tarzan never said, "Me Tarzan, you Jane," but if he had he would have said it in 30 languages, plus Esperanto. In 1914, the National Film Corporation put the ape man on the cinema screen. A silent film, starring the professional strongman, Elmo Lincoln, made over one. . .

CONTINUED ON NEXT PAGE WHICH IS NOT AVAILABLE
A copy of the text from anyone owning the missing third page would be appreciated.
---
COLLECTOR'S CORNER
---
---
THE MAN WHO LIMPED
by
OTIS ADELBERT KLINE
Published by Saint Enterprises,
1946
Digest-sized pulp
including five of Kline's
DRAGOMAN stories

See our Kline Bibliography at:
http://www.erbzine.com/mag0/0036.html
---
Amazing Stories V5 #12 March 1931
Stories by Kline, Meek, Eschbach,
and Breuer (Aboard the Martian Liner)
Illos & Cover by Morey
The Thing That Walked in the Rain
by
Otis Adelbert Kline

See our Kline Gallery at:
http://www.erbzine.com/mag0/0054.html
---
---
OTHER WORLDS SCIENCE STORIES
Vol.2 No.1 JULY 1950 ~ 130 pages

Featuring a Pictorial Tribute to Edgar Rice Burroughs, including a rare last picture taken of ERB on the inside back cover.

Front cover by Malcolm Smith with interiors by Malcolm Smith and Jon Arfstrom
Stories by Ray Bradbury, A.E. Van Vogt, Forrest J. Ackerman, William F. Temple, S.J. Byrne, and G.H. Irwin
---
TARZAN
1928 GROSSET & DUNLAP STORE PLACARD

A free-standing Tarzan 14" x 19" counter display placard
See the publishing history of Tarzan, Lord of the Jungle
in ERB C.H.A.S.E.R. Online Encyclopedia at:
http://www.erbzine.com/mag4/0499.html
---
| | |
| --- | --- |
| Parroom Station Miniatures | Parroom Station Miniatures announces the immediate availability of six new extraordinary personages: The Red Eagle; Miss Rebecca Myst; Dr. Lacklove; his henchman Mr. Cassidy; Professor Moriarty; and surely not least, a certain Virginia Gentleman who has, shall we say, "gone native." Offerings: Extraordinary Personages: ladies, gentlemen, notable persons, travelers, adventurers, missionaries, traders, and other less savory folk for your enlivening your gaming escapades. |
---
TARZAN
A GAME BY EDGAR RICE BURROUGHS 1939

This is an extremely rare Depression-Era "Tarzan" Parker Bros. game graphically designed by the "Art Department of E. R. Burroughs, Inc." (as printed on the box and board). The box is 13-1/4" x 15-3/4" x 2" deep. The game board is lithographed cardstock with folded sides that fits snugly up against the player compartment. There are 13 game pieces and an instruction "booklet."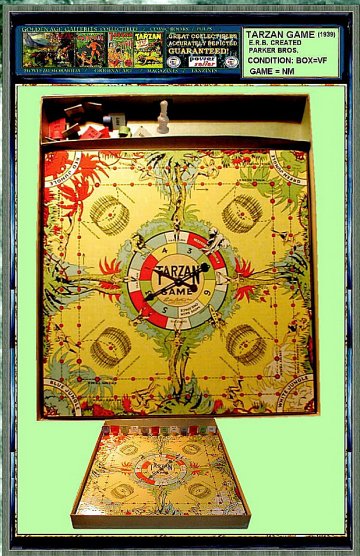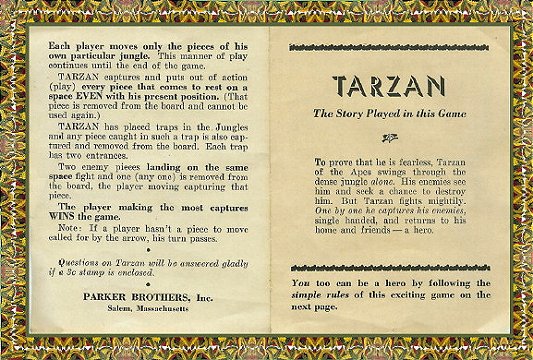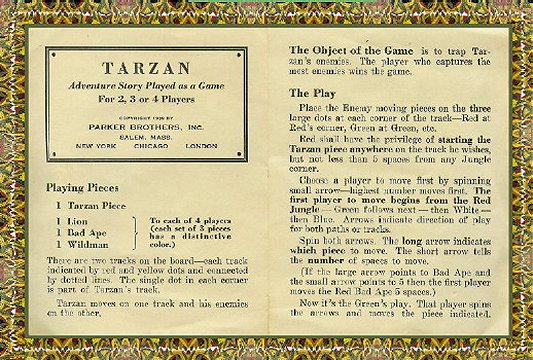 ---

Coming Soon
Another
OkaR'n'R
Report



Issue 0662



BILL HILLMAN
Visit our thousands of other sites at:
BILL AND SUE-ON HILLMAN ECLECTIC STUDIO
ERB Text, ERB Images and Tarzan® are ©Edgar Rice Burroughs, Inc.- All Rights Reserved.
All Original Work ©1996-2002/2010 by Bill Hillman and/or Contributing Authors/Owners
No part of this web site may be reproduced without permission from the respective owners.