| | |
| --- | --- |
| The First and Only Weekly Online Fanzine Devoted to the Life and Works of Edgar Rice Burroughs | |
Issue 0644

Motes & Quotes Newsmagazine:
02.08.02 Edition



LLC and KUHT-Houston PBS
http://www.griffenfilms.com/
are preparing a three hour television documentary:
Burroughs: Master of Fantasy
The true story of the man
A short promo A/V clip is included on the Website
http://www.griffenfilms.com/burroughs.html
Note: The Website and video clip must be viewed with the Internet Explorer browser
Many familiar names from ERB fandom have been invited to participate in this memorable project, including actors: Bruce Boxleitner, Lydie Denier, Denny Miller, Herman Brix/Bruce Bennett. Also participating is a team of ERB fans, scholars, artists, and writers: George T. McWhorter, Brian Bohnett, Tom Yeates, Allan Gross, Phillip R. Burger, Robert Barrett - including ERBzine editor Bill Hillman. The Griffen Website has featured short bios on each of the participants similar to this one devoted to your editor:

Illustration of Bill and Sue-On
by Thomas Yeates

Burroughs Fanzine Editor
Bill Hillman is a Canadian University professor whose idea of free time relaxation is to create thousands of WebPages on the life and works of the Grandfather of American Science Fiction and the Master of Fantasy Adventure: Edgar Rice Burroughs. Bill was introduced to the fantasy worlds of Burroughs back in the '50s, while growing up on a farm on the Canadian prairies near Brandon, Manitoba. Although he and his wife, Sue-On, have since had long careers as teachers, restaurateurs, and musical entertainers, the imagination stoking influence of ERB seems to have pervaded all of these diverse real-life activities. Hillman's many ERB-related web projects include: ERBzine a weekly online fanzine, ERB C.H.A.S.E.R. Online Encyclopedia, memorabilia emporiums, art galleries, fan fiction, media analyses, fan and Burroughs family tributes, fan forums, convention reports and presentations... the list is almost as far flung and eclectic as ERB's own imaginative words and worlds.
---
ERB Fans may want to check out:
GOOD HOUSEKEEPING Site of the Day for July 11, 2002
Archive: www.GH-SiteoftheDay.com
July 11, 2002
Bill Hillman's Edgar Rice Burroughs Tribute Sites and Weekly ERBzin-e
http://home.westman.wave.ca/~hillmans/erbmg101.html
http://www.ERBzine.com
Edgar Rice Burroughs, 'the master of imaginative fantasy adventure, the creator of Tarzan and the grandfather of science-fiction' comes to life in Bill Hillman's Edgar Rice Burroughs Tribute Sites. This tribute features over 1,000 sites all collected 'by an exhausted scholar' as Mr. Hillman describes himself when commenting on the work that has gone into this project (rest assured, the exhaustion that Mr. Hillman claims is not evident in his site). Here's your opportunity to find out everything about the Ape Man's creator and The Ape man himself, find other ERB collectors and fans, research details about the original Tarzan movies and bone up on everything associated with the life and work of this twentieth century man, Edgar Rice Burroughs. Come meet Mr. Burroughs and see the gifts that he has given to imaginations of all ages.
---

CAUGHT IN OUR SITE

---

The Latest on new ERB-related films
in the Corona Coming Attractions Website
A Princess of Mars
http://corona.bc.ca/films/filmlistingsFramed.html

Genre: Science Fiction/Adventure/Fantasy.
Studio: Paramount Pictures.
Production Company: Alphaville Productions.
Project Phase: Development Hell.
Who's In It: No one confirmed as yet.
Who's Making It: Jim Jacks, Sean Daniels (Producers);
Based on the novel A Princess of Mars by Edgar Rice Burroughs.
Premise: A Civil War veteran finds himself transported inexplicably from a cave on Earth to the surface of Mars, a strange planet populated by vicious barbarians, strange aliens, and maidens in distress.
Release Date: Unknown.
Comments: The novel is the first of eleven volumes that describe the adventures of John Carter
of Mars, a series which touched the imaginations of budding authors and scientists alike.
Rumors: Unknown.
Scoop Feedback:
[Page draft submitted by Widgett.]
January 24, 2000... The feature film project of Burroughs' A Princess of Mars has long been stuck in development hell. Although the rights have been owned by Disney (through its subsidiary Hollywood Pictures) for many years, no solid development past the point of writing a script has taken place. In today's age of mega-budgeted science fiction franchises, why haven't we seen A Princess of Mars movie yet?

Perhaps one of the factors that make Hollywood Pictures executives nervous is how to adapt an early 20th century science fiction pulp adventure book into a plausible movie for 21st century audiences. Thanks to the incredible advances in science over the past century, today most average citizens know some basic facts about Mars that Burroughs could only daydream of. In Burroughs series of books Mars just didn't have a breathable atmosphere, it had entire races of Martians living, feuding and waging war, not to mention sexy green princesses (borrowed later by Star Trek for its Orion Slave Girls.) In a society where images of a dry, desolate and frozen Mars are beamed back to Earth by numerous space probes, are audiences too aware of the science to allow the fiction of Burroughs fantasies to gain a foothold in their imaginations?

We feel it ultimately it rests on the strength and direction of the movie's script. If the proper combination of faithfulness to the source material and an acknowledgement to today's understanding of the red planet can be fused together, we believe today's audiences would eat up the high adventure content that made the original novel a legend in its genre.
[Reported by Patrick Sauriol.]
April 28, 2000... Juancho did some digging, and what did he find? Comments from Ted Elliott and Terry Rossio regarding their work on this project. It's from their fine Word Player site, so if you haven't gone you should. But regardless, apparently the project landed John McTiernan at one point. Although Elliott and Rossio met with McTiernan, their meeting was...less than effective. Bob Gale was brought in to do a rewrite. McTiernan wanted to make the project "a blood-and-guts action film." As Rossio puts it in the full column (found here), "Thank God the studio pulled the plug, or there would have been another horrible film out there to mislead writers into thinking they could do better. It's scary to think -- due to McTiernan's clout -- how close the studio came to green-lighting a picture even they knew was terrible."

So at this point consider this bad boy in the ninth circle of development hell with no sign of reprieve. There have been many drafts, and mayhap, there will be many more.
[Originally appeared on Wordplayer.com; scooped by Juancho Saxman of Cleveland.]
May 23, 2001... According to this scooper, Disney has opted not to renew the rights to A Princess of Mars. The new rumor du jour is that Universal Pictures is considering acquiring the movie rights now.
[Scooped by Abraham Sherman.]
April 12, 2002... The film rights to Burroughs' classic sci-fi novel have now changed hands to Paramount Pictures. In fact, "The Mountain" (as Paramount is referred to in da biz) has optioned all 11 volumes of the John Carter series. Maybe the mild success of a small picture called The Lord of the Rings had some weight in their decision?

In any case, Paramount is turning to Jim Jacks and Sean Daniels, two producers who have a development deal at the studio, to work on A Princess of Mars, the first of the Burroughs books. Jacks and Daniels will develop the project through their Alphaville Productions banner, which found great success in recent years by producing Universal's The Mummy and The Mummy Returns movies.

Jacks told Variety that advances in CGI technology had made possible ways to faithfully bring to life Burroughs incredible (and bound to be expensive) story. The rights were optioned from the Burroughs estate for $300,000 against $2 million.
[Source: Variety.]
---

Internet Broadway Data Base site

---

Tarzan of the Apes on Broadway


Broadhurst Theatre, (September 7, 1921 - Closing date unknown)
Total Performances: ?
Category: Play, Melodrama, Original, Broadway

Opening Night Production Credits

Produced by George Broadhurst.
Book by Major Herbert Woodgate and Arthur Gibbons;
Based on the novel "Tarzan of the Apes" by Edgar Rice Burroughs;
Book adapted by George Broadhurst.
Staged by Mrs. Trimble Bradley.

Opening Night Cast

Ronald Adair: Tarzan, the man
Alfred Arno: Kerchak
Ford Chester: Parkinson
Boyd Clarke: Bobby, Lord Greystoke
Ethel Dwyer: Jane Porter
Lionel Glenister: Lord Greystoke & Edward Ainslee
John Grattan: Tarzan, the child
Minna Gale Haynes: Lady May Greystoke
Greta Kemble-Cooper: Lady Alicia Clayton
Howard Kyle: Webb
Lawrence Marks: Tarzan, the boy
John F. Morrissey: Big Michael
Alice Mosley: Lady Greystoke
Forrest Robinson: Charles Porter
Edward Sillward: Kala, the mother ape
The credits for this production have not yet been completed or verified.


---
DARK HORSE
COMICS PRODUCTS
Present
Classic Comic Characters #35
Tarzan Statue


Edgar Rice Burroughs' Tarzan has thrilled readers since 1912 when it was first published in a pulp magazine. The story of an English lord that was marooned in the African jungle and raised by apes is known and loved worldwide. Tarzan swung through adventures from the wilds of the African jungle, to the hidden city of Atlantis, and beyond. Hal Foster was hired in 1929 to adapt the story of Tarzan for a daily comic strip and soon had a whole nation eager to read the latest Tarzan adventure every morning. Tarzan remains one of the most beloved and well fictional characters and his story is constantly being retold. Sculpted by Yoe! Studios, this statue comes packaged in a full-color tin box with pinback button and booklet as extras. This piece is limited to only 600 numbered copies, so allocation may occur.

Released October 16, 2002

Softcover, 5" tall, packaged in full-color tin box w/certificate, pinback button, and info booklet.
Limited to only 600 numbered copies
Recommended Age: Children
$49.95
---
.....................
THE LONG SWORD
Published long ago by long-time ERB fan and scholar, Dick Spargur
with art by well-known Hollywood screenwriter and Bibliophile member, Chuck Pogue

THE LONG SWORD #1 ~ 1965

A 20 page mimeographed fanzine stapled along left edge with artwork and articles devoted to the worlds created by Edgar Rice Burroughs and others. The first issue features "Political Prophesies in TARZAN THE INVINCIBLE," an article on P. C. Wren and his Legionnaire novels, The Historical Side of ERB and other features.

THE LONG SWORD #2 ~ January 1966.

Twenty-page mimeographed fanzine stapled along left edge with amateur artwork and articles devoted to the worlds created by Edgar Rice Burroughs and others. This issue features "Burroughs and Fleming," "Synthetic Men of ERB," "Magazine to Book Metamorphoses," "Tarzan in 8mm" and other features.

FANTASY OF THE 20TH CENTURY: An Illustrated History
By Randy Broecker
Presents death-defying adventures and wild flights of imagination by such celebrated commanders of the genre as William Morris, and Edgar Rice Burroughs. Reveals how the fantasy story evolved over the centuries into entertainment found in today's books, comics, and films.
Hardbound ~ Colour illustrations ~ 256 pages ~ Published by Collectors Press
ISBN 1888054522 ~ $60.00
Item reported by Wayne James
---
Jesse J. Goldburg (1881 - 1959)
http://www.surfnetinc.com/chuck/goldburg.htm

"Jesse James Goldburg earned a law degree in New York, but didn't practice. For some reason, he wound up in Hollywood around 1915, and one of his first credits is the screenplay for THE CURIOUS CONDUCT OF JUDGE LE GARDE (Life Photo Film, 1915) with Lionel Barrymore. In the 1920s, he formed a low budget film company named Independent Pictures Corporation. He produced several dozen inexpensive westerns and outdoor yarns, and his primary stars were Bill Cody, Bob Custer and Franklyn Farnum. . . . When talkies arrived, Jesse Goldburg's Hollywood career faded.
An interesting tidbit about Goldburg is a relationship with Tarzan creator Edgar Rice Burroughs. Apparently, they were close friends and there is a mention of Jesse loaning ERB several thousands of $$$ around 1938. That "loan" is noted in a couple of ERB personal inscriptions in several Burroughs books which are part of the Goldburg family library.

"There's some details on this in David Fury's book Kings of the Jungle: An Illustrated Reference to Tarzan on Screen and Television (1994 McFarland hardcover, 2001 McFarland softcover). Page 139 of the softcover edition notes:

'Edgar Rice Burroughs had originally signed a $50,000.00 loan to finance The New Adventures of Tarzan in 1934, and by 1937 Burroughs-Tarzan Enterprises was in serious debt. BTE was saved from further embarassment (financial and otherwise) by Jesse Goldberg, who, in an agreement with the producers of Tarzan and the Green Goddess, was installed as the sole agent for distributing and exploiting the picture, on a 50/50 split. Goldberg did well enough with the picture (especially in England, where it was released in December, 1937) to pay off the loan, and BTE was able to clear the books.'

"For those unfamiliar with the movie references in the above paragraph, THE NEW ADVENTURES OF TARZAN was a 12-chapter serial produced by Burroughs-Tarzan Enterprises. It was filmed in the jungles of Guatamala and starred 1928 Olympic shotput Champion Herman Brix, who a few years later, changed his screen name to Bruce Bennett. TARZAN AND THE GREEN GODDESS was a feature culled from that serial. While all this was going on, Olympic swimming champion Larry 'Buster' Crabbe did the TARZAN THE FEARLESS (1933) chapterplay for Sol Lesser's Principal company. But more importantly, an Olympic swim champ by the name of Johnny Weissmuller was doing Tarzan films at MGM."

Thanks to Hollywood ERB sleuth Tracy Griffin for bringing this item to the attention of ERB fans.
---
Scientists unveil oldest fossil of human lineage
About 7 million years old:
Anthropological impact
'of a small nuclear bomb'
by Margaret Munro National Post
Thursday, July 11, 2002
In what is being called "the most important fossil discovery in living memory," scientists in central Africa have unearthed the oldest member of the human family to date -- a find that could push back the human lineage by at least one million years and revolutionize our understanding of human origins. Paleontologists believe the hairy, chimplike ape-man roamed the deserts and woodlands of Africa about seven million years ago, close to the divergence of human ancestors and the apes. Previously found fossils from a hominid -- the branch of the family tree that includes humans and ape-men -- dated from about 5.8 million years ago. Toumaï, as the creature has been nicknamed, is the oldest member of the human family yet discovered and "a likely ancestor of all later hominids," says Michel Brunet, of the University of Poitiers, in France. Professor Brunet is head of the team that unearthed the cracked and weathered skull on the edge of the Sahara desert, in northern Chad. Rumours of the find, which is detailed today in the journal Nature, have been circulating for months among anthropologists. Scientists familiar with the discovery say it will have a dramatic impact on our understanding of human origins.

"This will have the impact of a small nuclear bomb," said Daniel Lieberman, a Harvard University anthropologist who has seen the skull.

"Toumaï is arguably the most important fossil discovery in living memory, rivalling the discovery of the first 'ape-man,'
Australopithecus africanus, 77 years ago," said Henry Gee, paleontology editor of Nature.

Other researchers, such as Michael Bisson, chairman of anthropology at McGill University, were more guarded in assessing the impact of Tomaï. "But it's really going to shake things up," he conceded.

Africa has been long been regarded as the cradle of humankind. But it now appears evolution produced many different early
hominids, with various combinations of ape and hominid features. And the process appears to have started millions of years earlier than researchers believed. Toumaï was found 2,500 kilometres west of Africa's famed Rift Valley, the site of many early hominid discoveries. That, combined with its "great antiquity," suggests widespread distribution of hominids at least six million years ago, and a chimpanzee-human divergence as early as seven million years ago, Prof. Brunet's team speculates. The skull, jawbone and teeth, which are all that is left of Toumaï -- its official name is Sahelanthropus -- reveal an intriguing mix of primitive and advanced features. The tiny braincase is ape-like, but the face is short and the teeth, especially the canines, are small, more like those of a human. It has prominent brow-ridges common only in the human lineage. The team has yet to find any limb bones and so cannot say whether Toumaï walked upright, but the scientists suspect it might have. Based on the skull, they estimate these early hominids were about the size of a chimpanzee, though they looked distinctly different.

"From the back it looks like a chimpanzee, whereas from the front it could pass for a 1.75-million-year-old advanced australopith," Bernard Wood, of Georgetown University, notes in a companion piece in Nature. All of which suggests Toumaï had "a close relationship to the last common ancestor between humans and chimpanzees," Prof. Brunet and his team say.

Scientists have been searching for the "missing link" between the species ever since Charles Darwin first suggested humans
evolved from apes. The discovery in 1925 of a fossilized skull in South Africa was the first hard evidence of a connection between apes and humans. That fossil, Australopithecus africanus, estimated to be 2.5 million years old, suggested an ape-like creature who stood upright and walked on two feet.

Several older australopithecines have since been found, the most famous being Lucy, a 3.18-million-year-old skeleton discovered in Ethiopia in 1974. She has been widely described as the "mother of humankind." But Toumaï knocks her off the pedestal. "Without question, this is much more important than Lucy," Prof. Bisson said. He says a series of recent finds in Africa -- skull fragments, teeth and bones -- point to human ancestors that are much older than Lucy.

© Copyright 2002 National Post

---

ART GALLERY

---
The Tarzan Art of
BRYAN LAUB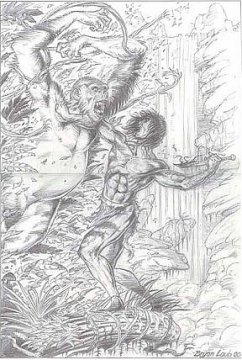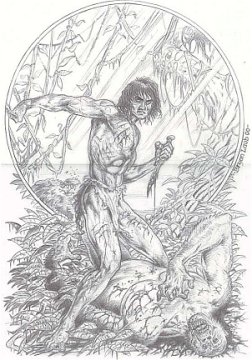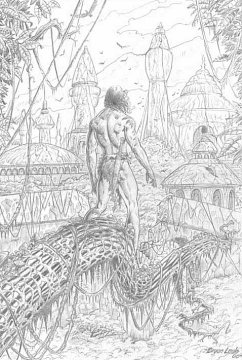 NOTE TO COLLECTORS:
This is a small sampling of Bryan's exciting ERB art.
His work is slated to appear in major magazines in the near future
but many of his originals are still available for purchase.
For ordering information please contact Bryan at:
bryanstudio@hotmail.com
---
COVERS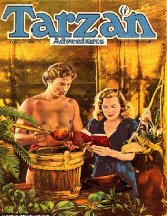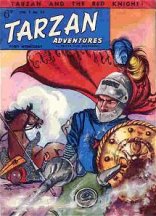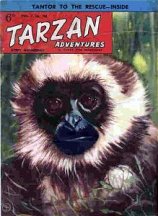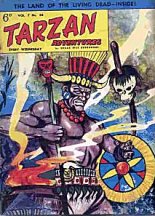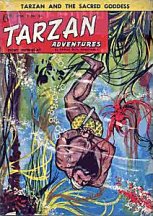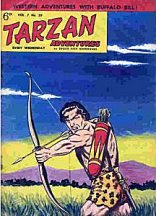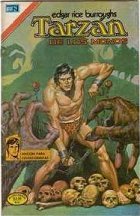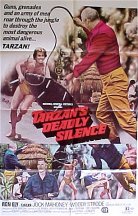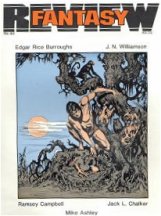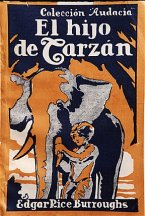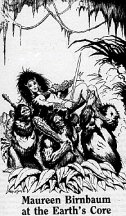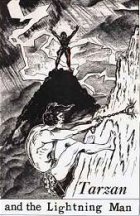 Issue 0644



BILL HILLMAN
Visit our thousands of other sites at:
BILL AND SUE-ON HILLMAN ECLECTIC STUDIO
ERB Text, ERB Images and Tarzan® are ©Edgar Rice Burroughs, Inc.- All Rights Reserved.
All Original Work ©1996-2002/2010 by Bill Hillman and/or Contributing Authors/Owners
No part of this web site may be reproduced without permission from the respective owners.