First and Only Weekly Webzine Devoted to the Life and Works of Edgar Rice Burroughs
Since 1996 ~ Over 15,000 Webpages in Archive
Issue 0620

TARZAN FINDS A SON!
Working Title: Tarzan in Exile
Starring Johnny Weissmuller ~ No. 4
MGM 1939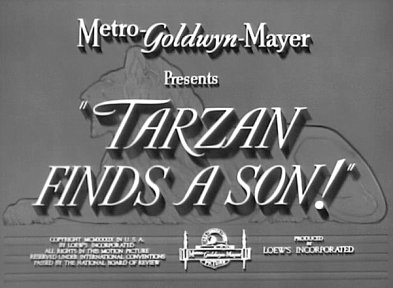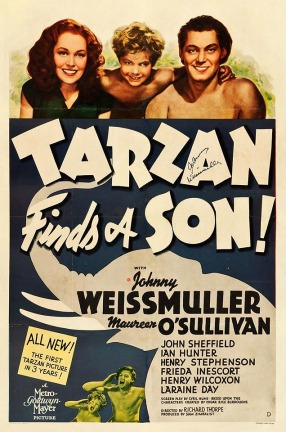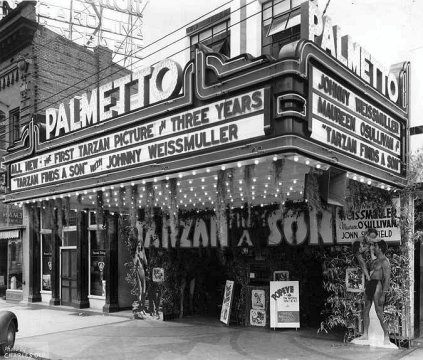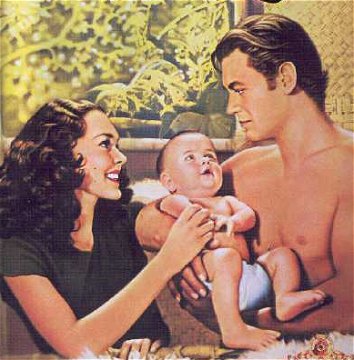 SUMMARY
A young couple are killed in a plane crash in the jungle. A monkey brings the infant survivor of the crash to Tarzan (Johnny Weissmuller) and Jane (Maureen O'Sullivan) who name the child, Boy. Five years later, a search party (Ian Hunter, Henry Wilcoxen, Frieda Inescort and Henry Stephenson) come looking for the child who is heir to a fortune. They wound an elephant after which they get into a scrape with the Gaboni tribe but Tarzan arrives to call off the natives. Jane cooks them a meal of ostrich egg and tells them that they buried that there were no survivors of the plane crash. Boy appears in many of the scenes: swimming, playing with the animals, impressing the visitors and being rescued from a spider web, a waterfall and a rhino by Tarzan. The party learn that Boy is their relative and insist on taking him back with them. Tarzan steals their guns at night and tosses them into a pool while Cheetah awakens the party by taking their photo with a camera he has found. They refuse to leave without their guns so Tarzan dives for the guns but he is left stranded.. Against Tarzan's advice Jane is persuaded to help lead them out of the jungle so that they can return Boy to civilization. Sir Thomas, the only good guy in the party, is killed by his nephew while trying to warn Jane that she has been duped. Refusing to follow the route chosen by Jane the party is then captured by the savage Zambele tribe. Jane helps Boy escape and he runs through many jungle obstacles to get back to Tarzan. He is unsuccessful in getting a rope to Tarzan in the pool so he gets elephants to push a dead tree down to the stranded apeman. Tarzan and Boy, the great apes and an elephant herd.all race to the village to rescue the surviving members of the party. Jane has been seriously wounded by a native spear. In the original script she dies from the wound but following a barrage of protests from fans... and ERB... the studio resurrected her and had her recover in Tarzan's arms. The Tarzan family return to their idyllic life in the jungle.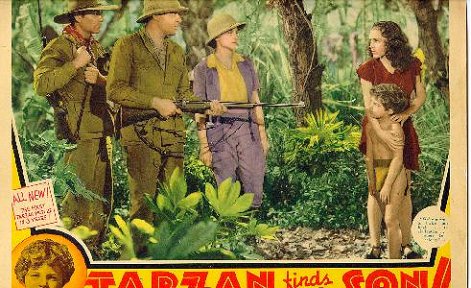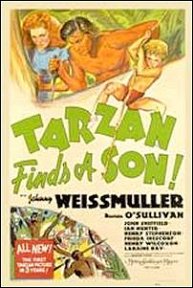 CREDITS
Director: Richard Thorpe
Producer: Sam Zimbalist
Writers: Edgar Rice Burroughs (characters) ~ Cyril Hume (screenplay)

CAST
Johnny Weissmuller: Tarzan
Maureen O'Sullivan: Jane
Johnny Sheffield: Boy (as John Sheffield)
Ian Hunter: Mr. Austin Lansing
Henry Stephenson: Sir Thomas Lancing
Frieda Inescort: Mrs. Lancing
Henry Wilcoxon: Mr. 'Sandee' Sande
Laraine Day: Mrs. Richard Lancing
Morton Lowry: Mr. Richard Lansing
Gavin Muir: Pilot (uncredited)
Baby X: Boy as a younger child. (uncredited)


Original Music by William Axt ~ Sol Levy
Cinematography by Leonard Smith
Film Editing by Gene Ruggiero ~ Frank Sullivan
Art Direction by Cedric Gibbons
Assistant Director: Dolph Zimmer
Art Department: Urie McCleary (associate art director) ~ Glen Barnes (set designer uncredited)
Sound recording director: Douglas Shearer
Stunts: Harry Monty ~ Johnny Sheffield (uncredited)
Voice Double for Tarzan's Yell: Delos Jewkes (uncredited)

82 min ~ B&W (Sepiatone) ~ Mono (Western Electric Sound System)
Technical Specs: (8 reels) 35mm negative & print ~ Spherical ~ Aspect ratio 1.37 : 1
Production Companies: Loew's Inc.~ Metro-Goldwyn-Mayer Pictures
Distributors: Loew's Inc. ~ Metro-Goldwyn-Mayer Corporation
Production Date: January 9, 1939
Copyright Holder: Loew's, Inc.; 8 June 1939; LP8906
Other Companies: The Hagenbeck-Wallace Circus provided elephants for stampede
Release Dates: USA June 16, 1939 ~ Canada July 12, 1939 (Toronto)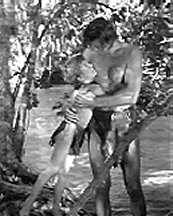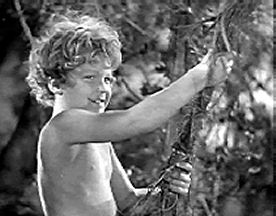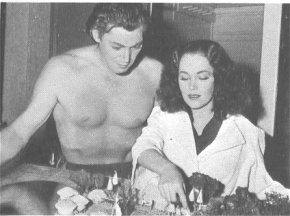 TRIVIA
The working title of the film was Tarzan in Exile -- referring to Tarzan's self-imposed exile following the death of Jane.
In the original script Jane was to have died (Maureen O'Sullivan wanted out of the Tarzan series). Fan protest forced a last-minute rewrite in which Jane recovers from her near-fatal wound, admitting she had been wrong to disobey Tarzan. She was offered raise and stayed on for one more film in the series.
Most of the film was filmed on studio sets with almost all the location footage taken from other films including Baboona (1935), Trader Horn (1931), Tarzan the Ape Man (1932), and Tarzan and His Mate (1934).
For the many swimming and underwater sequences, Weissmuller and Sheffield were sent with Baby Bea the elephant and a large sea turtle to Crystal Springs, Silver Springs, and Wakulla Springs, Florida, USA.
Pregnant Maureen O'Sullivan stayed in Hollywood and a double was hired to do her Florida swimming scenes.
At the conclusion of the Florida shoot, Johnny Weissmuller presented his loin cloth, signed by cast and crew, to Wakulla Springs co-owner "Shorty" Davidson.
In response to Maureen O' Sullivan's refusal to do more Tarzan films screenwriter Cyril Hume was directed to write Jane out of the film series. Hume suggested that they add a son so as to retain the family audience after Jane's death. Fearing that the Legion of Decency would object to a child out of wedlock he had them find a child survivor of a plane crash.
Weissmuller's personal choice for the role of Tarzan's adopted son, Boy, was five-year-old Johnny Sheffield, son of British actor Reginald Sheffield.
When Burroughs learned of the planned death of Jane he wired MGM from Hawaii, threatening to sue. There was nothing in Burroughs' contract with the studio to prevent this script decision but the backlash from fans was so overwhelming that they changed the script.
August 29, 1939: ERB, who was highly critical of the plans to eliminate Jane in Tarzan Finds a Son, wrote producer Zimbalist voicing approval for the job he had done.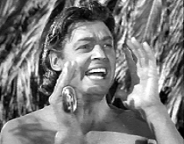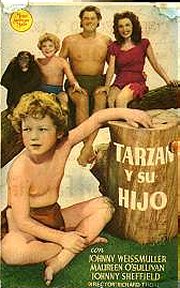 CAST BIOS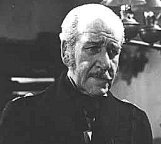 Henry Stephenson: Born Henry S. Garroway in Granada, British West Indies on April 16, 1871 and died on April 24, 1956 in San Francisco, California.

He was educated in England and began his career on the stage in London before moving to New York. He made a few silent films before the sound era, but then became firmly established as one of Hollywood's finest character actors and had a long career.

Filmography Highlights: What Every Woman Knows (1934) ~ Mutiny on the Bounty (1935) ~ Little Lord Fauntleroy (1936) ~ Charge of the Light Brigade, The (1936) ~ The Prince and the Pauper (1937) ~ The Adventures of Sherlock Holmes (1939) ~ Down Argentine Way (1940) ~ Mr. Lucky (1943) ~ Tarzan and the Amazons (1945) ~ The Return of Monte Cristo (1946) ~ Of Human Bondage (1946) ~ Oliver Twist (1951) ~ Challenge to Lassie (1949)

---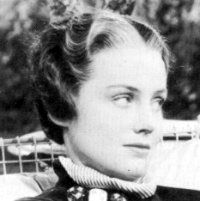 Frieda Inescort: Born Frieda Wrightman on June 29, 1901 in Edinburgh, Scotland and died (multiple sclerosis) on February 26, 1976 at Woodland Hills, California. Her father was a journalist and her mother an actress named Elaine Inescort. Her parents separated when Frieda was very young. Frieda attended a number of boarding schools, finally graduating from a London convent school. She took her mother's madien name because she felt close to her mother and was fascinated by the stage. She worked at Putnam's Publishing House for awhile where she met Ben Ray Redman -- a critic for The New York Herald -- whom she married in 1926 appeared in serveral successful Broadway plays: Escape, The Merchant of Venice (as Portia), Pygmalion, Major Barbara, and Springtime for Henry. Sadly, Elaine couldn't handle her daughter's success and this led to their estrangement. They moved to Los Angeles when Redman took a job with Universal Pictures. Sam Goldwyn signed her to a film contract after she was seen performing in the play, Merrily We Roll Along. Her role in The Dark Angel (1935) was the start of a long string of films. She interspersed her film with the occasional Broadway role and later appeared on numerous television shows such as: Meet Corliss Archer, Perry Mason, Bourbon Street Beat, Wagon Train and The Rebel. She retired from acting in the early '60s when the effects multiplesclerosis started to cripple her. It was also at this time that her husband who was battlein depression committed suicide. She spent her last years in in the Motion Picture Home in Woodland Hills.

Filmography Highlights: Hollywood Boulevard (1936) ~ Mary of Scotland (1936) ~ Tarzan Finds a Son! (1939) ~ Letter, The (1940) ~ Pride and Prejudice (1940) ~ Courtship of Andy Hardy (1942) ~ A Place in the Sun (1951) ~ Casanova's Big Night (1954) ~ Darby's Rangers (1958) ~ She-Creature (1956) ~ The Eddy Duchin Story 1956) ~ The Crowded Sky (1961)

---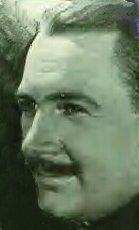 Ian Hunter: Born in Capetown, South Africa on June 13, 1900 and died in London, England on September 23, 1975. Hunter was a smooth, pleasant-looking, fair-haired British leading man with patrician good looks and Leslie Howard-like panache who sustained productive film careers in both England and Hollywood for most of his four-decade career opposite more florid women stars.

He was married to Catherine Casha 'Pringle' (1917 - ?) and they had two sons. Ian Hunter's acting career spanned many years and genres.

Filmography Highlights: Not for Sale (1924) ~ Sign of Four, The (1932) ~ A Midsummer Night's Dream (1935) ~ Adventures of Robin Hood (1938) ~ The Little Princess (1939) ~ Maisie (1939) ~ Tarzan Finds a Son! (1939) ~ .Broadway Serenade (1939 ~ A Yank at Eton (1942) ~ Smilin' Through (1941) ~ Dr. Jekyll and Mr. Hyde (1941) ~ Billy the Kid (1941) ~ Ziegfeld Girl (1941) ~ .Andy Hardy's Private Secretary (1941) ~ "The Adventures of Robin Hood" (1955) TV Series ~ The Bulldog Breed, The (1960) ~ Robin Hood: The Movie (1991)
---

Henry Wilcoxon: Born in Dominica, British West Indies on September 8, 1905 and died in Los Angeles on March 6, 1984 of cancer and heart failure. He was raised and educated in the West Indies before moving to England where he took to the London stage. A Paramount talent scout was impressed with his appearance in The Barretts of Wimpole Street and he was given the lead role as Mark Antony by Cecille B. DeMille in Cleopatra (1934).

This was the start of long relationship with DeMille, he would become a familiar DeMille character actor and DeMille's associate producer in the later years of DeMille's career. After DeMille died he worked sporadically and accepted minor acting roles. On television, he appeared in Gunsmoke, Cagney and Lacey, Marcus Welby, M.D., The Wild Wild West, It Takes a Thief and The F.B.I. Wilcoxon died in 1981 from cancer.

Filmography Highlights: The Perfect Lady (1931) ~ Cleopatra (1934) ~ The Crusades (1935) ~ The Last of the Mohicans (1936) ~ Tarzan Finds a Son! (1939) ~ That Hamilton Woman (1941) ~ Mrs. Miniver (1942) ~ Dragnet (1947) ~ Connecticut Yankee in King Arthur's Court, A (1949) ~ Samson and Delilah (1949) ~ The Miniver Storye (1950) ~ The Greatest Show on Earth (1952) ~ Scaramouche (1952) ~ Ten Commandments (1956) ~ Man in the Wilderness (1971) ~ Caddyshack (1980) ~ The Man with Bogart's Face (1980) ~ Sweet 16 (1981)
---

Gavin Muir: Born in Chicago, Illinois on September 8, 1900 and died in Fort Lauderdale, Florida on May 24, 1972. Muir was a US character player, educated in England, who appeared in Hollywood films from the mid-'30s through the '60s. He customarily affected a British-style accent in his portrayals of effete, shifty types. He had a long career. Despite his good looks, he was more believable in the many villainous roles he played.
Filmography Highlights: Artistic Temper (1932) ~ Charlie Chan at the Race Track (1936) ~ Lloyd's of London (1936) ~ Wee Willie Winkie (1937) ~ Tarzan Finds a Son! (1939) ~ A Yank in the R.A.F (1941) ~ Captains of the Clouds (1942) ~ Eagle Squadron (1942) ~ Hitler's Children (1943) ~ Sherlock Holmes in Washington (1943) ~ Sherlock Holmes and the House of Fear (1945) ~ Abbott and Costello Meet the Invisible Man (1951) ~ King of the Khyber Rifles (1953) ~ Escape to Burma (1955) ~ "The Betty Hutton Show" (1959) TV Series ~ Night Tide (1963)
---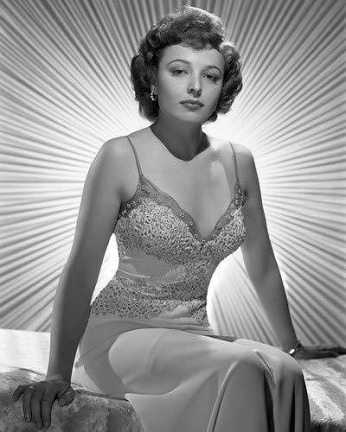 Laraine Day: Born in Roosevelt, Utah on October 13, 1917. She was born into a prominent Mormon family in Utah. Laraine Day's acting career began after her parents moved to Long Beach, California, where she joined the Long Beach Players. She first appeared in The Law Commands in 1937 in a bit part, then did leads in several George O'Brien westerns working under the name Laraine Johnson.

She achieved popularity playing the part of Nurse Lamont in MGM's "Dr. Kildare" series. She had leads in several medium-budget films for various studios, but never achieved major stardom. She was married for 13 years to baseball manager Leo Durocher, and took such an active interest in his career and the sport of baseball in general that she became known as "The First Lady of Baseball." She hosted "Daydreaming with Laraine", a television interview/gossip show and worked in many other popular shows from 1951 through 1984. Her role in Tarzan Finds A Son! as Johnny Sheffield's real mother was very brief.

Filmography Highlights: Stella Dallas (1937) ~ Calling Dr. Kildare (1939) ~ Tarzan Finds a Son! (1939) ~ Yank on the Burma Road (1942) ~ Mr. Lucky (1943) ~ Bride by Mistake (1944) ~ I Married a Communist (1950) ~ Return to Fantasy Island (1978) (TV)
Laraine Day portrayed Mrs. Richard Lancing, who, with her husband (played by Morton Lowry) perishes in a plane crash in the opening scene of "Tarzan Finds a Son!" (1939). Cheta the chimp finds the Lancings' infant alive in the wreckage and delivers the babe to Tarzan and Jane to raise as "Boy".

Born Laraine Johnson in Roosevelt, Utah on October 13, 1920, Day later moved with her family to Long Beach, California, where she began appearing onstage at the Long Beach Playhouse. Spotted by a studio scout, she contracted with Goldwyn and Paramount, but won no recognition until moving to MGM, which cast her as Nurse Mary Lamont in the Dr. Kildare series, starring Lew Ayres. Despite steadily working in the film industry opposite stars like Lana Turner, Cary Grant, Kirk Douglas, and John Wayne, she never became a breakout star.

Day's three husbands included Leo Durocher, the manager of the New York Giants baseball team. She avidly supported the team, earning the sobriquet "The First Lady of Baseball" and penning a memoir, "Day with the Giants" (1952), also appearing in a television broadcast of the same name. A committed patriot, her second book was titled "The America We Love" (1972).

Day passed away at her daughter's home of undisclosed causes on November 10, 2007. Her Hollywood Walk of Fame star is located at 6674 Hollywood Boulevard; she was among the original 1,558 celebrities to receive stars at the landmark's February 8, 1960, launch.
---

Colonel Larry Tetzlaff: Nineteen-year-old Tetzlaff was one of Weissmuller's stand-ins in Florida.

Weissmuller left a great impression on the young Tetzlaff who went on to become a well-known conservationist, zoologist, showman, animal trainer, TV star, author, lecturer, motion picture producer, herpetologist, and owner of safari parks.

He led numerous expeditions to Australia, Africa and South America and brought back exotic animals that he supplied to zoos. He even developed the Tiglon - a crossbreed of lions and tigers.

---

REVIEWS
The New York Times
In the escapist heaven of the cinema, there is only one Tarzan, and Metro-Goldwyn-Mayer's is the profit. For this Tarzan, time does not exist: Johnny Weissmuller is merely his current incarnation. But the question of issue was bound to arise sooner or later, and Metro seems to have answered it in the handsomest and most hygienic fashion with the chapter self-explanatorily entitled "Tarzan Finds a Son," at the Capitol. The child, and a darned convenient
brat he is for plot purposes, is dropped from the African skies not by the stork, but buy an Imperial Airways liner which crashes in the jungle not far from the arboreal penthouse of the Tarzans, with its elephant-operated lift, its chimpanzee house maid, its one ape-power revolving fan, its couches upholstered in Zebra-hide, like El Morocco.

To get milk for that first bottle, Tarzan, the fleet-footed, runs down and catches a she-antelope; the poor thing, not unnaturally amazed by such phenomenal track prowess, finally just gives in quietly. In no time at all, a cunning rattle and a swinging cradle have been devised by the doting foster-parent, and before you can say "Boy" (which is the name Tarzan paternally bestows upon him) the lad is swinging expertly about on the jungle creepers, like a chimp off the old block. And that's when the safari five years later, that is with Ian Hunter and all those people with Mayfair accents, shows up looking for news of the passengers on that ill-fated plane. Need we add that "Boy" is the heir to a title and vast estates back home? Of course we needn't.

Nor need we bore you with our feeble efforts to depict how complete a cad Ian Hunter turns out to be; you know how disagreeable people can become when they see any prospect of losing an inheritance. Enough to report that the rest of the picture is a circus, a water (and an underwater) carnival, a rodeo, with Tarzan in a big rhino bustin' scene, a teeming jungle film, perfectly silly, of course, but for the purposes of the young and of the obstinately unadult, as much fun as a barrel of monkeys.

It seems almost priggish to breathe a word of criticism against so disarming a production, yet Metro might be gently chided for such monstrosities as a lion in a tree, apes riding elephants to the rescue. Also, you would think Tarzan's language might have improved a bit after all these years of exposure to Maureen O'Sullivan's impeccable diction, but it hasn't. He still grunts like a Creek Indian, and articulates in a minimum of words, without conjunctions.




Variety
"Tarzan Finds a Son" carries more credulity and believable jungle adventure than the long list of preceding Tarzan features unwound at intervals during the past 20 years. Ape-man's chummy attitude with the wild beasts of the jungle, and his tree-swinging acrobatics elaborated on previously, have been minimized here.

Picture is a cinch setup for the kids and may catch on for nominal bids in the action houses. It's under a handicap due to absurdities and wildly impossible situations identified with Tarzan and spread pretty thick in the several preceding Tarzan features and serials turned out in sound film.

Tarzan and the missus save a baby in a wrecked plane that crashes in the jungle. At age of five, Tarzan is proudly teaching his accepted son the jungle lore, when a searching party arrives to establish death of the baby, who has come into heavy inheritance in England. Ian Hunter and Frieda Inescort are out to grab the inheritance for themselves, and start plotting death of Tarzan and snatch of the youngster. But while they are at cross-purposes with
Tarzan, the Missus consents to trip of the kid to the outside and accompanies the party through a savage tribe domain. Natives capture the safari and start a wild celebration of death in their village. Boy escapes through stockade to bring Tarzan and herd of elephants to completely wreck the village in a wild stampede that routs the savages.

There are animal thrills and stunts aplenty throughout the picture. Stock shots of wild life have been neatly intercut; while a fight between hyenas and leopards in the jungle is a thriller. Naturally youngster's wanderings from the jungle home provide opportunity for the kid to be chased and he is on several occasions by rhinos, alligators, lions and hyenas. Youngster also goes perilously near the falls for a rescue by Tarzan; and at another point is saved in the
nick of time from the web of a tarantula tribe.

Underwater episodes in which Tarzan and Boy play for long periods is exceptional and highly interesting. For added interest, baby elephant pal of the boy is along for some splashing, and this episode is a top spot in the picture.

Johnny Weissmuller has made three previous Tarzan features, and athletically runs and swims through as the ape-man in okay fashion. Miss O'Sullivan is the jungle wife, and gets in some good dramatic work in battling against herself to give up the youngster to the outsiders. Tarzan's boy, little John Sheffield, does nicely and performs his chores athletically. Kid takes direction easily, and might get over in other pictures aside from the Tarzan group.
Balance of cast is nicely set up for what they have to do.

Productionally, picture is top grade in all technical departments. African jungle locale is one of the best jobs of its kind turned out in Hollywood for some time. Camera work throughout is excellent same goes for the sound department, which blended the jungle sounds for background effects on the sound track. The underwater shots, taken in Florida, will merit attention from technical standpoint.

With a minimum of dialog, and script concentrating on action and animal antics, picture is a likely setup for good biz in the foreign field; requiring minimum of voice dubbing..

Richard Thorpe's direction moves along at a speedy pace, and he takes fullest advantage of cute antics of the ape Cheta, and the baby elephant for some elemental comedy.

---

From "Argonotes, The Readers' Viewpoint" in the September 9, 1939 issue of Argosy

---

An open letter to Hollywood from a confused but eager-to-be-enlightened Tarzan-devotee:

The Hon. Mr. Metro-Goldwyn-Mayer

Dear Leo:
In a restless moment the other sultry night, we went to see your film, Tarzan Finds a Son. That was the one, in case you don't remember, in which the Lord of the Jungle had a baby laid on his doorstep by a careless aeroplane.
When some English rascals came along to take him back to London, Tarzan -- for some reason which was never entirely clear -- refused to give him up. (The English rascals only wanted him for his money; otherwise they wouldn't have been caught dead with him around the house, and I don't blame them.)
The picture ends on a distinctly somber note: Tarzan gets to keep the boy -- and I'll bet he regrets that by now; and Ian Hunter, who has hitherto escaped the bitter fate of cinematic marriage to people like Kay Francis and Jeannette MacDonald, is more or less dismantled by bloodthirsty savages.
All this merely to refresh your memory. What we're really trying to get straightened out are the baffling blood-ties of the Greystoke clan. We distinctly remember, when Mr. Burroughs first started to write about Tarzan in this magazine, that Tarzan was the missing Earl of Greystoke, sole male survivor of that distinguished and fantastically wealthy family.
But in Tarzan Finds a Son, the other characters keep murmuring that Boy (Tarzan called him that -- I should have preferred Little Scorpion) is the nephew of Lord Greystoke. Tarzan's nephew, do you mean? But in that case Tarzan would have had just as much right to be his guardian as Ian Hunter and Frieda Inescourt, who played lesser Greystokes.
Or is this entirely some other branch of the family? Do all Greystokes become Missing Heirs the moment they get near the Africa jungles? Can't any of those people ever get where they're going without being abducted by gorillas or wrecked in a plane? The Dithering Greystokes, that's the way we'll have to think of them. Why, they can't even cross Picadilly Circus without becoming hopelessly lost. So whatever makes them think they could cope with the Dark Continent?
At this rate, the Greystokes are going to be in a dandy spot to hold a Big Family Get-Together just west of Mombesi. We'll try to make it if we can possibly get there. Meanwhile, could you straighten the Greystoke genealogy out for us a little?
Your admirer,
Hamilcar Ishwerwood (né Greystoke)

Contributed by Steven Utley


click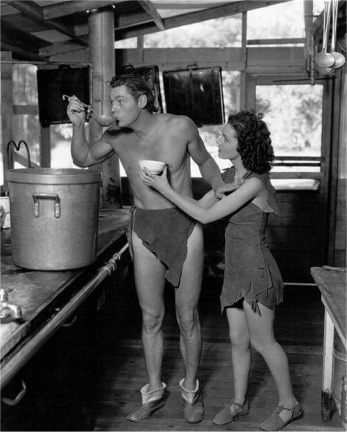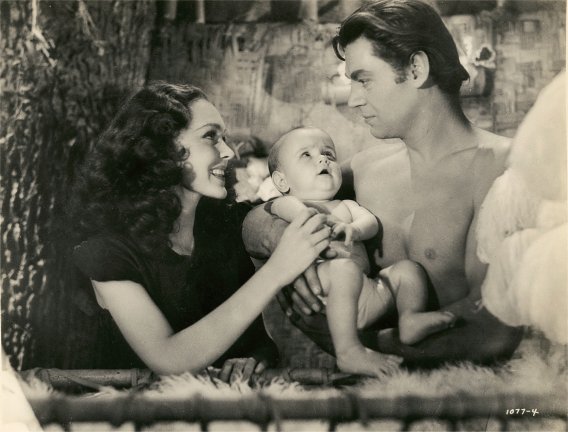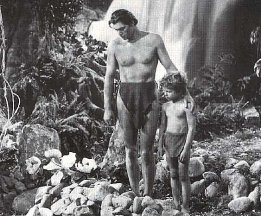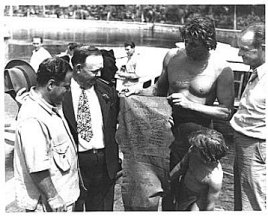 Presenting a loincloth to Wakulla Springs owner Shorty Davidson.in Florida


TARZAN IN EXILE COLLECTORS' CARDS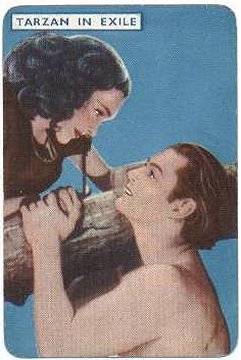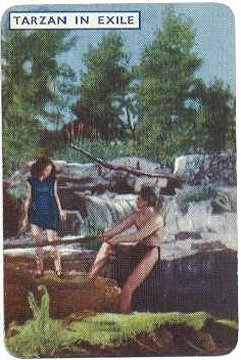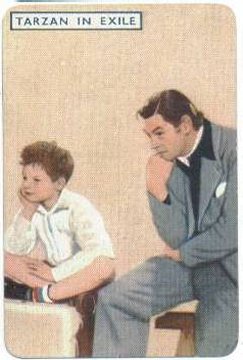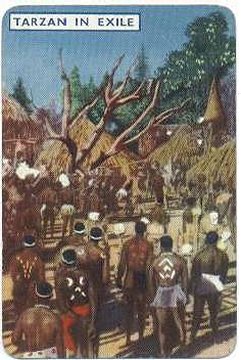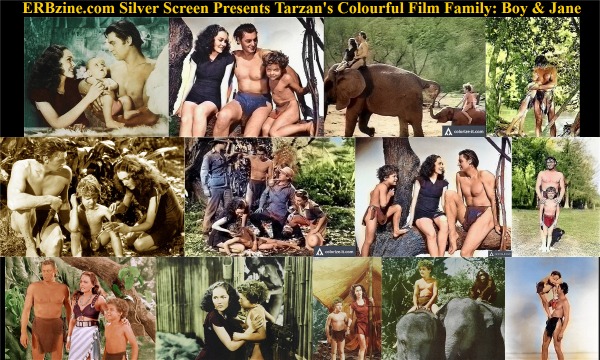 Click for full-size collage poster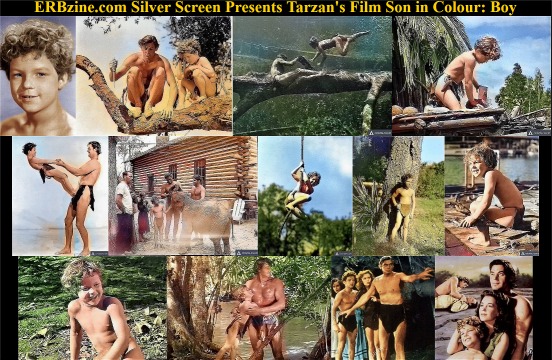 Click for full-size collage poster


RELATED SITES IN ERBzine
LOBBY CARD DISPLAY:
Tarzan Finds A Son! Colour Stills and Large B/Ws
On Location at Wakulla and Silver Springs Florida
www.erbzine.com/mag5/0501.html
www.erbzine.com/mag5/0501a.html
See our related article reprints on Tarzan Finds A Son!
ERBzine Silver Screen Series: An Online Resource Guide to the Movies of Edgar Rice Burroughs
ERB On The Silver Screen
OFF-SITE WEB REFS
Internet Movie Data Base
Tarzan Finds a Son photos
http://members.fortunecity.com/johnb53/t/TarzanFindsSon.htm
http://www.mergetel.com/~geostan/son.html
Synopsis
ERB and the Silver Screen Volume I - The Silent Years by Jerry Schneider
Jerry Schneider's Movie Making Locations
Florida Film Legacy
Tarzan Movie Posters
Col. Lawrence "Jungle Larry" Tetzlaff's Caribbean Gardens



Volume 0620



BILL HILLMAN
Visit our thousands of other sites at:
BILL and SUE-ON HILLMAN ECLECTIC STUDIO
ERB Text, ERB Images and Tarzan® are ©Edgar Rice Burroughs, Inc.- All Rights Reserved.
All Original Work ©1996-2006/2020 by Bill Hillman and/or Contributing Authors/Owners
No part of this web site may be reproduced without permission from the respective owners.