The First and Only Weekly Online Fanzine Devoted to the Life and Works of Edgar Rice Burroughs
Since 1996 ~ Over 10,000 Webpages and Webzines in Archive
ISSUE 0606


MOTES & QUOTES
ERB-Date: 2001.10.26


News from Hollywood

Movie Memorabilia Show
BRUCE BENNETT ~ HERMAN BRIX
Hollywood Movie Memorabilia Show in Studio City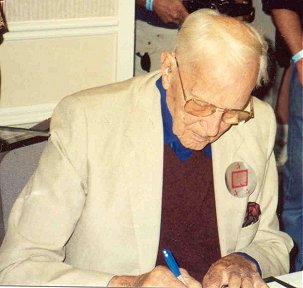 Photo by Ralph Brown
Bruce Bennett (Herman Brix)
star of The New Adventures of Tarzan and Tarzan and the Green Goddess
autographs items for his many fans
at the Beverly Garland Hotel, Hollywood California, October 2001.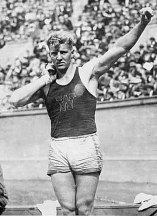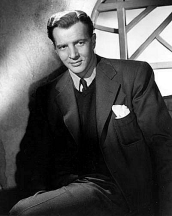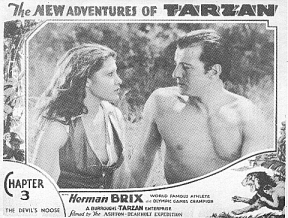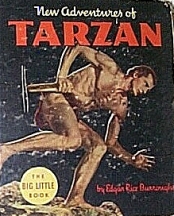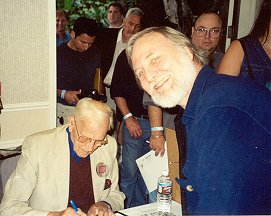 Photo by Ralph Brown
Bruce Bennett autographing several items
for Bob Zeuschner and a long line of fans.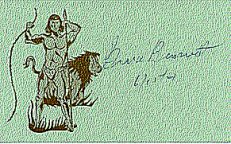 Herman Brix/Bruce Bennett (Tarzan in the ERB-produced film New Adventures of Tarzan and Tarzan and the Green Goddess from 1935-36) was autographing books and other stuff at the Movie Memorabilia show in Studio City (next to Hollywood) California for two days earlier this month. There was a long line of folk carrying items for Mr. Bennett to autograph. Despite his age (95), he was very recognizable as the tall athletic Tarzan from 65 years ago. His hair was white and his hearing a bit impaired, but he looked great! ERB fans attending this event included Bob Hyde, Tracy Griffin, Ralph Brown, Bob Zeuschner, and Danton Burroughs. Also in attendance was Mike Chapman, the author of Please Don't Call Me Tarzan, the biography of Mr. Bennett. Bruce Bennett's many achievements beyond his Tarzan appearances include a Silver Medal at the 1928 Olympics and over 100 movies including such film classics as Sahara, Treasure of Sierra Madre and Strategic Air Command.
Submitted by Bob Zeuschner
---
COLLECTOR'S CORNER
---
LOST INSIDE THE EARTH
by
Edgar Rice Burroughs

This is the title for AT THE EARTH'S CORE used in MODERN MECHANICS AND INVENTIONS Magazine March 1929 which published the second serial rights to the novel.

This was after its initial publication in ALL-STORY in 1914 and after the publication of the McClurg first edition. Shown here is the cover for the second of three installments. This issue has two 2-color illustrations.
---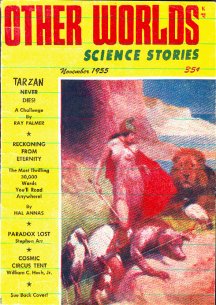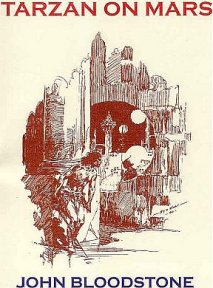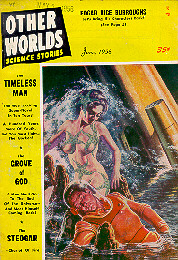 TARZAN ON MARS by John Bloodstone ~ A fan publication with cover by Roy G. Krenkel. This was originally written for Raymond Palmer and Other Worlds Magazine in the fifties, but was never commercially published. For more about this excellent ERB pastiche Tarzan Never Dies! by Ray Palmer in ERBzine 0313.

---
OTHER WORLDS
SCIENCE STORIES

Ray Palmer editor,
Issue No. 5 ~ July 1950

This issue features a full-page tribute to Edgar Rice Burroughs by Darrell C. Richardson. The tribute includes pictures of the cover of the first appearance of Tarzan of the Apes in All-Story as well as Lex Barker with ERB and Allen St.John.

Also included in this issue are stories by A.E.Van Vogt, Ray Bradbury, and Forry Ackerman
---
Zdenek Burian's
LIFE BEFORE MAN

Zdenek Burian is a legend among fans of Edgar Rice Burroughs and prehistoric imagery for his fantastic paintings of Tarzan. His books like Prehistoric Man (1960) are highly collectible. Many kids of the 1960s grew up with these images of mamoths and pterodactyls, forever etched on our imaginations. This is the expanded edition of a collection first published in 1978, now with 180 color plates. The incredible panorama of prehistoric life from its beginnings more than 300 million years ago is brilliantly illustrated by this superb Czech painter. Included is a wonderfully illustrated explanation of the evolution of living things, from the origin of the solar system to single cell life to dinosaurs and the ape-like ancestors of modern man. Glossary and index. Thames and Hudson, 1995 ~ 8x11, 256 pages.
---
Foreign Editions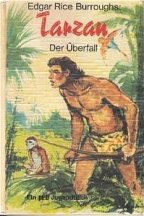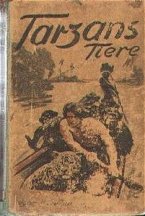 ---
A STRANGE MANUSCRIPT
FOUND IN A COPPER CYLINDER
by James DeMille
Copyright 1888 by Harper & Brothers

James DeMille was one of the precursors of Edgar Rice Burroughs whose novel "A STRANGE MANUSCRIPT FOUND IN A COPPER CYLINDER," contains many elements that ERB would make his own (a similar cylinder was the deus ex machina of the story of the first part of The Land that Time Forgot trilogy).

This edition has top edge gilt, with seven engraving illustrations (see below) and a frontispiece photo of DeMille. The story will remind all fans of ERB of both his work, and that of H. Rider Haggard ("SHE") and H. G. Wells. This is an fascinating glimpse at the what was perhaps an early inspiration that Burroughs drew upon.
---
OBITUARY
JULIE BISHOP, 87 ~ ACTRESS WAS IN 84 MOVIES
By Myrna Oliver / Los Angeles Times Staff
September 09, 2001




Julie Bishop ~ Jacqueline Wells
Julie Bishop, titian-haired actress who appeared in 84 movies opposite such stars as Humphrey Bogart and John Wayne from 1923 to 1957 and in the television series "My Hero" with Bob Cummings in the early 1950s, has died.

Bishop, who also acted under her birth name of Jacqueline Wells, died of pneumonia Aug. 30, her 87th birthday, in Mendocino, Calif., said her daughter, actress Pamela Shoop Sweeney of Sherman Oaks.

The long-retired actress began her career as a child in silents, first in the 1923 "Children of Jazz," and worked with such luminaries as Clara Bow and Mary Pickford. Segueing easily into talkies, she made 49 films and four serials from 1925 to 1940, her daughter said. Among them were "Tarzan the Fearless" with Buster Crabbe, "Tillie and Gus" with W.C. Fields, "Any Old Port" and "The Bohemian Girl" with Laurel and Hardy and the 1934 "The Black Cat" with Boris Karloff and Bela Lugosi.

Briefly acting under the name Diane Duval, Bishop starred in the 1940 serial titled "Heroes of the West."

Born in Denver, the daughter of a wealthy banker and oilman, the actress was reared in Wichita Falls, Texas, and, after her parents divorced, in Los Angeles where she began her movie career. She retained her name through child roles and several credits as an ingenue, but changed it to Julie Bishop at the studio's request in 1940 when she won a contract with Warner
Bros.

The renamed star flourished, working opposite Errol Flynn in "Northern Pursuit," Bogart in "Action in the North Atlantic," Wayne in "Sands of Iwo Jima" and "The High and the Mighty," Robert Taylor in "Westward the Women," Roy Rogers in "The Ranger and the Lady," Gene Autry in "Back in the Saddle" and Alan Ladd in "Her First Romance" and "The Big Land," her final picture in 1957.

The actress appeared infrequently but memorably on stage, in such demanding roles as Ophelia in Shakespeare's "Hamlet" at the Pasadena Playhouse.

A licensed private pilot, Bishop painted still lifes, staging several exhibitions and decorating her homes with her art. She also was active in charitable work, beginning with entertaining soldiers at the Hollywood Canteen during World War II.

Bishop served as national president of the Achievement Rewards for College Scientists, an organization that provides scholarships for outstanding students of science and engineering. She also lent her energies to the National Charity League, Diadames and the League for Children.

During her years as a society matron and doyenne of philanthropic endeavors in Beverly Hills, she was named among the 10 best dressed women in Los Angeles.

Bishop was married three times--to wealthy scion Walter Booth Brooks III from 1936 to 1939; Maj. Gen. Clarence A. Shoop, a test pilot who flew for Howard Hughes and later became vice president of Hughes Aircraft, from 1944 until his death in 1968; and for the last 33 years to retired Beverly Hills surgeon William F. Bergin.

Bishop is survived by Bergin; daughter Sweeney; a son, Stephen Allen Shoop and a grandson.
---
CAUGHT IN OUR SITE:
---

The Random Vocabularies / Name Generation Page
www.ruf.rice.edu/~pound
Here you'll find random names, bizarre vocabularies, scripts you can use to do-it-yourself, datasets for nearly 40 languages, yet
another word generator, related links, and names for characters from Hong Kong action movies or your typical fantasy game.
More is on the way, soon enough.

Contents
The main perl scripts I use to generate random words, names, etc.
Base wordlists along with usable output for each (UPDATED DAILY!)
Random spell names for role-playing in Jack Vance's Dying Earth
Random names for the parody RPG Pokethulhu
Random names for the Hong Kong action-movie-inspired RPG Feng Shui
Random names for Kung-Fu moves (NEW!)
The Standard/silly Fantasy Name Generator
A totally different word generator I wrote, once upon a time
Links to other name generators and language resources
Credits and how to subscribe to the world-design list

Data from invented languages:
These data are culled from various gameworlds and novels.
Barsoomian by E. R. Burroughs
A-Kor Anatok A-Sor Astok Ay-mad Bal Tab Bal Zak Bandolian Ban-Tor Bar Comas Carthoris Dak Kova Dar Tarus Dejah Thoris Djor Kantos Dotar Sojat Doxus Dur Ajmad Dur-dan E-Mad Em-Tar E-Thas Fal Sivas Floran Fonar Gahan Gan Had
Gan-ho Gan Hor Gantun Gur Gar Nal Ghek Ghron Gor-don Gorgum Gor Hajus Gozava Gur Tus Had Urtur Haglion Haja Haj Alt Haj Osis Hal Vas Hamas Han Du Hin Abtol Ho Ran Kim Hora San Hor Kai Lan Hortan Gur Horur Hor Vastus Hovan Du I-Gos Il-dur-en I-Mal Issus I-Zav Jad-han Jal Had Janai Jat Or Jav Kab Kadja Kal Tavan Kam Han Tor Kandus Kantos Kan Kara Vasa Kar Komak Komal Kor-an Kor San Kulan Tith Lakor Lan-O Lan Sohn Wen Larok Lee Um Lo Llana Lorquas Ptomel Lum Tar O Luud Man-lat Matai Shang Moak Mors Kajak Motus Multis Par Mu Tel Myr-lo Nastor Nolat Notan Nur An Nutus O Ala Olvia Marthis O-Mai Orm-O O-Tar O-Zar Ozara Pan Dan Chee Pandar Parthak Phaidor Phao Pho Lar Phor San Phor Tak Phystal Pnoxus Povak Ptang Ptantus Ptor Fak Rab-zov Rapas Ras Thavas Rojas Ro Tan Bim Sab Than Sag Or Salensus Oll Sanoma Tora San Tothis Saran Tal Sarkoja Sator Throg Sept Sharu Sil Vagis Sola Solan Soran Sorav Sovan Sytor Tal Hajus Talu Tan Gama Tan Hadron Tanus Tara Tardos Mors Tario Tar Tarkas Tasor Tavia Teeaytan-ov Thabis Than Kosis Thar Ban Thurid Thuvan Dihn Thuvia Tor-dur-bar Tor Hatan Tortih Torkar Bar Tul Axtar Tun-gan Turan Turjun U Dan U-Dor U-Kal Ulah Uldak Ul-to Ul Vas Umka Ur Jan Ur Raj Uthia U-Thor U-Van Vad Varo Vaja Val Dor Valla Dia Vandor Van-tija Vanuma Vas Kor Vobis Kan Vor Daj Vorion Wolak Woola Xaxa Xaxak Xodar Yamdor Yersted Yo Seno Zad Zamak Zanda Zan Dar Zat Arrras Zithad Zuki Zu Tith

---
UMGAWA
by R.W. Grant
Featured at the Quandary House site
While junketing in Africa
Our senator one day
A friendly tribe did gather 'round
To hear what he would say.

Said he, "I bring enlightment!"
"Umgawa," they all cried!
"If you'd but follow our advice!"
"Umgawa!" they replied.

"I'll tell you how our system works,
I'll tell you how it's run:
We serve the public good by force!
And this is how it's done:

"If one needs what others earn
No longer need one steal it!
Our government now does the job
And people hardly feel it!

"Umgawa!" they cried out again -
The senator continued then:

And we will show you how it's done,
And we will show the way,
So you may have Utopia
As in the U.S.A.!"

Our senator was finished now.
The chief rose with a smile:
"Thank you for your words," he said,
"Now stay with us a while!"

The senator was pleased as punch
With witnessing that day
The happy people at their work,
The children at their play,
As he was greeted all about:
"Umgawa!" was the happy shout.

And now the chieftain said, "My friend,
Come see our cattle which we tend!"
So off across the pasture now
The senator was led -
But suddenly the chief said "Wait!"
He took his arm and said:

"A word of caution ere we pass -
Don't step before you look -
Lest, my friend, you tread upon
Umgawa underfoot!"

R.W. Grant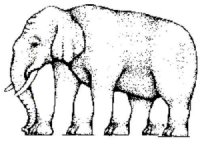 ---
LOST WORDS OF ERB
OB Writes Home ~ October 31, 1942
---
1298 Kapiolani Boulevard
Honolulu T H

October 31, 1942

Joan Darling:

Just learned your address the other day through Hulbert. I knew you had gone to Nogales, and that was all. I was there 46 years ago. Imagine the old town has changed. Don't remember much about it. There wasn't much to remember.

You have probably heard all about Hulbert's exciting experiences at Guadalcanal. Sent copies of a Honolulu paper, recounting part of them to Jack. The plane he was in was under anti-aircraft fire from land batteries over Buka and from thirty-eight Jap warships over Shortland Harbor. It had running fights with Zeros, two of them, with a total of about twenty-five Zeros participating. The plane was hit with machine guns and one shell which failed to explode, but remained in the plane. After they got back to Guadalcanal, they were bombed from the air, shelled by shore batteries, and by Jap warships all the rest of the day and all night. The latter dropped 14" shells, among others. They took off the next morning while the shore battery was shelling the field. Some experience!
I am impatiently awaiting to be sent down there "somewhere". My correspondent's credentials finally came through from the War Department, and I am now fully accredited as a United Press correspondent. The UP bureau chief here has received cabled instructions from New York to send me out. He is only waiting for a spot to send me and a place on a plane. If my lifetime experience runs true to form, the war will be over when I arrive. I always get to a fire after it is out.

Have been outfitting for the past week or so. There were many things to get. Fortunately, the correspondent's uniform is the same as an army officers. Same as I wore as a BMTCer. So I have plenty. Phil Bird, who was recently promoted to captain, has been very helpful. I am sure that he would give me his shirt if I asked for it.

Things are dull here. I shall be glad to get away. Playing bridge or poker in a hot, stuffy, blacked out room filled with cigarette smoke no longer charms me. Had it not been for Cadmus or the Phoenicians, I should be bored stiff.

Just talked with the UP bureau chief on the phone. He wants me to go out with him Monday to see Chuck Shelton and Hully, to decide the best place to send me. It looks as though I might shove off at last. Perhaps I can bring you back a Jap as a memento.

All my life I have wanted to be a war correspondent - to really see things first hand and write about them. After all, I am a professional writer; not a professional soldier.

If you have the time, write me. It will be nice to have a few letters awaiting me when I come back. Am enclosing a small check, with which please get yourself and the children some little Christmas remembrance from me. I send it now, as it might be too late after I return. I simply can't find anything here.

Lots of love,
Poppa

---
COMING SOON in ERBzine 0353 & 0354
---
ERB C.H.A.S.E.R. ENCYCLOPEDIA
Presents
Another in our series of
John Coleman Burroughs Tribute and Bio Chapters
JOB INSTRUCTION MANUAL NO. 11
X MARKS THE SPOT
Part 1: Pages 1-19 ~ Part 2: Pages 20-40
From the Mark and Susanne Brower Collection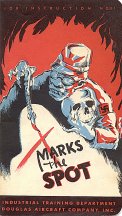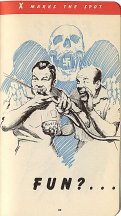 This 40-page training manual was illustrated by John Coleman Burroughs
with wonderful images of anti-Axis propoganda.
It was produced by the Douglas Aircraft Company of Santa Monica, CA in 1943.
There are obvious science fiction influences in the renderings and
if you study the faces in the illustrations you will probably see the likenesses of
JCB, wife Jane Ralston, brother Hulbert Burroughs, and maybe even his father
Edgar Rice Burroughs.



Volume 0606



BILL HILLMAN
Visit our thousands of other sites at:
BILL & SUE-ON HILLMAN ECLECTIC STUDIO
ERB Text, ERB Images and Tarzan® are ©Edgar Rice Burroughs, Inc.- All Rights Reserved.
All Original Work ©1996-2004/2010 by Bill Hillman and/or Contributing Authors/Owners
No part of this web site may be reproduced without permission from the respective owners.