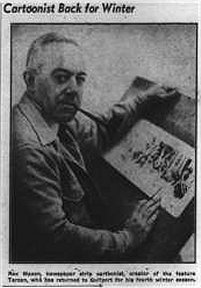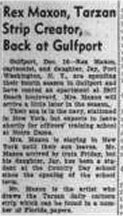 Rex Maxon, Tarzan Strip Creator, Back at Gulfport
The Evening Independent ~ December 16, 1942
Gulfport, Dec. 16 -- Rex Maxon, cartoonist, and daughter, Jay, Port Washington, N. Y., are spending their fourth season in Gulfport and have rented an apartment at 2907 Beach boulevard. Mrs. Maxon will arrive a little later in the season. Their son is in the navy, stationed in New York, but expects to leave shortly for officers' training school at Notre Dame.
Mrs. Maxon is staying in New York until their son leaves. Mr. Maxon arrived by train Friday, but his daughter, Jay, has been a student at the Country Day school since the opening of the school term. Mr. Maxon is the artist who draws the Tarzan daily cartoon strip which can be found in a number of Florida papers.