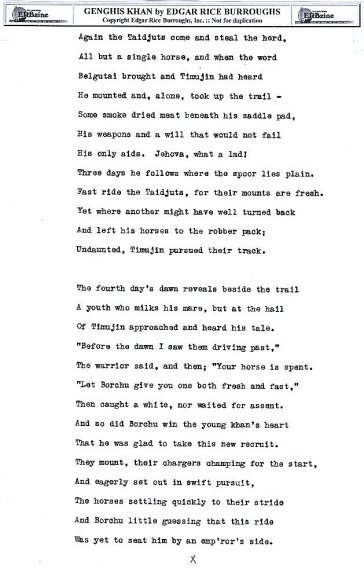 Again the Taidjuts come and steal the herd,
All but a single horse, and when the word
Belgutai brought and Timujin had heard
He mounted and, alone, took up the trail --
Some smoke dried meat beneath his saddle pad,
His weapons and a will that would not fail
His only aids. Johova, what a lad!
Three days he follows where the spoor lies plain.
Fast ride the Taidjuts, for their mounts are fresh.
Yet where another might have well turned back
And left his horses to the robber pack;
Undaunted, Timujin pursued their track.
The fourth day's dawn reveals beside the trail
A youth who milks his mare, but at the hail
Of Timujin approached and heard his tale.
"Before the dawn I saw them driving past,"
The warrior said, and then; "Your horse is spent.
"Let Borchu give you one both fresh and fast,"
Then caught a white, nor waited for assent.
And so did Borchu win the young khan's heart
That he was glad to take this new recruit.
They mount, their chargers champing for the start,
And eagerly set out in swift pursuit,
The horses settling quickly to their stride
And Borchu little guessing that this ride
Was yet to seat him by an emp'ror's side.