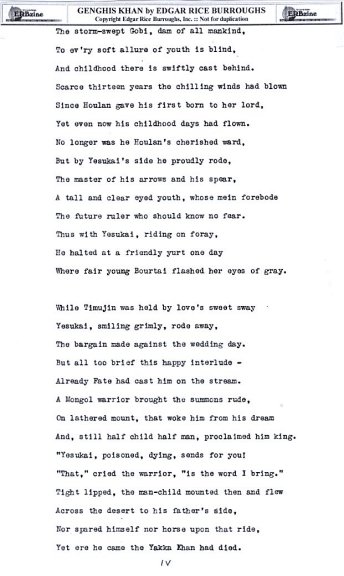 The storm-swept Gobi, dam of all mankind,
To ev'ry soft allure of youth is blind,
And childhood there is swiftly cast behind.
Scarce thirteen years the chilling winds had blown
Since Houlan gave his first born to her lord,
Yet even now his childhood days had flown,
No longer was he Houlan's cherished ward,
But by Yesukai's side he proudly rode,
The master of his arrows and his spear,
A tall and clear eyed youth, whose mein forebode
The future ruler who should know no fear.
Thus with Yesukai, riding on foray,
He halted at a friendly yurt one day
Where fair young Bourtai flashed her eyes of gray.
While Timujin was held by love's sweet sway
Yesukai, smiling grimly, rode away,
The bargain made against the wedding day.
But all too brief this happy interlude --
Already Fate had cast him on the stream.
A Mongol warrior brought the summons rude,
On lathered mount, that woke him from his dream
And, still half child half man, proclaimed him king.
"Yesukai, poisoned, dying sends for you!
"That," cried the warrior, "is the word I bring."
Tight lipped, the man-child mounted then and flew
Across the desert to his father's side,
Nor spared himself nor horse upon that ride,
Yet ere he came the Yakka Khan had died.