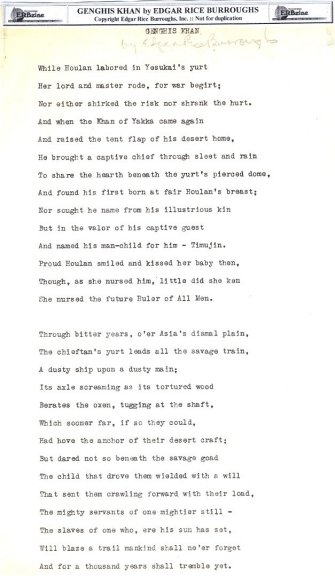 While Houlan labored in Yesukai's yurt
Her lord and master rode, for war begirt;
Nor either shirked the risk nor shrank the hurt.
And when the Khan of Yakka came again
And raised the tent flap of his desert home,
He brought a captive chief through sleet and rain
To share the hearth beneath the yrut's pierced dome,
And found his first born at fair Houlan's breast;
Nor sought he name from his illustrious kin
But in the valor of his captive guest
And named his man-child for him - Timujin.
Proud Houlan smiled and kissed her baby then,
Though, as she nursed him, little did she ken
She nursed the future Ruler of All Men.
Through bitter years, o'er Asia's dismal plain,
The chieftan's yurt leads all the savage train,
A dusty ship upon a dusty main;
Its axle screaming as its tortured wood
Berates the oxen, tugging at the shaft,
Which sooner far, if so they couild,
Had hove the anchor of their desert craft;
But dared not so beneath the savage goad
The child that drove them wielded with a will
That sent them crawling forward with their load,
The mighty servants of one mightier still --
The slaves of one who, ere his sun has set,
Will blaze a trail mankind shall ne'er forget
And for a thousand years shall tremble yet.