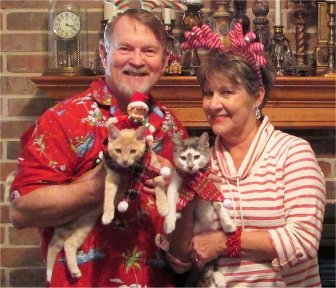 This final display features mostly non-ERB stuff, much of which is gifts I made for friends, or items I made on a whim.
Being an actor/director, I like to make megaphones for fellow directors...I add the show titles each time they do another one.
I thought Sue -On might like a fortune cookie. . . and I was right.
Martin and Leia Powell got some Popeye gear as house warming gifts. The Dr. Who clock was especially fun to make--as was other Who stuff (don't blink).
I made a reproduction Captain Video holster exactly matching an original. The Sheriff Mickey holster I did to fit my .357 magnum.
Frank Grainger stopped by, so I had to give him a fencing lesson.
Diana Leto's pancake and plaque are featured.
As many of us are, I am sure, I am also a Conan the Barbarian fan; so I made a few Conan knives/sheaths.
The beer growler carrier was for David Critchfield--he wanted a pterodactyl on it (!)
The suspenders belong to Jim Thompson--they incorporate almost of ERB's work.
And finally, I made the guitar strap for Mickey Burwell's friend Ed Kinsey. Mickey gifted me with a bunch of golden age Tarzan comics.
Huge thanks to Bill Hillman for featuring my efforts for the last five weeks. It's been fun!