Official Edgar Rice Burroughs Tribute and Weekly Webzine Site
Since 1996 ~ Over 15,000 Webzines and Webpages In Archive

Master of Imaginative Fantasy Adventure
Creator of Tarzan® and "Grandfather of American Science Fiction"
Volume 5521
---


HULVIA THE BEAUTIFUL ~ THE BLONDE PRINCESS ~ 1932.02.07

---

Tarzan, Lord of the Jungle, chances on the tracks of Sheeta, the panther. He follows. Warriors of the Al-Alba tribe hunt man or beasts. Tarzan, passing below in the trail of the panther, is trapped by the black warriors. The warriors tie Tarzan and hurry him toward the village. Reaching the village, the ape man is brought before the Council of Older Men. They ask this question, "Shall we put him to death?"

"Death!" cry the Older Men, and the ape man quivers as he watches the dance which proclaims the savages to be cannibals. A short distance from where the savages dance their dance sits Hulvia, a strange woman form an unknown tribe, whom the Al-Alba tribe have selected as their High Priestess. She thinks of the day when her father's vessel was wrecked on the African coast. She believes that everyone aboard the ship perished except herself. Bound and helpless, the ape man is prepared to meet his death. The warriors advance to give the death blows when with fierce suddenness the blonde woman goes to Tarzan's aid. She frees the ape man. In a language Tarzan could not understand, the blonde woman issues sharp commands. The blacks cower before her. Mystified at her presence, Tarzan follows her.
http://www.erbzine.com/mag8/0804.html
.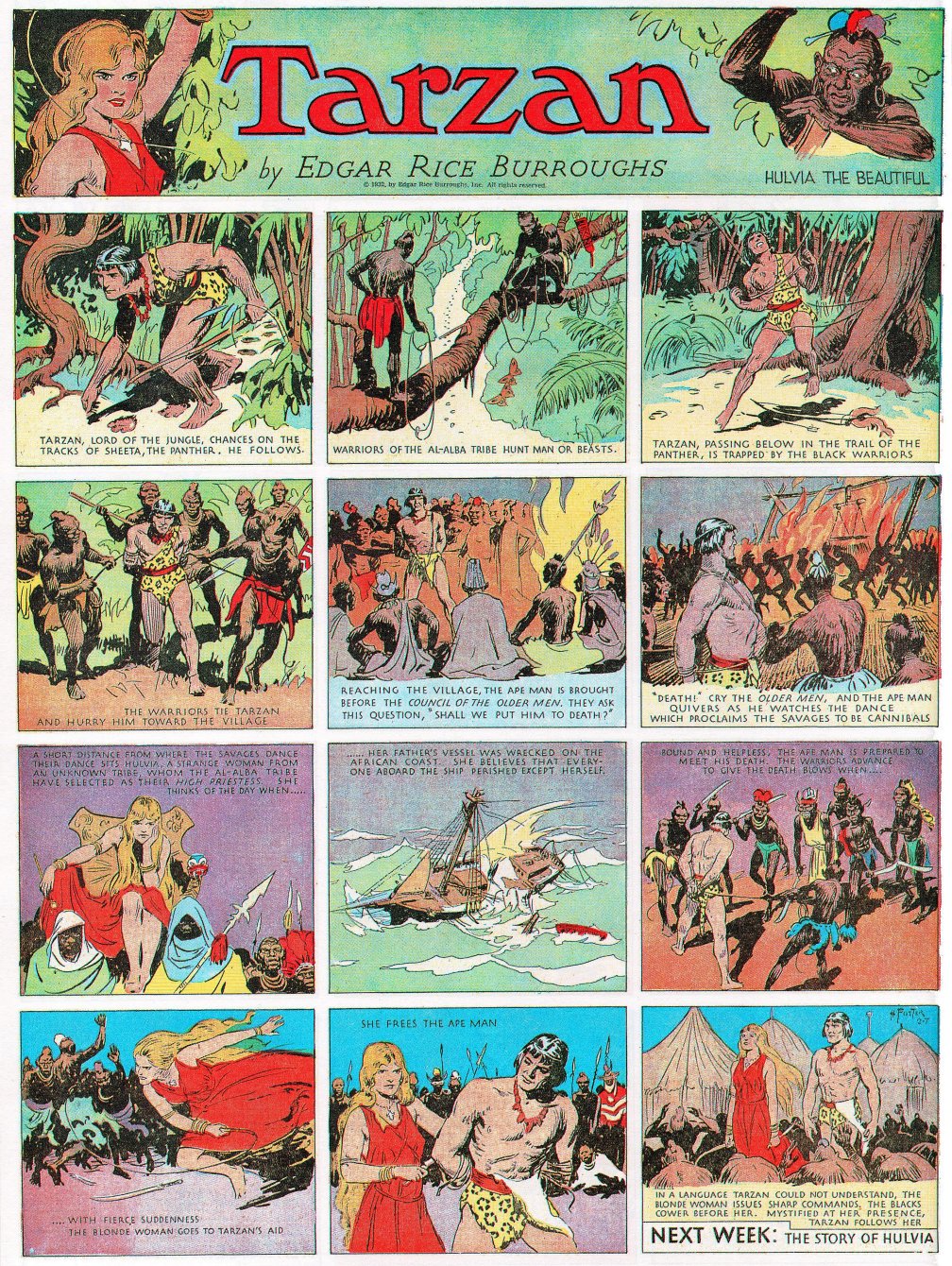 ..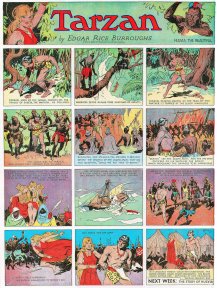 Click for Giant Size Image
The strips in our ERBzine series are small samples of the giant supersize 15" x 20" reprints now available from Dark Horse Books.

Each hard cover volume of Dark Horse's comprehensive collections of Hal Foster's Tarzan Sundays reprints over 120 strips on high-quality paper and in eye-popping color, replicating their appearance back in the 1930s when they were brand new!

Featuring historical essays on Tarzan and Foster, these astonishing volumes are a must for every collector!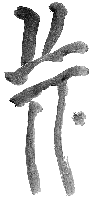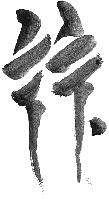 BILL HILLMAN
Visit our thousands of other sites at:
BILL and SUE-ON HILLMAN ECLECTIC STUDIO
ERB Text, ERB Images and Tarzan® are ©Edgar Rice Burroughs, Inc.- All Rights Reserved.
All Original Work ©1996-2015/2016 by Bill Hillman and/or Contributing Authors/Owners
No part of this web site may be reproduced without permission from the respective owners.