Official Edgar Rice Burroughs Tribute and Weekly Webzine Site
Since 1996 ~ Over 10,000 Web Pages in Archive
Presents
Volume 5038
ERB'S HOTEL CALIFORNIA: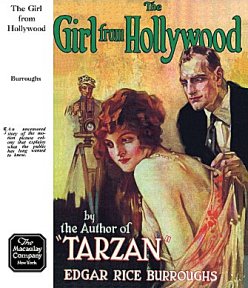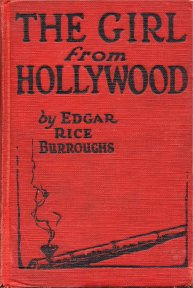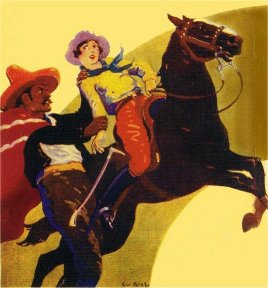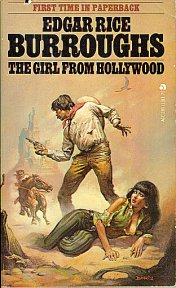 THE GIRL FROM HOLLYWOOD
by Woodrow Edgar Nichols, Jr.
Part 18: Chapters 32 and 33

"Her mind is Tiffany twisted, she got the Mercedes bends
She got a lot of pretty, pretty boys she calls friends
How they dance in the courtyard, sweet summer sweat.
Some dance to remember, some dance to forget."
– The Eagles, "Hotel California"

To be honest – I just heard it yesterday on the radio – I always thought the Eagles sang, "Depict champagne on ice," rather than "The pink champagne on ice," since it deals with a mirror reflection; but, what the hell, that's the way it appears in the version I printed off some website after googling "Hotel California." One of my favorite activities in the days before August 2011, when I was still visiting the local water holes, was drunken karaoke Wednesday nights at the Silver Dollar Hobrau here in Fresno. It was only a couple of blocks from my house so I could walk there without having to worry about driving home afterwards.

This was a place where people who sing out of tune, like myself, could still have a good time after a few drinks and receive an applause from the audience for putting on a good show, no matter how much you butchered the song. I almost always sang "Hotel California," and I never recall singing or seeing "The pink champagne on ice" on the karaoke screen, but perhaps my memory of those nights is not completely accurate. I also enjoyed singing "Highway to Hell," by AC/DC with pretty Michelle, the bartender. The audience always joined in on that one.

But back to our story. If you recall, Eva has just announced to Custer and Shannon that Wilson Crumb's film company is coming to Ganado on Monday.

---

CHAPTER THIRTY-TWO

---

After Custer left her, Shannon entered the bungalow and sat for a long time before the table on which stood a framed photograph of her mother. Never before had she felt the need of loving counsel so sorely as now. In almost any other emergency she could have gone to Mrs. Pennington, but in this she dared not.
Her only hope lay in avoiding discovery by Wilson Crumb during his stay at Ganado. Her love, and the weakness it had induced, permitted her to accept the happiness from which an unkind fate had hitherto debarred her, and to which even now her honor told her she had no right.
She wished that Custer had not loved her, and that she might have continued to live the life that she had learned to love, where she might be near him, and might constantly see him in the happy consociation of friendship; but with his arms about her and his kisses on her lips she had not had the strength to deny him, or to dissimulate the great love which had ordered her very existence for many months.
In the brief moments of bliss that had followed the avowal of his love, she had permitted herself to drift without thought of the future; but now that the sudden knowledge of the approaching arrival of Crumb had startled her into recollection of the past and consideration of its bearings upon the future, she realized only too poignantly that the demands of honor required that sooner or later she herself must tell Custer the whole sordid story of those hideous months in Hollywood. There was no other way. She could not mate with a man unless she could match her honor with his. There was no alternative other than to go away forever.
It was midnight before she arose and went to her room. She went deliberately to a drawer which she kept locked, and, finding the key, she opened it. From it she took the little black case, and, turning back the cover, she revealed the phials, the needles, and the tiny syringe that had played so sinister a part in her past.
With almost fanatical savagery she destroyed it, crushing the glass phials and the syringe beneath her heel and tearing the little case to shreds. Then, gathering up the fragments, she carried them to the fireplace in the living room and burned them.
On the following day the horses and several loads of properties from the K.K.S. studio arrived at Ganado, and the men who accompanied them pitched their camp well up in Jackknife Canyon. Eva was every much excited, and spent much of her time on horseback, watching their preparations. She tried to get Shannon to accompany her, but the latter found various excuses to remain away, being fearful that even though Crumb had not yet arrived, there might be other employees of the studio who would recognize her.
Crumb and the rest of the company came in the afternoon, although they had not been expected until the following day. Eva, who had made Custer ride up again with her in the afternoon, recalled to the actor-director the occasion upon which she had met him, and they had danced together, some year and a half before.
As soon as he met her, Crumb was struck by her beauty, youth, and freshness. He saw in her a possible means of relieving the tedium of his several weeks' enforced absence from Hollywood – though in the big brother he realized a possible obstacle, unless he were able to carry on his purposed gallantries clandestinely.

Are you getting the idea of why ERB named him Crumb? What a cad! Heheheh. That's what this rich millionaire in England called Tony Cox after discovering that Tony had squandered the last monies he had invested in the video documentary Tony was shooting. We were having four o'clock tea in his big house out in the country outside of London – his back yard seemed to be miles and miles of grass and trees – and Tony was hitting him up for more money, and the millionaire suddenly looked up and said, "You're a real cad, Tony!' It was meant as an insult, but Tony just smiled and blew it off.

In the course of conversation he took occasion to remark that Eva ought to photograph well. "I'll let them take a hundred feet of you," he said, "some day when you're up here, while we're working. We might discover an unsung Pickford up her among the hills!"

This is one main clue about the past life of future ERB love, Florence Dearholt, who was married to Ashton Dearholt the first time ERB allegedly met them on Valentine's Day, 1927. Florence was later accused of being a housewrecker when ERB left Emma for her in 1934. But the fact that Florence, who they all called the Girl from Hollywood, originally came to Hollywood from Chicago – she lived a few blocks away from the Old Major's house – when she was fifteen or sixteen to work as a stand-in for Mary Pickford – whom ERB had a crush on – before ERB moved into Rancho Tarzana, really smacks in the this scene as a woman ERB knew way earlier than 1927. Pure speculation, I know, but there are many other clues. This novel could be more of a roman a clef than anyone ever thought. Shannon Burke wasn't the only person who could keep a secret.

"She will remain unsung, then," said Custer curtly. "My sister has no desire to go into pietures."
"How do you know I haven't?" asked Eva.
"After Grace?" he asked significantly.
She turned to Crumb.
"I'm afraid I wouldn't make much of an actress," she said; "but it would be perfectly radiant to see myself in pictures just once!"
"Good!" he replied. "We'll get you all right some day that you're up here.
I promise your brother that I won't try to persuade you into pictures." "I hope not," said Custer.
As he and Eva rode back toward the house, he turned to the girl.
"I don't like that fellow Crumb," he said.
"Oh, you're prejudiced! I'll bet anything he's just perfectly lovely!"
Next morning, finding no one with the leisure or inclination to ride with her, Eva rode up again to the camp. They had already commenced shooting. Although Crumb was busy, he courteously took the time to explain the scene on which they were working, and many of the technical details of picture making. He asked her to stay and lunch with them. When she insisted that she must return home, he begged her to come again in the afternoon. Although she would have been glad to do so, for she found the work that they were doing novel and interesting, she declined the invitation, as she already had made arrangements for the afternoon.
He followed her to her horse, and walked beside her down the road a short distance from the others.
"If you can't come this afternoon," he said, "possibly you can come up this evening. We are going to take some night pictures. I hadn't intended inviting any one because the work is going to be rather difficult and dangerous, and an audience might distract the attention of the actors; but if you think you could get away alone, I should be very glad to have you come up for a few minutes about nine o'clock. We shall be working in the same place. Don't forget," he repeated, as she started to ride away, "that for this particular scene I really ought to not have any audience at all; so if you come, please don't tell any one else about it."
"I'll come," she said. "It's awfully good of you to ask me, and I won't tell a soul."
Crumb smiled as he turned back to his waiting company.

Hmmmm. So he wants her to not only come alone, but he also demands she not tell a soul, and she willingly jumps into his web, extremely grateful for her big chance. What could ERB have in store for his readers?

After lunch that day Custer went to his room, and, throwing himself on his bed with a book, with the intention of reading for half an hour, fell asleep.
Shortly afterward Shannon Burke, feeling that there would be no danger of meeting any of the K.K.S. people at the Pennington house, rode up on the Senator to keep her appointment with Eva. As she tied her horse upon the north side of the house, Wilson Crumb stopped his car opposite the patio at the south drive. He had come to see Colonel Pennington for the purpose of arranging for the use of a number of the Ganado Herefords in a scene on the following day. Not finding Eva in the family sitting room, Shannon passed through the house and out into the patio, just as Wilson Crumb mounted the two steps to the arcade. Before either realized the presence of the other they were face to face, scarce a yard apart.
Shannon went deathly white as she recognized the man beneath his makeup, while Crumb stood speechless for a moment. "My God, Gaza. You!" he presently managed to exclaim. "What are you doing here? Thank God I have found you at last!"
"Don't!" she begged. "Please don't speak to me. I am living a decent life here."
He laughed in a disagreeable manner.
"Decent!" he scoffed. "Where are getting the snow? Who's putting up for it?"
"I don't use it any more," she said.
"The hell you don't! You can't put that over on me! Some other guy is furnishing it. I know you – you can't get along two hours without it. I'm not going to stand for this. There isn't any guy going to steal my girl!"
"Hush, Wilson!" she cautioned. "For God's sake keep still! Some one might hear you."
"I don't give a damn who hears me. I'm here to tell the world that no one is going to take my girl away from me. I've found you, and you're going back with me, do you understand?"
She came very close to him, her eyes blazing wrathfully.
"I'm not going back with you, Wilson Crumb," she said. "If you tell, or if you ever threaten me again in any way, I'll kill you. I managed to escape you, and I have found happiness at last, and no one shall take it away from me!"

Do you believe her? I do. I always knew she had the will to kill. And can you believe with ERB got away with in this scene, with all of that dirty talk? All those damns and hells was pretty profane in 1921. Now you see why ERB was the King of Pulp Fiction. He went where most men would not dare to go.

"What about my happiness? You lived with me two years. I love you, and, by God, I'm going to have you, if I have to –"
A door slammed behind them and they both looked to see Custer Pennington standing in the arcade outside his door, looking at them. "I beg your pardon," he said, his voice chilling. "Did I interrupt?"
"This man is looking for some one, Custer," said Shannon, and turned to re-enter the house.
Confronted by a man, Crumb's bravado had vanished. Intuitively he guessed that he was looking at the man who had stolen Gaza from him; but he was a very big young man, with broad shoulders and muscles that his flannel shirt and riding breeches did not conceal. Crumb decided that if he was going to have trouble with this man, it would be safer to commence hostilities at a time when the other was not looking.
"Yes," he said. "I was looking for your father, Mr. Pennington."
"Father is not here. He has driven over to the village. What do you want?"
"I wanted to see if I could arrange for the use of some of your Herefords tomorrow morning."
"You can find out about that," he said, "or anything else that you may wish to know, from the assistant foreman, whom you will usually find up at the other end, around the cabin. If he is in doubt about anything, he will consult with us personally; so that it will not be necessary, Mr. Crumb, for you to go to the trouble of coming to the house again."
Custer's voice was level and low. It carried no suggestion of anger, yet there was that about it, which convinced Crumb that he was fortunate in not having been kicked off the hill physically rather than verbally – for kicked off he had been, and advised to stay off, into the bargain. He wondered how much Pennington had overheard of his conversation.
The noise of Crumb's car had awakened him, but almost immediately he had fallen into a doze, through which the spoken words impinged upon his consciousness without any actual, immediate realization of their meaning, of the identity of the speakers'. The moment that he became fully awake, and found that he was listening to a conversation not intended for his ears, he had risen and gone into the patio.
When he finally came into the sitting room, where Shannon was, he made no mention of the occurrence, except to say that the visitor had wanted to see his father. It did not seem possible to Shannon that he could have failed to overhear at least a part of their conversation, for they were standing not more than a couple of yards from the open window of his bedroom, and there was no other sound breaking the stillness of the August noon. She was sure that he had heard, and yet his manner indicated that he had not.
She waited a moment to see if he would be the first to broach the subject, but he did not. She determined to tell him then and there all that she had to tell, freeing her soul and her conscience of their burden, whatever the cost might be.
She rose and came to where he was standing, and, placing a hand upon his arm, looked up into his eyes.
"Custer," she said. "I have something to tell you. I ought to have told you before, but I have been afraid. Since last night there is no alternative but to tell you."
"You do not have to tell me anything that you do not want to tell me," he said. "My confidence in you is implicit. I could not both love and distrust at the same time."
"I must tell you," she said. "I only hope –"
"Where in the world have you been, Shannon?" cried Eva, breaking suddenly into the sitting room. "I have been away down to your place looking for you. I thought you were going to play golf with me this afternoon."
"That's what I came up for," said Shannon, turning toward her.
"Well, come on, then! We'll have to hurry, if we're going to play eighteen holes this afternoon."
Custer Pennington went back to his room again after the girls had driven off in the direction of the Country Club. He wondered what it had been that Shannon wished to tell him. Round and round in his mind rang the words of Wilson Crumb: "You lived with me two years – you lived with me two years – you lived with me two years!"

Yeah, those kinds of things are bound to screw up your brain. You know what he thinking, don't you? He's wondering if she is still a virgin, that's what he's wondering. Look what a shock it was for Guy to find out his sister wasn't any longer.

Custer went to the closet and rummaged around for a bottle. It had been more than two weeks since he had taken a drink. The return to his old intimacy with Shannon, and the frequency with which he now saw her had again weaned him from his habit; but today he felt the need of a drink – of a big drink, stiff and neat. He swallowed the raw liquor as if it had been so much water. He wished now that he had punched Crumb's head when he had had the chance. The cur! He had spoken to Shannon as if she were a common woman of the streets – Shannon Burke – Custer's Shannon!"

Did you see how adroitly ERB got away with saying "common whore" by putting it another way – less dirty? That takes art.

Feeling no reaction to the first drink, he took another.
"I'd like to get my fingers on his throat!" he thought. "Before I choked the life out of him, I'd drag him up here and make him kiss the ground at her feet!"
But, no, he could not do that. Others would see it, and there would have to be explanations; and how could he explain it without casting reflections on Shannon?
For hours he sat there in his room, nursing his anger, his jealousy, and his grief; and all the time he drank and drank again. He went to his closet, got his belt and holster, and from his dresser drawer took a big, ugly-looking forty-five – a Colt's automatic. For a moment he stood holding it in his hand, looking at it. Almost caressingly he handled it, and then he slipped it into the holster at his hiip, put on his hat, and started for the door.

Too bad he hasn't been paying attention to the modern almost daily news where some wacko with a gun starts shooting everyone because they are in a bad mood. I think that back then it happened even more than today, especially when alcohol and firearms go together. I enjoyed how ERB wrote that scene, with Custer's attitude changing the more he drank, the slow progression to madness.

---

CHAPTER THIRTY-THREE

---

Custer's gait showed no indication of the amount that he had drunk. He was a Pennington of Virginia, and he could carry his liquor like a gentleman. Even though he was aflame with the heat of vengeance, his movements were slow and deliberate. At the door he paused, and, turning, retraced his steps to the table where stood the bottle and the glass. The bottle was empty. He went to the closet and got another. Again he drank, and as he stood there by the table he commenced to plan again.
The Colonel and Mrs. Pennington were away somewhere down in the valley. Eva and Shannon were the first to return. In passing along the arcade by Custer's open window, Eva saw him lying on his bed. She called to him, but he did not answer. Shannon was at her side.
"What in the world do you suppose is the matter with Custer?" asked Eva.
They saw that he was fully dressed. His hat had fallen forward over his eyes. The two girls entered the room, when they could not arouse him by calling him from the outside. The two bottles and the glass upon the table told their own story. What they could not tell Shannon guessed – he had overheard the conversation between Wilson Crumb and herself.
Eva removed the bottles and the glass to the closet.
"Poor Cus!" she said. "I never saw him like this before. I wonder what could have happened! What had we better do?"
"Pull down the shades by his bed," said Shannon, and this she did herself without waiting for Eva. "No one can see him from the patio now. It will be just as well to leave him alone, I think, Eva. He will probably be all right when he wakes up."

You might not think that pulling those shades so that no one can see Custer from the patio was a good idea. But like most of Shannon's good ideas, it may not have been such a good one after all.

They went out of the room, closing the door after them, and a little later Shannon mounted the Senator and rode away toward home.
When the Colonel and Mrs. Pennington arrived at the ranch house, just before dinner, Eva told them that Custer was not to be disturbed. They did not go to his room at all, and at about half past eight they retired for the night.
Eva was very much excited. She had never before experienced the thrill of such an adventure as she was about to embark upon. As the time approached, she became more and more perturbed. The realization grew upon her that what she was doing might seem highly objectionable to her family; but as her innocent heart held no suggestion of evil, she considered that her only wrong was the infraction of those unwritten laws of well regulated homes which forbid their daughters going out alone at night. She would tell about it in the morning, and wheedle her father into forgiveness.

Eva is finding out that disobedience can be thrilling and fun, and, as she will later discover, quite dangerous. How ERB must have writing these kinds of set ups.

Quickly she changed into riding clothes. Leaving her room, she noiselessly passed through the living room and the east wing to the kitchen, and from there to the basement, from which a tunnel led beneath the driveway and opened on the hillside above the upper pool of the water gardens. To get her horse and saddle him required but a few moments, for the moon was full and the night almost like a day.
As she passed the mouth of Jackknife she glanced up the canyon toward the site of K.K.S. camp, but she could not see any lights, as the camp was fairly well hidden from the main canyon by trees. As she approached El Camino Largo, she saw that all was darkness. There was no sign of artificial lights she imagined they would use for shooting night scenes, nor was there anything to indicated the presence of the actors.
She continued on, however, until presently she saw the outlines of a car beneath the big sycamore. A man stepped out and hailed her. "Is that you, Miss Pennington?" he asked.
"Yes," she said. "Aren't you going to take the pictures tonight?" She rode quite close to him. It was Crumb.
"I am waiting for the others. Won't you dismount?"
As she swung from the saddle, he led her horse to his car and tied him to the spare tire in the rear; then he returned to the girl. As they talked, he adroitly turned the subject of their conversation toward the possibilities for fame and fortune which lay in pictures for a beautiful and talented girl.
So unsophisticated was Eva, and so innocent, that she did not realize from his conversation what would have been palpable to one more worldly wise; and because she did not repulse him, Crumb thought that she was not adverse to his advances. It was not until he seized her and tried to kiss her that she awoke to a realization of her danger, and of the position in which her silly credulity had placed her.
She carried a quirt in her hand, and she was a Pennington. "How dare you?" she cried, attempting to jerk away.
When he would have persisted, she raised the heavy quirt and struck him across the face. "My father shall hear of this, and so shall the man I am to marry – Mr. Evans."
"Go slow!" he growled angrily. "Be careful what you tell!" Remember that you came up here alone at night to meet a man you have known only a day. How will you square with that your assertions of virtue, eh? And as for Evans – yes, one of your men told me today that you and he were going to be married – as for him, the less you drag him into this the better it'll be for Evans, and you, too!" She was walking toward her horse. She wheeled suddenly toward him.
"Had I been armed, I would have killed you," she said. "Any Pennington would kill you for what you attempted. My father or my brother will kill you if you are here tomorrow, for I shall tell them what you have done. You had better leave tonight. I am advising you for their sakes – not yours."
He followed her then, and, whan she mounted, he seized her reins. "Not do damned fast, young lady! I've got something to say about this. You'll keep your mouth shut, or I'll send Evans to the pen, where he belongs!"
"Get out of my way!" she commanded, and put her spurs to her mount. The horse leaped forward, but Crumb clung to the reins, checking him. Then she struck Crumb again; but he managed to seize the quirt and hold it.
"Now listen to me," he said. "If you tell what happened here tonight, I'll tell what I know about Evans, and he'll go to the pen as sure as you're a silly little fool!"
"You nothing about Mr. Evans. You don't even know him."
"Listen– I'll tell you what I know. I know that Evans let your brother, who was innocent, go to the pen for the thing that Evans was guilty of." The girl shrank back.
"You lie!" she cried.
"No, I don't lie, either. I'm telling you the truth, and I can bring plenty of witnesses to prove what I say. It was young Evans who handled all that stolen booze and sold it some guy from L.A. It was young Evans who got the money. He was getting rich on it till your brother butted in and crabbed his game, and then it was young Evans who kept still and let an innocent man do time for him. That's the kind of fellow you're going to marry. If you want the whole world to know about it, you just tell your father or your brother anything about me!"
He saw the girl sink down in her saddle, her head and shoulders drooping like some lovely flower in the path of fire, and he knew that he had won. Then he let her go.

What a master manipulator and really crumby evil person Crumb is. He is master of extortion and sin, knowing that his tricks usually work.

It was half past nine o'clock when Colonel Pennington was aroused by some one knocking on the north door of his bedroom – the door that opened upon the north porch. "Who is it?" he asked. It was the stableman.
"Miss Eva's horse is out, sir," the man said. "I heard a horse pass the bunk house about half an hour ago. I dressed and come up here to the stables, to see if it was one of ours – somethin' seemed to tell me it was – an' I found her horse out. I thought I'd better tell you about it, sir. You can't tell, sir, with all them pictur' people up the canyon, what might be goin' on. We'll be lucky if we have any horses or tack left if they're here long!"
"Miss Eva's in bed," said the Colonel, "but we'll have to look into this at once. Custer's sick tonight, so he can't go along with us; but if you will saddle up my horse, and one for yourself, I'll dress and be right down. It can't be the motion-picture people – they're not horse thieves."
While the stableman returned to saddle the horses, the Colonel dressed. So sure was he that Eva was in bed that he did not even stop to look into her room. As he left the house, he was buckling on a gun – a thing that he seldom carried, for even in the peaceful days that have settled upon southern California a horse thief is still a horse thief.
As he was descending the steps to the stable, he saw some one coming up. In the moonlight there was no difficulty in recognizing the figure of his daughter.
"Eva!" he exclaimed. "Where have you been? What are you doing out at this time of night, alone?"
She did not answer, but threw herself into his arms, sobbing.
"What is it? What has happened, child? Tell me!"
Her sobs choked her, and she could not speak. Putting his arm about her, her father led her up the steps and to her room . There he sat down and held her, and tried to comfort her. Little by little, word by word, she managed at last to tell him. "You mustn't cry, dear," he said. "You did a foolish thing to go up there alone, but you did nothing wrong. As for what that fellow told you about Guy, I don't believe it."
"But it's the truth," she sobbed. "I know it is the truth now. Little things that I didn't think of before come back to me, and in the light of what that terrible man told me I know that it's true. We always knew that Custer was innocent. Think what a ckange came over Guy from the moment that Custer was arrested. He has been a different man since. And the money – the money that we were to be married on. I never stopped to try to reason it out. He had thousands of dollars. He told me not to tell anybody how much he had; and that was where it came from.
It couldn't have come from anything else. Oh, Popsy, it is awful, and I loved him so! To think that he, that Guy Evans, of all men, would have let my brother go to jail for something he did!" Again her sobs stifled her.
"Crying will do no good," the Colonel said. "Go to bed now, and tomorrow we will talk it over. Good night, little girl. Remember, we'll all stick to Guy, no matter what he has done." He kissed her then and left her, but he did not return to his room. Instead, he went down to the stables and saddled his horse, for the stableman, when Eva came in with the missing animal, had put it in its box and returned to the bunk house.
The Colonel rode immediately to the sleeping camp in Jackknife Canyon. His calls went unanswered for a time, but presently a sleepy stuck his head through the flap of a tent. "What do you want?" he asked.
"I am looking for Mr. Crumb. Where is he?"
"I don't know. He went away in his car early in the evening and hasn't come back. What's the matter, anyway? You're the second fellow that's been looking for him. Oh, you're Colonel Pennington, aren't you? I didn't recognize you. Why, someone was here a little while ago looking for him – a young fellow on horseback. I think it must have been your son. Anything I can do for you?"
"Yes," said the Colonel. "In case I don't see Mr. Crumb, you can tell him, or whoever is in charge, that you're to break camp in the morning and be off my property by ten o'clock."
He wheeled his horse and rode down Jackknife Canyon toward Sycamore.
"Well, what the hell!" ejaculated the sleepy man to himself, and withdrew again to his tent.

Wow, this is getting intense. Any odds on Wilson Crumb surviving the night? I mean, who doesn't want to kill him? We will have to wait and see in the next installment.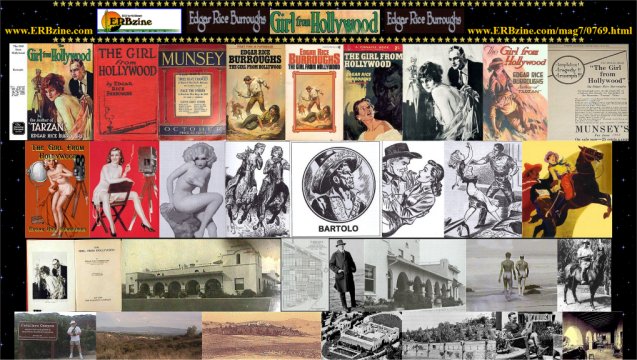 Click for full-page mosaic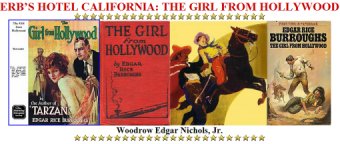 Read The Girl From Hollywood Text in ERBzine
See the ERBzine Bibliography Entry
BACK TO EDGAR RICE BURROUGHS' TARZANA RANCH 1921 - Docu/Novel
.



INTRODUCTORY AND CONTENTS PAGE FOR
THE EDGAR RICE BURROUGHS ARTICLES
BY WOODROW EDGAR NICHOLS, JR.



www.ERBzine.com/nichols
.





BILL HILLMAN
Visit our thousands of other sites at:
BILL AND SUE-ON HILLMAN ECLECTIC STUDIO
All ERB Images© and Tarzan® are Copyright ERB, Inc.- All Rights Reserved.
All Original Work © 1996-2014 by Bill Hillman and/or Contributing Authors/Owners
No part of this web site may be reproduced without permission from the respective owners.