Official Edgar Rice Burroughs Tribute and Weekly Webzine Site
Since 1996 ~ Over 15,000 Web Pages in Archive
Presents
Volume 5001

SKY MASTERS: An Overview & Samples
A strip that ran in over 325 newspapers from 1958 to 1961, and heralded the dawn of the Space Age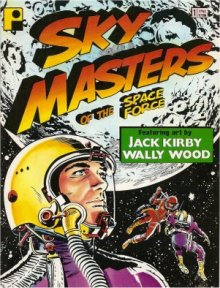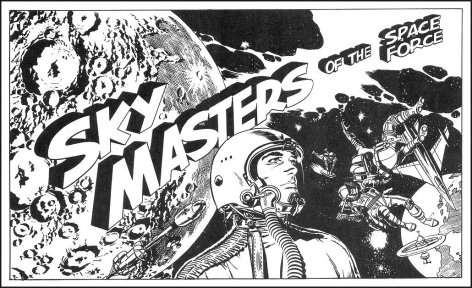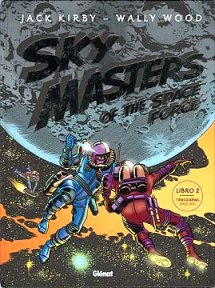 Back in the '50s I was a great fan of the Mad gang: Harvey Kurtzman, Will Elder, Jack Davis, Wallace Wood, et al. I collected all the Mad comics and mags and later moved on with them to Humbug, Help, Trump, Little Annie Fanny, Jungle Book . . . anything that had their stamp on it.

It was a thrill then in 1958 that I discovered SKY MASTERS by Jack Kirby and Wally Wood. I was such a packrat that even though we didn't subscribe to the daily newspaper that featured the strip, I made regular trips to the local "nuisance grounds" (town garbage dump) and tore out the daily MASTERS strips, as well as Tarzan, Li'l Abner, Peanuts, Russ Heath and a few more. I carefully trimmed these strips and stored them in metal containers.

My collection was by no means complete -- some of the papers were mutilated or hadn't even made it to the dump, but I salvaged enough of the strips to partially whet my appetite for SF and Wood. The strips that survived in my eclectic collection should provide enough of an overview to convince ERBzine readers that my enthusiasm was justified.
SAMPLE SUNDAY PAGE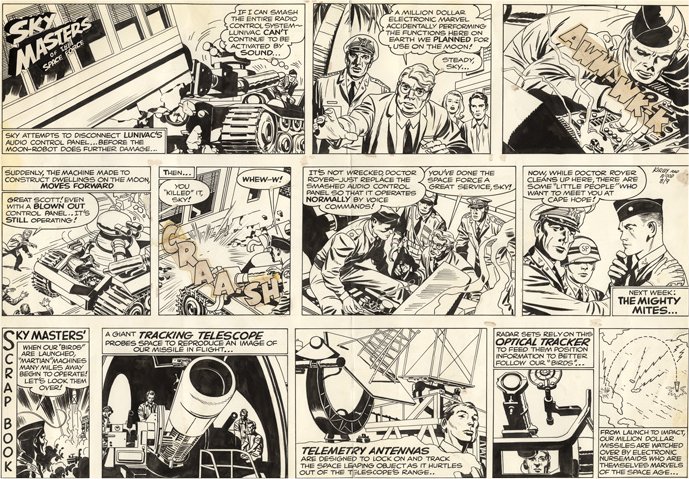 Episode guide from Wikipedia
Daily Stories I

Daily Stories II

Sunday stories

"First Man in Space"
"Sabotage"
"Mayday Shannon"
"The Lost Capsule"
"Alfie"

"Refugee"
"Wedding in Space"
"Message from Space"
"Weather Watchers"
"The Young Astronaut"

"The Atom Horse"
"Project Darkside"
"Mister Lunivac"
"Jumbo Jones"
"The Yogi Spaceman"


REFS OF INTEREST



Wallace Wood :: Wikipedia
Wallace Wood Bio :: Alter Ego
Wallace Wood Estate
Wallace Wood: Comic Book DB
Wally Wood :: Illustrators
Wally Wood: Tragic Genius :: Hero Initiative
Wallace Wood Bibliography :: ISFDB
Jack Kirby :: Wikipedia
Sky Masters :: Wikipedia
The Story Behind Sky Masters :: TwoMorrows
Sky Masters of the Space Force :: Amazon.ca Listing
Harvey Kurtzman's Goodman Beaver
Warmonger of Mars
VISIT: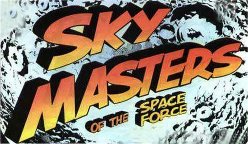 SKY MASTERS SAMPLERS
DAILY STRIPS 1
DAILY STRIPS 2
DAILY STRIPS 3
DAILY STRIPS 4
DAILY STRIPS 5
DAILY STRIPS 6
DAILY STRIPS 7
DAILY STRIPS 8
DAILY STRIPS 9
DAILY STRIPS 10
DAILY STRIPS 11
DAILY STRIPS 12
DAILY STRIPS 13
DAILY STRIPS 14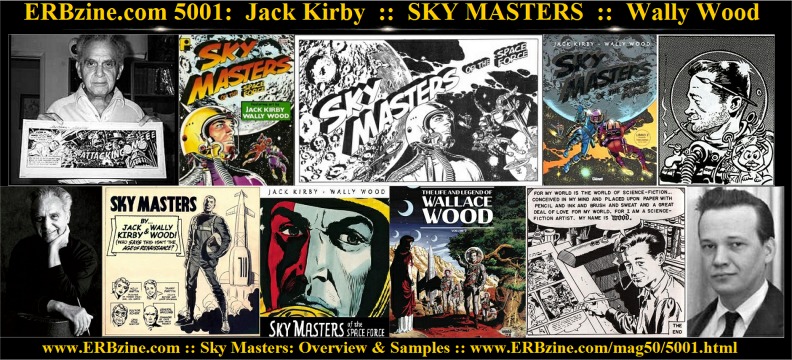 BILL HILLMAN
Visit our thousands of other sites at:
BILL AND SUE-ON HILLMAN ECLECTIC STUDIO
All ERB Images© and Tarzan® are Copyright ERB, Inc.- All Rights Reserved.
All Original Work © 1996-2015/2019 by Bill Hillman and/or Contributing Authors/Owners
No part of this web site may be reproduced without permission from the respective owners.