Official Edgar Rice Burroughs Tribute and Weekly Webzine Site
Since 1996 ~ Over 10,000 Webpages in Archive
Volume 0544
DUM-DUM DIARY OF
A CRAZED CANUCK
Part VI
---

Part 6: Sunday Breakfast ~ Burial Place of Jim and Joan Pierce ~ Long Journey Home

---

We had Sunday morning farewell breakfast with Mary, Stacy and the Spargurs and later Steve Ghak Wadding. This provided a good chance to take many more photos. Sadly not everyone attended but it was a good chance to meet and chat with a few more people -- I never did get to finish my breakfast.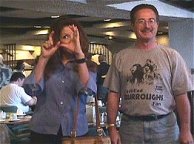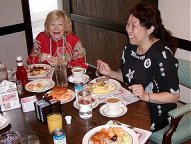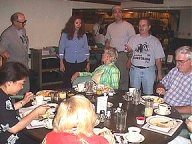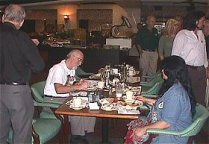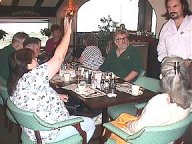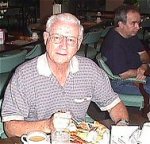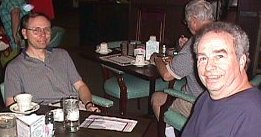 S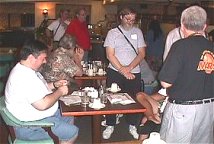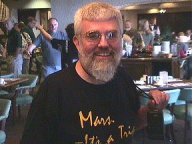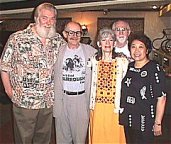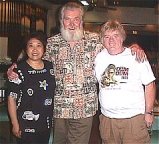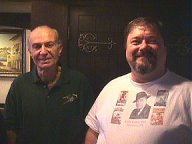 All during our stay at the Galt House we had been intrigued by the various parks and structures situated around the hotel. Since this was our last chance to take photos, Stacy and I went on a camera safari while Mary and Sue-On did some last minute packing. To our surprise we found that the waterfall park west of the hotel is actually built on the roof of the hotel parkade. We eventually said our goodbyes and Sue-On and I started out on our journey home.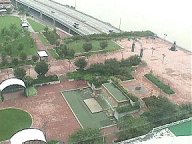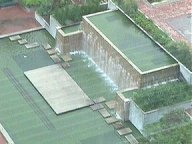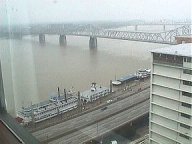 Bob Hyde had reminded us that Jim and Joan Burroughs Pierce were buried in Jim's hometown of Shelbyville, Indiana, just a short distance from the freeway, but we had no idea as to the cemetery's actual location. James H. Pierce had been discovered by Ed Burroughs himself while attending a party at Tarzana Ranch. At Ed's recommendation he had taken a screen test and was hired to play Tarzan in Tarzan and the Golden Lion -- the last "silent" Tarzan movie. He later married Ed's daughter Joan and the two of them had starred as Tarzan and Jane in the 1932 radio serial.

We had met the Pierces over 30 years ago in Tarzana, thanks to hospitality of Hulbert Burroughs, who had suggested that we spend an extra day in Tarzana so that he could set up a meeting between us. Although they were experiencing health problems, Jim and Joan were warm and gracious people. Joan had recently gone through cancer treatments and a mastectomy operation and Jim was recovering from a serious heart attack but they carried themselves with great poise. We promised to send them tape reels from our OTR collection: 77 episodes of the 1932 Tarzan radio serial they had starred in -- and they showed their appreciation by sending us a huge box of ERB, Inc. books and dust jackets.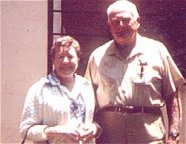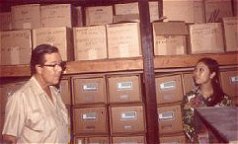 As we approached the city we were diverted to sideroads by detours which led us past two country cemeteries. Although it was raining I couldn't resist stopping and doing a fruitless running search through the tombstones. Sue-On wisely stayed in the shelter of the car -- but I got wet.

Things started to look up, however, when we entered Shelbyville, a city of about 17,000. A large unusual statue dominated the town square: a man in what appeared to be a buckskin outfit was holding two animals -- probably bear cubs -- aloft. Aha! This must be a tribute to hometown boy Jim Pierce who had worked in many westerns after his Hollywood debut as Tarzan. Alas, the accompanying plaque read: IN TRIBUTE TO CHARLES MAJOR ~ NATIVE SON ~ AUTHOR OF THE BEARS OF BLUE RIVER.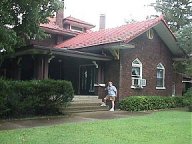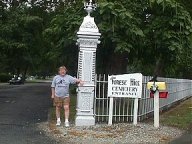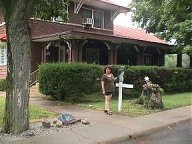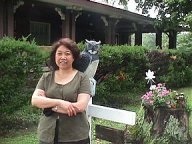 Since it was Sunday, most of the stores and businesses were closed but we remembered passing a hospital on the way in. After backtracking we got directions to the town's main cemetery -- Forest Hill Cemetery -- but no one had heard of James H. Pierce the actor. We followed Vine Street (an appropriate name) to the second of two neighboring cemeteries. We were slightly boggled by the sight that met us under the overcast, drizzling skies -- a huge sprawling tree-dotted field of stones with no sign of a gravesite map, anyone on duty or Sunday visitors. Our hopes soon rose, however, when we saw two very distinctive grave markers in the shape of trees near the gate -- but there was no indication that they had any connection with the Pierces.
When we looked again across the main grounds our hunt appeared to be a hopeless task since the cemetery was made up of acres of gravestones dating back through centuries, all jumbled together with access by many winding and connecting roadways. We knew that Jim and Joan's grave markers were side-by-side and were inscribed with "Tarzan" and "Jane" so we started a long slow drive around the grounds. We were about to give up when Sue-On's eagle eye spotted a large "PIERCE" tombstone. Looking closer we discovered two small footstones between the roadway and the large Pierce family stone. An accompanying larger monument that had been planned obviously had never materialized.
| | |
| --- | --- |
| January 12, 1908 ~ December 31, 1972 | August 8, 1900 ~ November 12, 1983 |
What ensued was an exciting scurrying around the Pierce family plots, during which we took photos from every angle. Most of the photos are shared on this page and in the accompanying photo gallery. Realizing that we still had a long way to travel we found our way back out through the labyrinth of stones and connecting roadways and settled in for an afternoon of rainy freeway driving -- next stop: Oak Park.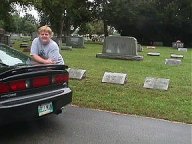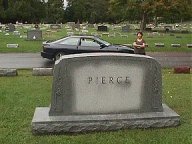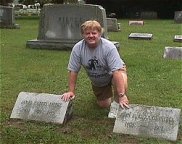 We reached Oak Park at dusk. I didn't have any of my Burroughs-related addresses with me and we knew that the Burroughs museum would be closed anyway. So we stopped at a Chinese restaurant, almost certainly in the same establishment from which Ed and family had once ordered their Chinese take-out meals. I'm sure that if the owners had better command of English they would have been able to share many stories about the Burroughs family -- well, perhaps not. After all, memories do start to fade after 90 years. We resumed our drive -- stopping for the night in the Wisconsin Dells.

The next day we were given motorcycle escorts all the way Minneapolis. Thousands of Harley motorcycle enthusiasts were on the road -- returning from the Harley 100th Anniversary celebrations in Milwaukee. Speaking with a few of them at gas stops we learned that many of them were a tad bewildered a the choice of entertainment for the event. Sir Elton John and thousands of bikers seemed an unusual pairing. After reaching Minneapolis we took time to explore the Mall of America where the Jerry Lewis Telethon was doing a remote broadcast.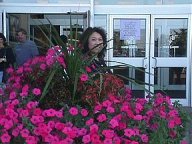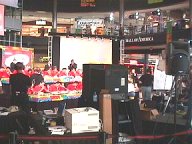 After one more night stop -- at a very "rustic" motel in Minnesota -- we finally reached home, Brandon, Manitoba, around supper time on Tuesday. The first thing we did after our return was to take photos of Waldo's bricks that had taken root in Dejah's Amtorian Gardens and the ERB Lifetime Achievement Plaque that took a place of honour among our Kensington Burroughsiana.

..




Volume 0544



BILL HILLMAN
Visit our thousands of other sites at:
BILL AND SUE-ON HILLMAN ECLECTIC STUDIO
ERB Text, ERB Images and Tarzan® are ©Edgar Rice Burroughs, Inc.- All Rights Reserved.
All Original Work ©1996-2004/2010 by Bill Hillman and/or Contributing Authors/Owners
No part of this web site may be reproduced without permission from the respective owners.