Official Edgar Rice Burroughs Tribute and Weekly Webzine Site
Since 1996 ~ Over 10,000 Webpages in Archive
Volume 0543
DUM-DUM DIARY OF
A CRAZED CANUCK
Part V
---
Part 5: Saturday Night Banquet ~ Speakers ~ Awards ~ Photos ~ Call to the Bar
---
6:15 p.m.: A glance at my watch reminded me that the banquet was slated to start in 15 minutes. On the way back to the room I met Mary Burroughs who had been looking for me and was on her way down to reserve a table. In my rush to change clothes for the banquet I broke the zipper on my only pair of long pants which meant I was probably the only person at the banquet wearing cargo shorts. Snapping photos all the way, we made our way to the Burroughs table at the front of the room where we joined Mary, Danton, Stacy, Rob, Dick and Ginnie. The room was filled to capacity -- the largest Dum-Dum in history.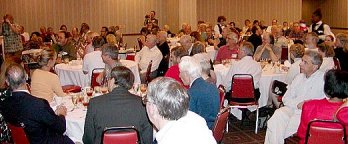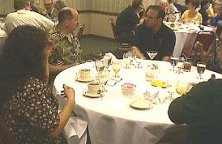 ..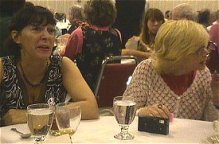 ..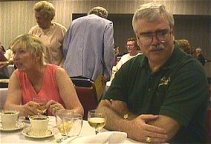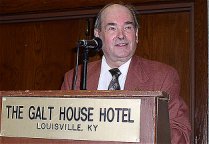 The traditional windup banquet even surpassed the high standard that George McWhorter had set for the weekend events. The array of culinary delights that festooned the banquet table lived up to the theme of the meal:
A TASTE OF KENTUCKY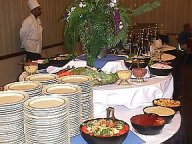 Kentucky Burgoo
pork, veal, chicken, beef, and vegetables in a thick simmering stew
Sliced Brisket
slow roasted and simmered in barbecue sauce
Kentucky Hickory Smoked Ham
sugar cured, centre cut
Southern Fried Chicken
hand-breaded and deep fried to a golden brown
Fried Corn
skillet fried with bacon
Country Style Green Beans
slow cooked and seasoned with a Southern touch
Farmhouse Corn Bread
slightly sweet, from a true country recipe
Baked Sliced Apples
baked in a rich sauce of butter, cinnamon, and brown sugar
Homemade Fruit Cobbler
filled with fresh fruit and topped with homemade streusel topping

Seated at the head table from stage left were: Joan Bledig, Lindy and Bob Zeuschner, Bob Hyde, George McWhorter, Boris Vallejo, Julie Bell, Denny Miller, and Veronika & Walter (Austrian fans who had travelled the farthest). Guest of Honour Danton Burroughs chose to sit with family and friends at the reserved Burroughs table.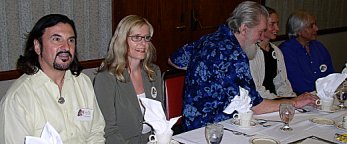 After dinner, talks were given by each of the head table guests. Bob Zeuschner did an admirable job as a short-notice replacement for keynote speaker, Max Allan Collins (Pearl Harbor Murders), who was not able to attend due to a death in the family. Heads nodded throughout the audience as ERB collectors and "FANatics" empathized with Bob's experiences as a longtime fan. Danton Burroughs brought all the latest news from ERB, Inc. in Tarzana and filled in the crowd on the many exciting ERB projects that are in the works. Bill Ross reported on the success of the day's BB fund-raising auction, following which Jerry Spannraft presented updates on the progress of the Oak Park museum.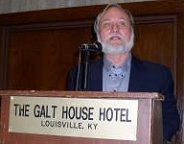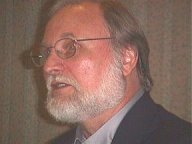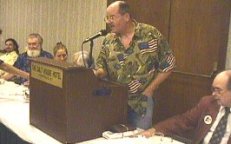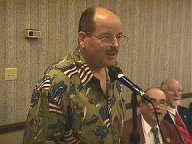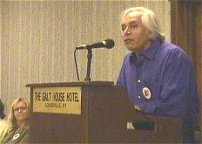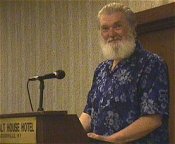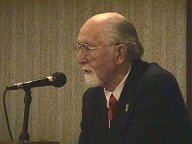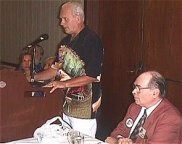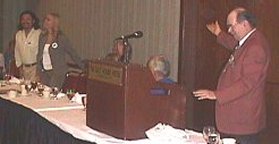 My fury of manic shutterbugging was brought to a standstill when George announced the winner of the Burroughs Bibliophile awards: "And the recipient of the Lifetime Achievement Award is . . . Sue-On's husband -- Bill Hillman." All those tongue-tied winners we are so used to seeing on television's many awards shows had a major advantage over me. I had no idea I was in the running for anything like this and there had been no chance to gather thoughts, let alone scribble down any sort of acceptance speech. I remember stumbling to the microphone and shaking George's hand. And then babbling something about having to wear cargo shorts to the banquet... feeling I was the only BB in the room wearing a loin cloth. I remember sitting down and feeling very embarrassed for not thanking all those who had provided so much support and encouragement in my lifelong consuming "hobby": Sue-On, family, Danton, Mary and Stacy, George and the BB board, and all my ERB and ERBzin-e friends. Laurence Dunn, who has made scores of ERB pilgrimages from England over the years, introduced the second winner, Brian Bohnett, who has launched so many worthwhile research and publishing projects.
As the formal activities wound down, George started to draw names for door prizes -- so many that almost everyone in the room walked away with a memento of the evening. I won Bob Barrett's Tarzan Funnies book, which I already have. It was a very fortunate win, however, as I had forgotten to bring my copy from home for Bob to autograph. Following these formal ceremonies the room erupted into a confusion of after-dinner chatter, congratulations and photo shoots with: National Capital Panthans ~ ERBapa members ~ non-USA fans ~ award winners ~ Danton and the Burroughs family ~ fanzine editors ~ BB officers and friends ~ ERBzine contributors ~ there were even spontaneous exotic lap dance demonstrations by some of the more ribald and risque Bibliophiles <g>.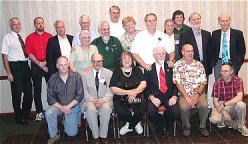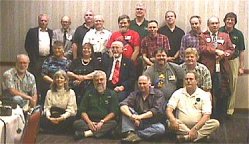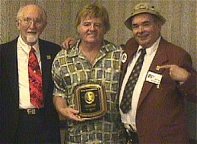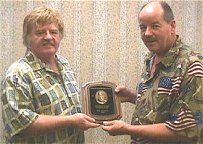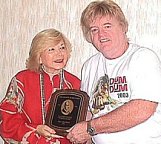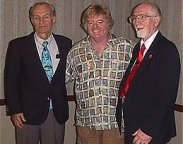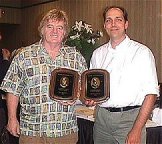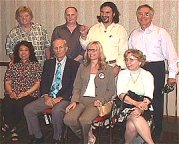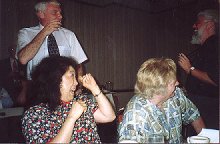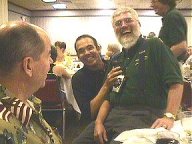 Unfortunately Tarak's THB members decided to gather and wait out in the quieter lobby area and some of them drifted off before we could fight our way out of the main room. We did some phoning and gathered at the bar hoping to round everyone up again but without success. After more great get-togethers in the bar and playing audience to some serious Jetan playing by Bruce Wood and Jim Thompson we retired for the evening.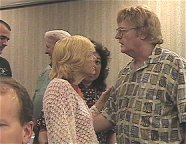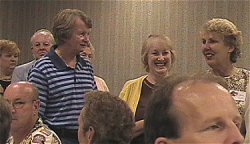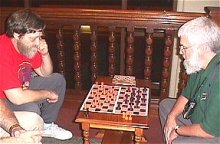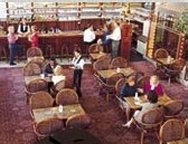 Photo Credits:
Bill & Sue-On, Ken Fuchs, Bob Zeuschner, Bob Woodley, Steve Wadding,
Dick Spargur, University of Louisville, David Critchfield, Wayne James




Volume 0543



BILL HILLMAN
Visit our thousands of other sites at:
BILL AND SUE-ON HILLMAN ECLECTIC STUDIO
ERB Text, ERB Images and Tarzan® are ©Edgar Rice Burroughs, Inc.- All Rights Reserved.
All Original Work ©1996-2004/2010 by Bill Hillman and/or Contributing Authors/Owners
No part of this web site may be reproduced without permission from the respective owners.