Official Edgar Rice Burroughs Tribute and Weekly Webzine Site
Since 1996 ~ Over 10,000 Webpages in Archive
Volume 0542
DUM-DUM DIARY OF
A CRAZED CANUCK
Part IV
Place your mouse cursor on each photo for pop-up captions

---
Part 4: Saturday Huckster Room ~ Bibliographers
---
On Saturday morning, the members of the Burroughs Bibliophile Board of Directors were up very early to attend their annual board meeting. Sue-On went with Edie James and other members of the female contingent to an antique mall while I explored the Huckster room a bit more. So many great treasures and too few devalued Canadian loonies. There were items at every table that I drooled over but reality usually kicked in just before I dug once more into our three kids' university account. I did pick up a few treasures however -- mostly books by fellow BBs: George's reissue of Fenton's ERB and Tarzan biography, Brian Bohnett's new study of Tarzan Big Little Books, Alan Hanson's Tarzan Chrono-Log, Jim van Hise's Otis Adelbert Kline reprints, Huck's new Pocket Checklists, Jim Thompson's ECOF 2000 Moon Maid CD-ROM compiled by Tangor, two Bison Press editions featuring art by Scott Beachler & Thomas Floyd, and some renewals of fanzines. Boris and Julie were signing books for fans but the queue was too long, so I hustled my newly acquired booty back to our room in time to return to take photos and videos of the Bibliographer Panel featuring doctors Bob and Huck.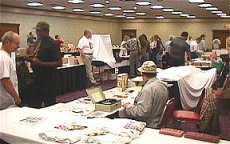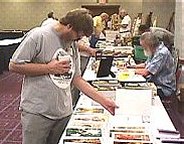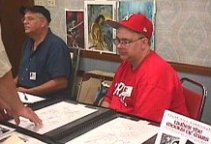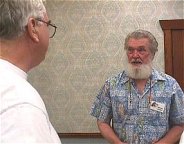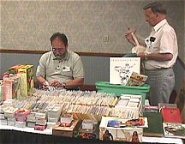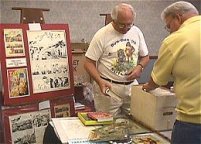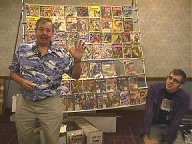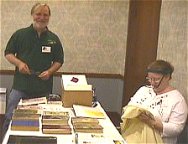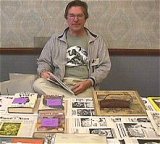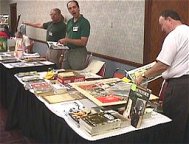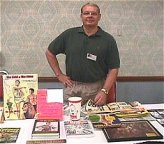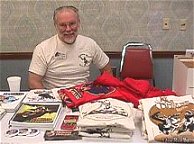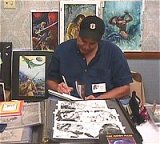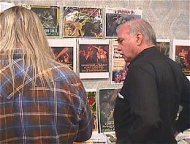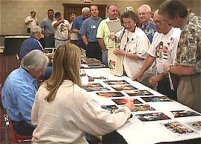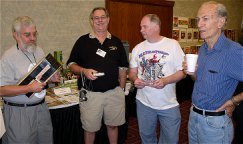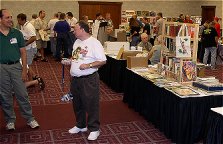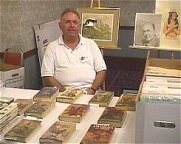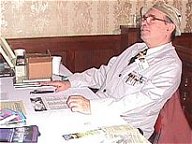 Wayne James has faithfully videoed almost every convention event he has attended and I was relieved to see that this morning's panel was no exception. I propped up my own video camera on a chair -- mainly to get the audio -- and turned my attention to listening and shooting still shots for ERBzin-e. The presenters were excellent choices for this morning's theme as they are both experts in the tracking of the various Burroughs editions. Bob has authored The Exhaustive Scholarís and Collectorís Descriptive Bibliography of American Periodical, Hardcover, Paperback and Reprint Editions, the most comprehensive ERB bibliography on the market and Huck does annual updates on his extremely useful and thorough ERB Collector's Pocket Checklist series.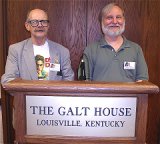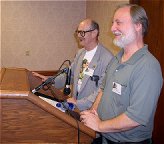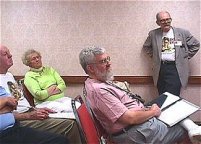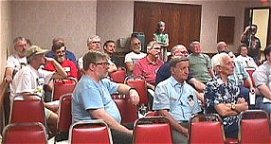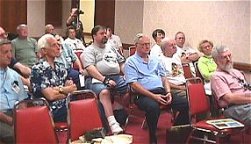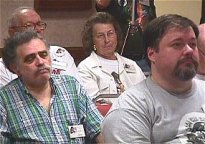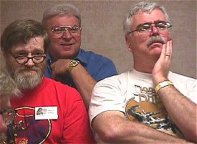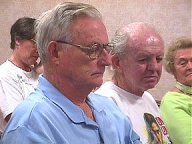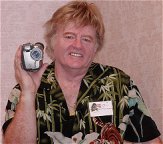 Boris and Julie returned to the Huckster Room for an afternoon autograph session and Sue-On and I joined the queue to have a number of things signed. Later in the afternoon chairs were brought into the Huckster Room and soon a standing-room-only crowd was bidding on the hundreds of items up for grabs at the Burroughs Bibliophiles auction conducted by auctioneer Bill Ross and his able assistants. In what has become an annual event, Joan and Sue-On were bidding on expensive items that they were sure Bob "Tarak" Woodley would desperately want in his collection. Obviously Tarak must love surprises, as they did his bidding for him only when he was out of the room on one of his frequent smoke breaks. Sue-On was thrilled when Joan won and presented her with a Waldo brick inscribed with "Amtor" -- a perfect addition to her "fabled" Amtorian Gardens back home in Brandon.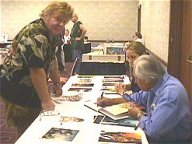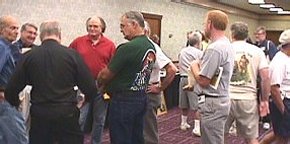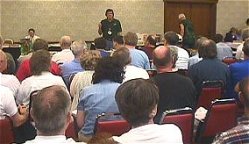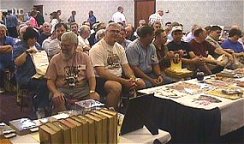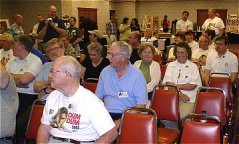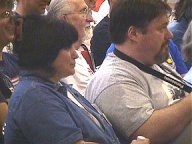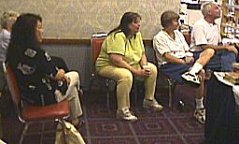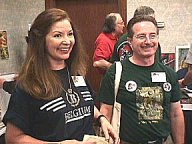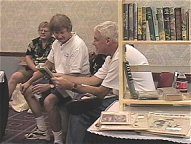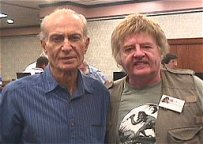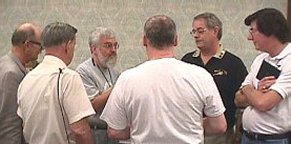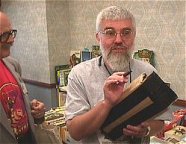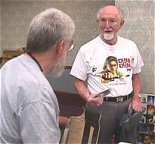 The auction drew to a close and Danton brought down some of the Burroughs memorabilia for a passaround. Included were items that Burroughs aficionados had never seen such as the 1919 White Papers with colour art by St. John and others, personal letters, Hully's autobiography in his own hand, JCB art booklets, Land titles, mortgage payment documents of the succession of homes ERB had lived in while in the Chicago area, rare poems and art by ERB, and some fascinating 8 x 10s: Emma nursing Joan, young Signal Tarzan Club members in leopard skins and playing brass instruments, portraits of Ed in his early '20s hairpiece, views of Tarzana Ranch, wartime shots, a young Danton with his father, John Coleman, etc.

---

Photo Credits:
Bill & Sue-On, Ken Fuchs, Bob Zeuschner, Bob Woodley, Steve Wadding,
Dick Spargur, University of Louisville, David Critchfield, Wayne James
Next:
Part 5: Saturday Night Banquet ~ Speakers ~ Awards ~ Photos ~ Call to the Bar




Volume 0542



BILL HILLMAN
Visit our thousands of other sites at:
BILL AND SUE-ON HILLMAN ECLECTIC STUDIO
ERB Text, ERB Images and Tarzan® are ©Edgar Rice Burroughs, Inc.- All Rights Reserved.
All Original Work ©1996-2004/2010 by Bill Hillman and/or Contributing Authors/Owners
No part of this web site may be reproduced without permission from the respective owners.