Official Edgar Rice Burroughs Tribute and Weekly Webzine Site
Since 1996 ~ Over 10,000 Webpages in Archive
Volume 0540
DUM-DUM DIARY OF
A CRAZED CANUCK
Part II
Place your mouse cursor on each photo for pop-up captions
---
Part 2: Friday: University of Louisville Day: Danton Burroughs Home Movies and Slides

---

The University of Louisville has a student enrollment of over 21,000, hires 5,400 faculty and staff, and is spread over at least three campuses. The largest, the 274-acre Belknap Campus, is three miles from downtown Louisville and houses seven of the university's eleven colleges and schools. The U of L library contains nearly two million books and periodicals and is used by over one million people each year. The McWhorter Memorial Edgar Rice Burroughs Collection is located in the Special Collections and Rare Books Department of the Ekstrom Library. This collection is the largest institutional archive of the works of Edgar Rice Burroughs, containing over 100,000 items ranging in scope from the author's earliest school books to current promotional materials. Largely through the efforts of curator George T. McWhorter this section of the library is about to undergo a major expansion in area and items.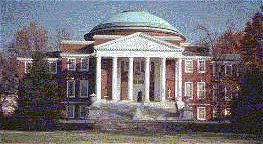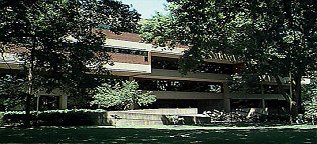 On Friday morning Sue-On had made plans to explore the sights of Louisville with the Dum-Dum Ladies' Auxiliary (the Burroughs Babliophiles) and Danton had some morning appointments at Louisville's famous antique shops and malls. Joan Bledig offered to accompany me to the University of Louisville where she expertly took shortcuts through the back entrances and storage rooms of the library to the Ekstrom Auditorium. We had time for a quick tour through the ERB collection, while we waited for the finish of the Tarzan film being shown: 1927 silent film, Tarzan and the Golden Lion, starring ERB's son-in-law James Pierce. This was the last in a series of early Tarzan films had been shown, non-stop, all day Thursday and Friday morning.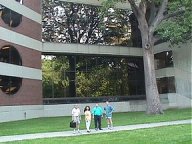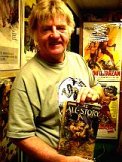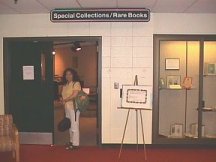 The Ekstrom Library Auditorium is equipped with projectors, sound system, elaborate lighting, and large screen. Unfortunately the University couldn't supply a B & H slide projector so, while Joan laboriously transferred 150 slides to a Kodak 100 slide tray, I found a second empty tray in the projection room. I then checked out the sound system, lighting and VCR projector. We had time for only a quick preview of some of the videos before the eager ERB fans arrived at 1 pm. Danton hadn't arrived yet -- we learned later that his driver had become lost somewhere in the city -- so I started showing the videos. The auditorium has 100 plush seats but extra chairs had to be brought into the aisle and many more people had to stand at the doorways or in the aisles.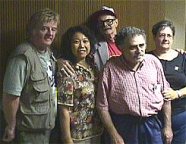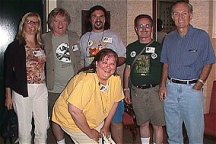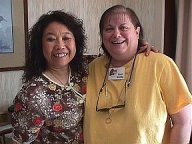 Because of the rare, unreleased and copyrighted nature of the projected material that Danton had brought, everyone was asked to refrain from taking photos or videos. The tapes were of silent home movies of everyday life at Tarzana Ranch, intricate dives and frolicking in the pool, displays of horsemanship, camping trips, family gatherings and shenanigans -- and a real surprise: Ed in a wrestling ring where he did an admirable job as a referee. One of the highlights was a comedy scripted by Ed and starring members of the Burroughs family -- with family clown, Hulbert, doing a hilarious bit in drag. I didn't have all the inside knowledge that Danton would have but I've done enough research over the years that most the people, places and events were familiar and I did my best at doing a voice-over. The audience -- including Mary Burroughs --got in on the act as well and made many helpful observations. Danton's arrival caused a flurry of excitement as it always seems to do among ERB fans.

Many photos similar to those shown in the videos and slides are found in our docu-fiction, time-travel story, Tarzana Ranch 1921 ~ most of them courtesy of the Danton Burroughs Family Archive.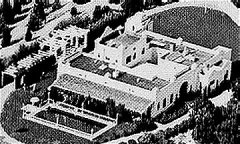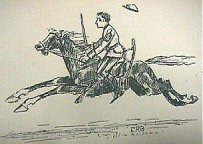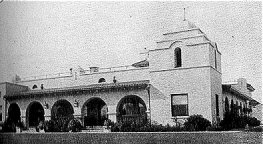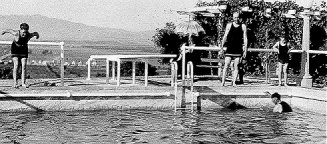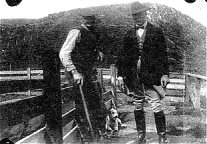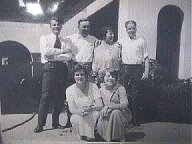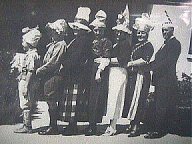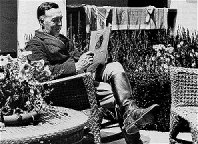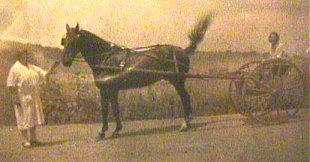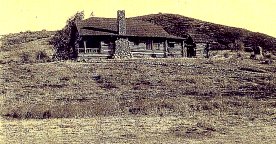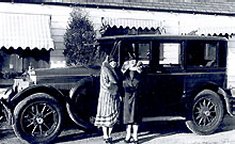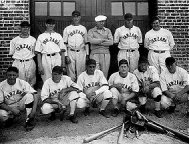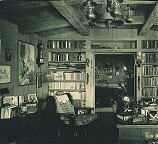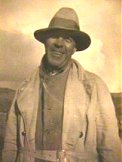 For a change of pace we then showed the 100 slides in the first Kodak tray. I'm sure everyone was impressed with Ed's too-often overlooked talent as an artist. A return to the videos brought us wartime colour footage taken by Hully that included combat footage of bombing missions over Pacific atolls and a Bob Hope USO show at the Richardson open air theatre on one of the Hawaiian Islands. I later read out a letter concerning this footage from Bob Hope Enterprises. Many more photos of ERB's wartime days in the Pacific Theatre are included in our ERB: The War Years ~ Illustrated Timelines.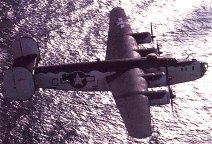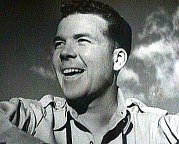 Even though we were running overtime we tried to squeeze in a quick showing of the 50 slides in the second tray before the video finale of the new Tarzan TV pilot but the tray was broken. With no time left to transfer all these slides into the first tray we went right into the 45 minute pilot that is to debut on October 5. The series stars Travis Fimmel as Tarzan and Sarah Wayne Callies as Jane with an added regular to appear later in the series, Lucy "Xena" Lawless as Tarzan's supportive aunt. Surprisingly, reaction to the new WB Tarzan show -- a young Tarzan in New York City in love with a woman cop named Jane -- was quite favourable. We conducted a quick survey after the showing and the results were about 15% neutral / wait and see, 15% negative and 70% were quite impressed.
Synopsis of the Pilot Episode

This thrilling contemporary take transforms the classic Tarzan tale into a rapid-fire adventure, an intriguing mystery and, most of all, a fiery love story. Strong-willed NYPD detective Jane Porter's perfectly ordered life turns upside down when a routine case unexpectedly leads her to primal and passionate Tarzan, now loose in the urban jungles of New York City. After plucking the mysterious feral man from his wild home, Tarzan's billionaire uncle, the CEO of powerful Greystoke Industries, stops at nothing to "civilize" Tarzan in his own image. And, inexorably attracted to Tarzan's dangerous yet profoundly innocent nature, Jane wrestles with reason and instinct, civilization and savagery, her heart and her head.
Visit Thandar's Memories of Dum-Dum 2003
200 Photos by Kenneth W. Fuchs in ERBzine 0545
www.erbzine.com/mag5/0545.html
Photo Credits:
Bill & Sue-On, Ken Fuchs, Bob Zeuschner, Bob Woodley, Steve Wadding,
Dick Spargur, University of Louisville, David Critchfield, Wayne James

---
Next: Dum-Dum Day 3
Wine & Cheese Reception ~ Tour of McWhorter ERB Collection ~ Blues Club Dinner




Volume 0540



BILL HILLMAN
Visit our thousands of other sites at:
BILL AND SUE-ON HILLMAN ECLECTIC STUDIO
ERB Text, ERB Images and Tarzan® are ©Edgar Rice Burroughs, Inc.- All Rights Reserved.
All Original Work ©1996-2004/2010 by Bill Hillman and/or Contributing Authors/Owners
No part of this web site may be reproduced without permission from the respective owners.