The First and Only Weekly Online Fanzine Devoted to the Life and Works of Edgar Rice Burroughs
Official Edgar Rice Burroughs Tribute and Weekly Webzine Site
Since 1996 ~ Over 15,000 Webpages in Archive
Volume 0534
ERB ECLECTICA
MOTES & QUOTES 2003
---
A Sample of One of the Items to be Featured in
Volume 1046
Part of our huge Online Reference Book on ERB in WWII
Hundreds of Photos ~ Letters ~ Journal Entries
Edgar Rice Burroughs
The Oldest War Correspondent of WWII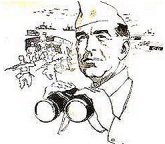 In Australia
December 24, 1942 ~ January 10, 1943
The Film Weekly
Incorporating Everyones Australian Variety and Show World
January 7, 1943
Author of Tarzan Stories
War Correspondent in Australia
Thinks Hollywood Will Never Lack Stories

SYDNEY, Tuesday: Interviewed by "Film Weekly" today, Edgar Rice Burroughs said he believed Hollywood would never lack story properties for films. "After all, there are only about 9 basic plots, aren't there? They've done yeoman service for years past. Freshened up with modern dialogue and dressing, they'll serve for years to come!" he said.

Burroughs has been away from the States for two and a half years now, most of that time being spent in Honolulu, where he was recently accredited by the U.S. Army as a war correspondent for the United Press. One son, Hulbert, is a 1st lieutenant in the U.S.A.F., and another, John, is awaiting his call-up. He also has a married daughter back in the States.

Commenting on his current film deals, he said Sol Lesser would make two Tarzan films this season for RKO release, these being "Tarzan Triumphs," which is already finished, and "Tarzan and the Sheik," which is being prepared now for production.

"I've great faith in Sol," he added, "and feel very happy about this new deal."

Irving Thalberg was the first Hollywood executive to see the possibilities of the Tarzan stories for the screen, he added, hence his long tie-up with M-G-M, who have made six Tarzan subjects altogether. Last of these is "Tarzan's New York Adventure," which is already in Australia.

N. B. Freeman has invited him to view this one in the company's theatrette tomorrow.
---
TARS TARKAS
---
Source: The Complete Guide to Airbrushing 1983.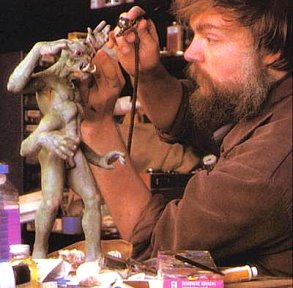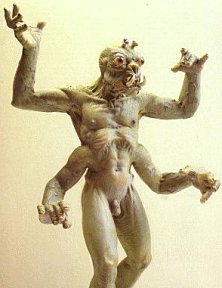 "Lyle Conway, a freelance special effects designer, who has recently worked on Dark Crystal, used the airbrush to build up and blend layers of color quickly so giving the foam rubber creature a realistic, translucent skin. The airbrush saved time and created evenly blended tones. A paintbrush was used for the fine detailing. The finished four-armed creature - Tars Tarkas - was to be used in Edgar Rice Burroughs' film John Carter On Mars."
---
Olympian Don Bragg
has golden tales to tell
---
By Ann Tatko
CONTRA COSTA TIMES ~ Aug. 12, 2003
http://www.bayarea.com/mld/cctimes/6513855.htm
Don Bragg likes to tell a good story, especially over a glass of Captain Morgan rum. He attributes it to being a big mouth. The truth is, he has quite a few stories worth telling, enough to fill a 261-page autobiography, and then some. His is the story of a New Jersey farm boy who lived the Huckleberry life, grew up to be an Olympic champion, almost lived the dream of playing Tarzan on the big screen and somehow survived an adulthood marred by health problems and misfortune. Looking like a cross between Colonel Sanders and Albert Einstein, Bragg doesn't seem to wear the visible signs of the peaks and valleys he has endured in his 68 years.
On a recent summer day, he sits in the lounge of the Oakhurst Country Club in Clayton, where his wife of 42 years, Theresa, works as director of catering, just five blocks from the home they share. He smiles and bellows a hello, often accompanied by a hearty laugh, as friends and acquaintances walk by. Drawing a story out of Bragg takes little prompting. The real dilemma is picking one as a starting point. On this day, he chooses one of the bittersweet memories: his close brush with playing the role he had aspired to since childhood.
In 1964, producer Sandy Howard tapped him to play Tarzan in "The Jewels of Opar," but shooting in Jamaica was halted when producer Sy Weintraub sued for copyright infringement and had the film impounded. Years later the film was destroyed when a Lloyd's of London warehouse, where it was being stored, caught fire. "That killed my Tarzan days," Bragg said with a sigh. His Hollywood aspirations were more about playing Tarzan than being an actor. He had wanted to be Tarzan ever since he saw the jungle character swinging on the big screen. He constructed Tarzan ropes in the woods surrounding his childhood home. He mastered the deep yodel-like Tarzan call made famous by actor Johnny Weissmuller. He often belted out a Tarzan call without warning -- as he dived off a bridge on a dare, as he boarded a plane in South Africa just as a prime minister disembarked from a nearby plane, as he stood atop the medal podium at the 1960 Olympics in Rome, where he won gold in the pole vault. Even today, he can't resist when prodded to do so. "If I do it in here," he said with a quick glance around the lounge, "they might get my wife." He does it anyway, bringing knowing smiles to the faces of nearby employees. "I do it at bars when I get a little tooted, which happens about once a week," he said with a laugh.
He has become a bit of a legend at his favorite bars, such as Artie's Countrywood Lounge in Walnut Creek. "Yeah, I know Tarzan," said Keith Whittier, a frequent Artie's patron. "I could listen to his stories all night long." Bragg doesn't hold back much, as evidenced by the candor of his autobiography, "A Chance to Dare: The Don Bragg Story."
(Virtualbookworm.com, 2003).
As one Amazon.com reader review noted, "Bragg does brag, but he offsets it by owning his mistakes and showing a kind-hearted underbelly." Bragg readily reveals just about everything in his book: his arrogant belief that he was the world's best pole vaulter (backed up by a world record of 15 feet, 91/4 inches that remains the best ever with a steel pole); his inability to turn down a dare (often resulting in an arm wrestling match that left him spent before a competition); and his downward spiral into health problems and financial trouble. "My life's like a Hollywood movie," he said. Ironically, that's the next dream for a man who has tried his hand at pig farming, selling pharmaceuticals, running a boys camp and serving as a college athletic director. He wants to turn his life story into a movie. He figures if they could do it with late Olympic track star Steve Prefontaine, then why not with Don Bragg, too. "Everyone says, 'You're on an ego trip,'" Bragg said. "Yeah, no (expletive)." He embraced his egotism through pole vaulting. He experimented with the sport at age 10 when he launched himself over an 8-foot ditch using a bamboo rug pole. Once a self-proclaimed shy and introverted kid, he used pole vaulting to break free. "I basically had an inferiority complex," he said. "I pursued pole vaulting to prove that I was capable in some area of being better than the rest."
Success in high school earned him a scholarship to Villanova, where he won the NCAA title in 1955. A year earlier, he missed qualifying for the 1954 Olympics, but the next time around, he set the world record to win at the 1960 Olympic Trials. Despite his success in pole vaulting, and in some ways because of it, Bragg also experienced the hardest of hardships. He competed in an era before fiberglass poles and foam pits, when sand and sawdust offered a pole vaulter more abuse than cushion on landings and when endorsements for athletes were unheard of. His competitive rewards amounted to a few newspaper clippings, a trophy and sometimes a $15 watch. Twelve years of the strain and stress of competition contributed largely to a stack of hospital bills for two spinal surgeries, arthritis, gout, carpal tunnel surgery, Lyme disease, appendicitis, varicose veins and sextuple bypass surgery. "I could use a few extra bucks," said Bragg, who plans to lobby U.S. Sen. John McCain, R-Ariz., for a pension program for former Olympians. "Give me $30,000, you can have my gold medal. It sits up there and I show it off, but really, what's it doing for me?"
Misfortune has followed Bragg like a seven-year curse -- multiplied by four. In 1961, he stepped on a broken bottle with his bare foot. The ensuing crutches and 16 stitches kept him from accepting the lead role in "Tarzan Goes to India." The copyright lawsuit shelved his second attempt; spinal surgery to wire together two degenerating disks denied him a possible third. Beyond Tarzan, trouble continued to mount. A land development deal, in which he had invested heavily, went bust when environmentalists blocked his zoning request. His10-year career as athletic director of New Jersey's Stockton State College ended when the college's board of trustees decided not to re-sign his contract, on the heels of an unflattering Sports Illustrated article in 1980.
Bragg remained in New Jersey, trying his hand at several business ventures that ultimately failed, until 1997. That's when health problems of one of his four children prompted Bragg and his wife to move to the Bay Area. Trouble followed him there, too. This past February, the house they were renting in Clayton caught fire, possibly when electrical arcing ignited combustible materials in the garage, according to Larry Thude, the chief fire inspector for the Contra Costa Fire District.Fire destroyed the garage, kitchen and den, while the rest of the house sustained severe smoke and water damage. "We've had some financial problems the last 10 years and that just climaxed everything. We lost everything. We had no insurance," he shook his head as his now grave voice faded away. Among the few salvaged mementos was Bragg's Olympic gold medal, singed but still in good condition. That's when Bragg got another little surprise. He noticed a white spot on the medal when a jeweler, and family friend, cleaned it. Turns out his gold medal was actually just gold plated. "I said, 'What! Twelve years of my life and you're telling me that's not real gold?'" Bragg said, and then he laughed.
Despite the setbacks, despite the financial difficulties, Bragg hasn't lost his sense of humor or his ability to pick himself up and dust himself off. Promoting his autobiography occupies most of his time these days, and he soon plans to reissue a book of poetry he wrote, titled "Reflections of Gold." He has constructed a set of Tarzan swings -- in an undisclosed location, he said with a smile -- for his 11 grandchildren. He said he also hopes to go into business, either a fast-food or a unique landscaping concept, with his daughter Renée. Bragg's life may be slowing down, but only a little. "Life with him has definitely been a roller coaster," Theresa Bragg said. Her husband draped his still broad arm around her shoulder and squeezed it affectionately. "It's not over yet."
BIOGRAPHY
• NAME: Don Bragg
• AGE: 68
• EDUCATION: Villanova University
• CAREER: 1960 Olympic pole vault champion; recreation director; pharmaceuticals salesman; boys' camp founder and
director; special assistant in charge of youth affairs and recreation for then-New Jersey Gov. Richard Hughes (1969-70);
athletic director for Stockton State College in New Jersey; actor; author.
• RESIDENCE: Clayton
• AUTOBIOGRAPHY: "A Chance to Dare: The Don Bragg Story" (written with Patricia Doherty). Available at
tarzanbragg.com
---
ERB'S SOUTHERN CALIFORNIA STOMPING GROUNDS
---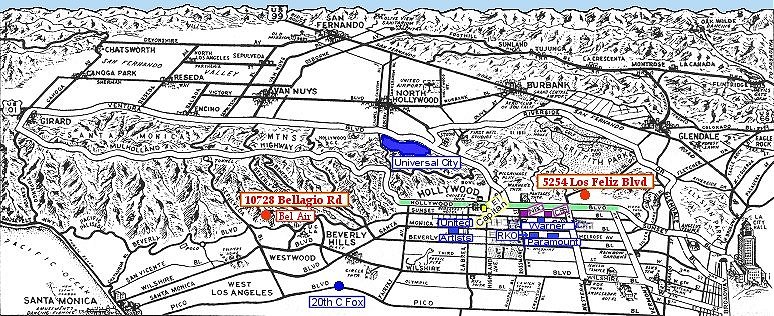 Adapted from the Basil Rathbone Site
---
ERB: The Final Years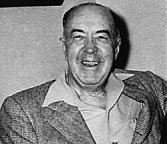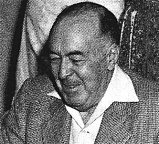 For 75 more ERB photos
Visit ERB: A Life In Pictures
http://www.erbzine.com/mag2/0209.html

---
LOUISVILLE DUM-DUM 2003 HEAD TABLE
---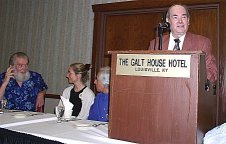 ERBzine Contributors Invade The
2003 Louisville Dum-Dum
A Photo Mosaic with scores of photos and links
http://www.erbzine.com/mag5/0537.html
Official Photos Taken at the University of Louisville
http://www.library.louisville.edu/depts/sc/downloads/DumDum/index.htm
http://www.library.louisville.edu/depts/sc/downloads/DumDum/page_02.htm
More Dum-Dum Photos Taken by von Horst
http://f2.pg.photos.yahoo.com/ph/snakelash/lst?.view=t&.dir=/Dum+Dum+2003




Volume 0534



BILL HILLMAN
Visit our thousands of other sites at:
BILL AND SUE-ON HILLMAN ECLECTIC STUDIO
ERB Text, ERB Images and Tarzan® are ©Edgar Rice Burroughs, Inc.- All Rights Reserved.
All Original Work ©1996-2004/2010/2019 by Bill Hillman and/or Contributing Authors/Owners
No part of this web site may be reproduced without permission from the respective owners.