| | |
| --- | --- |
| The First and Only Weekly Online Fanzine Devoted to the Life and Works of Edgar Rice Burroughs | |
Volume 0533
ERB ECLECTICA ~ MOTES & QUOTES
NEWZINE EDITION 03.08.01
OKAR'n'R 03
(Rescue & Respite ~ Rest & Recreation)
Most Burroughs fans are familiar with the
various ERB gatherings and conventions in the U.S.:
The Dum-Dum, ECOF, The Wake, etc.
But more and more fans are becoming aware of a unique Canadian event -
OKAR'n'R: Rescue & Respite which provides rest and recreation
for ERB fans who find themselves lost, stranded or under attack
while travelling in the wild northern regions of Okar - the Forbidden Land.



Our latest OKAR'n'R event plays host to
Nels Myrhoj and family
from Aldergrove, B.C.
Nels is a longtime ERB fan, Burroughs Bibliophile,
descendant of Danish Viking warriors, ERBapa member,
collector and trader of ERB memorabilia.
(More Large Image Photos at ERBzine 0533a)


Crossed Swords
Nels ~ Sue-On ~ Bill

Nels and his Princesses
Daughter Madeline and Wife Viki
---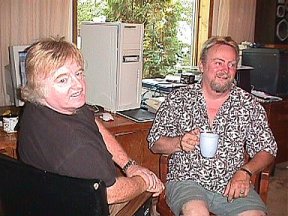 JoN and Nels enjoying a breakfast coffee in the ERBzine office
---
| | |
| --- | --- |
| | |
| Friendly Sword Play in the Palace Court Yard | Two Old Warriors Testing Their Mettle |
---
| | |
| --- | --- |
| | |
| JoN Takes the First Advantage | The Indomitable Nels Turns The Tables |
(More Large Image Photos at ERBzine 0533a)
See reports on previous OKAR'n'R events at:
ERBzine 0643
and
ERBzine 0559
and
Visit Princess Dejah's Garden of Jeddaks and Amtorian Gardens
JON: Guardian of the North
---
EDGAR RICE BURROUGHS INDUCTED INTO THE
SCIENCE FICTION AND FANTASY HALL OF FAME
---
A Report from John "Numa" Vaughan

Edgar Rice Burroughs was inducted into the Science Fiction and Fantasy Hall of Fame on July 11, 2003 at the University of Kansas. Lawrence, Ks.

I attended the dinner and induction. Professor James Gunn and I traded E:Mails a number of times. I sent him the ERB, Inc. address and PO Box#. Prof. Gunn sent Danton Burroughs a letter telling him of ERB's induction. Unfortunately Danton did not reply and the acceptance speech and the award (a very nice brass telescope w/stand and wooden case to carry it in) was accepted by Ruth Lichwardt of the Oread bookstore on Campus. She gave a very nice five minute speech on ERB and his work. This was part of the Campbell Conference 2003. Please see the URL and see what Prof. James Gunn has done at KU.
http://www.ur.ku.edu/News/03N/JulyNews/July14/sf.html
Yours in ERB,
Numa
2003 Campbell, Sturgeon science fiction award winners announced at KU

LAWRENCE -- Two unusual circumstances marked this year's Campbell and Sturgeon awards, presented July 11 at the University of Kansas, announced James Gunn, director of the Center for the Study of Science Fiction at the University of Kansas.
The Theodore Sturgeon Award for the best short science fiction, or SF, of the year went to a story published on the Internet. Lucius Shepard's "Over Yonder" was published on the SciFiction section, edited by Ellen Datlow, of SciFi.com. Second place was awarded to "Bronte's Egg" by Richard Chwedyk, published in Fantasy and Science Fiction magazine; and third place, to "Singleton" by Australian Greg Egan, published in the British Interzone magazine.

The other unusual circumstance: The John W. Campbell Award for the best science-fiction novel of the year for the first time went to a previous Sturgeon Award winner. Nancy Kress' "Probability Space" took first place (an earlier novel in the series, "Probability Sun," took third place last year). Moreover, Kress' husband, the late Charles Sheffield, won the Campbell Award a decade before. Kress and Sheffield are the first husband and wife to be so honored. Second place in the Campbell Awards went to David Brin's "Kiln People"; third place went to Robert J. Sawyer's "Hominids." All three novels were published by Tor Books.

Frederik Pohl, a member of the Sturgeon Award final jury, presented the award to Shepard; James Gunn read an acceptance letter from Shepard. Elizabeth Anne Hull, a member of the Campbell jury, presented the award to Kress, who was present to accept.

KU Chancellor Robert Hemenway made a surprise presentation to Frederik Pohl of a citation for his long years of service to science fiction and to KU and its science-fiction programs. Pohl has been a guest writer 26 of the past 28 summers.

Four writers or editors were inducted into the Science Fiction and Fantasy Hall of Fame, sponsored by the Kansas City Science Fiction and Fantasy Society and the J. Wayne and Elsie M. Gunn Center for the Study of Science Fiction at KU. The posthumous inductions went to Edgar Rice Burroughs and Damon Knight; living authors inducted were Kate Wilhelm, who is Knight's widow, and Wilson "Bob" Tucker. Wilhelm attended the induction dinner ceremonies.

The dinner was followed by the Campbell Conference July 12 and 13, at which "History and Science Fiction" was the topic for discussion, and the showing of a locally produced alternate-history documentary titled "CSA: The Confederate States of America."

The Sturgeon Award stories are nominated by a committee of some two dozen reviewers and editors chaired by writer Chris McKitterick, a lecturer in the KU English department. Pohl, James Gunn, and editor, author and publishing production manager Kij Johnson, with help from Noel Sturgeon, son of Theodore Sturgeon, chose the winners from a group of about a dozen finalists.

The Campbell Award novels are nominated by publishers and the winners selected by a committee of seven academics and authors chaired by Gunn and consisting of Gregory Benford, Paul A. Carter, Elizabeth Anne Hull, McKitterick, Pamela Sargent, T.A. Shippey and Ian Watson.
Contact: James Gunn, KU Center for the Study of Science Fiction, (785) 864-3380.
---
A Sample of Jungle Art by Burroughs-Influenced Artist
Shaun Raymond Hoadley
---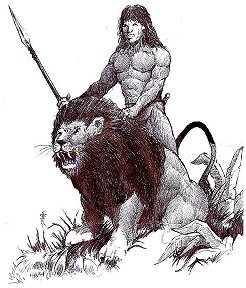 The Golden Lion
Shaun Raymond Hoadley was born in Kalamazo, Michigan on October 11, 1952 to Vernon and Beryl Hoadley, whom, not unlike a Burroughs story, met during World War II in London, England during the Blitz, and fell in love after Vernon saved Beryl's life! Shaun has 3 siblings...two older brothers and a younger sister. The brothers are both writers and artists, as is Shaun, and the oldest, Julian is a published author, while Guy is a prominent attorney. Shaun has had several shows of his work, and has had pieces published in Fanzines as well as professional publications, advertising and more. His work includes all of the illustrations used in the motion picture "High Strung" with Steve Odekirk and Jim Carey, business card designs for several businesses in Ojai, California, artwork for a video game called "Star Island", as well as web-page design for several companies. His interests include Art, Harley Davidson motorcycles, collecting Edgar Rice Burroughs 1st editions and eating good food! He currently resides in Lake Balboa, California (right next to Tarzana!) and is often in the company of his lady, Pamela Cupp, who is a brilliant artist in her own right! His current projects include: A Complete Original Tarot Card Deck...all in full color...limited edition 1000 copies...$39.95 per deck. Also, a limited edition print of "The Golden Lion" printed on canvas in high quality! Limited to 500 pieces. $15 per print -- hand signed and numbered by the artist! CONTACT: Shaun Hoadley at pickman_2000@yahoo.com


---

The Burroughs Eclectica Gallery
Features soon to be released in ERBzin-e:


---


ERB In Hawaii



---

Tarzana Ranch

---






---

El Caballero Golf & Country Club
Art possibly by ERB nephew Studley O. Burroughs


---





See the whole feature, starting at:
ERBzine 1091



Volume 0533

BILL HILLMAN
Visit our thousands of other sites at:
BILL AND SUE-ON HILLMAN ECLECTIC STUDIO
ERB Text, ERB Images and Tarzan® are ©Edgar Rice Burroughs, Inc.- All Rights Reserved.
All Original Work ©1996-2004/2010 by Bill Hillman and/or Contributing Authors/Owners
No part of this web site may be reproduced without permission from the respective owners.