First and Only Weekly Webzine Devoted to the Life and Works of Edgar Rice Burroughs
Since 1996 ~ Over 15,000 Webpages in Archive
Volume 0508
presents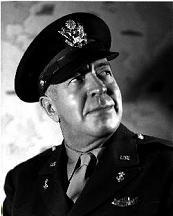 EDGAR RICE BURROUGHS: THE WAR YEARS
ERB and the SHAW
The following letter from Foster Rash, whose father served on the US Navy destroyer USS Shaw from 1941-45, prompted me to return to a project that has been in the works for some time: Edgar Rice Burroughs: The War Years. Coincidence, or perhaps fate, brought ERB and the Shaw together a number of times during WWII. The Shaw and ERB both experienced the Japanese attack at Pearl Harbor. Burroughs and son Hulbert were playing tennis on the Niumalu Hotel grounds when the attack began and ERB, between games, followed the attack with binoculars, probably seeing the attack on, and resulting explosion of, the Shaw which was in the navy yards dry dock at the time.. This event and ERB's involvement on the Hawaiian home front are covered in ERB: THE WAR YEARS ~ ERBzine 1019. The issue you are reading, however, will present some of the events of the second "meeting" between the Pacific's oldest war correspondent and the beleagured SS Shaw.




Dear Bill,
I've been interviewing my father to compile a record of his experiences in WWII. He served on a destroyer USS SHAW from 1941-45. Well, he told me a story the other night I'd never heard before, about having Edgar Rice Burroughs on board for several weeks.

The ship was pretty banged up at the time and it was going back to Pearl Harbor for repairs. SHAW had seen quite a bit of action (Battle of Santa Cruz Islands and naval battles around Guadalcanal) during Oct-Dec '42 and then had suffered damage to the hull on a reef while entering Noumea, New Caledonia (where they picked up ERB). Temporary repairs to the hull included pouring concrete into the holes. They lost a boiler room in the process, so speed must have been seriously affected. The voyage from Noumea to Pearl Harbor took 6 weeks.

Burroughs was very popular with the crew. They refueled in Suva, Fiji (Feb '43) and the crew organized a football game. It seems the gunnery officer had been a football star at Annapolis and another crewmember was an All-American.

I've received a message from one of dad's shipmates who was the Chief Yeoman on Shaw at the time and shared a cabin with ERB. He said he got ERB's autograph on something and is pretty sure he still has it. I just replied to him inquiring about any pictures he may have had taken with ERB or memorabilia.

I would really like to read ERB's perspective on life aboard SHAW. Dad said Burroughs wrote about it and the story was published in Esquire magazine.

So I'm looking for a copy of it and found your website. I'm thinking it must have been included in "Diary of a Confused Old Man or Buck Burroughs Rides Again". Do you know where I might find this? I'd be glad to share whatever I come up with. Whatever assistance you can provide would be greatly appreciated. Thanks much for any help.

Foster Rash
---

Edgar Rice Burroughs and the USS Shaw: 1943

Carrying on with his activities as the Pacific's oldest war correspondent, Edgar Rice Burroughs returned to Noumea, New Caledonia from Sydney, Australia, on January 10, 1943. He checked into the Grand Hotel du Pacifique where he was glad to see old friend, navy Lt. Hal Thompson, husband of family friend Rochelle Hudson. One of his first assignments was to follow a field artillery training excercise at the battalion's camp in Dumbea Valley. To get there he had to travel by horse and mule through jungle-covered mountainous terrain. He also visited a military hospital where he revelled in the heroic stories of the wounded enlisted men. His free time was spent socializing in various officers clubs.

He was hoping to get a flight back Hawaii, but was notified that he would return directly to Pearl Harbor on the destroyer USS Shaw, leaving on January 31. The Shaw was badly in need of repair at Pearl as she had grounded on Sournois Reef while entering Noumea harbor, New Caledonia. "Her keel was badly wrinkled, some of her plates were sprung, and she had holes in her bottom that had been patched up with concrete."

Burroughs writes "Temporary repairs had been made, but her keel was badly wrinkled, some of her plates were sprung, and she had holes in her bottom that had been patched up with concrete. And she had but one screw. The Shaw was practically a wreck. . . ." "Some of the crew never laced their shoes during the whole cruise, except when we were in port. This and the fact that many of them wore black sox so as not to attract sharks, added zest to the voyage. . . ."

Despite the ship's crippled vulnerable condition the voyage to Pearl was relatively uneventful. During the trip Burroughs wrote United Press dispatches and a murder mystery: More Fun! More People Killed! When not writing Burroughs spent much of his time on the bridge where the routine was occassionally broken by submarine alarms.

During this long return trip the Shaw docked at Suva, in the Fiji Islands, and then went on to Tutuila in the American Samoas, where Ed visited the town of Pago Pago and noted:

"I saw the Sadie Thompson hotel. Through the windows, I saw Sadie's room -- or what might have been."

On February 28, aboard the Shaw, Ed wrote, "Jack's birthday -- 30 years old. On Joan's birthday I as in Noumea. On Hulbert's, in Honolulu. I should like to be in Chungking on my next one."

The Shaw arrived at Pearl Harbor on March 2, and later, as expected, Ed completed a detailed account of the entire trip, requiring sixty pages to tell the whole story. Titled "The Diary of a Confused Old Man, or Buck Burroughs Rides Again," the account was begun in April 1943 and not finished until June 8. The ending summary revealed that army chaos had made Burroughs a noncorresponding war correspondent.

"I had been gone three months, had a wonderful time, and written twenty-five stories, practically none of which have ever reached United Press. They had so notified Frank Tremaine, UP Bureau Chief in Honolulu. We think they may be mouldering in the War Department in Washington, where Colonel Stead asked me if he might send them direct. "

Burroughs' sense of patriotism and appreciation for his fellowmen was unshaken, however, as evidenced in the letter he wrote to daughter Joan soon after reaching Hawaii.



ERB's March 5, 1943 letter to daughter Joan,
three days after returning to Honolulu on the SS Shaw

1298 Kapiolani Boulevard
Honolulu T H

March 5 1943

Joan darling:
On my return to Honolulu, I found two nice letters from you, of Dec-
ember 13 and January 15. You could not have sent me anything for
Christmas that I could wish more than your continued love and mis-
taken belief that I am a great guy. Anyway, I like to have you say
it. And I am just as proud of you, dear, as you seem to be of me.

I wrote Jack yesterday; so won't repeat here, as I know he will show
you the letter.

Joan, you just can't imagine how wonderfully every one has treated
me. As you know, I have always been just a little bit cynical about
homo sapiens. But now I guess that I shall have to admit that God
made a pretty good job when he whittled him out. And for me, the
best of them are our own people. After spending three solid months
with Army, Navy, and Marine Corps men of all ranks and grades I am
so damned proud of being an American that I am on the verge of burst-
ing. They are friendly, they are intelligent, they are ingenious,
they are courageous. I know that there are morons and heels among us,
but they are outnumbered a thousand to one.

The aborigines on the islands love us. They hate the Japs and they
are not particularly crazy about non-American whites. Our boys laugh
and kid with them, and they'll work all day for us for food and a
package of cigarettes just to be with us. They are simple, likable,
child-like people. If they stewed you for dinner, it would not be
because they disliked you. Quite the contrary.

I was walking along a road on one of the islands when I passed close
to a couple of women. I smiled and nodded, as I did to most of the
natives I passed. The woman nearest me was a horrible looking, tooth-
less old hag. As she passed close to me, she pinched my leg and smiled
coyly. Who says the old S.A. isn't working?

I had a grand time on a destroyer. Spent a month aboard her. The
Executive Officer shared his cabin with me. He ranks next to the
captain. I sat at the Captain's right at mess. We chased subs and
dropped depth charges. It was quite exciting. They gave me the run
of the ship. It was fun standing on the fantail when depth charges
were dropped or being on the bridge when we were entering a harbor.
And ladders! I was running up and down 'em all day. I am convinced
that there is nothing wrong with my heart. Over the loud speaker
would come the command, "Stand by for submarine attack!" That gives
one's heart a few extra beats to the second. Then, if I didn't go
aft to the fantail, I'd scamper up three ladders to the bridge as fast
as I could scamper. When the charges were detonated, the ship would jump
and shudder. Just to give you and idea of the force of these charges
of TNT: Another destroyer dropped charges two and a half miles away,
and our ship shook.

I bought some junk for the kids and you. And I mean junk. But it is
from far places. If I ever get caught up with my correspondence, I'll
wrap it up and send it along. Lots of Love!


U.S.S. SHAW
1936-1946



DD-373 USS Shaw
Mahan Class Destroyer:
Displacement: 1395-1500 tons
Length: 341'8"
Beam: 34'10"
Draft: 9'10"
Speed: 36.5 knots
Arm.: 5 5"/38, 4 1/1", 12x4 21"
torpedo tubes
Complement: 251
Geared turbines with twin screws,
42,800 h.p.
Built at Philadelphia Navy Yard
Commissioned 18 September 1936
Partially destroyed at Pearl Harbor;
Rebuilt at Mare Island Navy Yard.

Japanese attack on Pearl Harbor
December 7, 1941 ~ 8:00 A.M., Sunday morning
| | |
| --- | --- |
| | |
View from Pier 1010, looking toward the Pearl Harbor Navy Yard's drydocks, with USS Shaw (DD-373) -- in floating drydock YFD-2 -- and USS Nevada (BB-36) burning at right, 7 December 1941.

In the foreground is the capsized USS Oglala (CM-4), with USS Helena (CL-50) further down the pier, at left. Beyond Helena is Drydock Number One, with USS Pennsylvania (BB-38) and the burning destroyers Cassin (DD-372) and Downes (DD-375).
| | |
| --- | --- |
| | |
USS SHAW (DD-373): A Summary of Operations
USS Shaw (DD-373), a 1,500-ton Mahan class destroyer, was built at the Philadelphia Navy Yard, Pennsylvania, and commissioned on September 18, 1936 with Lt. Comdr. E.A. Mitchell in command. She made a trans-Atlantic shakedown cruise in 1937, steamed to South America in mid-1938, and transfered to the Pacific soon thereafter.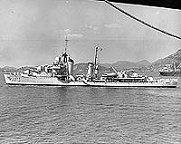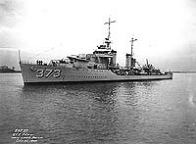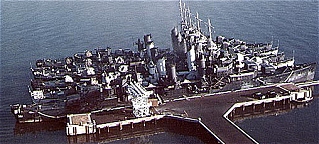 In April 1940 she sailed for Hawaii where she participated in Fleet Problem XXI, an eight phased operation for the defense of the Hawaiian area. She remained in the Hawaiian area until November when she returned to the west coast for overhaul. Back in the Hawaiian area by mid-February 1941, Shaw operated in those waters until November when she entered the Navy Yard at Pearl Harbor for repairs, drydocking in YFD-2. When the Japanese attacked Pearl Harbor on December 7, 1941, Shaw was still in drydock .
During the attack, she took three hits: two bombs through the forward machine gun platform, and one through the port wing of the bridge. Fires spread through the ship. By 0925, all fire fighting facilities were exhausted, and the order to abandon ship was given. Efforts to flood the dock were only partially successful; and, shortly after 0930, Shaw's forward magazine blew up, severing her bow and wrecking her bridge area.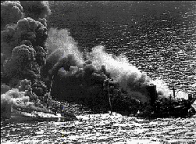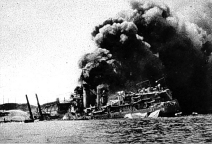 However, Shaw's midships and stern portions were still essentially intact. Following temporary repairs at Pearl Harbor, in February 1942 she went to the Mare Island Navy Yard for a new bow and general overhaul. This repair job, completed in late June 1942, essentially brought her back up to the same basic appearance and armament as the other members of the Mahan class, and that standard was maintained during most of the Second World War.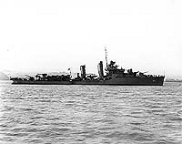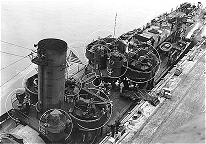 Shaw then went on to several months of training and convoy escort duties. In mid-October, as a unit of a carrier force centered on Enterprise, she departed Pearl Harbor and headed west. Rendezvousing with a carrier force centered on Hornet, the two carrier groups amalgamated as Task Force 61 and moved north of the Santa Cruz Islands to intercept enemy forces headed for Guadalcanal. By mid-morning on the 26th, both carrier groups were under attack. As an accompanying ship, Porter (DD-356), stopped to pick up survivors from a downed torpedo plane, she was torpedoed. Shaw went to Porter's assistance. Half an hour later, she was ordered to take off Porter's crew and sink the disabled destroyer. Periscope sightings followed by depth charge attacks delayed execution of the mission. By noon, however, the transfer was completed. An hour later Porter was gone, and Shaw left the scene to rejoin the task force.

On 10 January, while entering Noumea harbor, New Caledonia, Shaw grounded on Sournois Reef. She was freed on the 15th, but extensive damage to her hull, propellers, and sound gear necessitated temporary repairs at Noumea followed by a trip to Pearl Harbor for extensive repairs and rearmament which took her through September.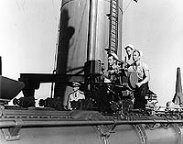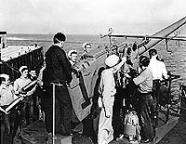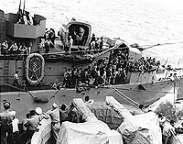 On 6 October Shaw headed west again, reaching Noumea on the 18th and Milne Bay New Guinea, on the 24th Now a unit of the 7th Amphibious Force, Shaw escorted reinforcements to Lae and Finschhafen for the remainder of October and during November. Following an unsuccessful diversionary assault by Army troops against Umtingalu, New Britain, on 15 December, Shaw recovered survivors from two rubber boats and escorted Westralia and Carter Hall back to Buna, New Guinea.
On 25 December, Shaw escorted units engaged in the assault against Cape Gloucester, where she provided gunfire support and served as fighter director ship. On the 26th, Shaw sustained casualties and damage when attacked by two "Vals." Thirty-six men were injured, three of whom later died of their wounds. Shaw returned to Cape Sudest, New Guinea, on the 27th; transferred her wounded and dead to shore facilities there, and continued on to Milne Bay for temporary repairs. Permanent repairs were completed at Hunter's Point, San Francisco, on 1 May 1944.
Shaw returned to Pearl Harbor, joined the 5th Fleet there, and sailed for the Marshalls. She got underway from the Marshalls on 11 June with TF-52 to engage in the assault on Saipan. Four days later, the attack began. For the next three and one-half weeks, the destroyer rotated between screening and call fire support duties. In mid-July, she was back in the Marshalls. On the 18th, Shaw got underway to return to the Marianas with the Guam assault force. During the action that followed, she performed escort and patrol duties. Following a tender repair availability at Eniwetok, she rejoined the 7th Amphibious Force on 20 October and headed for Leyte Gulf on the 25th. From October 1944 into1945, Shaw escorted Western Pacific convoys and help liberate Luzon and other parts of the Philippines.
New Guinea involved Shaw until the invasion of Luzon took place at Lingayen Gulf on 9 January 1945. From the 9th to the 15th, she performed screening, call fire support, night illumination, and shore bombardment missions. Following this operation, Shaw was involved in the recapture of Manila Bay. After the Luzon operations, she supported the assault and occupation of Palawan during the period from 28 February to 4 March. In early April, she operated in the Visayans, setting two Japanese barges on fire off Bohol on 2 April. Damaged soon thereafter on an uncharted pinnacle, she underwent temporary repairs.On the 25th, she sailed for the United States. Shaw arrived in San Francisco on 19 May. Repairs and alterations took her into August.
This final overhaul significantly changed her combat suit. These modifications were driven by the virtual elimination of the Japanese surface fleet, the emergence of the very dangerous "Kamikaze" suicide plane threat, and the growing top-heaviness and generally overweight condition of the Navy's older ships. To meet these changed conditions, all of Shaw's twelve torpedo tubes were removed and replaced with a very heavy battery of 40mm anti-aircraft machine guns. Also removed were some of her 20mm machine guns, one of her four remaining 5"/38 heavy guns and other fittings. However, she was too old for retention in the post-war fleet and was sent to the U.S. east coast for inactivation. Decommissioned in October 2, 1945, USS Shaw was scrapped in July 1946.
Shaw earned eleven battle stars during World War II.
---
PEARL HARBOR ATTACK IN FULL COLOUR
www.hillmanweb.com/war/2017/1712.html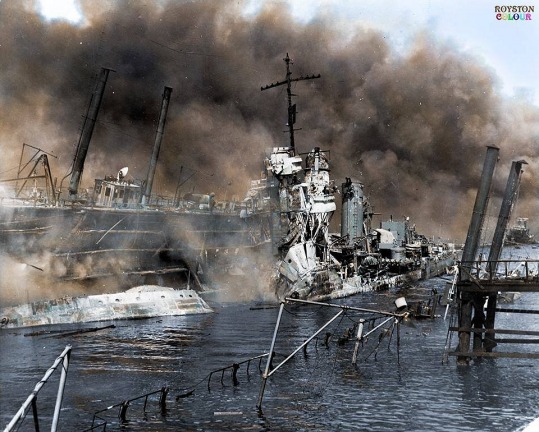 . WorldWarInColor
A colourized photo of the twisted remains of the destroyer USS SHAW
burning in floating drydock at Pearl Harbor after the attack.


PEARL HARBOR AND SS SHAW REFERENCE LINKS
ONLINE LIBRARY OF US SHIPS: USS SHAW (DD-373), 1936-1946
HYPERWAR: SHIPS OF THE U.S. NAVY
TIN CAN SAILORS
TEMPORARY REPAIR OF SHAW AFTER PEARL ATTACK
PEARL DAMAGE
USS SHAW PAGES
PEARL HARBOR ATTACK DAMAGE TO SS SHAW
USS SHAW DURING PEARL HARBOR ATTACK
For other views of USS Shaw, see:
USS Shaw -- Temporary Repair of Pearl Harbor Attack Damage, January-February 1942;
USS Shaw -- Views taken in 1942-46;
USS Shaw -- On Board and Close-up Views.







Volume 0508



BILL HILLMAN
Visit our thousands of other sites at:
BILL AND SUE-ON HILLMAN ECLECTIC STUDIO
ERB Text, ERB Images and Tarzan® are ©Edgar Rice Burroughs, Inc.- All Rights Reserved.
All Original Work ©1996-2010/2017 by Bill Hillman and/or Contributing Authors/Owners
No part of this web site may be reproduced without permission from the respective owners.