Official Edgar Rice Burroughs Tribute and Weekly Webzine Site
Since 1996 ~ Over 10,000 Web Pages in Archive
Presents
Volume 4975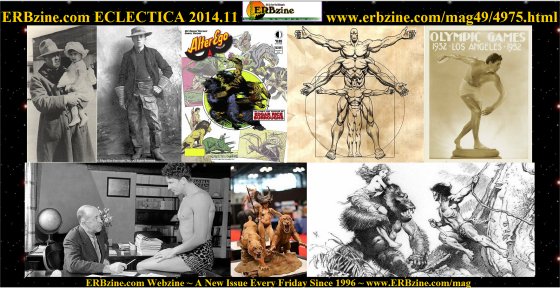 EDGAR RICE BURROUGHS: HIS LIFE

CAPTAIN JANUARY 1924 starring friend of the Burroughs family:
Baby Peggy will be run at midnight (Central) on TCM
Read more about this little star in various ERBzine.com Eclectica back issues.

From the ERBzine.com Archive:
THE ERB / SALT LAKE CITY CONNECTION
Edgar Rice Burroughs Online Bio Timeline
www.ERBzine.com/bio
1904: April: The gold dredging company fails and Harry gets Ed a job
as railroad policeman for the Oregon Short Line Railroad Company at Salt Lake City.
He is armed with a Colt six-gun, serial number 70495.
To help pay the bills they take in boarders:
Ed has a card printed up with a photo of the two of them
on one side with information on the other side:
"Newly Furnished Rooms for Single Men.
In New Brick House, Electric Lights, Porcelain Bath. Rates:
$10.00 Per Month for One. $12.00 Per Month for Two.
111 North Fifth West Street. Cor. North Temple, One Block From O.S.L. Yards. Salt Lake City."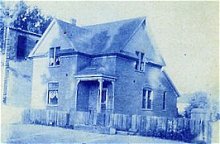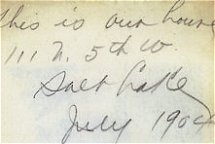 1904: October 14: Ed resigns, with good references, from the railroad company.
He and Emma then auction off their furniture for train fare to Chicago.
Since his parents have moved into a smaller rental house on Jackson Boulevard, he and Emma move in with Emma's family at 194 Park Avenue.



ERB AND EMMA'S SCRAPBOOK SERIES
Photos and Memorabilia Associated with Edgar Rice Burroughs' Stint in Salt Lake City, Utah
as a RR Policeman for the Oregon Short Line RR Co.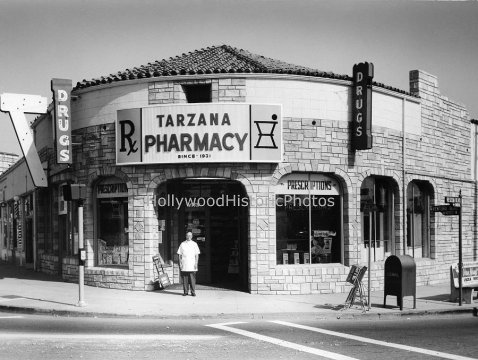 Tarzana Pharmacy was one of the first businesses to settle in Tarzana.
(The sign notes a 1931 founding date, but I have February, 1928 in my notes.)
I believe this photo is from circa 1965, with founding pharmacist Harry Chariton standing out front.
Submitted by Scott Tracy Griffin



All-New Illustrated ERB Adventures ~ Subscribe Now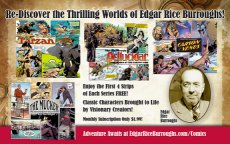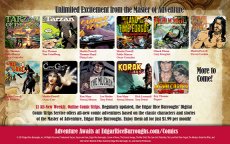 www.edgarriceburroughs.com/comics
Click for full-size images
THEY'RE HERE! ~ Get 'em all for $1.99 per month
Subscribe at the ERB, Inc. Corporate Site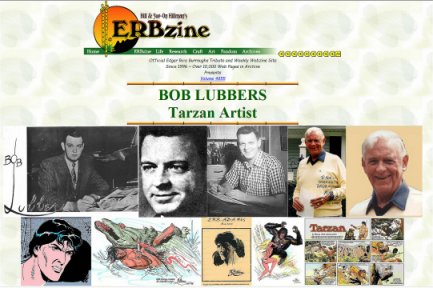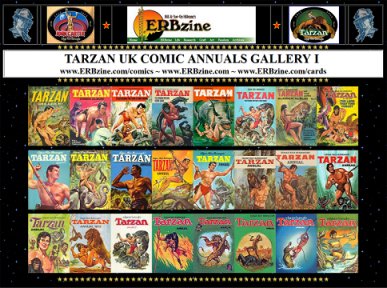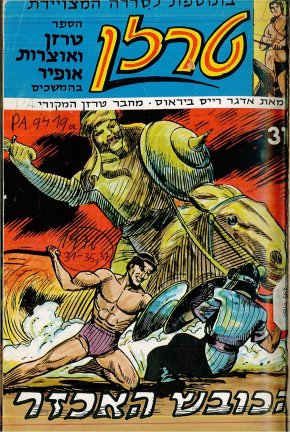 Those days when armies of terror like ISIS at Syria and Boko Haram at Nigeria murdered thousands
I remember a Tarzan comics story by /Dick Van Buren and Celrado: TARZAN AND THE MONGOL TERROR
In this story Tarzan fights a present day Mongol conqueror who terrorizes and conquers African tribes and forces them to join his army.
Like today armies of terror.
That story is actually a quite good prediction of events today.:
Here the Hebrew cover of the story from the 70s
The prophetic story itself is here:
http://www.erbzine.com/mag43/4311.html
Submitted by Eli Eshed



Harold Foster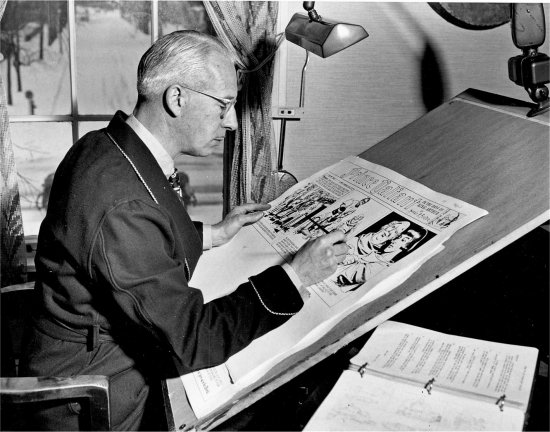 Available for bidding at Heritage Auction
Burne Hogarth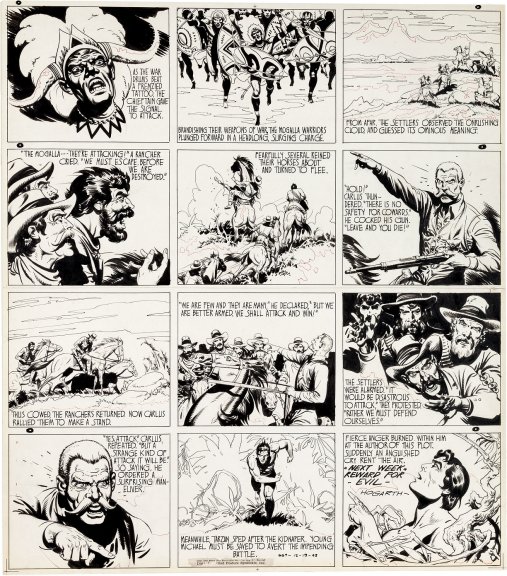 Burne Hogarth Tarzan Sunday Comic Strip #667 Original Art dated 12-19-43 (United Feature Syndicate, 1943).
Burne Hogarth's handling of anatomy and architecture is simply amazing,
and this strip is a good illustration as to why he's considered an "Artist's Artist."



Tom Grindberg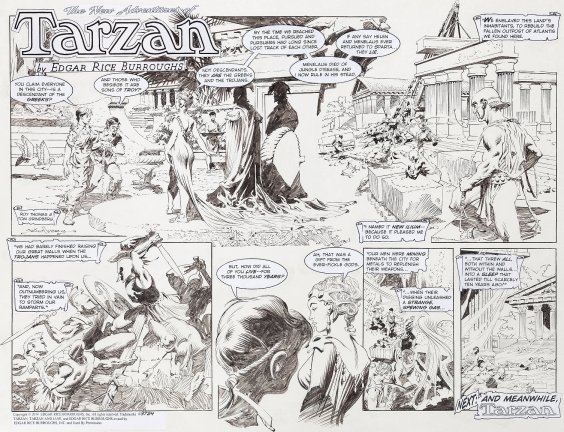 Tom Grindberg's New Adventures of Tarzan Sunday Comic Strip Original Art #3724 (Edgar Rice Burroughs Inc., 2014) - before it was coloured.
To celebrate the 100th anniversary of Edgar Rice Burroughs' vine-swinging jungle lord in 2012, writer Roy Thomas and artist Tom Grindberg
launched an all-new online version of the classic Tarzan comic strip, available by subscription at www.edgarriceburroughs.com/comics
Original art open for bidding at Heritage Auction.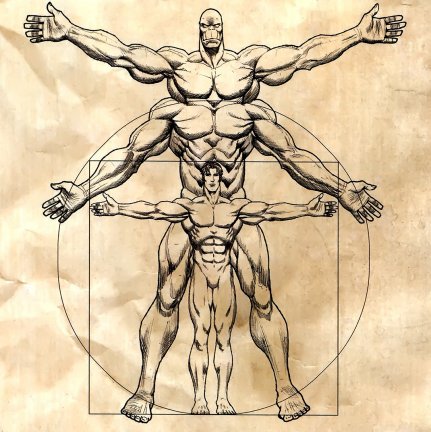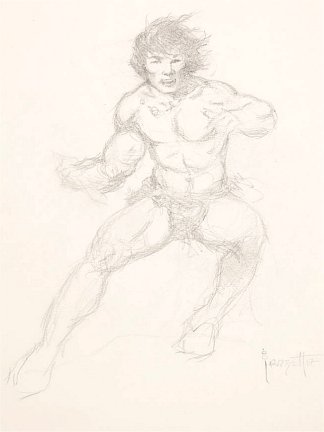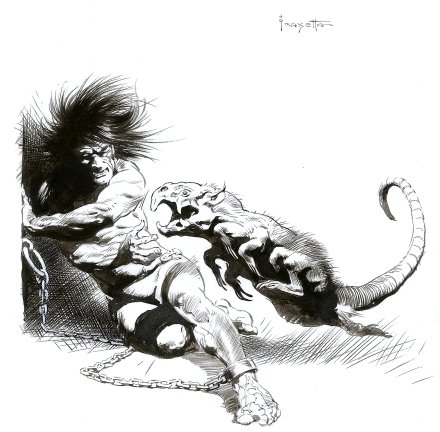 Frazetta Tarzan Sketch and Chessmen of Mars Illustration for Doubleday 1973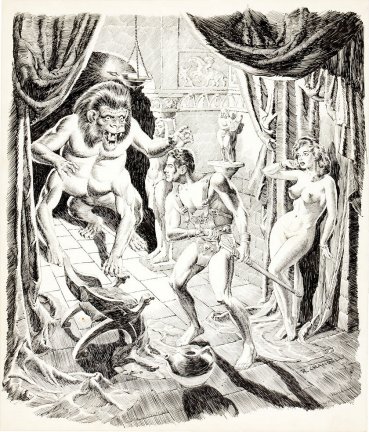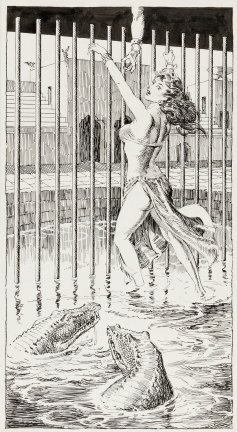 John Carter Art by Reed Crandall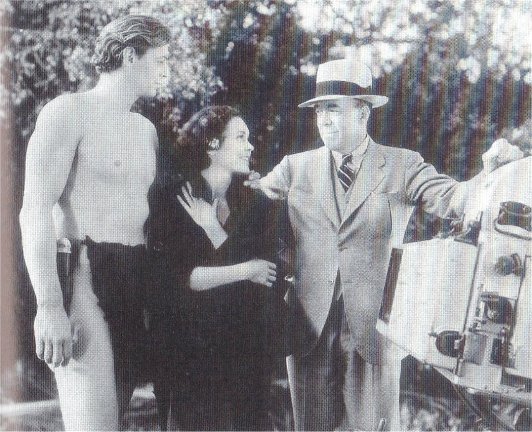 ERB on the Tarzan set with Johnny Weissmuller and Maureen O'Sullivan


Himmelskibet / A trip to Mars
A 1918 silent Danish SciFi film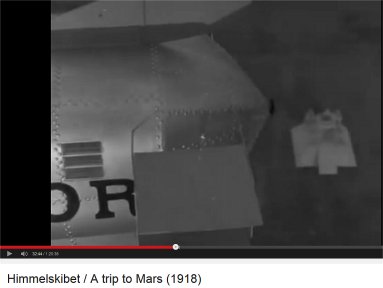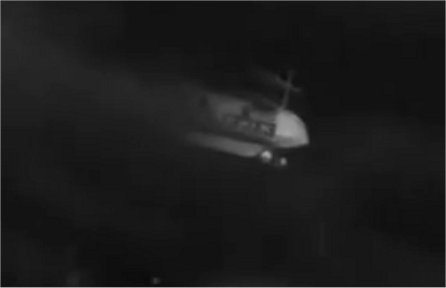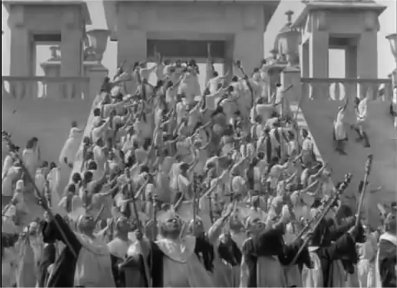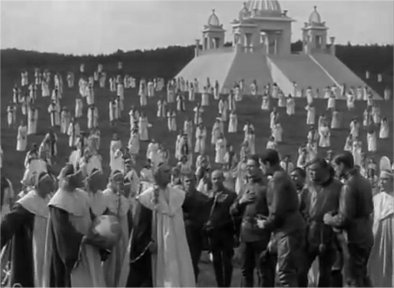 This very early SF film is quite well made with very impressive sets and costumes.
Upon arrival to Mars, the crew go to the trouble of putting on "space suits" to go outside the ship
but only wear them for about two seconds when they discover "air" on Mars.


JOHNNY WEISSMULLER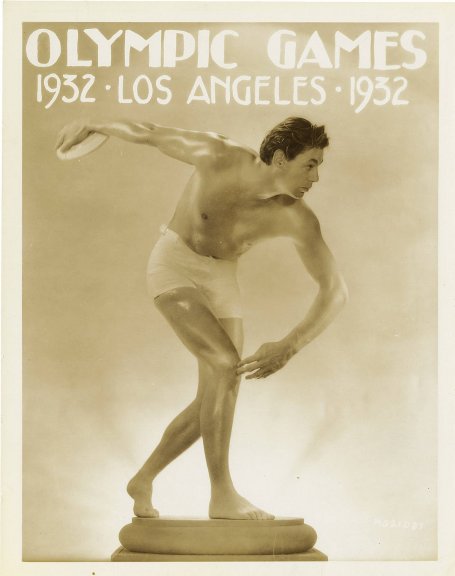 An early publicity photo of Olympic swimming champion Johnny Weissmuller,
Just before he was cast as Tarzan and most likely during the period in which
he was employed as a high-profile model for BVD swimwear.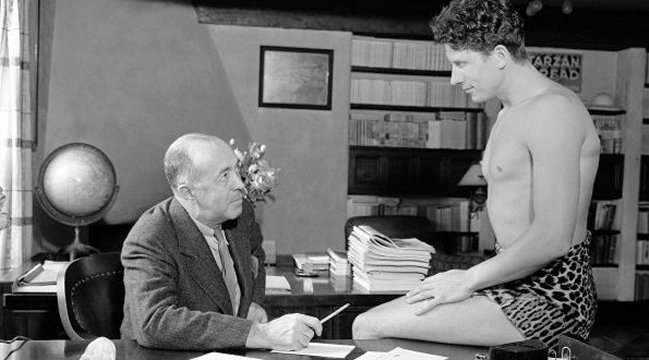 Edgar Rice Burroughs with Tarzan's Revenge star Glenn Morris (1937)


http://www.cinemablend.com/new/6-Reasons-Disney-Needs-Resurrect-John-Carter-Franchise-43550.html
.

Don't Miss This Huge Special ERB Issue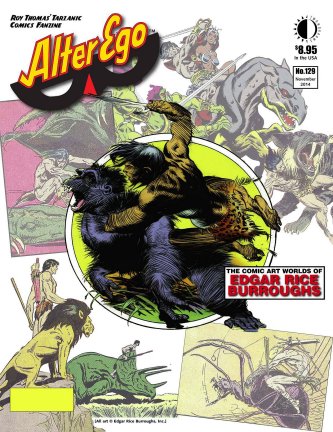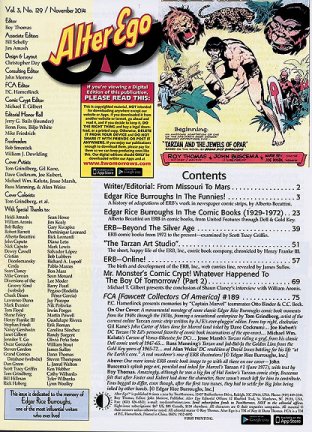 The November issue of Alter Ego Magazine
is dedicated to The Comic Art Worlds of Edgar Rice Burroughs
Roy Thomas, Editor of Alter Ego and writer of three of the most popular ERB, Inc. web comic strips,
has included 68 pages of artwork and articles explaining the development of Edgar Rice Burroughs' comic art.
Covering a span of 85 years, articles by Roy Thomas, Alberto Becattini, Stephan Friedt,
Scott Tracy Griffin, Henry Franke and James Sullos
describe the rich history of ERB comics that is still continuing to this day.
Colorful artwork from a multitude of comics over the years accent the pages
and there is also a collage of current web comic strips.
There is even a nice nod to Bill Hillman's ERBzine.com
Pick up your copy as soon as you can!
Order your copy HERE
TwoMorrows Publishing ~ 10407 Bedfordtown Dr.
Raleigh, NC 27614 ~ 919-449-0344
www.twomorrows.com


Slave in the City of Dragons
(Dinosaurs and Gladiators Book 1)
[Amazon Kindle Edition: $4.95]
Angela Angelwolf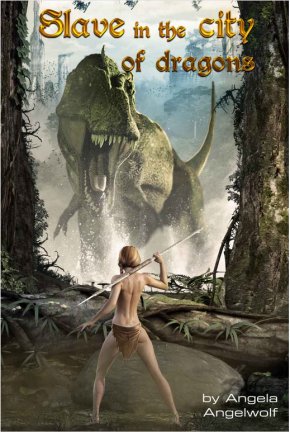 Savagery, Lust and Adventure at Time's Abyss: Beautiful Pashera sets off on a quest to kill a fabled beast and thus raise her status in her primitive tribe.
But she's captured by a warrior, Tol'zen ... a warrior who's not quite human.
He's a descendant of dinosaurs, and she becomes first his slave, then his lover in an ancient city.
It's a lost civilization of magic, mystery and unimaginable sin dating back countless millennia.
But past glory has curdled to rot, and the city is sliding into decadence and depravity.
Tol'zen fights for the soul of his people,
while Pashera finds herself fighting in the arena against fierce women, worse men and monsters straight out of hell.
It's an era of brutal violence, raw sex, wonders and horrors.
Brave and resourceful, Pashera risks everything to find freedom and true love at the dawn of time.
Will she succeed … or will she end up another nameless and bloody stain on the sand? 489 pages


ERB BOOKS FROM AMEREON HOUSE
List Submitted by Jim Goodwin
Oakdale Affair
Outlaw of Torn
The War Chief
Apache Devil
The Deputy Sherff of Commanch County
The Warlords of Mars (sic)
Thuvia, Maid of Mars
Chessmen of Mars
Master Mind of Mars
Pellucidar
The Efficiency Expert
Tarzan of the Apes
The Return of Tarzan
A Princess of Mars
The Gods of Mars
The Son of Tarzan (printed by Yestermorrow)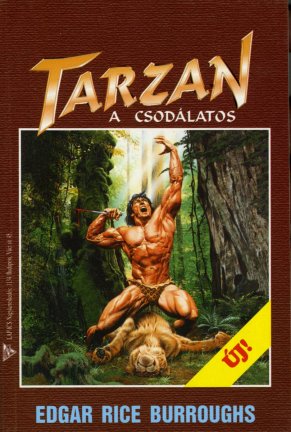 Cover art by Joe Jusko in a Hungarian edition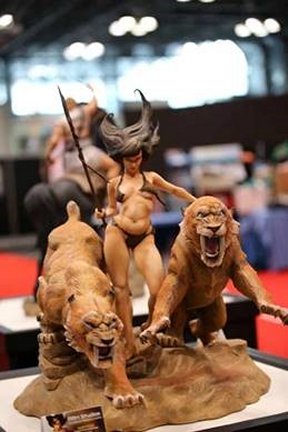 Frank Frazetta's Huntress
ARH Studios: Coming in 2015!
Scale: 1/4th Polystone Statue
Sculpted by: Tony Cipriano ~ Painted by: Arahom Radjah
ARH Studios ARH Studios Facebook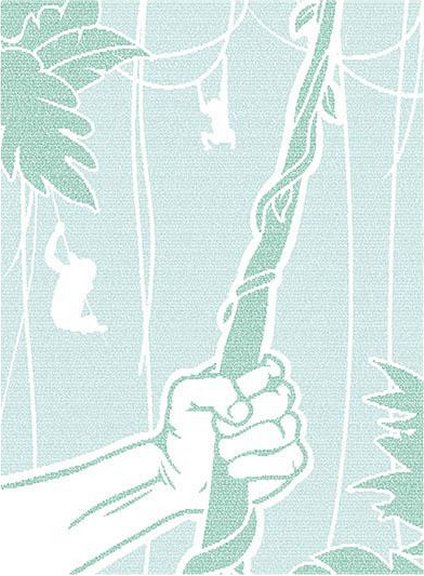 Poster created with the words from ERB's TARZAN OF THE APES book.
Design by Lewis Spearman: Every Litograph design emerges from the text of a book.
http://www.litographs.com/collections/posters/products/tarzan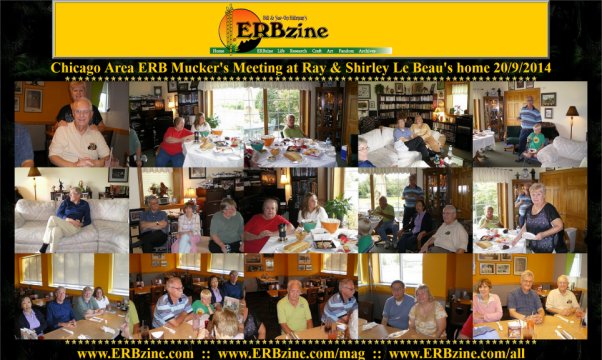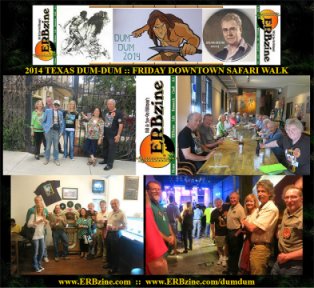 click for full-screen images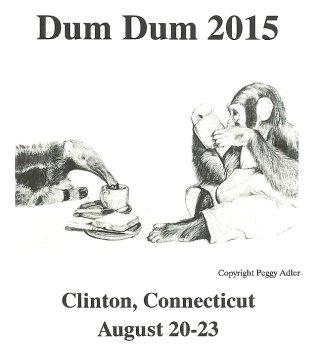 Hosted by Peggy Adler
www.ERBzine.com/dumdum





Tarzan
PLANET OF THE APE-MAN
Empire, Issue #279, September 2012
Owen Williams Blog ~ Posted on 27/08/2014



This is a feature I wrote for Empire a couple of years ago, for the centenary of Edgar Rice Burroughs' Tarzan of the Apes.
It begins with a visit to the set of the CG animated Tarzan starring Kellan Lutz, which was finally released earlier this year,
and then continues as a history of the character (mostly on screen) from his inception to the present day.
The final paragraphs mention a big developing Tarzan project at Warner Bros.
That film is now in production, with Alexander Skarsgård as Tarzan, a screenplay by Adam Cozad, and David Yates directing.
Read the entire article at:
http://creatureofthewheel.wordpress.com/2014/08/27/tarzan/
Presented below are some of the illustrations from the article
Adapted text and illustrations HERE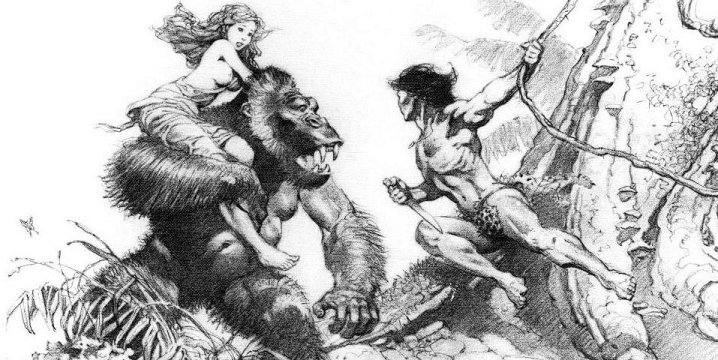 Tarzan, illustration by Frank Frazetta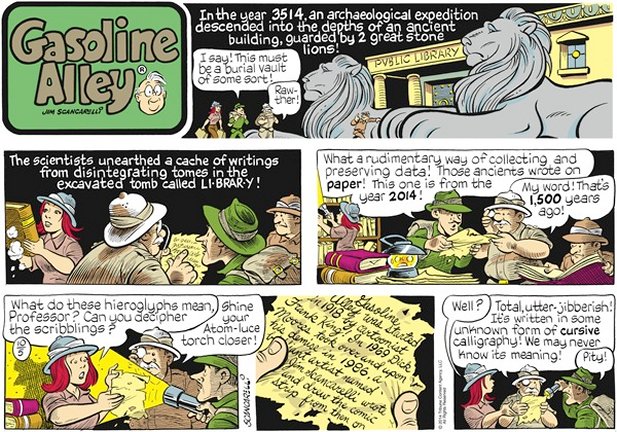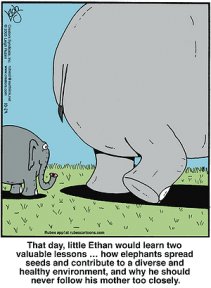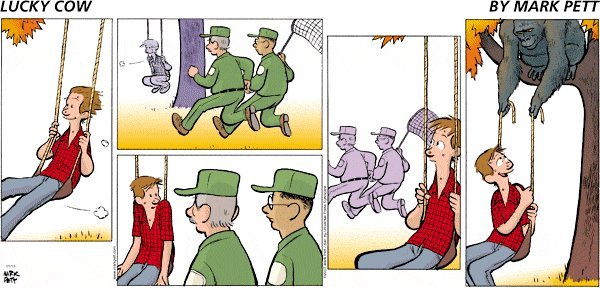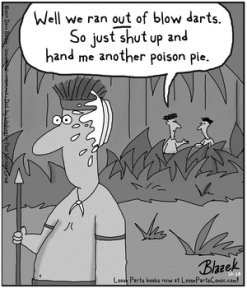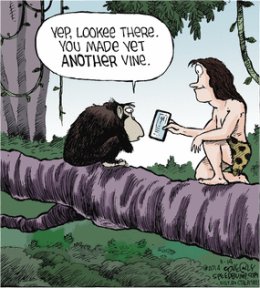 BILL HILLMAN
Visit our thousands of other sites at:
BILL AND SUE-ON HILLMAN ECLECTIC STUDIO
All ERB Images© and Tarzan® are Copyright ERB, Inc.- All Rights Reserved.
All Original Work © 1996-2014 by Bill Hillman and/or Contributing Authors/Owners
No part of this web site may be reproduced without permission from the respective owners.