Official Edgar Rice Burroughs Tribute and Weekly Webzine Site
Since 1996 ~ Over 15,000 Web Pages in Archive
Presents
Volume 4966


Tarzan and the Water Closets
By John Martin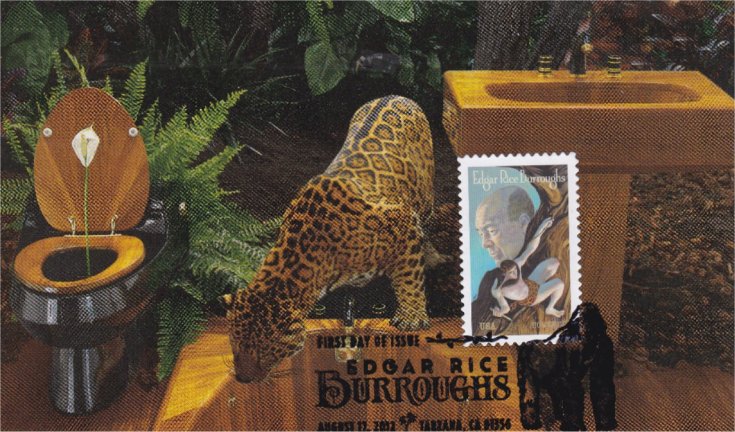 ---

"Hey, you big ape!

---

Although Jane had endured the dangers of Africa, she was still not quite familiar with all of the subtleties of the flora and fauna, so Lord Greystoke took her to the London Zoo to better acquaint her with African animals.
Jane had drank a lot of coffee before they left so it wasn't too long after they arrived until she had to use the public restroom. She saw the two doors with pictures of great cats on them and asked her husband, "Which one is the women's?"
Tarzan replied graciously, "You see that one of the lions has a mane? That's the male. So use the other one."
It wasn't but a half an hour later when Jane felt the urge again, and this time they were in another part of the zoo when Jane saw two restroom doors, one with a large elephant and one with a smaller one. "I bet I can tell the difference this time," said Jane. "The one with the smaller elephant is for females."
Tarzan smiled proudly. "You're learning, Jane," he said. "Enjoy your visit."
It was a bit later, after lunch at the hotdog stand, when Jane felt the need to make another head call. This time she found two restroom doors with pictures of apes on them and, in every way, they seemed identical.
"John," she said. "You're an expert on the mangani. How do I tell these apart?"
"Oh," replied the ape-man. "For these you have to open the restroom door and look inside. The ones where the toilet seats are still up are for the bulls."

---

Tarzan Relives the Past

---

Tarzan missed the good old days.
He missed the fun that he and Jane had when they were first hitched, cavorting in the jungle with Cheeta and Nkima and often spending time splashing around in the Black Lagoon. It wasn't really black, of course, but it looked that way in the black and white film with which the Hollywood moviemakers recorded them when they visited them for periodic shoots.
Tarzan was never sure if they were more interested in him, or in Jane in that skimpy outfit, or when she wasn't wearing that outfit at all!
He recalled the fun of grabbing her from behind when she least expected it and either pushing her into the cold water or holding her in his arms while he himself jumped in.
She would always give out with a yelp and scream through her chattering teeth: "Tarzan! That water's so-o-o-o-o-o c-c-c-cold."
But now life had settled down to a daily routine at Greystoke Manor. There was the farm to manage, the Waziri men to palaver with in the long house, and the little "honeydew" jobs that Jane seemed to have a talent for discovering around the bungalow.
Now, instead of dips in the jungle pool, there was usually only time for showers. Thanks to the gold he had looted from Opar, Tarzan had been able to have a well professionally dug and a pumphouse to feed the modern plumbing. The waterwheel in the nearby stream provided enough electricity to activate the hot water tank.
As he mused, Tarzan could hear the sound of the shower as it drummed on the metal sides of the shower stall and splattered against the plastic shower curtain. Jane was in there performing her daily ablutions.
The shower!
Tarzan's face lit up.
Why had he not thought of it before?
A broad grin flashed across his face and he leaped to his feet and strode, lightly as a great cat, to the bathroom. He opened the door and stepped inside, his grin broadening as he saw Jane's silhouette inside the curtain.
Good. He was in time.
"Jane!" he called. "It's me! I have a little surprise for you."
So saying, Tarzan reached across the sink and turned on the gold-plated spigot labeled "Hot," knowing the effect the changing water flow would have on the shower pipes.
"Eeeek! Tarzan!" she yelped. "The water's so-o-o-o-o-o-o c-c-c-cold!"
Ah, just like the good old days.

---

The Wrath of La

---

La loved the new bathroom that Tarzan had provided for her.
When Tarzan reached the point in time when he was welcomed to Opar by La, and grudgingly accepted by the men, he was able to stay for longer visits and, on one of those occasions, he had asked to use the bathroom.
Tarzan was directed down a hall and was disgusted at what he found there. To say the Opar bathrooms were primitive was an understatement. The urinals were mere holes in the rock floor and the area leading up to them was liberally decorated with puddles of urine left by those who weren't quite able to make it. This posed a challenge for the barefooted apeman in even getting close enough to the proper receptacles.
That's when he decided that La, at least, needed a decent bathroom.
And it was also true that Tarzan felt just a bit guilty at all the gold he had taken from the city's secret vaults over the years, even though the Oparians were ignorant of the existence of any treasure, and unequipped to properly handle it.
So it made Tarzan feel better to spend some of his riches, thus gained, on making things a bit nicer, and more sanitary, for the high priestess of the city.
Tarzan paid for new plumbing fixtures, a proper septic tank and drainfield, and brought in the Waziri, who had received correspondence course training on how to do the plumbing and paneling and other grunt work.
Tarzan had thought that La might appreciate a bathroom decorated in a teal and coral motif, but, when La looked through the catalog of colored fixtures, she went right for the red and black.
Tarzan donated gold ingots to be melted down for the fixtures in the sink, tub-shower and for the flush handle on the toilet.
At last the bathroom was finished, and Tarzan, always the proper British gentleman, brought Jane in to instruct La in the proper use of each apparatus.
Twice a year, Tarzan sent in the Waziri to drain the septic tank, put new washers in the fixtures and make sure the toilet wouldn't run when it was flushed. He also paid for new shipments of soap and soft-textured toilet paper.
But there was only so much Tarzan could do without staying at Opar 24/7, and one day La stormed out of the bathroom fuming with rage.
"Where is he?" she shouted. "Where's Budj?"
Budj was the latest in a long line of high priests and, as a courtesy, La extended bathroom privileges to whoever was the current holder of that rank. Usually, the high priests didn't last too long at Opar, so she was regularly training new officeholders in the proper use of the bathroom.
Oparians scattered in fright as La stormed down a corridor, screaming at the top of her lungs while drawing the jeweled sacrifical knife from her belt. "I'll kill him! I'll kill him!"
At last she reached the altar and noted, with satisfaction, that the sun was just minutes away from reaching its zenith, its rays streaming through the roof opening at a steep angle.
Budj was over by the altar, conferring with a couple of fellow priests.
"Seize him!" shouted La, pointing her finger of fate toward the doomed Budj, while she noted with satisfaction the stupid grin dropping from his mouth full of half-rotted and missing teeth.
"Bind him to the altar. The sun god awaits his sacrifice."
Others began streaming into the sacrificial chamber, realizing that La had now found an outlet for her anger.
She approached Budj, who squirmed helplessly in his bonds, a look of complete bafflement below his sloping forehead.
"La...." he moaned. "La....why?.......why?"
"Silence, defiler!" she seethed, plunging the knife down at full throttle. "If I've told you once, I've told you a hundred times: Put the seat down when you're done!!"

---

John Martin
EDGARDEMAIN: Celebrating the literary legerdemain of Edgar Rice Burroughs
THIS SUMMER'S TWO GALA ERB CONVENTIONS
ECOF 2015 will be hosted by the National Capital PANTHANS ~ Rockville, MD ~ June 4-7
Dum-Dum 2015 will be hosted by Peggy Adler ~ Clinton, CT ~ August 20 - 23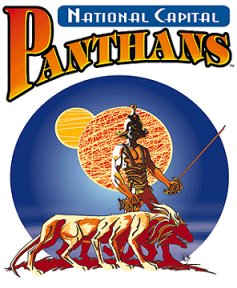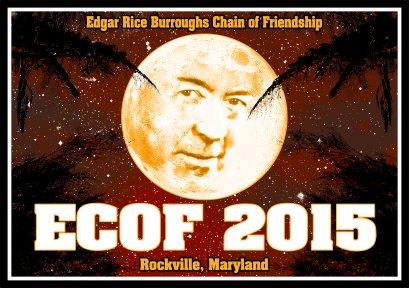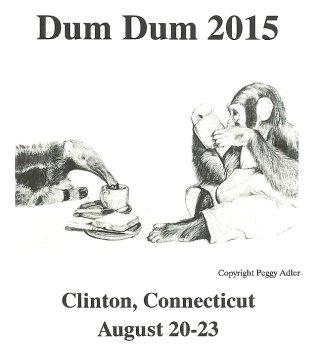 See the full agendas, contact info and registration forms at:
www.ERBzine.com/dumdum


REPORTS ON PREVIOUS SHOWS
Grenada Hills con
with Scott Tracy Griffin, and The Hammer.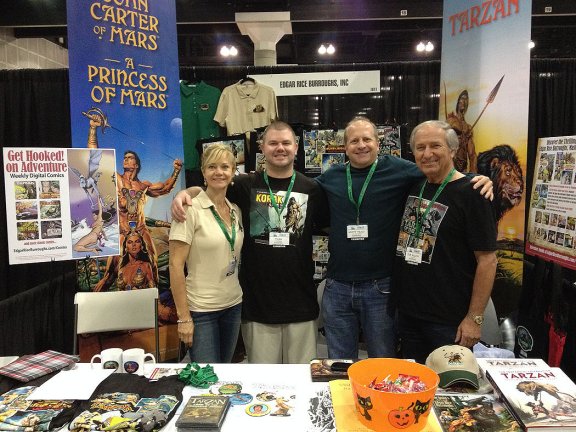 The Edgar Rice Burroughs, Inc. team had a booth and a panel at WonderCon this year,
at the Anaheim Convention Center.
Saturday, April 4, at 4:30 p.m. in Room 208
Pane: "Tarzan, John Carter, Doc Savage, The Shadow, and Alley Oop: The Martian Legion arrives!".
Panelists included Jim Sullos (President, ERB, Inc.), Cathy Mann Wilbanks (archivist, ERB, Inc.),
Molly Mahan (Associate Editor, Dynamite Entertainment), Jake "Buddy" Saunders (author, "The Martian Legion")
and Scott Tracy Griffin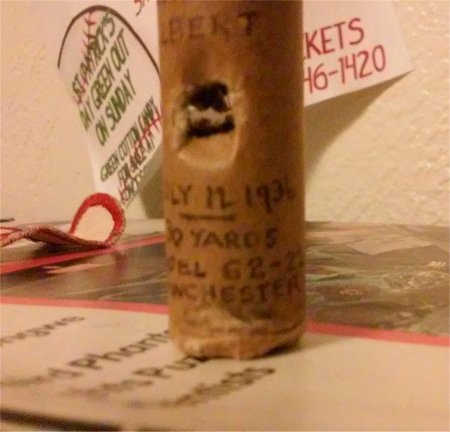 ERBzine Mailbox:
From on of our ERBzine readers:
"Hello i read your article after i found this shell marked Florence Gilbert July 12 1936 would she have used her maiden name in 36?
16 gauge peters victor and i found it in a antique store in las cruces nm it says 30yards with a model 62 22 winchester"


COPPER PRINTING PLATES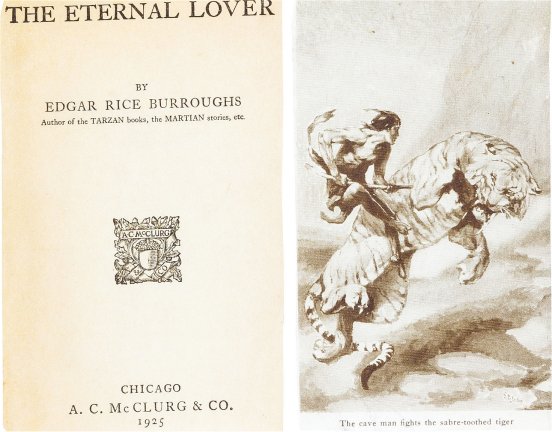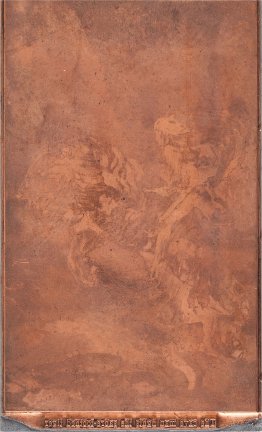 Original Etched Copperplate. [Chicago, A. C. McClurg & Co., n.d., ca. 1925].
Printing plate for frontispiece for The Eternal Lover by J. Allen St. John (McClurg, 1925).
Illustration and caption etched in copper on the same plate. Copperplate mounted onto pewter base. Approximately 5.75 x 3.5 inches.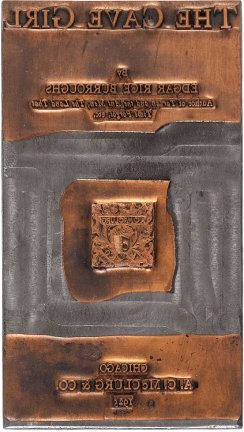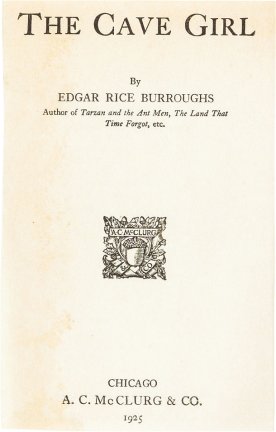 Original Etched Copperplate. [Chicago, A. C. McClurg & Co., n.d., ca. 1925].
Original printing copperplate for the title-page of the first edition of The Cave Girl.Plate approximately 6 x 3.5 inches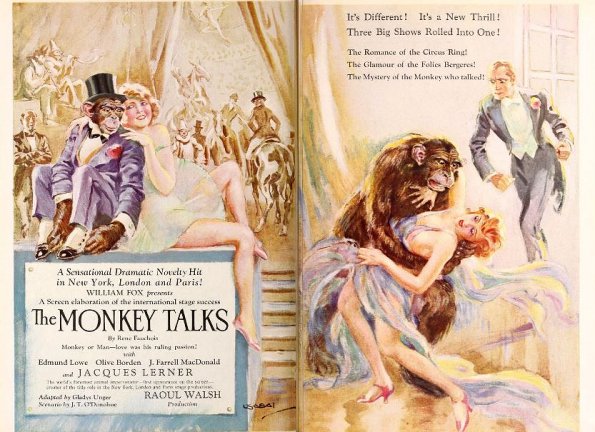 1927 Magazine spread advertising THE MONKEY TALKS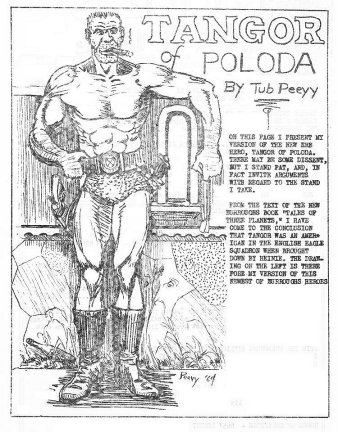 From the legendary fan fiction fanzine that came out of ERB fandom, here's an illustration from TALES OF TORMENT #4-1/2 published in 1964.
The artist, credited as "Tub Peevy," was the zine's writer and publisher, John Stockman of Cincinnati.
Stockman published his last issue in 1979 and died in 2008, but his stories of crazed fans, doomed collectors, and crooked dealers were unforgettable.
From Dwight Decker
10452 Bellagio Road, Los Angeles, CA 90077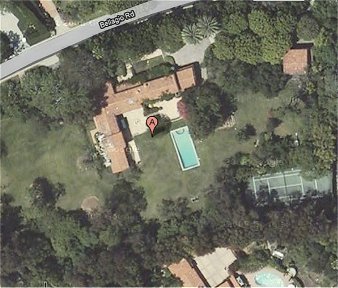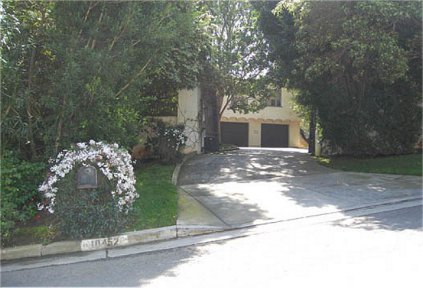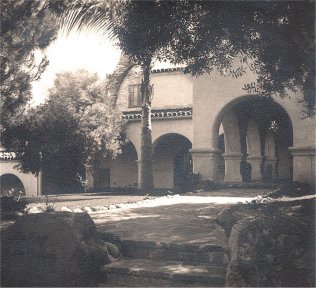 The house that Emma Burroughs moved into after her divorce from Ed.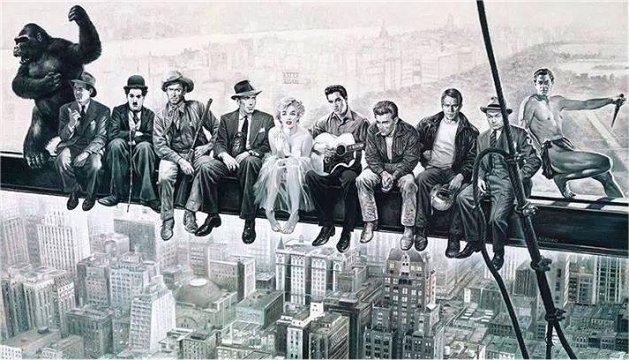 Super Heroes of the Past

From Adam Weissmuller
| | |
| --- | --- |
| I think Grandpa needs a bigger loincloth...Lol | |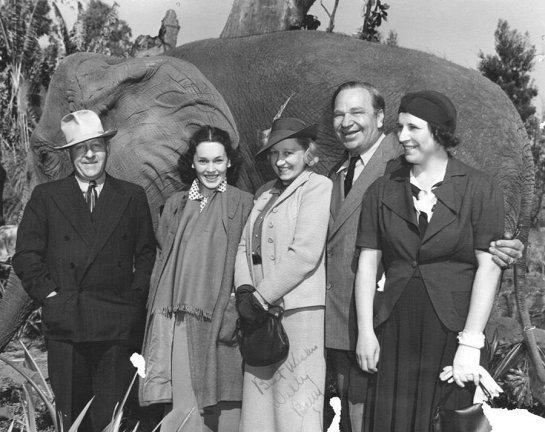 Wallace Beery on the Tarzan set with Maureen O'Sullivan and Tantor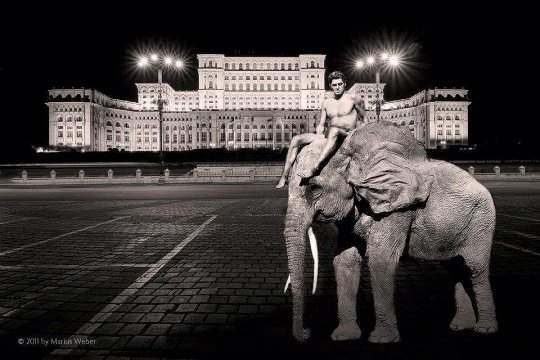 In the Las Vegas Jungle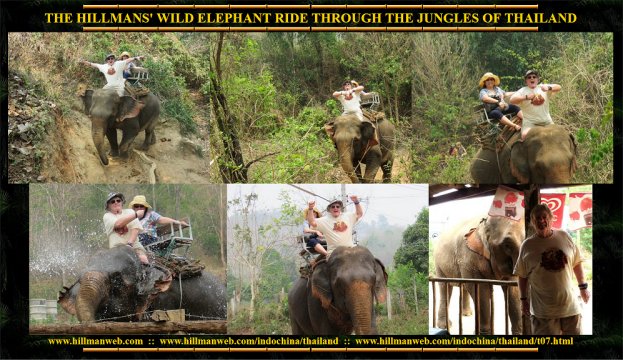 http://www.erbzine.com/mag56/5655.html
PRINCE VALIANT
Vol. 10: 1955-1556

The tenth volume in this series finds our band of heroes making their way back to the Kingdom of Thule by way of Constantinople and Eastern Russia.

Soon they are attacked by a tribe of barbarians who kidnap Aleta for the great Dragada Khan who wants to make her one of his wives.

After nearly being killed in battle, Valiant returns to his homeland only to find the threat of hunger hovers over Thule.

As Val explores new ways of feeding the kingdom's growing populace, raiders threaten the lives of his family and friends.

The volume ends with Val's return to Camelot, a tournament of champions, and the threat of new treachery in Cornwall.

This volume also includes an introduction by legendary comics artist Timothy Truman, and a special gallery containing more of Hal Foster's incredible Mountie paintings annotated by comics historian Brian M. Kane.
Edgar Rice Burroughs: The Master of Pulp Storytelling

---

The editor and the contributing authors to Edgar Rice Burroughs: The Master of Pulp Storytelling are proud to announce that this new anthology went on sale on May 15, 2015 in both print and Kindle at Amazon.com. (A link to both can be found on the home page at erbgraphics.com.) The book was edited by Charles A. Madison of erbgraphics.com, and the foreword is written by John "Bridge" Martin, noted überfan* and Burroughs scholar. The contributors include critics, scholars and fans of Edgar Rice Burroughs, the writer who popularized the planetary romance and kick-started modern SF: Patrick H. Adkins, David Critchfield, J. G. Huckenpöhler, Charles A. Madison, John Flint Roy, Suzannah Rowntree, Abraham Sherman, Den Valdron, John C. Wright, and Robert B. Zeuschner. Together their essays and articles survey the impact and influence of Burroughs on science fiction writing and film.

While I am happy that the book is on sale, I'm also saddened by the recent passing of Patrick Adkins, Burroughs scholar and science-fiction author, who made his journey down the River Iss in April 2015 while this book, which he is so much a part of, was in the process of proof review. I already miss his wit and wise counsel about Burroughsania, science fiction and the craft of preparing, editing, and formatting a book, and I'll miss his beautiful, very stylish writing.

http://www.amazon.com/Edgar-Rice-Burroughs-Master-Storytelling/dp/1511941138/
---

A Guide to Barsoom Paperback – 24 Aug 2012
by John Flint Roy (Author), Mike Resnick (Introduction)

---



Most ERB fans have the earlier editions of this comprehensive guide to all-things Barsoom.
Many will also be interested in this update with a Neal Macdonald cover.
Descriptive Blurb from Amazon

THE OFFICIAL, DEFINITIVE GUIDE TO BARSOOM AND THE WORLD OF JOHN CARTER OF MARS **Fully Illustrated**
COME TO BARSOOM... AND ENJOY THE WONDERS OF ERB'S MARS
When Edgar Rice Burroughs (1875-1950) wrote "Dejah Thoris, A Princess of Mars," in 1911, he had no idea that he was opening a new era in the science fiction field. His account of fifteen-foot green men, eight-legged beasts, oviparous females, and swordswinging red men was an immediate success. And the public clamored for more. Over a period of thirty years, Burroughs wrote ten Martian tales... the story of life and death, romance and tragedy on the Red Planet is undoubtedly one of the greatest series of all time. Burroughs created a world of dead seabeds, towering mountains, polar ice caps, underground rivers ... he peopled the planet with four different human races and one semihuman. He gave Mars a history, several phases of civilization and an assortment of religions. He added dauntless heros, beautiful maidens, evil villains and fearful monsters?all the ingredients necessary for a series of thrilling adventures on any world!

Featuring over two dozen illustrations, including maps of the North and South Poles of Barsoom, as well as of the planet's Western and Eastern Hemispheres
AND IT'S ALL HERE IN THE ONLY OFFICIAL GUIDE TO BARSOOM
CONTENTS:
Introduction to the 2012 by Mike Resnick Introduction
I: A Brief History of Pre-Carter Barsoom
II: A Geography of Barsoom, Including a Gazetteer-Index and Hemispheric and Polar Maps of Its Surface
III: A Biography of Barsoom, Including a Dictionary of People, Past and Present, Whose Names Appear in the Barsoomian Sagas
IV: The Flora and Fauna of Barsoom, Including a Dictionary of Barsoomian Plants and Animals
V: Measurements ~ on Barsoom - Linear, Time, Monetary - and a List of Barsoomian Numbers
VI: The Language, Religions, and Customs of Barsoom
VII: A General Barsoomian Glossary: Terms, Titles, Organizations, Games, Weapons, Buildings, Streets, Etc.
VIII: Quotations, Proverbs, and Expletives - From the Rich Heritage of Barsoom and the Pen of John Carter
IX: Barsoomian Science and Invention
X: Through Space to Barsoom
XI: "Edgar Rice Burroughs": A Brief Biographical Sketch
Acknowledgments and Sources From the Author
ILLUSTRATIONS: The Avenue of Quays in Aaanthor Plant Men The Atmosphere Plant The Zitidar (above) and the Thoat (below) Maps of the North and South Poles of Barsoom, as well as of the planet's Western and Eastern Hemispheres A Green Man The Game of Yano A Calot (Barsoomian Watchdog) and His Red Man Master An Orovar Helmet A Jetan Piece: Thoat A Jetan Piece: Warrior, or Than The Banth, or Barsoomian Lion Man-Flowers Artists Conception of the Barsoomian Table of Linear Measurement Two Barsoomian Watches and a Barsoomian Clock A Sith and Its Unidentified Victim A White Ape The Palace of Peace in Ptarth A Torch of Horz The Pit of Plenty in Kadabra The Ulsio, Martian Rat A Calot Tree An Apt vs. a Red Man A Conventional Ground Flier A Flier of Okar and Panar The Pedestal of Truth in the Temple of Reward of Greater Helium Don't get stuck in the Valley of Lost Souls -- Learn your way around Barsoom today!
NEW ERB ART BY MARIO ZECCA
mzart@optonline.net
Artist Mario Zecca would like to share some of his original art
and Australipithicus sculptures with our ERBzine readers.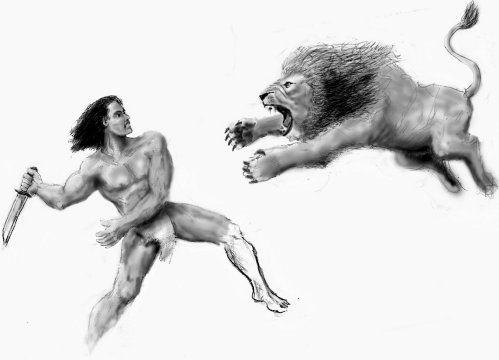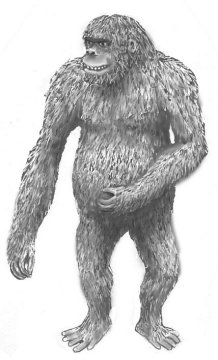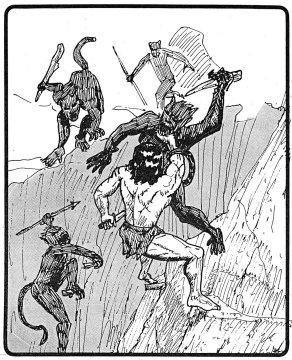 Tarzan facing a lion while a mangani looks on.
I created the miniature sculpture below as typical garden variety Australopithecus for my own collection.
Two males and a female holding an infant.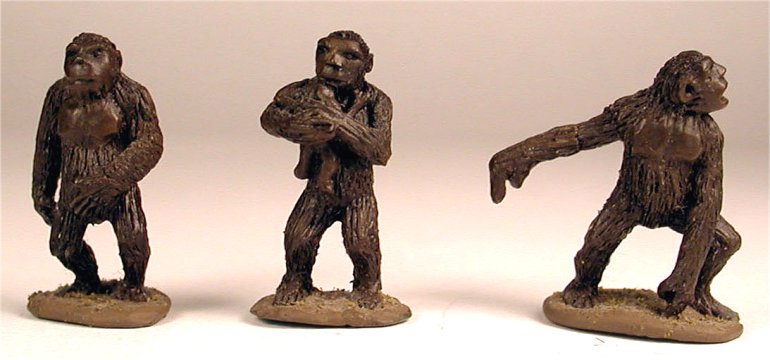 Mangani by Mario Zecca
According to Philip Jose Farmer in Tarzan Alive, Mangani are "a smaller African variety of .. Yeti or .. Sasquatch"
that or an almost extinct group of Australopithecus robustus (formerly Paranthropus).
Only some 200 hundred survived in 1909. They share leg and hip structure closer to humans than other primates.
Burroughs notes, "...unlike the chimpanzee and the gorilla, they walk without the aid of their hands quite as readily as with."
I drew a preliminary sketch after reading Tarzan Alive many years ago and finished it on the computer.
~ Mario Zecca
About Mario

I am a resident of NW Connecticut.
I was mostly a Tarzan reader, the novels and comics, and a late comer to John Carter and the other ERB works.
Although for the last few years I have been concentrating on writing songs and publishing my novel, The Goddess of Pigland,
I worked as an illustrator, graphic and fine artist for many years.
More recently I have started a working on a comic book based on HeroSaga, a universe remix
that includes all the fictional hero and villain archetypes that I found inspirational as a media consumer.
Pulp Heroes
Miniature Game Related ~ II
.


Johnny Weissmuller sketch
by Mark Wheatley


Art by Mike Hoffman
More Hoffman art in ERBzine 3948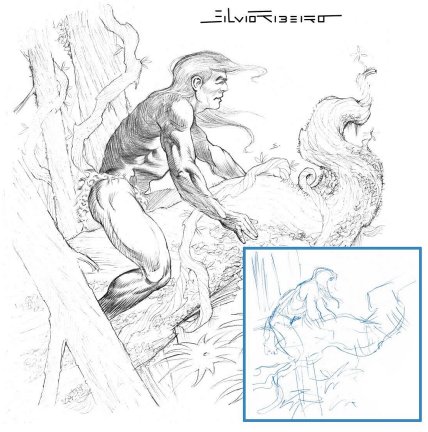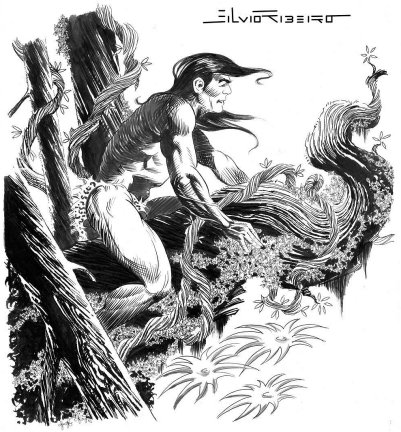 Silvio Ribeiro Tarzan Art :: Start to Finish



BARSOOMIAN BANTH GALLERY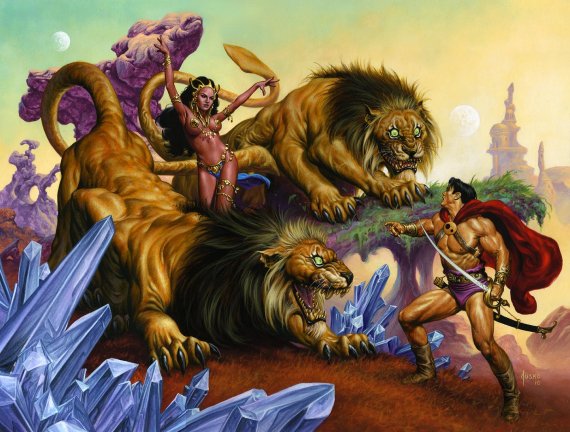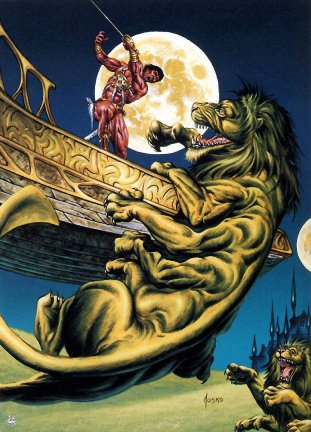 Banths by Joe Jusko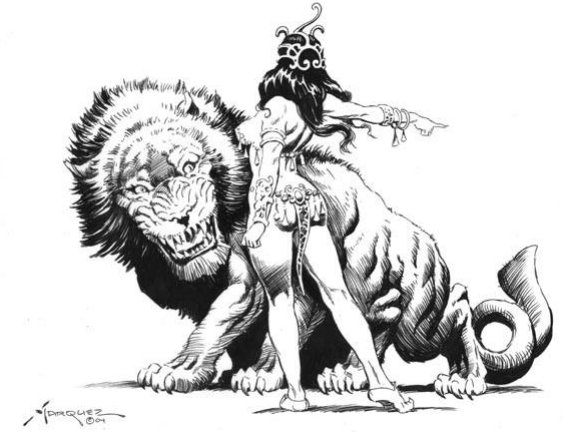 Thuvia and Banth by Marquez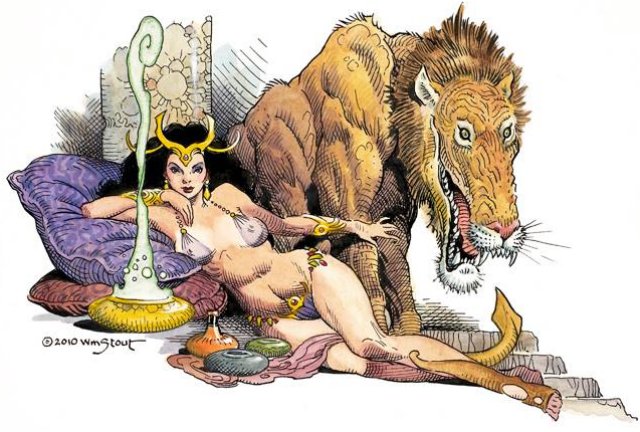 Dejah and Banth by William Stout
See all our past-featured cartoons at:
www.erbzine.com/cartoons


Thanks to John Martin for suggesting many of these cartoons.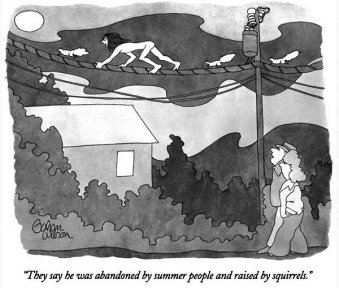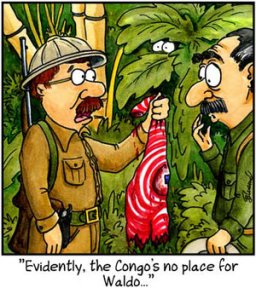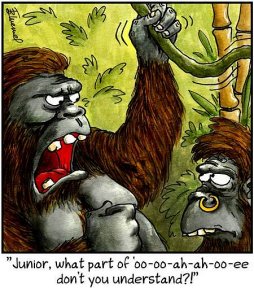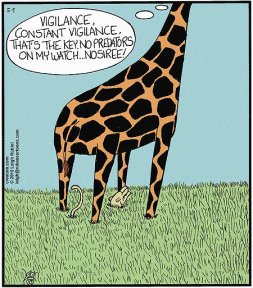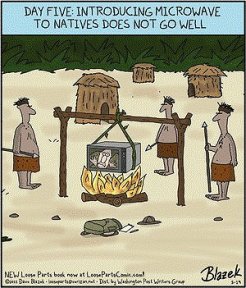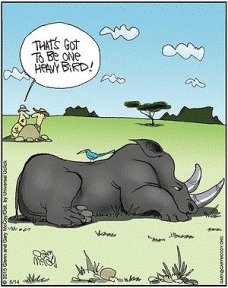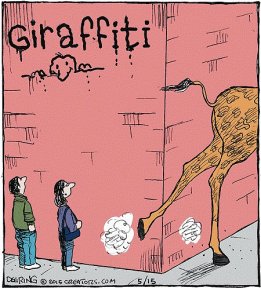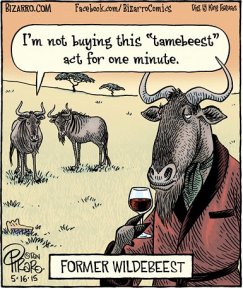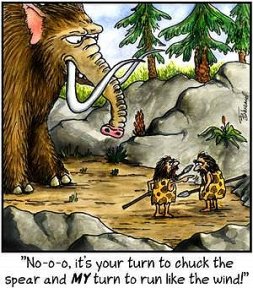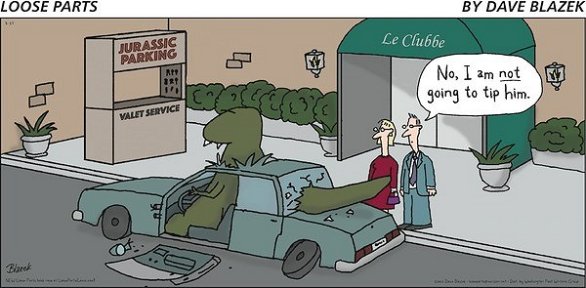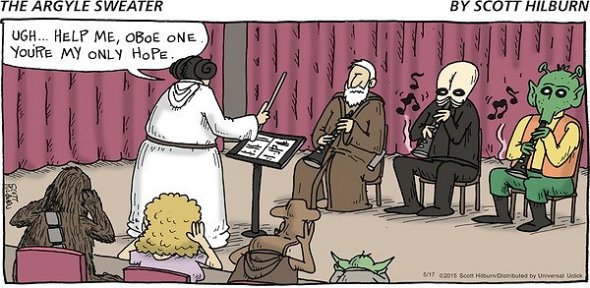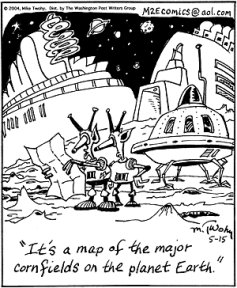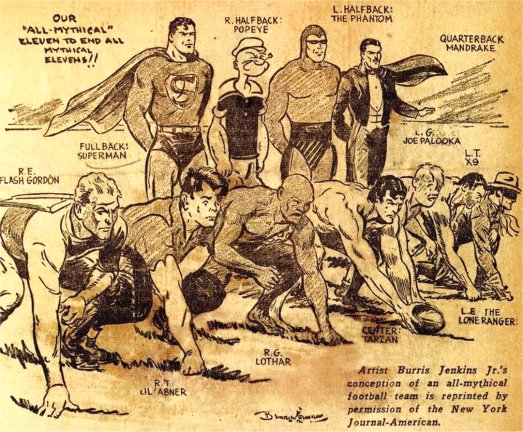 Many of this edition's cartoons were suggested by contributor John Martin.




BILL HILLMAN
Visit our thousands of other sites at:
BILL AND SUE-ON HILLMAN ECLECTIC STUDIO
All ERB Images© and Tarzan® are Copyright ERB, Inc.- All Rights Reserved.
All Original Work © 1996-2015/2016 by Bill Hillman and/or Contributing Authors/Owners
No part of this web site may be reproduced without permission from the respective owners.