Official Edgar Rice Burroughs Tribute and Weekly Webzine Site
Since 1996 ~ Over 10,000 Web Pages in Archive
Volume 4582

Serial Script ~ Chapter Two

SOL LESSER
Presents
TARZAN THE FEARLESS
A Chapter Play Based on the Characters Created by
Edgar Rice Burroughs


---

Screen Play and Supervision by: WILLIAM LORD WRIGHT
Continuity by: BASIL DICKEY and GEORGE M. PLYMPTON
Directed by: ROBERT F. HILL
GRIPS
H. Burroughs
Ralph Johnson
Geo. Robertson
Harry Horning
Ernie Smith (props)
Mike Gordon
Bert King
---
TARZAN THE FEARLESS
CHAPTER TWO . . . "THE STORM GOD STRIKES!"
---
CHARACTERS:
TARZAN. . .A strange creature of the jungle. (Buster Crabbe)
DOCTOR BROOKS. . . An archeologist and explorer. (F. Warren)
MARY . . . His daughter, a handsome, modern determined young woman. (Jacqueline Wells)
BOB HALL . . . Young American whose love for Mary overcomes his dislike of her presence in the jungle. (Ed Woods)
JEFF HERBERT . . . Animal trapper, adventurer and ne'er do well. His speech and manner suggest a gentleman gone wrong. (McCollough)
NICK MORAN . . . Ex-convict, a typical gangster. (M. Betz)
HIGH PRIEST . . . Leader of the Lost Tribe of Zar. A sinister figure, master of occult practices.
---
CH. 2: THE STORM GOD STRIKES! SYNOPSIS

Tarzan, making a daring leap into the water below to aid the terrified Mary, engages the crocodile in a death struggle. They both disappear before the eyes of the horrified girl, but it is Tarzan, knife raised triumphantly aloft, who appears at last.

While Bob Hall, Jeff and Nick are searching for her, Tarzan helps Mary to sore in a secluded spot. Though awed by him, she tried to learn who and what he is. She is amazed when he produced her picture and the letter from her father. Tarzan shows an interest in her which is fully returned by the pretty girl, but upon hearing approaching footsteps , he leaves abruptly. Bob see him and starts to shoot, but Mary prevents the shot. Bob's suspicions and jealousy are aroused.

Tarzan trails the safari as it starts again. Jeff discovers his nearness and resolves to meet him. He lays in wait for the ape man but is in turn, staled by a lion. Tarzan sees the man's peril. He leaps onto the lion and kills it after a terrific struggle. Jeff then indicates his interest in Tarzan and reveals why he has come after him; but before he can say more, Tarzan is again frightened away by the approach of the others.

The safari reaches Brooks' deserted hut just as a high wind starts to blow. Mary is distressed to find her father gone. Bob discovers the diary which tells of the emerald treasure. Nick and Jeff overhear them talking about it.

Later, Nick enters the hut in an attempt to steal the diary. mary discovers him. Her screams arouse Bob, and also Tarzan in his nest. Bob and Nick engage in a terrific struggle in the hut, which is being buffeted by the storm. Jeff breaks in upon them with drawn gun. He demands that HE be given the map to the treasure caves. Tarzan swings thru the trees on his way to the hut. As he nears it, a branch breaks, struck by lightning, and Tarzan rides the huge limb to the earth as it crushes the hut and all the people in it.
---
SILENT FOREWORD
Mary Brooks leads a party through the jungle in search of her father,
held captive by a mystery tribe.
Tarzan rescues him and, carrying the news to Mary,
discovers her facing a horrible death!
FACE IN
1. EXT. WATER MEDIUM SHOT
Mary swims fast into the f.g. She looks back over a shoulder, then screams as she sees. . .
SOUND
Swimming
2. EXT. WATER MEDIUM SHOT
At a crocodile coming fast toward the camera.
SOUND
Swimming
3. EXT. WATER MED AKELEY
on Tarzan swimming swiftly.
SOUND
Swimming
4. EXT. WATER MED. SHOT
Mary swims as hard as she can. The crocodile is tipped in behind her. Tarzan swims in swiftly at an angle and cuts between the two.
SOUND
Swimming
5. EXT. WATER CLOSE ON MARY
She looks wildly back again, then screams once more as she sees. . .
SOUND
Screams
6. EXT. WATER MEDIUM SHOT
Tarzan is just grappling with the beast. As they roll over into the water --
SOUND
Screams - water struggle.
CUT TO:
7. EXT. WATER WIDER ANGLE
to include Mary in the shot. Tarzan and the crocodile disappear under the water. Only bubbles marked the spot where they were seen.
SOUND
Water
8. EXT. WATER CLOSE ON MARY
Head and shoulders above the water, she watches wide-eyed the spot where Tarzan disappeared. (Muffled water and bubbles). There are utter dismay and horror in her expression. Now she gives a gasp of amazement and relief as she sees. . .
9. EXT WATER MED. ON ANOTHER SPOT
Tarzan emerges from below. He shakes his head and takes a deep breath. Now a hand and a mighty arm come out. He waves aloft in triumph the knife with which he has slain the beast. Gives his kill cry. He looks off toward Mary, then gives a strong stroke in her direction. PAN with him as he comes to her, puts one arm about her, and starts to help her toward the shore. She eyes him in bewildered silence.
SOUND
Tarzan call - water splashes.
10. EXT. A TRAIL MEDIUM SHOT
Bob Hall , with rifle on trail, comes swiftly along toward camera. He is looking desperately for Mary. He stops suddenly, aghast, as he sees. . .
11. STOCK SHOT OF LION
appearing and coming head on toward camera.
12. EXT. TRAIL CLOSE ON BOB
He quickly brings up his rifle and fires a shot off past camera.
SOUND
Rifle shot.
13. STOCK SHOT
of lion turning and dashing off.
14. EXT. BRUSH NEAR TRAIL. MED. SHOT
Jeff comes in and pauses with his rifle. He turns as there is a sound. Nick comes rushing in.
JEFF
Was that you who fired, Nick?
NICK
Naw -- it was Bob Hall - over there.
He indicates a direction. Jeff nods, then asks:
JEFF
Where did Miss Brooks' scream come from?
NICK
(Play for comedy)
Search me, Jeff. Things been comin' too fast!
Jeff indicates a direction as he says
JEFF
She sounded over there to me. Let's find out.
They exit fast.
15. EXT. EDGE OF WATER. MED SHOT
Tarzan is just lifting Mary to a secluded spot on the bank. Her few clinging clothes reveal every line of her form. He sinks down beside her, looking intently at her.
16. EXT. EDGE OF WATER. CLOSE OF TARZAN
He looks at Mary intently, a new interest kindling in his eyes. His gaze travels slowly down her form, then back up it again.
17. EXT. EDGE OF WATER. CLOSE PAN ON MARY
Pan down her body and seen by Tarzan's eyes. Then pan slowly up to her face again. As it comes in full, she returns his gaze wonderingly and with a bit of awe. Then she asks tensely:
MARY
Who are you?
On her line -
CUT TO:
18. EXT. EDGE OF WATER. MED. SHOT
Tarzan looks at her without change of expression. He says with and air that is almost casual.
TARZAN
Tarzan.
Her eyes widen. He looks her over again, then fumbles for his pouch which contains the letter and photo. He hands her the pouch. Mary falteringly takes photo and letter speaking with surprise.
MARY
My photo!
Then, as another thought comes -
MARY
Have you seen my father. Where is he?
Tarzan makes no sign that the understands. Mary now discovers the letter which was with the photo. She takes it, unfolds it and starts to read. (Note: Both photo and letter should be wet.)
19. EX. TO TRAIL FULL
Bob comes swiftly thru in his search for Mary. As he goes thru, Jeff and Nick comes in from an angle and hurry after him.
SOUND
Footsteps
20. EXT. EDGE OF WATER. MEDIUM
Mary finishes reading the note. She is thrilled at the word from her father. Tarzan looks at her face again and now seems attracted by her bright expression. Then he rises and stands, Mary also rises with -
MARY
Come into camp. Then you can guide us to my father.
Tarzan pays no heed to her. She starts to renew her pleas. Suddenly he picks her up in his strong arms and holds her like a baby. He tickles her under chin and behind ears as he did fawn. It is a gesture of mere playfulness on his part. Mary is surprised. She gives a little squeal.
21. EXT. TRAIL. MED SHOT
Nick and Jeff hear the sound made by mary. They turn in her direction and hurry off.
SOUND
Footsteps.
22. EXT. EDGE OF WATER. MEDIUM
Tarzan is still holding Mary. Instead of being afraid she rather likes it. She smiles at him and he returns the smile warmly. She says slowly:
MARY
Please - come with us.
He does not answer. Instead, he is listening tensely. He lets her drop suddenly to the ground, then turns and goes swiftly, greatly to her dismay. There is the sound of Bob and Jeff crashing along toward her.
SOUND
Offstage footsteps.
23. EXT. IN BRUSH - MED. SHOT
Bob and Jeff come in fast and exit past camera.
SOUND
Footsteps.
24. EXT. NEAR WATER - MED ON MARY
She is gazing after Tarzan in a dreamy manner. Bob enters to there first. He follows the direction of her gaze, then brings up his rifle quickly as he half sees. . .
25. EXT. JUNGLE - LONG SHOT THRU SCREEN OF BRUSH
Tarzan runs thru f.g. catches a hanging vine and starts a long swing.
26. EXT. NEAR WATER - MED. SHOT
Mary turns in time to see Bob's upraised rifle. She grabs it quickly before it can be fired, thrusting the barrel into the air. Bob looks at mary in amazement.
BOB
Mary - who was that?
MARY
A messenger from my father, Bob - with a note telling us where to find him.
Jeff and Nick enter on the speech - Bob takes the note from Mary. Gives her his jacket.
27. EXT. EDGE OF WATER - WIDE ON GROUP
Jeff casts a keen glance toward Mary, then asks sharply:
JEFF
Could that have been Tarzan - the ape man the natives are afraid of?
Mary is startled into admitting.
MARY
Yes - it was.
Jeff makes a big take of that. Bob and Nick are interested but not so greatly impressed. Bob has read the note and now says:
BOB
We'll have to spend the night here, Mary -- but by sun-down tomorrow, your father will be safe with us.
They start to exit on the line. Nick starts to follow, then notes that Jeff is looking thoughtfully off after Tarzan. Nick steps closer to him.
28. EXT EDGE OF WATER - MED. SHOT OF NICK AND JEFF
Nick looks at Jeff curiously, then asks:
NICK
What's all this hooey about ape men an' the like?
JEFF
It's not hooey, my friend. It's quite authentic and - in the language of the streets - an unexpected break for us!
NICK
(Puzzled)
A Break?
JEFF
Wouldn't you call ten thousand pounds a break?
NICK
Ten thousand pounds o' what?
JEFF
I'm afraid it's all somewhat beyond the limit of your comprehension.
Nick rather blinks at this, but then rallies and comes back with:
NICK
Yeah? Well, it still sounds like hooey to me.
He gives his characteristic hitch to his trousers as they both start to exit after the others.
29. EXT. IN TREE - CLOSE OF TARZAN
He is watching intently. He follows the others with his gaze. As he holds it thus --
30. STOCK SHOT
of a beautiful sunrise.
31. EXT. IN A TREE - CLOSE OF TARZAN
He has been sleeping in a crotch of a tree, another of his jungle homes. Now he rouses to the bird and animal sounds and the growing light. He rises lazily, then lifts his arms about his head for a long stretch as he gazes down at the scene beneath him.
SOUND
Of birds - animals
32. STOCK SHOT
of some animals at play below - as seen by Tarzan.
33. EXT. IN TREE MEDIUM
Tarzan smiles at what he sees. Then he thinks of something else - Mary - and becomes thoughtful. He looks off, then grasps a hanging vine and starts a swing.
34. EXT. IN TREES FULL
on Tarzan making a series of mighty swings thru the trees. As he swings out of the scene at last -
35. EXT. IN ANOTHER TREE MED. SHOT
Tarzan swings into the scene and pauses on a limb. He watches something below with an eager, half-smile.
36. EXT. TRAIL FULL SHOT DOWN
The safari is on the march again. Mary is well up front, just behind Bob and Nick. Jeff is quite close to her. The others are strung out behind.
37. EXT. IN TREE - CLOSE ON TARZAN
He stares down at Mary with a peculiar, almost fascinated expression. He is very intent, as if trying to draw her attention to him. But now, as if this had failed, he gives a peculiar bird-like call or whistle.
(Note: This will be used again as a signal between the two.)
SOUND
Bird call.
38. EXT. ON TRAIL - CLOSE FOLLOW SHOT ON MARY
She is uneasy, as if aware of somebody watching her. She starts looking around, but sees nobody. the sound of the bird call comes in to her.
SOUND
Bird call.
38A. EXT. IN TREE - CLOSE ON TARZAN
SOUND
Bird call.
38B. EXT. ON TRAIL - CLOSE ON UNGA
walking, whistling. Hears whistle and answers it as whistle comes back to him. He looks up. Takes it big. . . Grabs handful of charms, starts to pray.
SOUND
Whistle
38C. EXT IN TREE - CLOSE ON TARZAN
Tarzan whistles again.
SOUND
Bird call.
38D. EXT. ON TRAIL - CLOSE FOLLOW SHOT OF MARY
Mary looks up and sees Tarzan. She smiles, suddenly then raises one hand in a slight signal.
39. EXT. TRAIL - CLOSE FOLLOW ON JEFF
He is watching Mary attracted by her odd manner. Play enough for a couple of cuts. Then he follows her gaze as she sees Tarzan, and he also sees. . .
40. EXT. TREE - LONG SHOT UP AT TARZAN
He stands for a moment, then glides from sight behind some foliage or the tree trunk.
41. EXT. TRAIL - CLOSE FOLLOW ON JEFF
He is excited and eager as he spots Tarzan. He determines to get closer to the creature to further his own purpose. He deliberately slackens his pace.
42. EXT. TRAIL - MEDIUM SHOT
Mary comes up and exits past camera. She is Smiling rather happily. Jeff slackens his pace and starts to drop back, cautiously so as not to attract attention. He is gripping his gun. Others begin to pass him.
43. EXT. IN TREE - MED SHOT
Tarzan comes swiftly along a limb and pauses f.g. His senses are all alert as he stares about, his nostrils wide as if scenting something.
44. STOCK SHOT
of two or three lions running thru.
45. EXT IN TREE - CLOSE ON TARZAN
He frowns as he gets the spoor. He grasps a vine and swings suddenly from the scene.
46. EXT. IN A TREE - MED. SHOT PAST TRUNK
Tarzan swings in suddenly from behind the tree trunk. He is watching something below.
47. EXT. JUNGLE - FULL SHOT
of lions running thru - they scatter.
48. EXT. IN TREE - CLOSE ON TARZAN
He now moves his gaze to a spot ahead of the lions and sees . . .
49. EXT. JUNGLE - MED. SHOT DOWN
Jeff comes along with poised rifle. He is looking for Tarzan and is heedless of the lion.
50. EXT. IN TREE - AKELEY
Tarzan poises himself for a moment, then drops to a lower branch. Akeley with him as he goes. He grabs a vine and swings from the scene.
51. EXT. IN JUNGLE - CLOSE ON JEFF
He sees Tarzan. He half raises his rifle, as if to shoot or perhaps for protection. Then he pauses, watching and listening.
52. STOCK SHOT
of lion creeping toward camera.
53. EXT. IN TREES - MED. SHOT
Tarzan swings in on his vine from out of scene. He lets go of it and drops from the scene.
54. EXT. IN JUNGLE - MED. SHOT ON LION FROM REAR
Tarzan drops on the lion which is crouched for its spring and may be real or dummy. As they go into a terrific fight -
CUT TO:
55. EXT. JUNGLE - CLOSES ON JEFF
He whirls about. His eyes widen as he sees Tarzan fighting with the lion that was stalking him.
56. EXT. JUNGLE TRAIL - FULL SHOT
The safari has halted. Bob, Nick and Mary are just hurrying off into the jungle to see what the rumpus is about.
SOUND
O.S. Fight crashes - roars.
57. EXT. JUNGLE - CLOSE ON JEFF
He looks off in amazement, watching the man fighting the wild beast.
SOUND
O.S. Fight crashes - roars.
58. EXT. JUNGLE - AKELEY
On the ad lib fight between Tarzan, (trainer double) and the lion. As Tarzan conquers the beast and starts to rise
SOUND
O.S. fight crashes - roars.
CUT TO:
59. EXT. JINGLE - CLOSE ON JEFF
He is startled as he sees the man rise and turn toward him. He again brings up his rifle as if for protection.
60. EXT. JUNGLE - WIDE ANGLE TO INCLUDE TARZAN
He sees Jeff's motion with the rifle. With a scowl, he starts toward Jeff. The latter cries out.
JEFF
You - you are Tarzan?
Tarzan stops, eying the other curiously, menacingly, though puzzled by the mention of his name. Finally he nods slowly. Jeff is elated. He starts to take a wallet from his pocket, saying:
JEFF
I have come a long way to find you.
As he starts looking thru the wallet -
CUT TO:
61. EXT. JUNGLE - FULL
Bob, Nick and Mary come thru fast, following the direction whence came the sound of the fight.
62. EXT. JUNGLE - MED ON JEFF & TARZAN
Jeff looks thru the wallet. He sorts two or three papers, then finds what he wants. As he takes it out and glances at it to see if it is the correct one - insert. . .
INSERT
(Part of the letter - reads. . .)
Ten thousand pounds for proof of Tarzan's death.
Back to scene. Jeff hands the paper to Tarzan. The latter takes it, and eyes it curiously, but obviously cannot read it. Jeff asks:
JEFF
Does that mean anything to you?
Tarzan's only reply is a grunt. He hands the paper back. Jeff's eyes narrow. He is about to say something else when there comes to both of them the sound of crashing underbrush nearby.
63. EXT. JUNGLE - FULL SHOT
Bob, Nick and Mary crash thru the brush, making a lot of noise.
SOUND
Footsteps in brush.
64. EXT. JUNGLE - MEDIUM TARZAN AND JEFF
Tarzan, alarmed, bounds suddenly away. Jeff is dismayed. He cries out after him.
JEFF
No - wait - I want to talk with you.
But Tarzan has gone, and Jeff falls silent as the noise of the others comes clearer. Finally Bob, Nick and Mary enter to him fast. Bob exclaims:
BOB
Jeff - what happened?
Before Jeff can answer, Nick throws up his rifle as if to take a shot off at Tarzan. But Jeff grabs the rifle, crying
JEFF
Stop!
On the line -
CUT TO:
65. EXT. JUNGLE FULL
Tarzan bounds from behind a bush up to a low limb, perhaps b aid of a hidden spring-board. He grasps a vine and swings away, unhurt.
66. EXT. JUNGLE - MED ON JEFF AND OTHERS
Nick scowls at Jeff. Mary looks keenly interested. Bob asks quickly:
BOB
Was he the same man who saved Mary - back there?
He nods back the way they came. They all eye Jeff curiously.
67. EXT. JUNGLE - CLOSEUP OF JEFF
He becomes crafty. His eyes narrow for a moment. Then he speaks slowly:
JEFF
No - I don't believe it was.
He straightens up. His expression changes. He says:
JEFF
Let's get back to the others.
On the line
CUT TO:
68. EXT. JUNGLE O- MED ON GROUP
Bob eyes Jeff suspiciously, but nods in response to his suggestion. They all start back the way they entered.
69. EXT. IN TREE - CLOSE OF TARZAN
He gazes after the party with a troubled expression.
CUT TO:
69A. EXT. JUNGLE - CLOSE ON UNGA
He is placing his charms in his pocket as twig falls from above. He takes it casually, looking up.
69B. EXT. TREES - ANGLE SHOOTING UP ON TARZAN
Tarzan is looking off at safari [
CUT TO:
69C. EXT. JUNGLE - CLOSE OF UNGA
He realizes how close he is to Tarzan, grabs his charms and starts out.
CUT TO:
69D. EXT. JUNGLE - LONG SHOT
Unga races away from camera fast, making great leaps.
FADE OUT
FADE IN
70. EXT. ROCK LOCATION - FULL
Brooks is brought on by the guards who have captured him. They go thru a narrow opening in the rocks and disappear. The opening can be closed after them if desired.
71. INT. ALTAR ROOM - FULL
The drum is sounding. The people have gathered, waiting. Now the priest and the guards bring Brooks in. As they pause before the altar o-
CUT TO
72. INT ALTAR ROOM - CLOSER ON GROUP
Brooks protests hotly
BROOKS
Why have you made me prisoner again?
There is silence for a moment, then the priest replies:
PRIEST
(Smiling coldly)
No where under the sun is there safety for any who covet the treasure of Zar, god of the emerald fingers!
BROOKS
But I didn't visit your temple to rob it! I'm interested only in your lost civilization!
PRIEST
(With slow menace)
You know the way to our hidden domain! That secret must die with you!
He turns toward one of the urns in which a fire is burning. He makes a mystic pass above it, then drops something into it. Dense smoke starts to come from it.
73. INT. ALTAR ROOM - CLOSE SHOT AGAINST SMOKE
Thru the smoke, in double exposure, is seen a full shot of the safari coming toward the camera. It fades in and out.
73A. EXT. JUNGLE - LONG SHOT
Safari coming through jungle for above effect.
74. INT. ALTAR ROOM - FULL ON GROUP
Brooks, the girls and the other s all gasp at what the priest has revealed.
75. INT. ALTAR ROOM - CLOSE ON BROOKS
He bursts out impulsively.. .
BROOKS
Then Tarzan delivered my message!
On the line
CUT TO:
76. INT ALTAR ROOM - WIDER ANGLE ON BROOKS AND PRIEST
The priest nods, then says slowly and sternly:
HIGH PRIEST
Yes; and should they by any chance find our temple, you will pay with your life for having betrayed us.
Brooks gasps at this. He realizes that his predicament is hopeless, for the very rescue party for which he sent will accomplish his death by coming.
77. INT. ALTAR ROOM - FULL SHOT
The priest gives a signal. The guards with spears advance. Each takes Brooks by an arm. They lead him off. Off scene, the drum starts again. The girls begin a dance, picking up long palm leaves as they move into it. the priest exits down a lane they form for him
SOUND
Drum.
78. INT. ALTAR ROOM - CLOSER ANGLE ON THE GIRLS
Follow them thru some movements for color. Then as they hold the palm leaves in front of them, making an almost solid screen of them.
79. EXT. BROOKS HUT - FULL SHOT
Shooting toward the hut in b.g. The hut takes the place of the palm leaves held by the girls. Past one corner of the hut, the safari may be seen approaching. Mary and Bob are in the lead. Wind blowing - thunder in distance.
SOUND
Wind - thunder.
80. EXT. HUT - MED. FOLLOW ON BOB AND MARY
She is looking off at the hut with an eagerness and excitement which she cannot control. Bob says:
BOB
From the directions in your father's letter, this should be his hut.
Mary can stand no more suspense. She breaks breathlessly from him and races toward the cabin. Bob starts after her, calling:
BOB
Mary - be careful!
He pursues her out of scene -
CUT TO:
81. EXT IN TREE CLOSE SHOT
Tarzan swings into the scene. He pauses, looking down He smiles as though satisfied that he has brought Mary and the others safely to their destination. He watches for a moment, then exits from the scene.
SOUND
Wind.
82. INT. HUT - CLOSE AT CLOSED DOOR
The door opens suddenly. Mary looks in. Her eyes are wide, expectant, hopeful. But it is a shock to her as she looks about the cabin and sees
SOUND
Thunder.
83. INT. HUT - MED AKELEY FROM MARY'S ANGLE
The interior shows evidence of a fight. Papers and Brooks' clothes are strewn on the floor. The spear still sticks in the wall where it was thrown previously.
SOUND
Thunder.
84. INT. HUT - MED. ON MARY BEHIND DOORWAY
Bob appears behind her. She exclaims, agonized. . .
MARY
Oh - it IS father's cabin, but what has happened to him?
Bob looks around. He also is startled at what he sees. He comes in past camera. Mary follows him, upset, overwrought. Jeff and Nick appear in the doorway to watch and listen.
85. INT. BROOKS HUT - MED. SHOT
Bob has found the diary with Brooks' writing in it. Mary hurries to him as she sees him studying it. Bob exclaims:
BOB
Here's a clew. Your father had been writing - something about an underground treasure chamber.
CUT TO:
86. INT. HUT - CLOSE ON NICK AND JEFF AT DOOR
bob's voice continues over the scene as they listen intently.
BOB'S VOICE
. . . room of the god of the emerald fingers, he called it. And here's a map showing how to get there.
SOUND
Wind,
Nick and Jeff exchange significant looks and nods at that. Jeff nods and they move away, out of the hut.
87. EXT. HUT - MED AT A CORNER
Jeff and Nick come in and pause. With a meaning smile Jeff says
JEFF
A map of how to get there!
Nick winks at him, hitches up his trousers and remarks:
NICK
Ann's that nice?
They exit.
88. INT. HUT - MED ON MARY AND BOB
The sounds of the storm outside are growing. Mary looks eagerly over bob's shoulder as he continues:
BOB
He says he was caught by the cave people and Tarzan helped him escape.
He looks at her as a sudden thought strikes him.
BOB
That's where your father is. The same tribe have taken him again.
Mary gasps in dismay at this. She is almost overcome. Bob sees he should not have said it. He tries to comfort her by putting an arm about her.
89. STOCK
of thunder and lightning storm approaching swiftly. a loud crash of thunder.
SOUND
Thunder - wind.
90. INT. HUT. MEDIUM
Mary flinches at the roaring thunder. Bob says soothingly:
BOB
Don't worry, Mary. We'll find him.
MARY
(shuddering)
but everything is so mysterious - so horrible! Even the elements are against us!
Bob hugs her for a moment, then looks off toward the storm. He tells her:
BOB
Try to rest, dear, I'll see to the safari.
He hurries away. Mary looks after him, then to the diary. She picks it up, then turns so as to hide it with her body.
91. EXT. NEAR CABIN - FULL
The men of the safari, driven by Abdul, are hurrying to get things unpacked, tents erected, etc. against the growing storm. Rain starts to fall. thunder and lightning increase in violence. Bob runs in from direction of the hut and lends a hand. As Jeff and Nick appear from b.g.
CUT TO:
SOUND
Storm sounds
92. EXT. NEAR CABIN - CLOSER OF NICK AND JEFF
They come on past camera which is shooting toward where the safari is working. Jeff motions the other with:
JEFF
We'd better get our stuff under cover.
He hurries away toward the others. Nick turns and looks thoughtfully back toward the cabin, then exits furtively in that direction.
93. EXT. IN TREES - CLOSE
Tarzan climbs into scene. The storm is all about him. He seems to revel in it. He lifts his face as the rain beats down over it.
94. INT. HUT - FULL
Mary is trying to close a broken shutter against the storm. The place is semi-dark because of the storm. Now Nick steals in stealthily. He goes toward the table where the diary is seen.
95. INT HUT - CLOSER ON NICK
He steals to the table and picks up the book. There is a flash of lightning and a loud peal of thunder. Nick turns suddenly as Mary's voice is heard:
MARY'S VOICE
Nick! What are you doing?
SOUND
Storm sounds.
CUT TO:
96. INT HUT - FULL
Mary has turned form the window and is facing Nick. He tries to dar past her but she grabs him and clings to him, screaming:
SOUND
Scream from Mary - storm sounds.
97. EXT. NEAR HUT - CLOSE ON BOB
He is at work trying to get a tent up. Mary's scream comes to him He turns and dashes away toward the hut.
SOUND
Storm sounds
98. EXT. IN TREE - AKELEY
On Tarzan. He also hears Mary's scream. He grabs a vine and swings out swiftly.
SOUND
Storm
99. INT. HUT - FULL
Mary is clinging to Nick, keeping him from going despite his efforts. Bob dashes in. Nick breaks free from Mary, drops the book and whips out his gun. Bob leaps on him and they fight.
SOUND
Storm.
100. EXT. NEAR HUT - CLOSE AKELEY
Jeff also starts for the hut, drawing his gun as he goes.
SOUND
Storm
101. EXT. IN TREES - AKELEY
on Tarzan swinging strongly thru the storm.
SOUND
Storm
102. INT. HUT - FULL
Bob and Nick are wrecking the hut in their wild fight. Mary is trying to keep out of their way yet at the same time to help Bob. Lightning and thunder effects.
Now Jeff appears in the doorway with drawn gun and stands there. There is no indication as to which side he is on.
SOUND
Storm.
103. INT. HUT - CLOSE ON JEFF
He draws his gun and starts menacingly forward.
104. EXT. NEAR HUT - FULL ON THE SAFARI
They drop tents, luggage, etc., and flee with yell of terror as Unga comes from tent. Draws out string of charms Wind blows them away as he looks around sees . . .
SOUND
Storm
105. STOCK
of some lions dashing thru the storm.
105A. EXT. NEAR HUT - FULL OF UNGA
Unga registers fear of lions - dives into tent.
CUT TO:
106. EXT. IN TREE - CLOSE ON TARZAN
He is just starting a giant swing as -
CUT TO:
107. EFFECT SHOT
of tree being stuck by lightning
108 EXT. IN TREE - CLOSE ON TARZAN AND BRANCH
The branch breaks. Tarzan starts to fall with it.
109. INT. HUT O- FULL
The big branch causes the roof and other debris to fall suddenly into the f.g.,cutting off the view of the men and Mary . . .
FADE OUT SHORT

NOTE: Many of the close and medium shots designated as Exterior Jungle or Exterior Trail could be played on ann Interior Jungle set if bad weather made it necessary.

In the grip of the raging elements!
Crushed beneath a falling monarch of the jungle!
Of what avail even the mighty strength of Tarzan?
See for yourselves at this theatre next week
"THUNDERING DEATH"
Chapter Three
of
"TARZAN THE FEARLESS"
---
TARZAN THE FEARLESS
CHAPTER TWO. . . "THE STORM GOD STRIKES!"
FADE OUT
---
Has mighty Tarzan met his match in this slimy saurian of the swamps?
Is Mary Brooks' quest for her father to end in another jungle tragedy?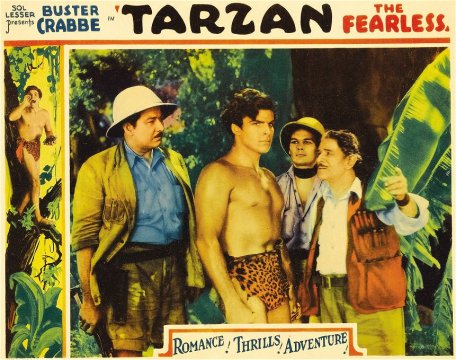 See
Chapter Three
of
"TARZAN THE FEARLESS"
at this theatre
next week!


Tarzan the Fearless Movie Compendium
ERBzine Silver Screen Series





BILL HILLMAN
Visit our thousands of other sites at:
BILL AND SUE-ON HILLMAN ECLECTIC STUDIO
All ERB Images© and Tarzan® are Copyright ERB, Inc.- All Rights Reserved.
All Original Work © 1996-2014 by Bill Hillman and/or Contributing Authors/Owners
No part of this web site may be reproduced without permission from the respective owners.