Official Edgar Rice Burroughs Tribute and Weekly Webzine Site
Since 1996 ~ Over 10,000 Web Pages in Archive
Volume 4581

Serial Script ~ Chapter One

SOL LESSER
Presents
TARZAN THE FEARLESS
A Chapter Play Based on the Characters Created by
Edgar Rice Burroughs


---

Screen Play and Supervision by: WILLIAM LORD WRIGHT
Continuity by: BASIL DICKEY and GEORGE M. PLYMPTON
Directed by: ROBERT F. HILL
GRIPS
H. Burroughs
Ralph Johnson
Geo. Robertson
Harry Horning
Ernie Smith (props)
Mike Gordon
Bert King
---
TARZAN THE FEARLESS
CHAPTER ONE . . . "THE DIVE OF DEATH"
---
CHARACTERS:
TARZAN. . .A strange creature of the jungle. (Buster Crabbe)
DOCTOR BROOKS. . . An archeologist and explorer. (F. Warren)
MARY . . . His daughter, a handsom, modern determined young woman. (Jacqueline Wells)
BOB HALL . . . Young American whose love for Mary overcomes his dislike of her presence in the jungle. (Ed Woods)
JEFF HERBERT . . . Animal trapper, adventurer and ne'er do wel. His speech and manner suggest a gentleman gone wrong. (McCollough)
NICK MORAN . . . Ex-convict, a typical gangster. (M. Betz)
HIGH PRIEST . . . Leader of the Lost Tribe of Zar. A sinister figure, master of occult practices.
---
SYNOPSIS

Seeking to prove the existence and learn the origin of a lost white tribe in Africa, Doctor Brooks is captured in the sacred temple of the tribe and sentenced to imprisonment and probable death, lest he carry back to civilization tidings of the lost people and their god, Zar of the Emerald Fingers.

Tarzan, wild white man of the jungle, who consorts and wars with the beasts and birds, rescues the doctor and takes a message from him to Mary, Brooks' daughter. Meanwhile, hoever, Mary has become alarmed at the failure of her father to meet her and with the aid of Bob Hall, an adm mirer, organizes a safari and starts into the jungle in search of Brooks. The expedition is guided by a pair of adventurers, Jeff Herbert and Nick Moran. While the safari marches, Brooks is recaptured by the people of Zar.

Deep in the jungle, as the safari is about to go into camp, the cry of a strange creature is heard which the frightened black bearers name Tarzan. A short time later Mary leaves the camp and coming to a jungle pool, determines to bathe.

Tarzan, swinging throigh the trees is on his way bearing Brooks' message and a picture of Mary by which he will identify. From the top of a treehe sees and recognizes the girl in the water. As he watches her, she is attacked by crocodiles. Tarzan dives to her rescue and fights the crocodiles as the chapter closes.
---
TARZAN THE FEARLESS
CHAPTER ONE. . . "THE DIVE OF DEATH"

FADE IN
1. EX. LONG SHOT - STOCK
A comprehensivde , wide shot of African veldt with game, antelopes or giraffes running through

2. EXT. JUNGLE - MED. SHOT - STOCK
A flight of startled birds.

SOUND
Birds

3. EX. JUNGLE - MED. SHOT - STOCK
Of monkeys racing and leapging about amontg the trees.

SOUND
The chatter of monkeys.

4. EX. JUNGLE - LONG SHOT
Shooting through thick jungle forest. In background Tarzan makes a gigantic swing across the scene and out.

5. EXT. JUNGLE - LONG SHOT
Of Tarzan in series of swings that bring him into the foreground of scene, landing in limb of tree. He looks about as though in search of fruit. A coco-nut is hurled into the scne and hits him and at the same time the shrill chatter of a chimp comes in. Tarzan turns to look off and upward at. . .

SOUND
Jungle birds, etc.
Chater of chimp.

6. EXT. TREE - LONG SHOT
Of the chimp, chattering and gesticulating.

SOUND
Chatter of chimp.

7. EXT. TREE LIMB - MED SHOT
Of Tarzan as he looks up toward the chimp, grabs a vine and goes out of scene in great swing. . .

8. EXT. TREE - MED SHOT
The chimp looking off and chattering. In sudden alarm he starts to run along limb. Tarzan comes into scene at the top of his swing catches the chimp in curve of his arm and swings back out of scene.

SOUND
Chatter.

9. EXT. JUNGLE - LONG SHOT
Of Tarzan holding the chimp as he swings and lands in a tree.

10. EXT. TREE - SEMICLOSE
On Tarzan and the chimp. He holds it in his arm and raises other hand as though to slap it. The chimp chatters in terror. Tarzan laughs -- breaks off in the midst of his laugh as the terrified bleat of fawn comes in . . .

SOUND
Laugh of Tarzan.
Bleat of faun.
Chatter of chimp.

Tarzan swings by, setting the chimp down on limb as he looks off at. . .

11. EXT. JUNGLE - LONG SHOT
Of fawn caught in native trap. It struggles desperately. Cries out.

SOUND
Bleat of fawn.

12. EXT. TREE - MED. SHOT
Of Tarzan and the chimp. The chimp chatters shrilly as the bleat of the fawn comes in again. Tarzan turns head slightly and sees . . .

SOUND
Chatter of chimp
Blead of fawn.

13. EXT. JUNGLE - LONG SHOT - STOCK
Of stalking lioness

SOUND
Chatter of chimp
Bleat of fawn

14. EXT. TREE - MED. SHOT
Tarzan registers the danger to a friend. He makes quick exit along limb.

15. EXT. JUNGLE - CLOSE SHOT
Of the fawn struggling derperately.

SOUND
Bleat of fawn.

16. EXT. ANOTHER TREE MED. SHOT
Tarzan drops into tree from above. He grabs a hanging vine, breaks off a length and starets to fashion a noose. He bends to look downward, his hands working rapidly.

17. EXT. JUNGLE - STOCK SHOT
Of stalking lioness.

18. EXT TREE - MED. SHOT
Of Tarzan. Noose completed, he watches downward tensely. Makes quick cast with his noose. . .

19. EXT. JUNGOLE - MED. ON THE LIONESS
She has crouched for death spring. As she starts leap, the noose drops over her head. The line jerks taut and the beast is pulled up into the air, spitting and snarling.

SOUND
Snarl of lioness.

20. EXT. TREE - MED. SHOT
Tarzan pulls stronly on the taut, jerking vine. He fastens it to branchand leaps out and downward from tree.

SOUND
Snarl of lioness - chokes off short.

21. EXT. JUNGLE - MED. SHOT
On the struggling fawn. Tarzan drops into the scene, goes quickly to the little beast and frees it. He lifts it in his arms, pats and caresses it, tickling it under chin and back of the ears, aoughing as he does so. He speaks in muttered syllables and it becomes quiet as though realizing he is a friend. He sets it down and as it starts away . . .

SOUND
Bleat of fawn.

22. EXT. JUNGLE -WIDER ANGLE
Tarzan in f.g. watches the fawn as it sounds off. He laughs and turns toward the camera. The distant sound of drums comes in, a low manacing sound. Tarzan's smile gives way to a tense, listening expression -- his brows gather in angry frown as though it was the challenge of an enemy he heard. He throws back his head and shouts. . .

SOUND
Drums.
TARZAN
Tantor! Tantor!

CUT QUICK TO :
23. EXT. JUNGLE - MED. SHOT
Of Tantor (the elephant) feeding among shrubbery. He lifts head and listens -- then raises trunk and answers the call.

SOUND
Drums.
Trumpet of Tantor

He starts lumbering forward out of the scene.

24. EXT. JUNGLE - MED. ON TARZAN
He stands in listening pose, the far off beat of the drum coming in then faint and distant Tantor's answer.
Tarzan springs straight forward out of the scene over the camera.

24a. DOWN ON TANTOR FOLLOWING TARZAN

SOUND
Drums
Trumpet of Tantor

25. EXT. JUNGLE - LONG SHOT - AKELEY
On Tarzan in series of giant swings in toward camera. As he nears foreground.

LAP DISSOLVE TO:
26. INT. CEILING OF ALTAR ROOM
This is a shadowy, fantastic place of indistinguishable outlines with thick, rope-like vines hanging from above and down out of the scene over edge of ledge. Tarzan swings into scene and drops to edge of ledge . . . The drum, close by and beating rapidly, is heard.

SOUND
Drums.

27. CLOSEUP ON TARZAN
He crouches on ledge and looks down at . . .

SOUND
Drums.

28. INT. ALTAR ROOM - DEPTH SHOT
Shooting down from position of Tarzan in the room below. Dance girls before the altar have turned to look toward the high-priest who advances over the altar while from the other end of the room, Doctor Brooks is being dragged in by spearmen. The members of the tribe, all in strnage fantastic garb are watching as Brooks is dragged forward and brought face to face with the priest. At the same moment the drum stops beating.

SOUND
Drum stops.

29. INT. ALTAR ROOM - CLOSEUP
Of the altar . The god, squatting with outstretched arms and spread fingers. A great emerald a the tip of each finger gleams in the light from the urns that burn at either end of the altar.

CUT TO:
30. INT. ALTAR ROOM - EMICLOSE
On Brooks and the priest. Brooks is clad in garb of explorer and has a bloody streak across his forehead. He is weak and anxious but game as the priest looks him over with threatening manner. He fidgets with his nose glasses, settles them firmly on nose.

PRIEST
Another fool -- lured to his descruction by the treasure of Zar, God of the Emerald Fingers!

Brooks raises his brows and glances toward the god.

31. INT. MED SHOT OF GOD, OVER THE HEADS OF THE DANCING GIRLS

32. INT. ALTAR ROOM - SEMICLOSE
Of Brooks and the priest.

BROOKS
I'm not interested in treasure! I'm Doctor Brook -- a scientist!

He turns and dances about.

33. INT. SEMICLOSE
On people of the tribe.

34. INT. -SEMICLOSE
Of Brooks and Priest. Brooks continues.

BROOKS
All I seek is knowledge of your people -- that I may give it to the world!

PRIEST
The secrets of Zar belong to his subjects and will be theirs alone -- ages after your bones have bleached white under the sun.

35. INT. CEILING - SEMICLOSE
Of Tarzan on ledge looking downward. He raises his eyes and grasps a vine above him.

36. INT. ALTAR ROOM - MED. SHOT
On Brooks and thepriest, with guards and people tipped int the scene. The priest makes a sign to the guards.

PRIEST
Guard him with your lives!
It is the command of Zar!

The guards start to move in on Brooks. He nervously pockets the glawses -- then raises a hand in protest, his manner brave and dignified in face of crisis.

BROOKS
Wait! For myself I ask nothing! But I've a daughter! Let me send her word of my fate!

PRIEST
And tempt others to follow your trail to our temple doors?

He ends with a significant laugh and signs to the guards to drag the prisoner away.

37. INT. CEILING - SEMICLOSE
Of Tarzan watching downward grasping vine. He swings out of scene, shouting his war cry as he goes

SOUND
Cry of Tarzan.

38. INT. ALTAR ROOM - FULL SHOT
The guards stepping tward Brooks, the tribes people and the priest spring back in alarm as cry of Tarzan comes in from above, increasing in volume as he swings down from the shadowy ceiling and across the room, striking one of the guards with his body and sending him spinning across the floor. Tarzan drops to the floor beside the other guard.

SOUND
Ad lib of crowd.
Tarzan yell.

39. INT. ALTAR ROOM - MED. SHOT
Med. shot on the crowd flaling back in terrfor, and screaming ad lib cries.

SOUND
Ad lib: Tarzan -- Tarzan!Our enemy -- Tarzan again!

40. INT. ALTAR ROOM - SEMICLOSE
On Tarzan as he grabs the second guard, lifts him above his head and hurls him out of the scene. H shouts his war cry , springs out of scene in direction of Brooks.

SOUND
Cry of Tarzan. Crowd babble.

41. INT. ALTAR ROOM - SEMICLOSE
On th epriest, with dance girls and others tipped in behind him all showing growing terror as the priest cries:

SOUND
Trumpet of elephant (off).
PRIEST
Tarzan -- he is calling the beasts of the jungle to his aid again!

42. INT. ALTAR ROOM - SEMICLOSE
Tarzan springs to Brooks who stares at him in awe and wonder Tarzan grabs him up and carries him out of scene.

43. INT. ALTAR ROOM - MED. SHOT
On the milling crowd falling back in terror.

SOUND
Crowd babble

44. INT. ALTAR ROOM - MED. SHOT
On Tarzan half carrying the doctor through the arched entrance and out of the scene.

SOUND
Ad lib: Cries of alarm. Tarzan -- Tarzan!

45. INT. ALTAR ROOM - MED. SHOT
On fallen guard as some of the dance girls run to him and lift him to his feet.

46. EXT. CAVE ENTRANCE - MED SHOT
Of Tarzan and Brooks as they run from cave entrance. Tarzan cries. He hurries forward helping Brooks.

47. EXT. JUNGLE
Tantor, gets the call. Tantor lifts trumpet to answer as he wheels and runs out of scene.

SOUND
Trumpet of elephant

48. INT. ALTAR ROOM - FULL SHOT
On the panicky crowd, the priest trying to silence them A group of spearmen advancing cautiously to the door.

49. EXT JUNGLE - MED. SHOT
Tantor lumbers into scene and stops as Tarzan comes on, half carrying Brooks. Tarzan shouts:

TARZAN
Tantor!

He adds a grunted syllable as he throws his free arm about the trunk of the elephant. The beast starts to lift both men.

50. INT. ALTAR ROOM - MED. SHOT
On the priest before the frightened crowd as he lifts his hand to silence them. As the room stills a spearman runs in and up to the priest, makes bow and says:

SPEARMAN
The have gone -- on the back of Tantor, the elephant!
Other spearmen come crowding in about thepriest as he answers:
PRIEST
Tarzan has defied us for the last time! The trail is broad! They shall not escape with the secrets of Zar!

He starts out of scene with the spearmen about him.

51. EXT. JUNGLE - MED. SHOT
On Tantor racing through with Tarzan and Brooks upon his head.

FADE OUT

52. EXT. JUNGLE - FULL SHOT
On marching safari of Mary Brooks and party coming in from b.g. Jeff and Nick are ahead of the line, gun-bearers behind them. Bob and Mary walk together, followed by the black bearers. Abdul, the Arab, walks behind the bearers, whip in hand. Sari, Mary's maid, follows him.

SOUND
Of safari. Ad lib talk.

53. EXT. JUNGLE - MED. MOVING SHOW
With loose-swinging down the line from the guides in fron, past Abdul and Sari as they exchange a knowing glance. The march is slowing down.

54. EXT. JUNGLE - CLOSE MOVING SHOT
On Mary and Bob. She is looking eagerly ahead. Bob puts out a hand to support her and says:

BOB
This trek's too much for you, Mary! Hadn't you better turn back?
MARY
And go mad -- waiting alond for word about father!
BOB
I should have handled the search for him alone!
MARY
I know, Bob -- but father would expect me to be with the guides when they find him.
BOB
From what I've seen of them, I'm not sure they'll ever --
There is a shout from forward and the line stops.
MARY
Another delay!

She hurries forward.

CUT TO:
54-A. EXT. JUNGLE - MED. CLOSE SHOT
Unga, a giant first boy, stops, looks forward, realizes this is a delay. He is covered with charms and trinkets -- partly civilized in dress. He hastily discards his pack dropping to the ground to sleep.

CUT TO:
55. EXT. JUNGLE - MED. SHOT
On Jeff and Nick with blacks at head of the line. They are halted by dense jungle ahead. Jeff says . . .

JEFF
We'll have to break through, Nick. Tell Abdul -
NICK
(shouts) Abdul! Breakers!

There is a shout from out of scene, crack of whip and ad lib Swahili chatter.

AD LIB CRIES
Crack of whip.

56. EXT. JUNGLE SEMICLOSE
On Jeff and Nick. The latter wipes his brow, hitches up trousers. Blacks with chopping knives, pass in b.g. Sound of chopping begins.

NICK
When do we ditch this bunch and start looking for the lost emerald mine?
JEFF
Not until I give the word. Careful. . .

He speaks the last in quiet undertones and turns . . .

SOUND
Of chopping.

57. EXT. - WIDER ANGLE
Mary comes on to the two men. Before she can speak, Jeff smiles at her and says:

JEFF
We're getting into the Yugandi country, Miss Brooks, where youyr father was last heard of --
MARY
(breaks in) But these delays, Jeff --
JEFF
There are always delays in the jungle. We've trapped all through this country haven't we, Nick?
NICK
It's the truth, lady.

Mary looks at him with puzzled frown.

MARY
I wonder, if it's the truth.

As she speaks, there is a shout from off scene.

ABDUL
(off) Inshi - trek
SOUND
Crack of a whip

Mary turns back the way she came.

58. EXT. JUNGLE - FULL SHOT
On tahe safari starting forward through the newly cut opening. Mary walking back to join Bob. . .

CUT TO:
58-A. EXT. JUNGLE - MED. SHOT
Unga, the giant first boy, hearing th esafari moving again awakens as the lst of the black bearers pass him. Fearful of being left behind, he gets on his fee, raises a magnifying glass he wears about his neck as a monocle to his eye, looks off after the receding safari and speaks in affected Oxford accent:

UNGA
Oh I say - Old Prunes - wait for me. . .

As he starts forward . . .
WIPE OUT

59. EXT. BROOKS HUT - MED. FULL
An establishing shot on good sized thatched and plce hut in jungle clearing.

LAP DISSOLVE TO:
60. INT. BROOKS HUT - FULL SHOT
A crudely, but well-furnished interior with skins and weapons upon walls -- books on shelf. Table, chairs, couches, etc. A small portable phonograph on a stand. Brooks, with bandaged head is seated at table writing a letter. Tarzan moves along wall, looking a various objects like a curious child.

61. INT. BROOKS HUT - SEMICLOSE
On Brooks writing. He looks up and smiles as he sees. . .

62. INT. BROOKS HUT - SEMICLOSE
Follow shot of Tarzan as he picks up a book, looks at it with frown shakes head and puts it down -- perhaps lets it drop carelessl, to floor. He looks a other objects -- goes on to where phonograph stands -- touches the release lever. The record begins to turn but the neddle bar is lifted so there is no music. Tarzan stares at it curiously.

63. INT. HUT - MED. SHOT
On Brooks and Tarzan .Brooks watching smiles as Tarzan advances a cautious finger toward the phonograph.

BROOKS
Tarzan!

Tarzan does not turn his head, continues to look at phonograph, puts out hand and inadvertantly flips the bar over. The machine starts to play. Tarzan bounds backward with ta swift, cat-like spring, drawing his knife. . . Brooks chuckles as Tarzan stands ready for retreat or attack -- then again advances toward the machine.

SOUND
Of phonograph

64. INT. BROOKS' HUT - CLOSEUP
On Brooks grinning. He looks toward photos of Mary on desk and has sudden idea. He reaches out and takes it up.

SOUND
Phonograph.

INSERT: PICTURE OF MARY
Brooks looks at picture -- then up. Tries to rise and can't make it.

BROOKS
Tarzan!

65. INT. BROOKS' HUT - MED SHOT
Brooks speaks again. Tarzan glances at him -- continues cautious advance toward the machine. Brooks holds the photo out toward him and speaks, sharply:

BROOKS
Tarzan!
SOUND
Phonograph.

Tarzan turns to look at him then curously at the photo. His interest is aroused. He moves to Brooks.

66. INT. BROOKS' HUT - SEMICLOSE
On Brooks and Tarzan, the latter looking at the picture intently. Brooks watches him and first indicating the letter and then the picture, speaks slowly, and though to a child.

BROOKS
Tarzan -- you -- take -- letter to my daughter.
(taps picture) My daughter -- in Durango

AS HE SPEAKS WIPE OUT TO:

67. EXT. JUNGLE - FULL SHOT
On the safari coming into th ebqackground through jungle and down toward the clearing in f.g.

68. EXT. JUNGLE - CLOSER ANGLE - MOVING SHOT
On the marching safari. The guides are a little ahead. Mary and Bob now walk together. Swing camera down lineto the black bearers -- they look about them with anxious glances, muttering fearfully to each otgher.

AD LIB
Swahili mutterings among which is heard the word, TARZAN, repeated from man to man.

69. EX. - MOVING SHOT - SEMICLOSE
On a coupld of blacks wih frightened eyes looking up toward trees. Unga enters to Blacks, and raising his magnifying glass, asks:

UNGA
What's the blasted rumpus?
BLACKS
Tarzan!
UNGA
Alarming!

He produces a bunch of charms from his picket and starts appealing to them for protection.

70. EXT. CLEARING - MED. SHOT
On the safari as it comes to a halt, some of the blacks drop their leads. Adul shouts at them and cracks whip. Bob turns and hurries toward him while from the head of the line, Nick and Jeff start back.

71. EXT. CLEARING - MED. SHOT
Bob hurries up as Abdul is about to use his whip. Bob stops him.

BOB
Hold on, Abdul -- what's wrong?
Abdul indicates blacks and says:
ABDUL
They say this Tarzan country -- wild white man live round here --

He finishes with a gesture of disbelief while the blacks continue to mutter.

72. EXT. JUNGLE - MED SHOT
On Bob and Mary. She says:

MARY
What do they mean, Bob?

Jeff and Nick come hurring up as Bob replies:

BOB
It's just one of a thousand jungle legends -- something about a wild white man raised by the apes! The blacks call him a demon!
NICK
Yeah -- I heard that yarn. All hooey!

Jeff is looking intently up into the tree tops and Mary moves toward him.

'73. EXT. - CLOSEUP ON MARY AND JEFF
She speaks to him and for a moment he seems not to hear as he turns his eyes from tree to tree as though searching for something.

MARY
A white man raised by apes! I's impossible, isn't it, Jeff?
Jeff wipes his finger tips and answers.
JEFF
I heard the story in London, from a rather reliable source.
(he shrugs his shoulders) At any rate, the blacks are frightened. We'd better make camp here.

Jeff calls off "UNGA". Unga enters to Jeff who says:

JEFF
Got the tents up.

74. EXT. CLEARING - FULL SHOT
On the halted safari. They break into groups, the blacks opening packs under the shouted directions of Nick and Abdul. Jeff and Nick move off to aid in making the camp. Mary stands alone in foreground of the shot. Above the noise of the camp there is a shrill chatter of monkeys. She looks off at . . .

SOUND
Monkeys chattering.

75. EXT. - STOCK SHOT OF MONKEY IN TREES

SOUND
Monkeys.

76. EXT. CLEARING - SEMICLOSE
Of Mary looking off and listening. She smiles up toward the monkeys and moves forward out of scene, past camera.

WIPE OUT TO:
77. STOCK SHOT - LEOPARD

78. STOCK SHOT - HYENA

79. STOCK SHOT - JUNGLE

80. EXT - JUNGLE - MED. AKELEY
Of Tarzan in great swings through trees.

81. EXT. EDGE OF POOL - MED. SHOT
Mary comes in and stops beside screen of bushes, looking at the water. She has sudden daring thought -- looks back in direction from which she came and starts to strip.

82. EXT. JUNGLE MED. SHOT
Tarzan in a great swing, lands in trees in f.g. Crouches and springs out of scene.

83. EXT. BUSHES - MED. SHOT
Shot through screen of bushes of Mary. She is running behind bushes, her bare shoulders and laughing face above the bushes. She wears white step-ins and low underwaist but through the bushes appears to be nude.

84. EXT. TREE TOP - SEMICLOSE
Of Tarzan, as he swings to position for spring and stops, looking off at . . .

85. EXT. JUNGLE POOL - VERY LONG
Of Mary running to the water. At the distnat range she appears to be entirely undressed.

86. EXT. JUNGLE TREE - SEMICLOSE
Of Tarzan looking off first in wonder and then with a smile. He swings out of the tree.

87. EXT. JUNGLE - AKELEY SHOT
On Tarzan in a series of long swings.

88. EXT. TREE - MED SHOT
Of Tarzan landing in tree and looking off and down at. . .

89. EX.. WATER - DEPTH SHOT
Ordinary swimming, her bare shoulders above water.

90. EXT. TREE - CLOSEUP
Of Tarzan looking down in wonder. He fumbles at puch and takes out the picture.

INSERT OF PICTURE
Tarzan recognizing the girl and looking first down and then at picture.

91. EXT. - STOCK SHOT
A group of crocodiles at pool edge. Several slide into the water.

92. EXT. WATER - SEMICLOSE
Of Mary swimming in toward camera. Her eyes suddenly widen with terror as she sees. . .

93. EXT. WATER - MED. SHOT - STOCK
Of crocodiles coming fast through water.

94. EXT. WATER - SEMICLOSE
Of Mary as she turns about to swim back.

95. EXT. TREE TOP - SEMICIRCLE
On Tarzan as he looks down and goes out of trees in long dive.

96. EXT. WATER - MED. SHOT
On Tarzan as he goes into water, rises to surface and goes away at racing stroke.

97. EXT. WATER - SEMICLOSE
Of Mary swimming, the noses of crocodiles coming in behind her, She looks back and screams.

SOUND
Of scream.

98. EXT. CAMP - MED SHOT
The men busy about setting up the tents. Bob in f.g. hears the scream of Mary. He cries out. . .

BOB
It's Mary.

He grabs a rifle and races out of scene, followed an instant later by Jeff and Nick.

99. EXT. WATER - MED. SHOT
Of Mary swimming fast in terror. The nose of a crocodile comes into the scene behind her. . .

100. EXT. WATER - SEMICLOSE
Of Tarzan swimming hard.

101. EXT. JUNGLE PATH - MED. FULL SHOT
Bob running in, jerks to a halt as a lion leaps form bushes and crouches in the path ahead of him.

102. EXT. WATER - MED. SHOT
On Mary swimming hard. The cdrocodile closes in behind her. Tarzan swims in fast between her and the cdrocodile. Mary turns to look back and sees. . .

103. EXT. WATER - SEMICLOSE
On Tarzan and the crocodile as he grabs the reptile's jaws. There is a great heave and they disappear beneath the surface.

SOUND
Scream of Mary.

FADE OUT
---
Has mighty Tarzan met his match in this slimy surian of the swamps?
Is Mary Brooks' quest for her father to end in another jungle tragedy?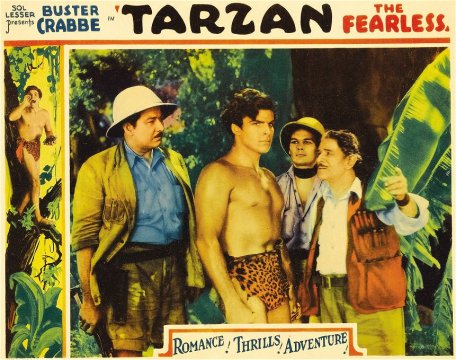 See
Chapter Two
of
"TARZAN THE FEARLESS"
at this theatre
next week!
"THE STORMING STRIKES!"

Tarzan the Fearless Movie Compendium
ERBzine Silver Screen Series





BILL HILLMAN
Visit our thousands of other sites at:
BILL AND SUE-ON HILLMAN ECLECTIC STUDIO
All ERB Images© and Tarzan® are Copyright ERB, Inc.- All Rights Reserved.
All Original Work © 1996-2014/2016 by Bill Hillman and/or Contributing Authors/Owners
No part of this web site may be reproduced without permission from the respective owners.