Official Edgar Rice Burroughs Tribute Weekly Webzine Site
Since 1996 ~ 10,000 Web Pages In Archive
Volume 4547

ERBzine REMEMBERS THE 2013 LOUISVILLE DUM-DUM
Photos by Bill and Sue-On Hillman
Captions by Sue-On - Expanded from our Facebook pages
click for larger images

7. FAREWELL BREAKFAST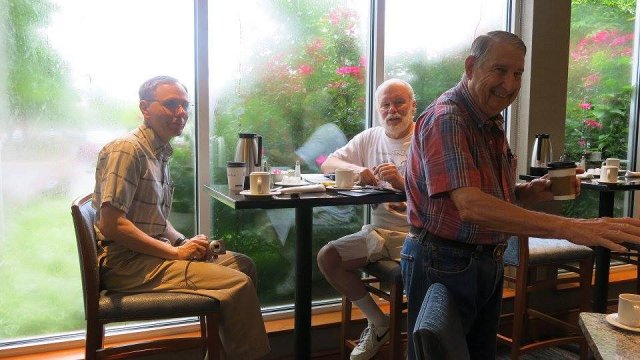 Sunday morning - the traditional farewell breakfast at the hotel.
Some folks, if not pictured, may have left earlier,
while others may still be rubbing the sleep from their eyes.
But John, Henry, and Brad are ready for grub!

Lane joins Elaine and Brooks for a visit and breakfast.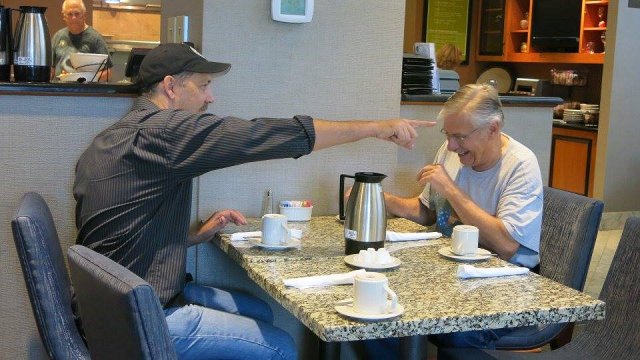 Brian asserting himself over Michael Hatt:
Get your own breakfast! I'm your publisher, not your server!

Did Bill twist his lovely wife Nan's arm to come to Dum-Dum?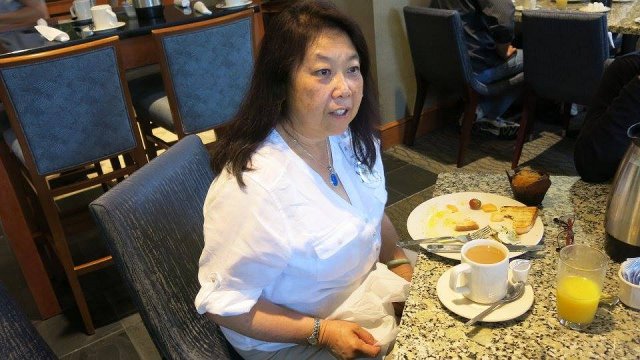 I am not a J.A.N.E.S, but may claim to be one
when there are shopping trips planned ;-)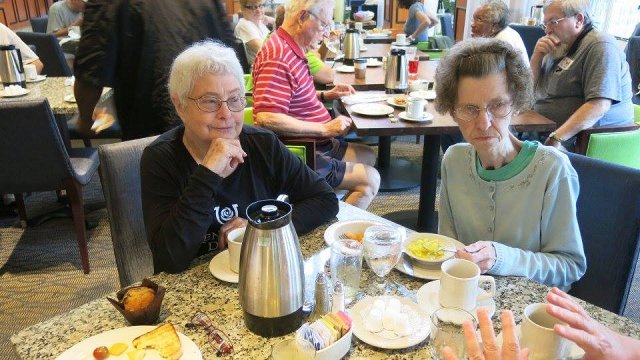 D.J. sporting her new T-shirt...Churchill Downs?
Great to see Phyllis up and at her breakfast.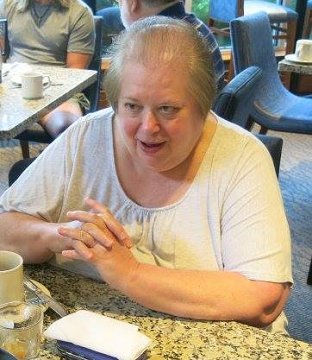 J the V telling sharing stories of her "fossil diggings."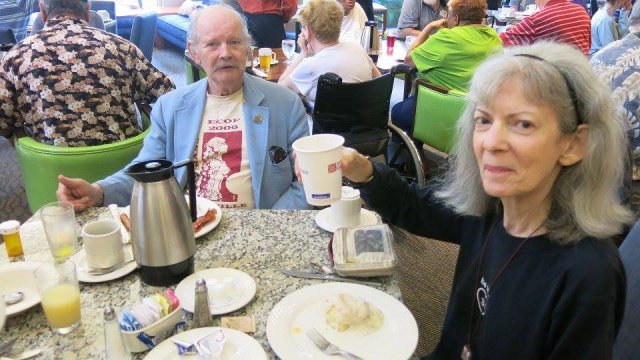 So good to see Victoria at a Dum-Dum again.
I am sure Huck is happy to have his lady love with him.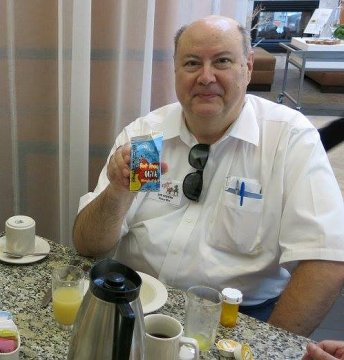 Lee Strong - milk for a growing man ;-)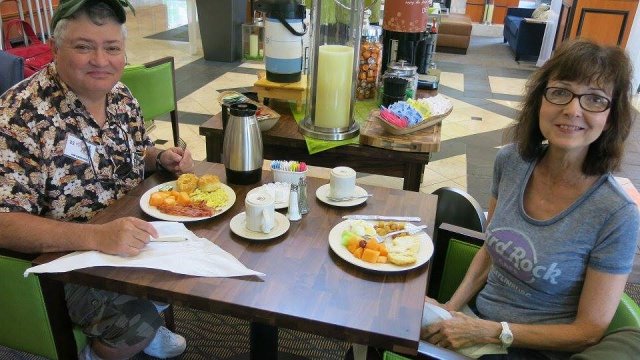 Jim and Rita, fueling up before their departure for another national park tour!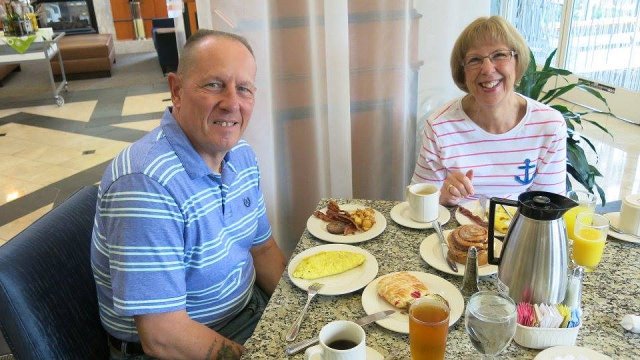 These folks were guests at the hotel.
They were bewildered as to why Bill took their picture!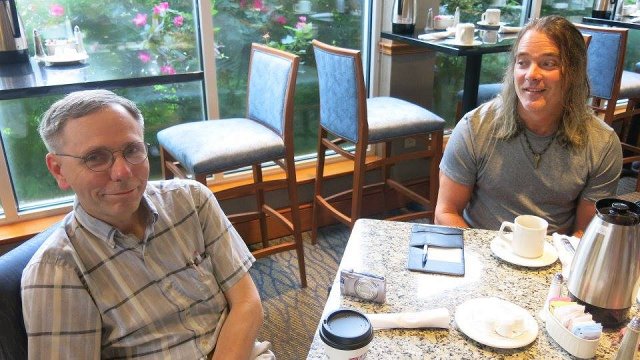 Lane is also a bit bewildered...
Wonder what Henry was telling him....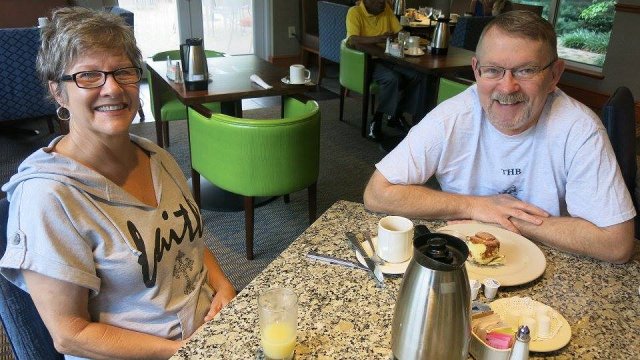 The leather meister Bob and his lovely wife Becky.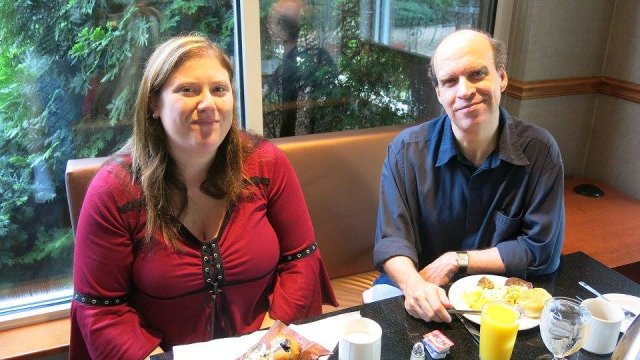 Authors Leia and Martin sharing breakfast time.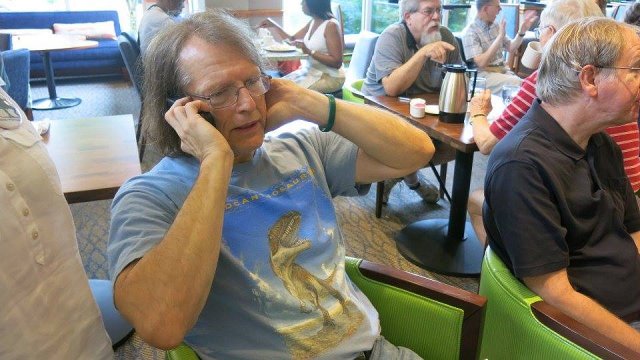 I'm AT a Dum-Dum... not I AM a dum-dum!

Bill chats with Cole and Cathy Richardson.

Bob O'Malley and Tom hart, one last visit before departure.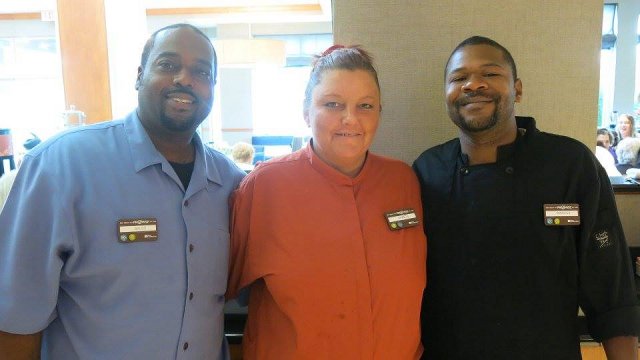 The efficient and friendly staff at the Hliton Garden Inn dining room staff.
They put out fresh warm cranberry oatmeal cookies for coffee time every afternoon!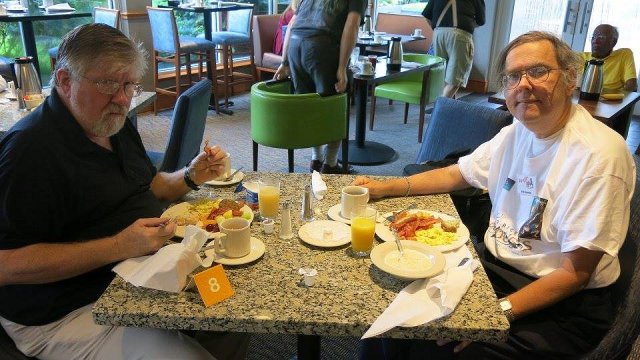 Two of the Muckers: Greg and Kenneth.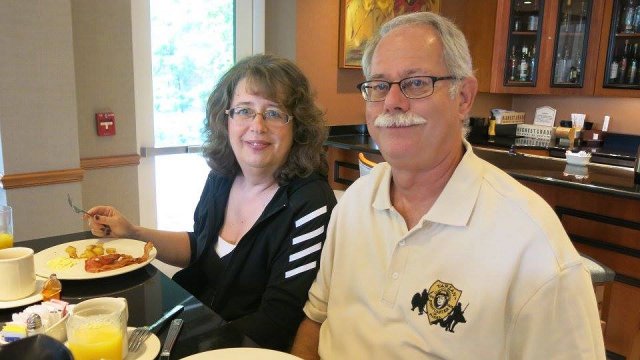 Mike and Linda - Always wonderful to see spouses come along.
I think Linda had some great shopping with the other ladies.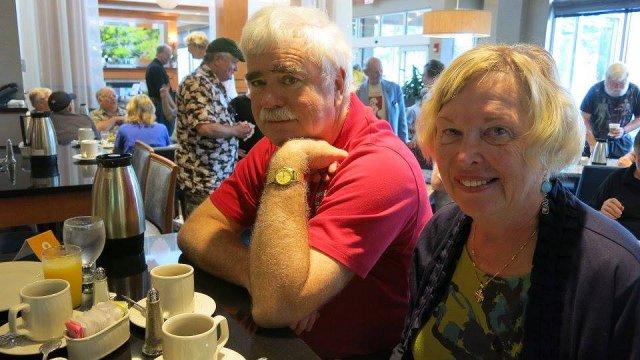 Ah, Joog and Joogina Spargur.
I missed all the fun shopping with Ginnie this year because of my broken toes.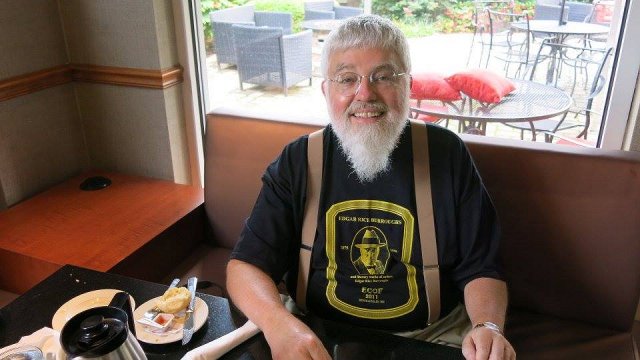 Jim Thompson proudly wearing his T-shirt from Rudy's ECOF in Minneapolis.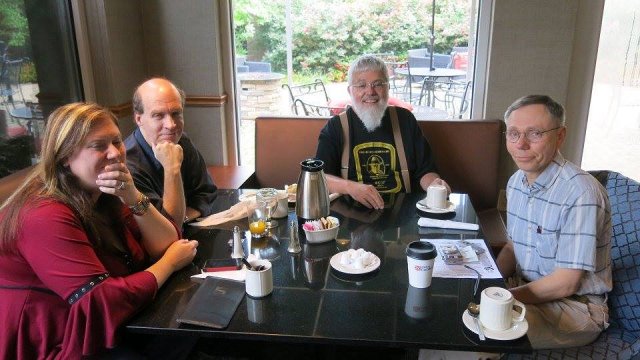 Jim must have been still collecting autographs of all the attendees in his souvenir book.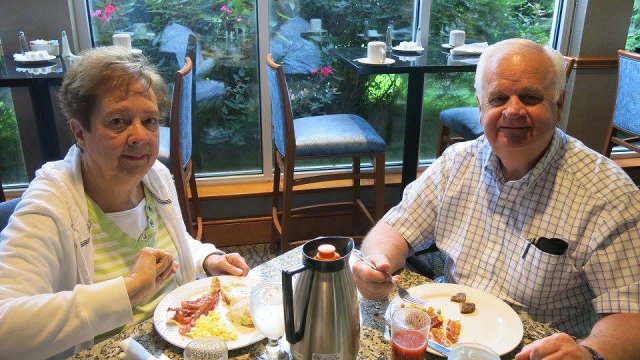 The Buchheits had a nice selection from the breakfast buffet.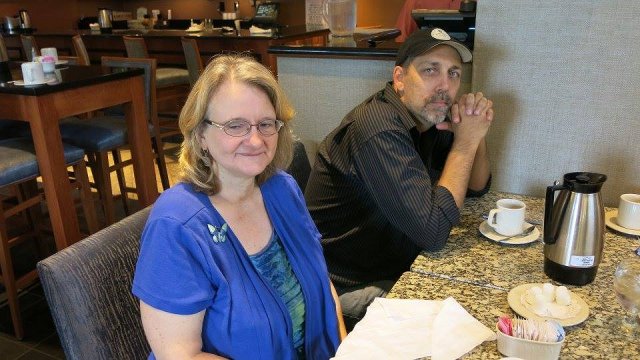 Diane giving Brian the cold shoulder?
No... I think Diane is thinking over the price to charge Brian for one of Ube's art work pieces ;-)

Rudy says, " I can give you a nicer T-shirt if you come to my next ECOF in Fargo, 2014!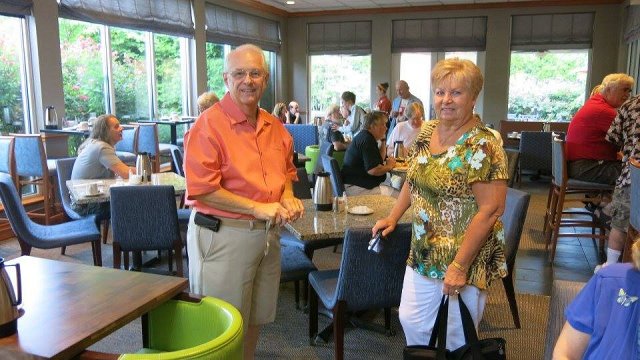 Ray and Shirley, getting ready to hit the road.
I missed shopping with Shirley for the Hillman grandbabies!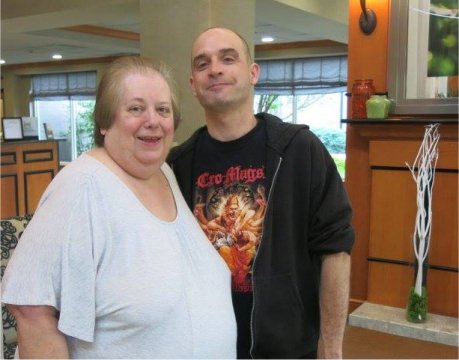 Devon has met J the V and survived to come another year;-)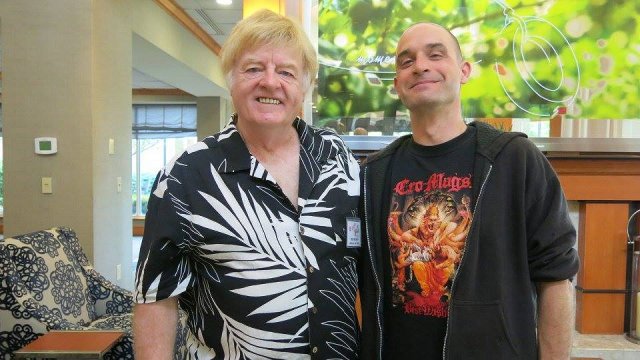 Two rockin' rollers, Devon more of a roller, me thinks ;-)


...
LOUISVILLE 2013 DUM-DUM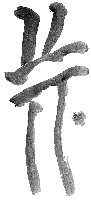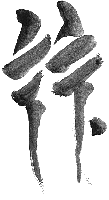 BILL HILLMAN
Visit our thousands of other sites at:
BILL AND SUE-ON HILLMAN ECLECTIC STUDIO
ERB Text, ERB Images and Tarzan® are ©Edgar Rice Burroughs, Inc.- All Rights Reserved.
All Original Work ©1996-2013 by Bill Hillman and/or Contributing Authors/Owners
No part of this web site may be reproduced without permission from the respective owners.