Official Edgar Rice Burroughs Tribute Weekly Webzine Site
Since 1996 ~ 10,000 Web Pages In Archive
Volume 4546

ERBzine REMEMBERS THE 2013 LOUISVILLE DUM-DUM
Photos by Bill and Sue-On Hillman
Captions by Sue-On - Expanded from our Facebook pages
click for larger images

6. Banquet ~ Speeches ~ Photo Ops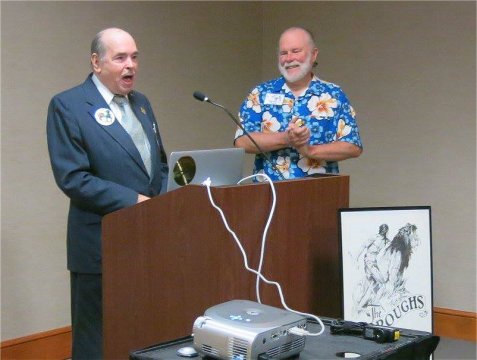 After an hour or so of mingling in the bar and foyer, all the attendees were seated.
John Tyner asked George McWhorter to officially begin the banquet
- with his infamous Tarzan yell.
It had been known to quell any and all other noisy banquet groups within a couple of miles
- as we well remember from the Tarzana DD at Woodland Hills in 1999
- the premiere of Disney's animated Tarzan!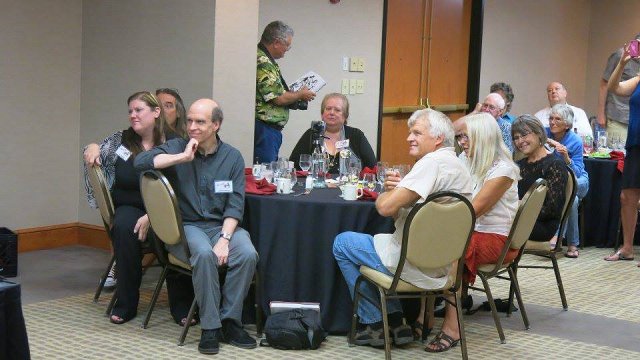 The "head table" with George McWhorter, Delinda Buie, Eva Koppelhus,
Dr. Phil Currie, Martin Powell, Leia Barrett Durham, Lana Batot, and Joan Bledig.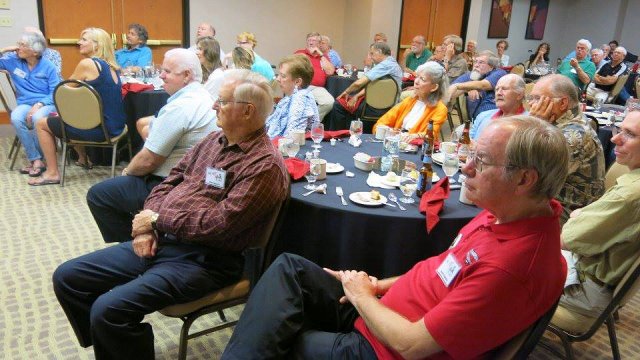 I would say that George's "Call of the Bull Ape" got everyone's attention.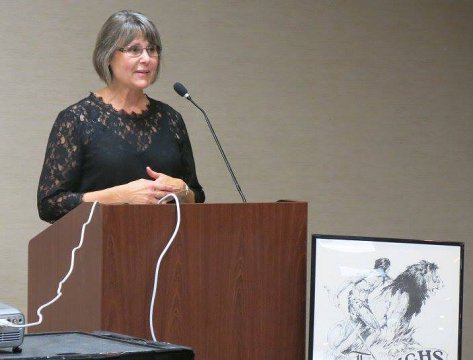 After we were well-fed, Delinda introduced our first speaker, George McWhorter.
She spoke about George's work and contributions to
the U of L Ekstrom Library Rare Books Collections,
specifically, the McWhorter ERB memorial collection dedicated to George's mother,
who taught him to read with ERB's books.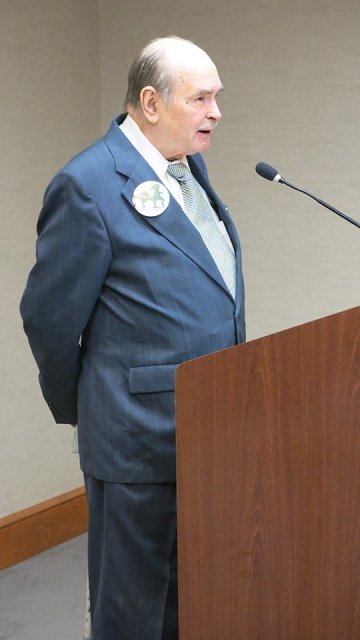 George spoke of his love of ERB, his mother's influence,
and always with a funny anecdote and the twinkle in his eyes.


One can feel the admiration, respect, and love for our patriarch and ERB as he spoke so candidly.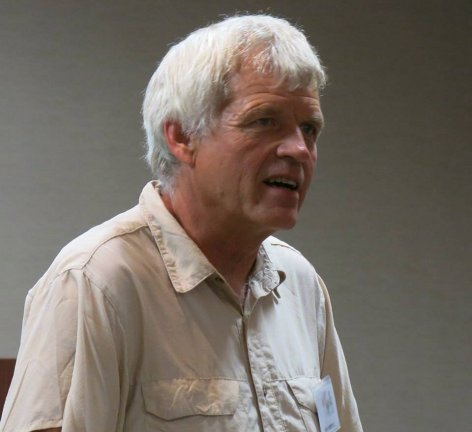 Our guest of honour for this year's DD was Dr. Phil Currie,
who presented Friday at the U of L Ekstrom Library auditorium.
He gave another excellent presentation about his work in paleontology after the banquet.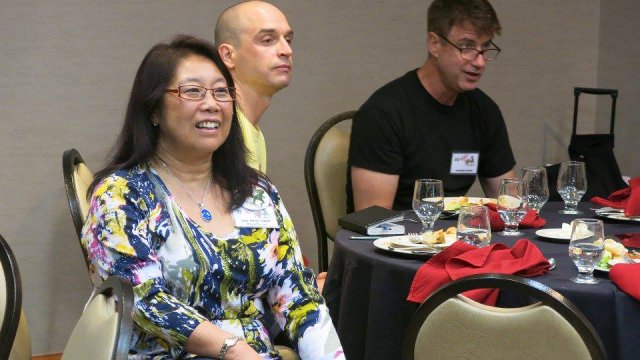 We got to know Devon Morf, a first-time attendee tho' long time ERB fan,
and Patrik Ewing in the first couple of days of the DD.
It was fun to sit with them for the banquet.
Devon is a heavy metal musician, so music was a common interest.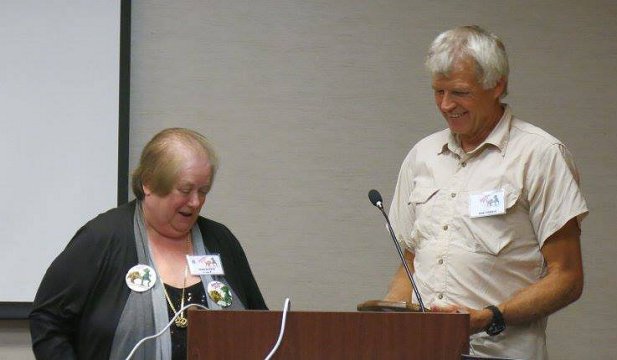 Ater his presentation, Joan Bledig presented Phil
with the ERB Life Time Achievement Award.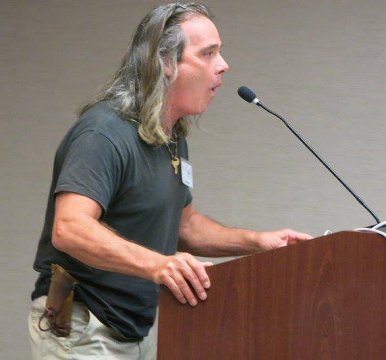 To close off the formal portion of the evening,
Lane Batot was invited to give HIS version of the Call of the Great Ape
...exciting, blood-curdling, and very effective!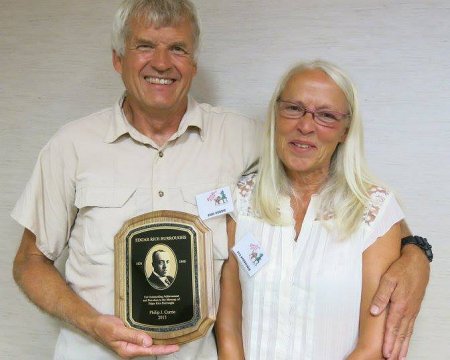 Phil Currie and Eva Koppelhus with Phil's ERB award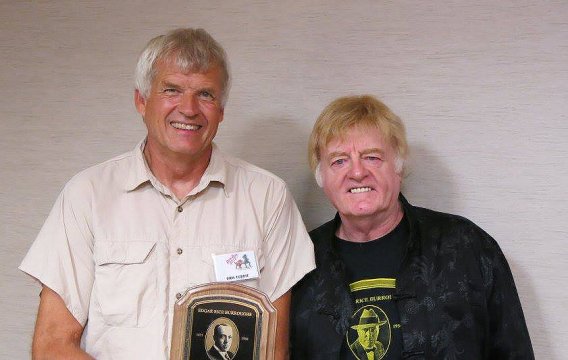 Bill and Phil Currie:
Bill received his Outstanding Achievement Award, also at a Louisville DD, in 2003,
presented by ERB's grandson and our good friend Danton Burroughs.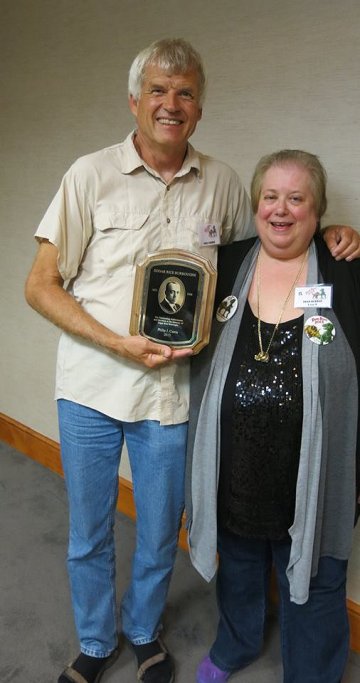 Yes, our Joan Bledig IS that short ;-)
Or is Phil Currie THAT tall?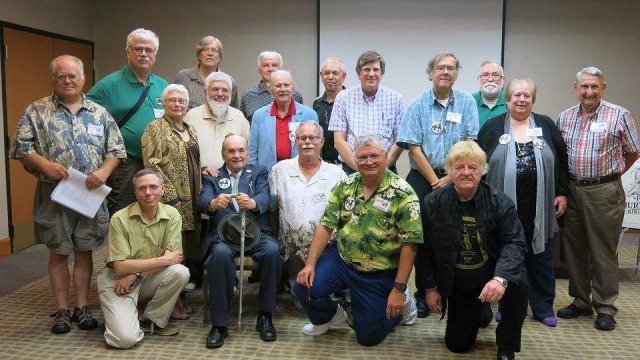 The annual ERBAPA photo
TOP: Dick Spargur ~ Jim Hadac ~ Dennis Wilcutt ~ Joe Lukes ~ Brooks Shelhorse
MIDDLE: Rudy Sigmund ~ DJ Howell ~ Jim Thompson ~ Huck Huckenpohler ~ Bill Ross ~ Ken Manson ~ Joan Bledig ~ Brad Vinson
BOTTOM: Henry Franke ~ George McWhorter ~ Mike Conran ~ Jim Goodwin ~ Bill Hillman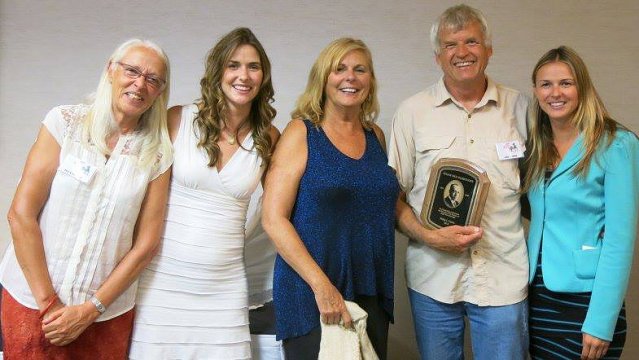 Eva Koppelhus, Llana Jane Burroughs, Linda Burroughs, Phil Currie, and Dejah Burroughs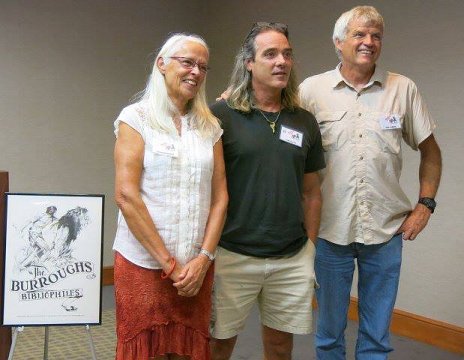 Eva, Lane Batot, and Phil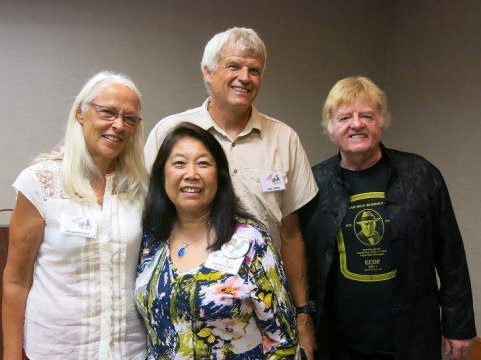 The Hillmans with Eva and Phil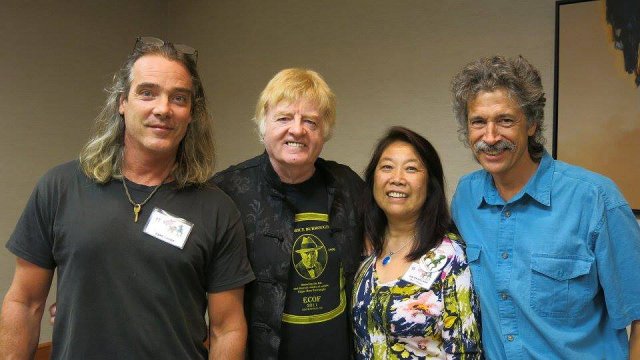 Lane, The Hillmans, and renowned artist Thomas Yeates

Lane, Rudy Sigmund, and the Hillmans.
Gosh! It's nice to have our picture taken TOGETHER!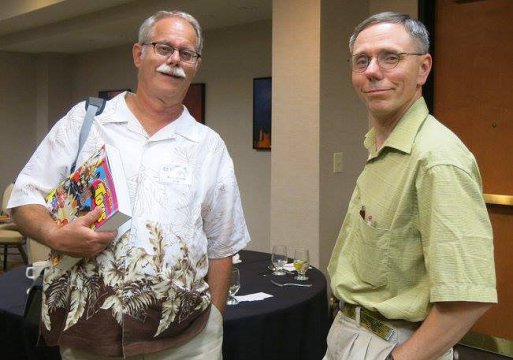 Mike Conran and Henry Franke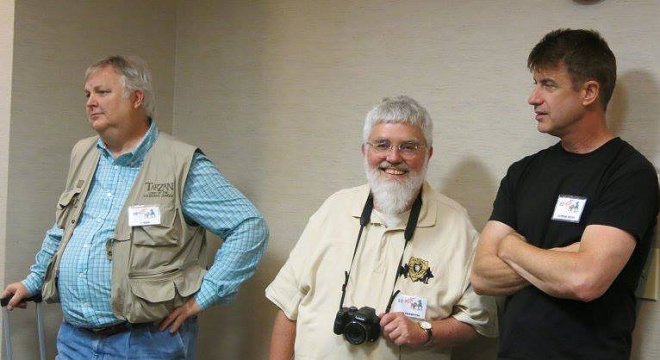 Al Bohl, Jim Thompson, Patrick Ewing
Jim: "Now, did I get everyone's signature?"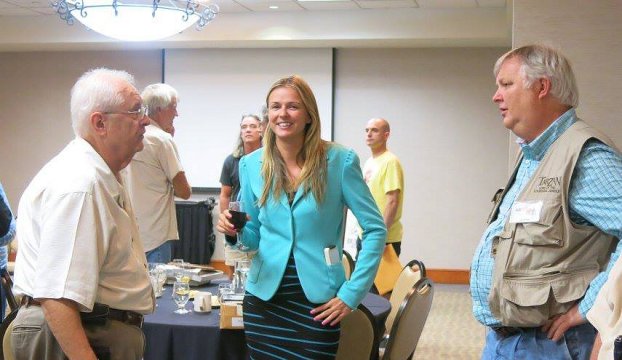 Ray Le Beau, Dejah Burroughs, Al Bohl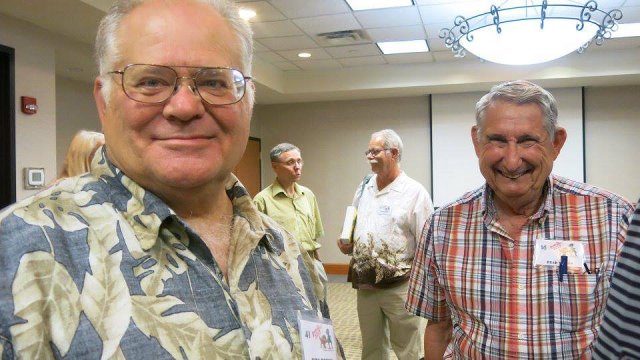 Rudy Sigmund and Brad Vinson,
each will be the host for one of next year's two ERB events:
Rudy for the ECOF in Fargo, ND,
and Brad the DD in College Station, TX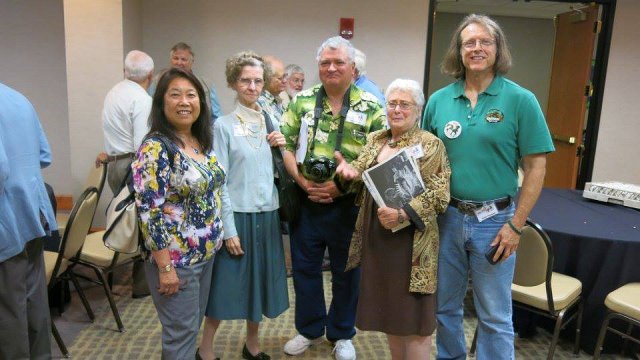 Phyllis, DJ, Jim Goodwin, Frank Grainger, and me!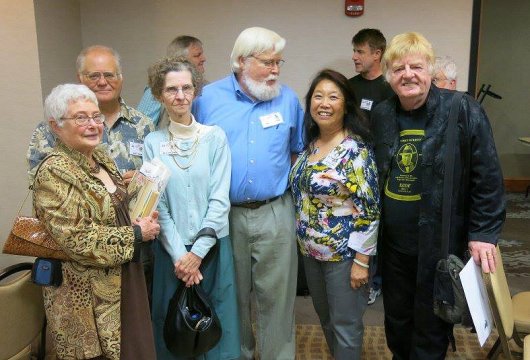 DJ, Rudy Sigmund, Phyllis, Cole Richardson, and the Hillmans...
Cole: " Yup. You're short, Sue-On"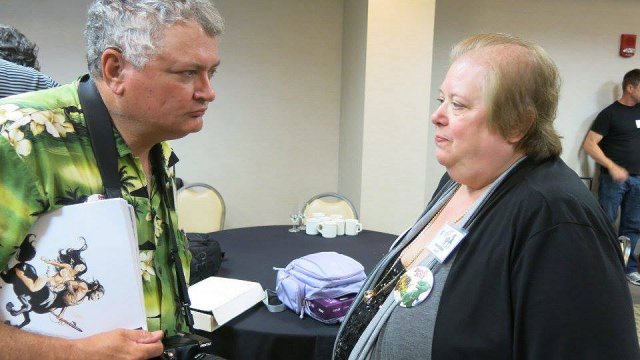 Jim Goodwin receiving words of wisdom from Joan Bledig...

Rudy Sigmund with everyone's
hero of the event - Dr. Phil Currie

OH! Here's someone who is
NEARLY as tall as Phil Currie - Bill Wagner!

The Hillmans with their Kentuckian friend
Dennis Wilcutt. Yes... I am THAT short ;-)

Eva Kopplehaus
was also roaming about with her camera
when not busy posing for other cameras.
The Louisville Dum-Dum was another success,
thanks to the collaborative efforts of
the National Capital Panthans
and the Chicago Muckers


..
LOUISVILLE 2013 DUM-DUM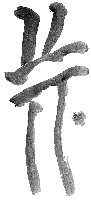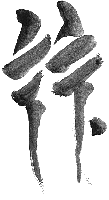 BILL HILLMAN
Visit our thousands of other sites at:
BILL AND SUE-ON HILLMAN ECLECTIC STUDIO
ERB Text, ERB Images and Tarzan® are ©Edgar Rice Burroughs, Inc.- All Rights Reserved.
All Original Work ©1996-2013 by Bill Hillman and/or Contributing Authors/Owners
No part of this web site may be reproduced without permission from the respective owners.