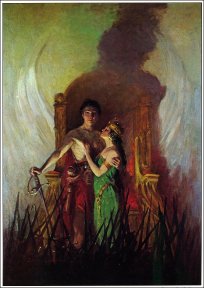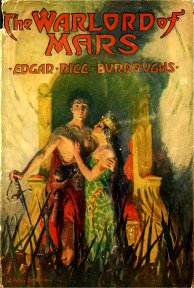 Plate 7

J. Allen St. John (1872-1957) was one of Burroughs' favorite illustrators. His first ERB art was his pen-and-ink illustrations for the 1915 The Return of Tarzan, and over the decades St. John painted and drew many classic images of John Carter, the incomparable Dejah Thoris, the princess of Mars, and their various adventures. The first illustration set on Barsoom by St. John was for the dust jacket of The Warlord of Mars (September 1919). The same image in monochrome serves as the frontispiece. St. John has chosen to illustrate the final page of the book, the triumphant finish to the three volume trilogy which began with A Princess of Mars. At the very end of the book the leaders and rulers of the separate nations, the red, the green, the yellow, and the black, have come to the capital city of Helium, surprised John Carter by summoning him to a justice tribunal, and Tars Tarkas, the ruler of the Thark nation asserts:
"Judges," he said, "there can be but one verdict. No longer may John Carter be Prince of Helium" – he paused – "but instead let him be Jeddak of Jeddaks, Warlord of Barsoom!"
... Presently fifty of the mightiest nobles of the greatest courts of Mars marched down the broad Aisle of Hope bearing a splendid car upon their shoulders, and as the people saw who sat within, the cheers that had rung out for me paled into insignificance besides those which thundered through the vast edifice now, for she whom the nobles carried was Dejah Thoris, beloved Princess of Helium.

Straight to the Throne of Righteousness they bore her, and there Tardos Mors assisted her from the car, leading her forward to my side.
"Let a world's most beautiful woman share the honor of her husband," he said. Before them all I drew my wife close to me and kissed her upon the lips.
Originally St. John painted this image as the color dust jacket cover, with St. John's own distinctive lettering painted onto the canvas. If you examine the print carefully, you can see the remnants of the original lettering which St. John has apparently painted over so that the image could be used for a monochrome frontispiece, but was not quite able to get rid of all traces of it.