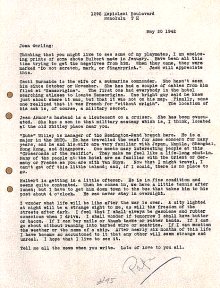 "Thinking that you might like to see some of my playmates, I am enclosing prints of some shots Hulbert made in January. Have been all this time trying to get the negatives from him. When they came, they were marked 'Do not scratch, mark, or fingerprint.' Jack will appreciate this.

"Cecil Burnside is the wife of a submarine commander. She hasn't seen him since October or November. She has had a couple of cables from him filed at 'Sansorigine'. The first one had everybody in the hotel searching atlases to locate Sansorigine. One bright guy said he knew just about where it was, but that it was not on his map. Finally, some one realized that it was French for 'without origin'. The location of his sub is, of course, a military secret.

"Jean Armor's husband is a lieutenant on a cruiser. She has been evacuated. She has a son in that military academy which is, I think, located at the old Whitley place near you.

"'Duke' Willey is manager of the Remington-Rand branch here. He is a major in the BMTC. He has travelled the east for some concern for many years, and he and his wife are very familiar with Japan, Manila, Shanghai, Hong Kong, and Singapore. One meets many interesting people at this 'Crossroads of the Pacific'."