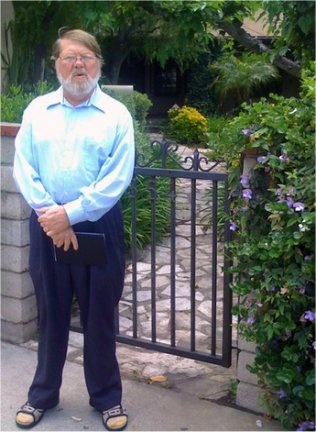 Richard Senate in Tarzana
near the site believed to be
the last resting place of
Edgar Rice Burroughs.
Biography: Richard L. Senate

Born in Los Angeles, his father was a painter at MGM Studios, he grew up in thousand Oaks, California, where worked at Jungleland, where many films and television shows were filmed. One of his fondest memories is meeting Johnny Weissmuller (then shooting a show called Ramar of the Jungle). His love of Edgar Rice Burroughs started when he was in the eighth grade when a friend gave him a pocket book edition of The Pirates of Venus. "From then on I was hooked," he recalls. He read everything he could find by Burroughs who replaced his earlier love of Jules Vern and H.G. Wells. Burroughs inspired him to write, finishing his first novel at the age of 16. To date he has published 22 works in both fiction and non-fiction.

The family moved to Ventura, California in 1963 and he attended Ventura High School and Ventura Community College, majoring in history. He went on to earn a BA degree in Cal State Long Beach. He studied archaeology at UCSB and attended the field school at Cal Poly. He worked as the manager of the Albinger Archeological Museum, and became the historian for the City of Ventura for twenty-two years. He is married, has three children and five grandchildren. He is best known for his work as a ghost hunter, starting in 1978 long before the subject was popular. He resides in Ventura, California still, is retired and enjoys teaching part-time and writing.