Official Edgar Rice Burroughs Tribute Weekly Webzine Site
Since 1996 ~ 10,000 Web Pages In Archive
Volume 4113
.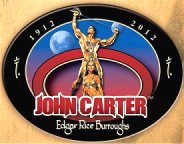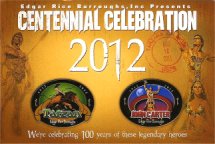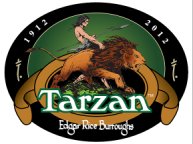 DAY FOUR: Page 13
PRESENTATIONS ~ PANELS ~ PEOPLE
On Stage and After


.
Many of these photos and captions are adapted from Sue-On Hillman's FaceBook Galleries.
Our FB Galleries with the added feature of viewers' comments may be found at:
FACEBOOK:
click for larger images
.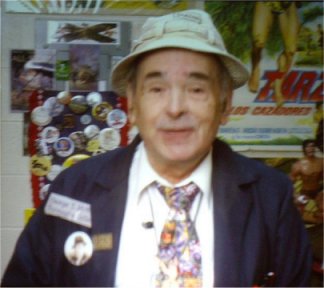 .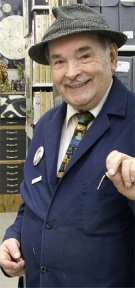 While some visited the huckster room, there was much a-foot in the Hidden Hills room with presentations.
Before anyone else spoke, a video from George McWhorter was presented.
As George was not able to attend personally, he sent an entertaining greeting to all
- wishing everyone a great time celebrating the Centennial of two of ERB's great works.
ERBzine Refs:
.



.
JOHN R. BURROUGHS REMEMBERS HIS GRANDFATHER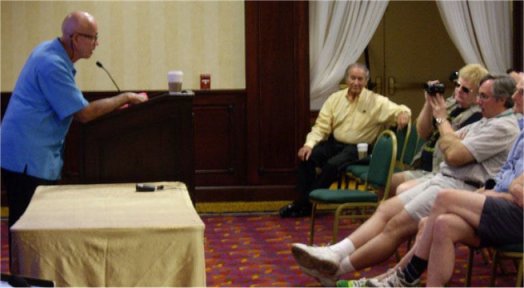 After George's welcoming remarks, Jim Sullos (middle) provided an update on ERB Inc.
John Ralston Burroughs, ERB's grandson, then took the podium with "Memories of my Grandfather".
It was special to hear someone share such details of the Burroughs family.
ERBzine Refs:
.



.
The Inside ERB's World Panel
John's presentation was followed by "Inside ERB's World" with
Linda Burroughs, her daughters Llana Jane and Dejah Ralston,
and from the ERB, Inc. office: Willie Jones, Janet Mann, and Cathy Mann Wilbanks.

Willie, Janet, Cathy
Llana Jane, Dejah, Linda


Linda Burroughs talks about Danton Burroughs.
"Oh yes...he was 'an avid collector'" ;-)


Janet Mann, ERB Inc treasurer gives insight
into the workings of the company.
.

Willie Jones, personal secretary to
ERB Inc president Jim Sullos manages copyrights.


Cathy Mann Wilbanks shares stories about some of
the conventions and gatherings she has attended
Cathy Mann Wilbanks, ERB archivist explains that she loves her job as she gets to play with all things ERB.
ERBine REFS:
.



.
AUTHORS' PANEL
The final presentation of the Dum-Dum was the panel with ERB authorized authors:
.


MINGLING WITH THE AUTHORS AND PRESENTERS


.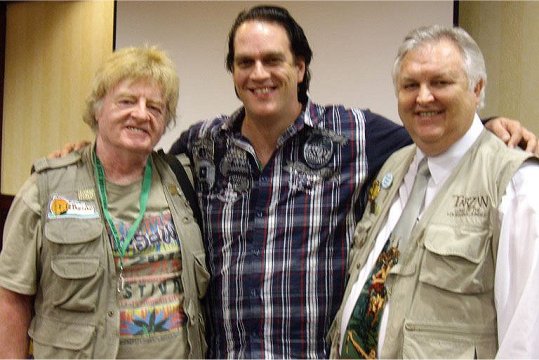 Andy Briggs finally meets Bill Hillman of ERBzine, who has done numerous features on his Tarzan books.
An International Trio: Canuck, Brit and Yank. . . ah. . . Southerner : )
Bill Hillman, Andy Briggs, Al Bohl
ERBzine Refs:
.



.
John Carter Meets Tarzan
Back to Barsoom Members and John Carter Actress, Evelyn Dubuc,
meet Tarzan author, Andy Briggs

Jan Austin (Back to Barsoom site)
Andy Briggs, Evelyn Dubuc


Annette and Khanada Taylor
(Take Me Back to Barsoom Members)


Sue-On (ERBzine) , Andy Briggs (Tarzan Author)
Evelyn Dubuc (John Carter Council Member)
ERBzine Refs:
.



.

Jim Sullos, Jane Goodall, Max Thomas waiting for the photo shoot
and exclusive interviews with Ms Goodall, Robin Maxwell, and Andy Briggs


Authors taking a break
.Andy Briggs and Scott Tracy Griffin (Tarzan Centennial)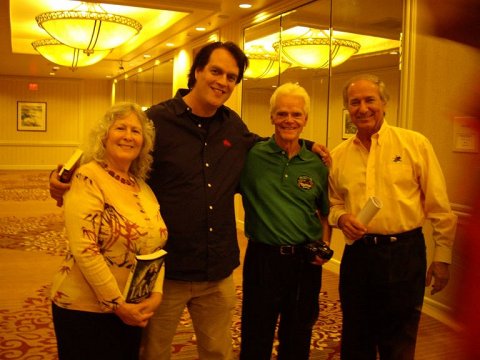 Robin Maxwell | Andy Briggs | Max Thomas | Jim Sullos
ERBzine Refs:
.



.
| | |
| --- | --- |
| A picture of Mike Conran taking a picture of Michael Shaw and Ron Ely. | Frank Puncer and Mike Conran |
ERBzine Refs:
.



.

Tim Clark with the Burroughs Beauties displaying
the day's paper coverage of the stamp unveiling ceremony


Sue-On's shopping pals: Shirley Le Beau and Yoko Hadac!
.
ERBzine Refs:
.


.

Mickey and Shirley with Sue-On
The Burwells are longtime friends and contributors to ERBzine


Mickey and Shirley Burwell with Bill Hillman
.
ERBzine Refs:
.


.

Queue for Jane Goodall's Autograph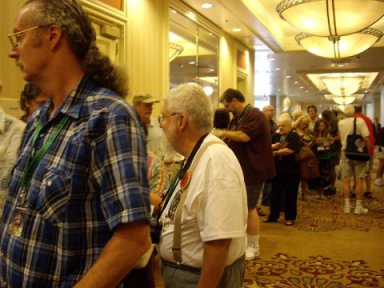 Jerry Schneider leading the line-up for Jane Goodall's autograph.
Jerry bought all the Goodall books in the Barnes and Noble store across the street!
Jim Thompson joins wife Linda in line with his autograph book...
ERBzine Refs: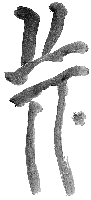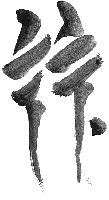 BILL HILLMAN
Visit our thousands of other sites at:
BILL AND SUE-ON HILLMAN ECLECTIC STUDIO
ERB Text, ERB Images and Tarzan® are ©Edgar Rice Burroughs, Inc.- All Rights Reserved.
All Original Work ©1996-2012 by Bill Hillman and/or Contributing Authors/Owners
No part of this web site may be reproduced without permission from the respective owners.