Official Edgar Rice Burroughs Tribute Weekly Webzine Site
Since 1996 ~ 10,000 Web Pages In Archive
Volume 4109
.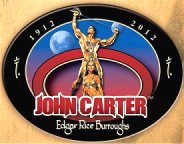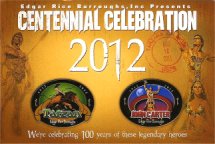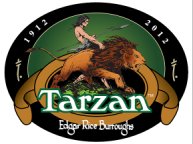 DAY THREE: Page 9
PRESENTATIONS ~ TOURS ~ DINING


.
Many of these photos and captions are adapted from Sue-On Hillman's FaceBook Galleries.
Our FB Galleries with the added feature of viewers' comments may be found at:
FACEBOOK:
.
PRESENTATION ONE
Sculptor Joe Devito illustrated the creation process for the new Tarzan statue.

www.jdevito.com
Sculptor Joe DeVito's presentation was on
the creation process for
the new Tarzan statue.

Unfortunately,
the great picture of Joe and me was corrupt
-- faulty memory card,
as were many of my "most wanted" photos.
But I loved the statue,
so bought one for Bill
for our 46th wedding anniversary,
which we celebrated on the road home.

Thanks, Hon - Love you much - Wills


Prior to Lee Chase and Dick Lupoff's presentations,
three busloads of attendees were shuttled to the Tarzan Cultural Centre
for the unveilng of the ERB commemorative stamp.
The event was covered in the previous three pages:


PRESENTATION TWO
Lee Chase, ERB step-son, gave a presentation
on the years of living with his mom, Florence and Ebbie (ERB)
in Hawaii and Hollywood.



.
.

Lee shared a stack of photos and mementos
for us to use in future ERBzines.
Lee's friend Frank Puncer was on hand
to help manage
the crowd of eager ERB fans
who gathered around Lee's photo display table.


Bill with Mr. and Mrs. Lee Chase
We were proud to have been chosen
to sit with Mr. and Mrs. Chase
at the Saturday Grand Banquet.

.
.
.


ERBzine Refs:
We have featured a number of
Frank Puncer's excellent interviews with Mr. Chase:
As part of my
BURROUGHS FAMILY BIOGRAPHY SERIES

I've compiled a bio of Florence Gilbert Burroughs
who was Mrs. Edgar Rice Burroughs from 1935-1941
and was mother to Lee and Caryl Lee
www.erbzine.com/mag8/0890.html

Lee's Uncle Eddie Gilbert's
ERB Collection:

Hillmans with Mr. Gilbert - Tarzana 1999
Mr. Gilbert had a popular bookstore
in Hollywood for many years
http://www.erbzine.com/mag7/0780.html
.



PRESENTATION THREE
Richard Lupoff discussed ERB, his ERB-related books including Master of Adventure,
the Canaveral Press days, the publishing world, and more...



.
.

Bill and Mr. and Mrs. Richard Lupoff
During an after-presentation chat


On stage with the always entertaining
Lupoff/Hillman/Goodwin Rockettes : )


Richard Lupoff References in ERBzine
RICHARD A. LUPOFF'S
MASTER OF ADVENTURE
The Worlds of Edgar Rice Burroughs
plus
An Illustrated Bibliography with Mini-Reviews of
Some of the Best-Known Lupoff Works ~ Part I

www.erbzine.com/mag30/3048.html

INTERVIEW
We are proud to have Dick Lupoff
as an ERBzine contributor.
See his exclusive 2010 interview with
Disney's John Carter screenwriter:
Michael Chabon

www.erbzine.com/mag30/3047.html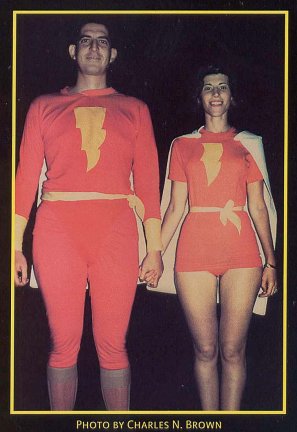 Dick and Pat in Superhero Costumes
.



ERB, INC TOURS
Following the presentations, buses also took attendees for tours of ERB, Inc. offices.


ERBzine 3578: Tour of ERB, Inc. Office, Tarzana ~ OFFICE I
ERBzine 3579: Tour of ERB, Inc. Office, Tarzana ~ OFFICE I
ERBzine 3580: Tour of ERB, Inc. Office, Tarzana ~ OFFICE I
ERBzine 3581: Tour of ERB, Inc. Office, Tarzana ~ FACES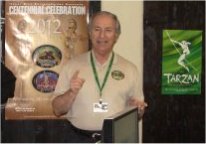 .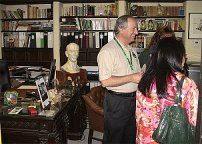 .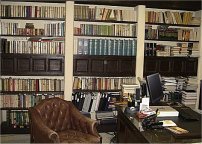 .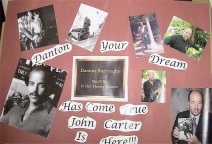 We didn't take many photos of the tour this time as
we have shared a multitude of office photos elsewhere in our ERBzine Archive.
The most recent office tour photos were taken at the 2012 ECOF event. . . see above
.


Suppertime at P.F. Chang's


After the tour of the ERB, Inc. offices on Ventura Blvd. there was a break for supper
where some of us managed to snag an outside table at P.F. Chang's.
We had fun eating and visiting with Cathy Mann Wilbanks and daughter Nicole,
Janet Mann, Willie Jones, Frank Grainger, and John Thompson.
There was plenty of food so no dueling chopsticks.
(You are right, Nicole, the candied walnut shrimp was great!)
.

Next Stop:
Back to the Marriott for the
Mucker ERB Jeopardy
and
The Tarzan Yell Contest moderated by Bill Hillman


.
NAVIGATION GUIDE TO THE ERBzine PHOTO JOURNAL COVERAGE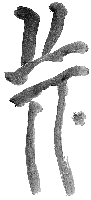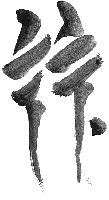 BILL HILLMAN
Visit our thousands of other sites at:
BILL AND SUE-ON HILLMAN ECLECTIC STUDIO
ERB Text, ERB Images and Tarzan® are ©Edgar Rice Burroughs, Inc.- All Rights Reserved.
All Original Work ©1996-2012/2015 by Bill Hillman and/or Contributing Authors/Owners
No part of this web site may be reproduced without permission from the respective owners.