Official Edgar Rice Burroughs Tribute Weekly Webzine Site
Since 1996 ~ 10,000 Web Pages In Archive
Volume 4104
.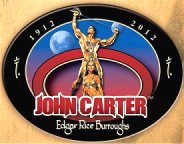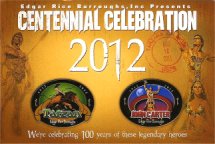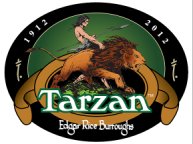 DAY TWO:
PRESENTATIONS AND ENTERTAINMENT

Many of these photos and captions are adapted from Sue-On Hillman's FaceBook Galleries.
Our FB Galleries with the added feature of viewers' comments may be found at:
FACEBOOK:
.


.
Some of the audience gathered for the many presentations offered during the event.
In the foreground [L] is another new attendee - from the Netherlands!
---
[R] Filmographer James Sullos, Jr. captured the presentations on video camera.
.


.
Professor Stan Galloway presents
"Narrative Techniques in Tarzan and John Carter"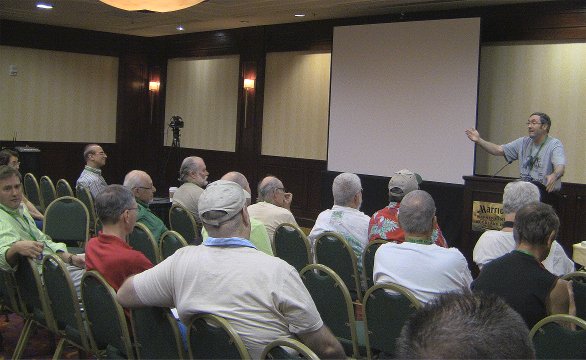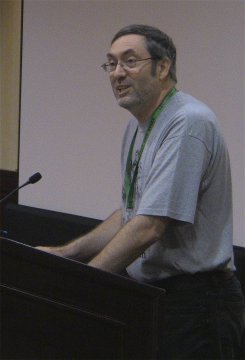 .


.
Phil Normand of www.recoverings.com presents:
"The Details of Digital Restoration"
and explains the process of accurate dust jacket reconstruction.
LAsubERB Bob Zeuschner introduces Phil to the audience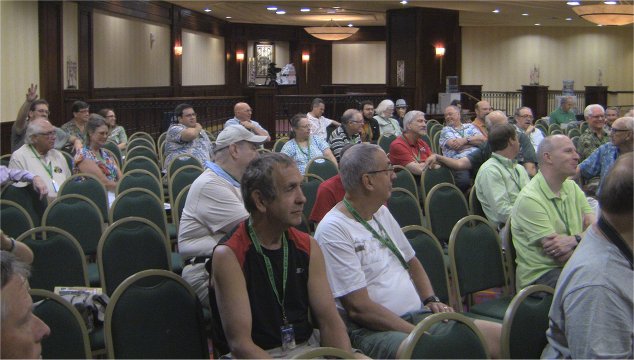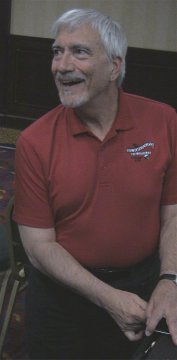 .


.
Michael Sellers of www.TheJohnCarterFiles.com shares what he learned
while researching John Carter and the Gods of Hollywood,
his book which examines what went wrong with Disney's John Carter film.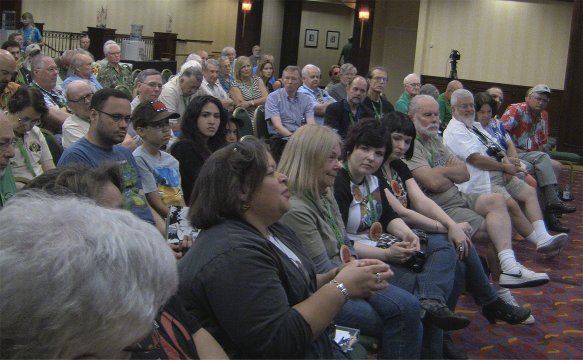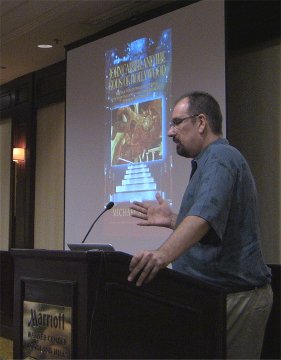 .



.
Kevin Robinette presents "Tarzan's History in Comics
with multiple visual examples
.



A MUSICAL INTERLUDE
The Northern California Mangani Musicians



.
The three amigoes: Jim Thompson was taking a picture of Dick Spargur taking a picture of
Bill Hillman taking a picture of the NoCal Mangani Musicians ...
More of the Bill Hillman ERB photo collages at: www.ERBzine.com/cards
You'll note that Bill is wearing the "Umgawa" shirt from Al Bohl's Louisiana Tarzan Festival 2012
---
Actually, all three cameramen were setting up to tape Tom Yeates, John and Paula Pappas perform :-)
Thomas Yeates is not only a wonderful artist, he's also a seasoned musical talent.
John and Paula did a great job accompanying Thomas with instruments and harmonies.
David Lemmo who was not able top attend due to a previous commitment.
Thomas did the Kinks' APEMAN - much appreciated by this roomful of manganis.

Jim Thompson and Dick Spargur have each been featured in pages of ERBzine over the years.
v
Jim and Linda Thompson confront Tarzan.
Art by Thomas Yeates


Dick Spargur after a workout
Photo by PhotoShop : )
.



.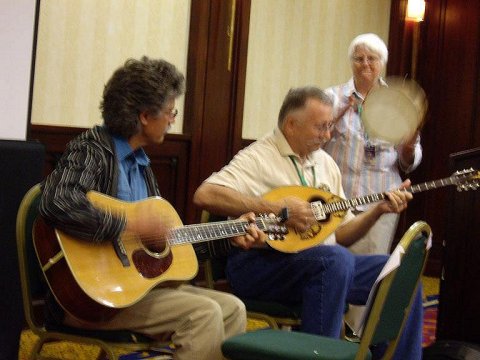 John Pappas treated the audience to a Greek selection.
The rhythm and melody were so infectious...
SOME of us were snapping our fingers, waving our arms,
but too shy to get up and kick up our heels ;-)
.
| | |
| --- | --- |
| The band appeared in full-force two weeks later at the Tarzan Centennial in Sacramento | Mangani Event |
These musicians are members of the New Bibliophiles Chapter: The Northern California Mangani
Thomas Yeates was joined by different musicians: Bob Zeuschner, Bill Hillman, and Sue-On
when we had a Blues Jam at the 2010 Chicago Dum-Dum
---
At that same DD, Thomas joined us and the entire ERB, Inc. office staff:
Jim Sullos, Willie Jones, Janet Mann, and Cathy Mann Wilbanks and also Adriana and Jairo Uparella from Columbia
for a Blues Club crawl in the heart of Chicago. A fantastic time and super bands.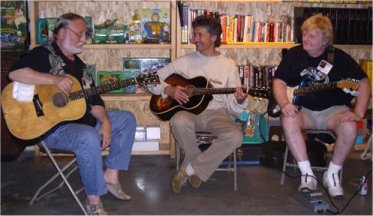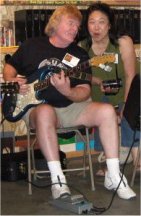 CHICAGO BLUES JAM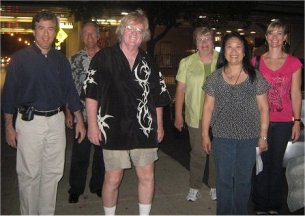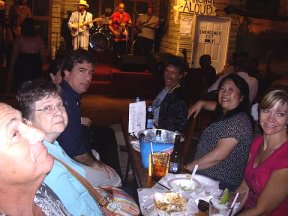 CHICAGO BLUES CLUB CRAWL
.



.
Dr. Robert Zeuschner (front left),
along with many ERB fans,
waiting for Al's documentary.
Bob has compiled
the most comprehensive ERB Bibliography:
Edgar Rice Burroughs:
The Exhaustive Scholarís and
Collectorís Descriptive Bibliography.

Thursday was capped with a presentation by Al Bohl.
Al and his daughter Allison Bohl had made a documentary
on the filming of the first Tarzan movie with Elmo Lincoln,
in Morgan City, in Al's home state of Louisiana.
It premiered in April at the first ever Tarzan Festival.
On that same weekend, Al also premiered the Elmo Lincoln silent,
with a new musical score performed by a string quartet from Shreveport, LA
Both films were wonderful, and they were well received by ERB fans.
It was certainly worth the long drive from Canada down to the deep south: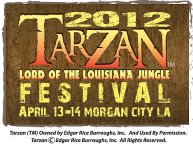 Al Bohl and Allison Bohl have shared a series of behind-the-scenes photo journals on
The Making of the Tarzan: Lord of the Louisiana Jungle Documentary

Jennifer Zeuschner Dimas displaying
the Thomas Yeates DJ art for
her Dad's ERB bibliography.


Al Bohl and Allison Bohl took their Tarzan documentary cameras
to the 2009 Dum-Dum in Dayton, Ohio.
.
.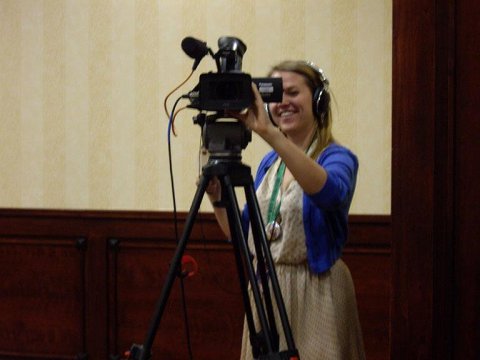 Allison Bohl - always with an eye to "documenting"...:-)
Allison has produced a string of popular, award-winning documentaries.
.



.
BACK TO 2012 DUM-DUM CONTENTS
NAVIGATION GUIDE TO THE ERBzine PHOTO JOURNAL COVERAGE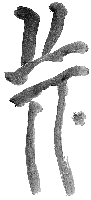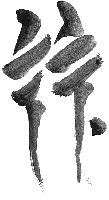 BILL HILLMAN
Visit our thousands of other sites at:
BILL AND SUE-ON HILLMAN ECLECTIC STUDIO
ERB Text, ERB Images and Tarzan® are ©Edgar Rice Burroughs, Inc.- All Rights Reserved.
All Original Work ©1996-2012 by Bill Hillman and/or Contributing Authors/Owners
No part of this web site may be reproduced without permission from the respective owners.