Official Edgar Rice Burroughs Tribute Weekly Webzine Site
Since 1996 ~ 10,000 Web Pages In Archive
Volume 4103
.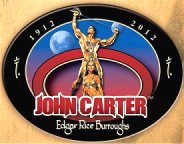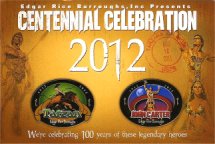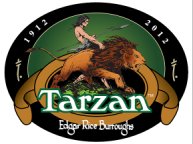 DAY TWO:
MINGLING AT THE WATERING HOLES
Atan & Kalan Yos: Gogo, Ud & Popo
Photos by Sue-On and Bill Hillman
Click for larger images and related reference sites.


.
Most of the DD2012 photos and captions on this page are
adapted from Sue-On Hillman's FaceBook Galleries.
Our FB Galleries with the added feature of viewers' comments may be found at:
FACEBOOK:
.
RUBY'S DINER
Day One Lunchtime.
The buzz around the Marriott Hotel lobby was that Ruby's Diner, a high end hamburger joint
across the street in the Westfield Promenade might be a good way to kick off the afternoon.
Sue-On and I met up with Willie and Janet from the ERB, Inc. office and during our trek to the eatery
we were joined by Ray and Shirley La Beau from Chicago.
Upon entering we found we were in good company as nearly all the seats of the '40s/'50s-style diner
were taken by ravenous Dum-Dum Mangani.
We were lucky to find two adjacent booths.
While waiting for our order Sue-On captured many of our fellow diners on camera.
.


.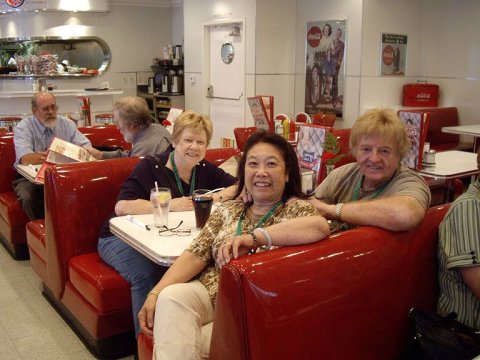 Willie Jones, Sue-On and Bill Hillman
Ray Le Beau, Shirley Le Beau, and Janet Mann were in the booth behind us (photo lost).
Kevin Robinette, another presenter is in the booth behind Willie.
Willie Jones is a veteran ERB, Inc. staffer who has been with the organization for most of her life
. . . O the stories she could tell : )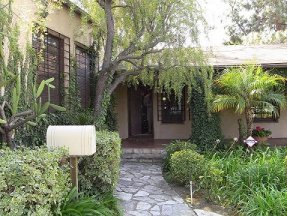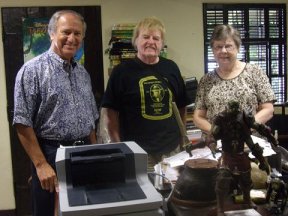 Tour the ERB, Inc. Offices
.


.
Willie Jones and Janet Mann
Along with Cathy Mann Wilbanks, Willie and Janet are
the ladies who keep ERB, Inc running smoothly every day.
.


.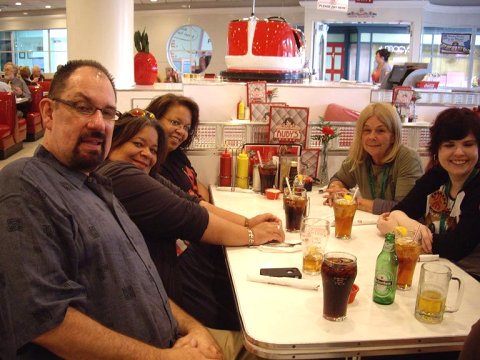 Take Me Back to Barsoom - I Want a Sequel
Members
Michael D. Sellers and some of the "Barsoom Sequel" members,
led by Jan Austin who, via her +11,000-member FaceBook site is
pressing for a John Carter of Mars film sequel.
We first made contact with Michael Sellers almost 10 years ago
when he and Rena visited Danton at his home
Michael has done an incredible job of promoting Disney's John Carter of Mars film
through his John Carter Files site, promotional videos and dedicated Web presence. . .
. . . a task that seemed beyond the capabilities of their advertising and promotion department.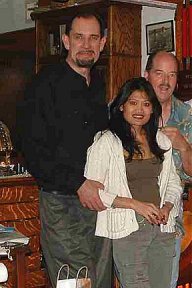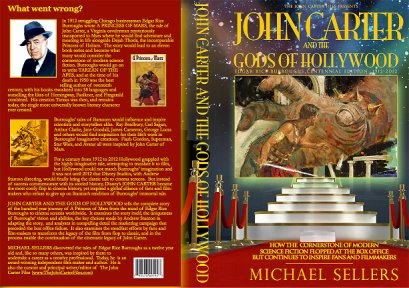 .


.
Tim Clark ~ Scott Tracy Griffin ~ Bill Wagner ~ Mike Conran ~ Michael Shaw
This diner brings back memories of a previous Dum-Dum visit to
Gerald Spannraft's famous Coca-Cola and Jungle Rooms in his Chicago home:
.


.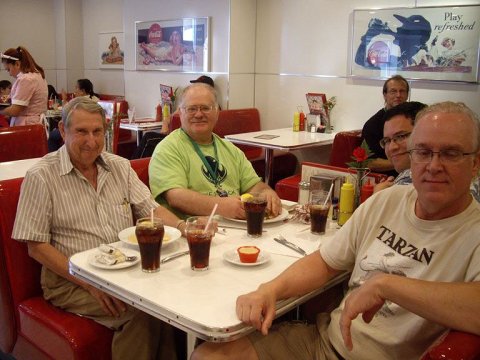 Brad Vinson, Rudy Sigmund, Dave Fury,
a young fan beside Dave, and Frank Grainger in the back.

Dr. Brad Vinson ot Texas
has an amazing ERB art collection.


Brad has so many stories about his dad Stan Vinson
in the good ole days of ERB collecting.

Rudy Sigmund hosted the successful
ECOF 2011 in Minneapolis -
an event into which he put
countless hours in the planning
and financing.


Maureen O'Sullivan:
"No Average Jane" -
just one of the many
fine ERB-related books
written by David Fury.


Many of the items in the
Morgan City Tarzan Museum
which was a part of the Al Bohl
2012 Tarzan Festival came from
the collection of Frank Grainger.
.


.
Greg Phillips, Kenneth Manson and Tom Tolley also enjoyed the diner.

Journalist Kenneth Manson,
also a Mucker,
has many feature articles
in ERBzine, such as
Danton Burroughs Talks Family


Artist Greg Phillips is a
founding member of the
Chicago Muckers -
a very active Chapter of
the Burroughs Bibliophiles.


Tom Tolley
of the Sacramento Library
was a major force behind
North California Mangani
Tarzan Centennial Event
.


.

THE MARRIOTT URBAN OASIS FIREPIT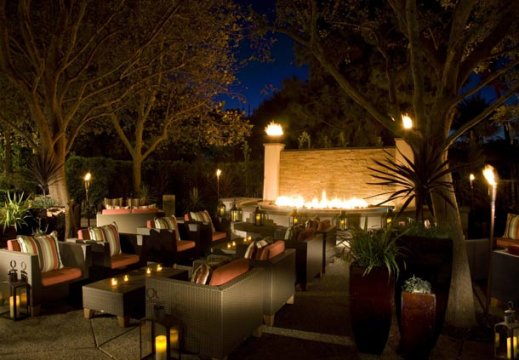 Evening Mingling Session
Temperatures through the day reached 100 degrees F (38 degrees C)
What better place to gather in the evening than around a firepit
. . . well. . . it was also poolside.
.


.
.


.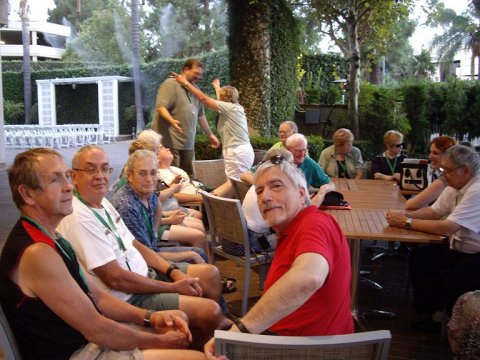 I think Ginnie Spargur was happy to see Bill Wagner.
Ginnie hadn't been able to attend the last DD in Pocatello or ECOF in March.
Phil Normand, in the red shirt, did a presentation early afternoon
explaining the process of accurate dust jacket reconstruction.
A link to Phil's Recoverings Website is featured on
all 90 Webpages of our ERB C.H.A.S.E.R Illustrated Bibliography.
He creates excellent replica and facsimile dust jackets for Edgar Rice Burroughs books.
.


.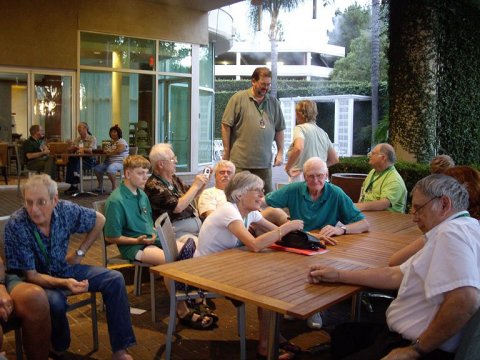 Peggy Adler, Harry, Rudy Sigmund, Ray La Beau, Bill Wagner, Dick and Ginnie Spargur
are some of the folks gathered by the pool.
John Martin, seated to the right, brought his talented and imaginative grandson,
Schuyler, to the event (seated across to the left).
Over the last year John has been exploring the catacombs of our ERBzine archive
to create a daily series featuring
"The Events That Happened On This Day in ERB History."
This summary of this year-long prodigious project will soon be featured in ERBzine.
Much of John's research on ERB's early days in Idaho appears in ERBzine:
.


.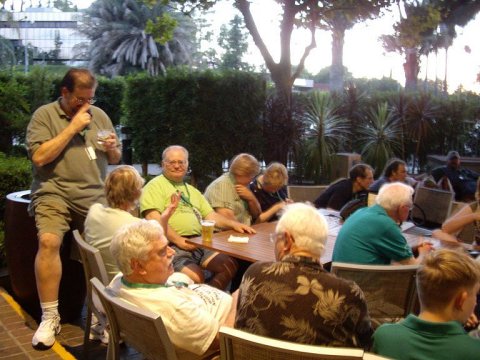 It had cooled off a bit in the evening.
The last time we all sat out here was 1999 for the premier of Disney's animated Tarzan.
The banquet was held here, disrupted by a small group of diners off on the patio.
George McWhorter gave the mangani call to DD,
which I am sure, could be heard all over Woodland Hills,
to open the banquet.
There was absolute silence after from the noisy diners ;-)
One of our favourite Tarzan T-shirts features the logo art that
artist Bill Stout had created for that 1999 Tarzana Dum-Dum convention.

The Years Fly By: We brought our young daughter, China-Li,
to that event - our first Dum-Dum. She has since earned medical degrees
and works as a Radiologist at Winnipeg Health Sciences Centre.
.


.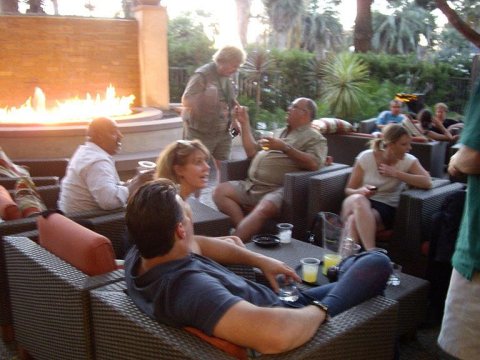 Off to one side was a group of broadcasters from Toronto, Vancouver, and USA.
They were quite intrigued by our conversations.
Bill and I went over to chat with them, and we got a couple of them interested in
signing up for our Tarzan yell contest.
Unfortunately, they were all leaving in the morning.
Good thing for me as one of the young ladies did quite a good Maureen O'Sullivan yell!

---

BTW: Sue-On surprised me completely by coming up at the last minute to do a Tarzan yell at our contest.
I had heard her do it only once in her lifetime.
She was voted first prize winner in the Ladies Category.
We then added a Third Category to feature a surprise contestant:
Jane Goodall, who blew away everyone in the packed house with her authentic chimpanzee yell.
Hopefully someone has photos of the Tarzan Yell Contest - I was too busy as MC of the event.
.


.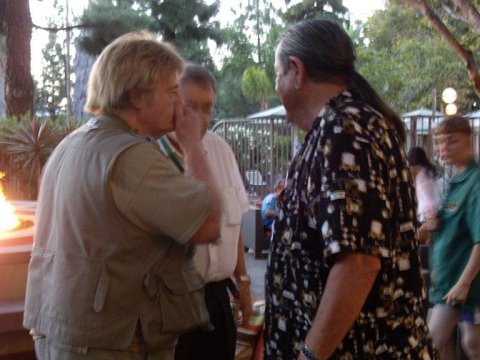 Bill Hillman, Camille Cazedessus (Caz, longtime ERB fan and editor of
the award-winning fanzine of years back - ERB-dom) and John Martin.
NEXT
DAY TWO: Part 2 will feature the day's presentations and entertainment.
BACK TO 2012 DUM-DUM CONTENTS



.
NAVIGATION GUIDE TO THE ERBzine PHOTO JOURNAL COVERAGE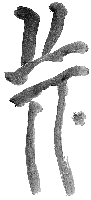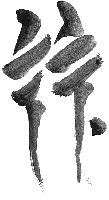 BILL HILLMAN
Visit our thousands of other sites at:
BILL AND SUE-ON HILLMAN ECLECTIC STUDIO
ERB Text, ERB Images and Tarzan® are ©Edgar Rice Burroughs, Inc.- All Rights Reserved.
All Original Work ©1996-2012 by Bill Hillman and/or Contributing Authors/Owners
No part of this web site may be reproduced without permission from the respective owners.