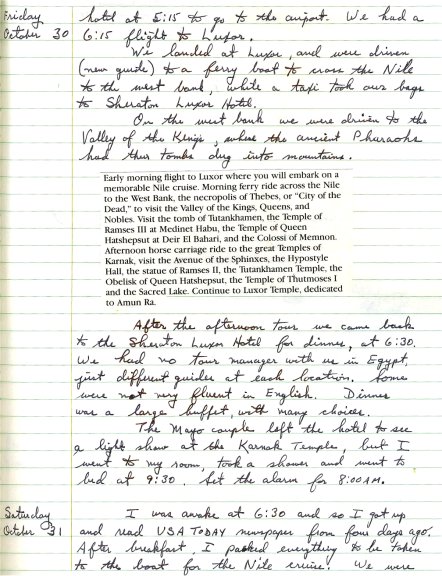 Friday ~ October 30
. . . continued. . . hotel at 5:15 to go to the airport. We had a 6:15 flight to Luxor.

We landed at Luxor and were driven (new guide) to a ferry boat to cross the Nile to the west bank, while a taxi took our bags to Sheraton Luxor Hotel.

On the west bank we were driven to the Valley of the Kings, where the ancient Pharaohs had their tombs dug into mountains.
Early morning flight to Luxor where you will embark on a memorable Nile cruise. Morning ferry ride across the Nile to the West Bank, the necropolis of Thebes, or "City of the Dead," to visit the Valley of the Kings, Queens and Nobles. Visit the tomb of Tutankhamen, the Temple of Ramses III at Medinet Habu, the Temple of Queen Hatshepsut at Deir El Bahari, and the Colossis of Memnon. Afternoon horse carriage ride to the great Temples of Karnak, visit the Avenue of the Sphinxes, the Hypostyle Hall, the statue of Ramses II, the Tutankhamen Temple, the Obelisk of Queen Hatshepsu, the Temple of Thutmoses I and the Sacred Lake. Continue to Luxor Temple, dedicated to Amun Ra.
After the afternoon tour we came back to the Sheraton Luxor Hotel for dinner at 6:30. We had no tour manager with us in Egypt, just different guides at each location Some were not very fluent in English. Dinner was a large buffet, with many choices.

The Mayo couple left the hotel to see a light show at the Karnak Temple, but I went to my room, took a shower and went to bed at 9:30. Set the alarm for 8:00 AM.

Saturday ~ October 31
I was awake at 6:30 and so I got up and read USA Today Newspaper form four days ago. After breakfast, I packed everything to be taken to the boat for the Nile cruise. We were . . . continued . . .