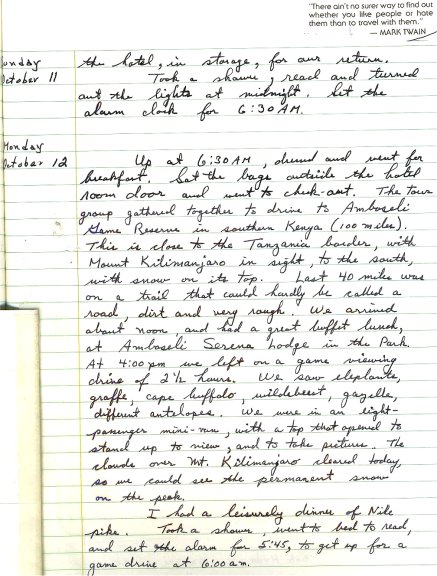 . . . continued. . . the hotel, in storage, for our return.

Took a shower, read and turned out the lights at midnight. Set the alarm clock for 6:30 AM.

Monday ~ October 12
Up at 6:30 AM, dressed and went for breakfast. Set the bags outside the hotel room door and went to check-out. The tour troupe gathered together to drive to Amboseli Game Reserve in southern Kenya (100 miles). This is close to the Tanzania border, with Mount Kilimanjaro in sight, to the south, with snow on its top. Last 40 miles was on a trail that could hardly be called a road, dirt and very rough. We arrived about noon, and had a great buffet lunch, at Amboseli Serena Lodge in the Park. At 4:00 pm we left on a game viewing drive of 2 1/2 hours. We saw elephants, giraffe, cape buffalo, wildebeest, gazelle, different antelopes.

We were in a light-passenger mini-van, with a top that opened to stand up to view, and to take pictures. The clouds over Mt. Kilimanjaro cleared today, so we could see the permanent snow on the peak.

I had a leisurely dinner of Nile pike. Took a shower, went to bed to read, and set the alarm for 5:45, to get up for a game drive at 6:00 am.