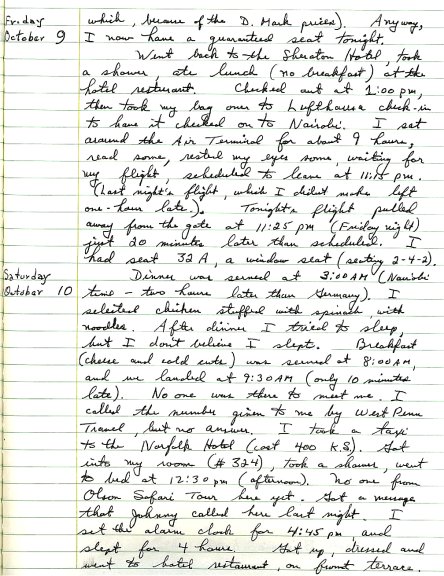 Friday ~ October 9
. . . continued . . . which, because of the D. Mark prices) (actually was $1553). Anyway, I now have a guaranteed seat tonight.

Went back to the Sheraton Hotel, took a shower, ate lunch (no breakfast) at the hotel restaurant. Checked out at 1:00 pm, then took my bag over to Lufthansa check-in to have it checked on to Nairobi. I sat around the Air Terminal for about 9 hours, read some, rested my eyes some, waiting for my flight, scheduled to leave at 11:15 pm. (Last night's flight, which I didn't make left one-hour late). Tonight's flight pulled away from the gate at 11:25 pm (Friday night) just 20 minutes later than scheduled. I had seat 33A, a window seat (seating 2-4-2).

Saturday ~ October 10
Dinner was served at 3:00 AM (Nairobi time - two hours later than Germany). I selected chicken stuffed with spinach with noodles. After dinner I tried to sleep, but I don't believe I slept. Breakfast (cheese and cold cuts) was served at 8:00 AM, and we landed at 9:30 AM (only 10 minutes late). No one was there to meet me, I called the number given to me by West Penn Travel, but no answer. I took a taxi to the Norfolk Hotel (cost 400 K.S.). Got into my room (#324), took a shower, went to bed at 12:30 pm (afternoon). No one from Olson Safari Tour here yet. Got a message that Johnny called here last night. I set the alarm clock for 4:45 pm, and slept for 4 hours. Got up, dressed and went to hotel restaurant, on front terrace.