Official Edgar Rice Burroughs Tribute Site
Since 1996 ~ Over 15,000 Webpages in Archive
Volume 0489
and
ERB C.H.A.S.E.R ONLINE ENCYCLOPEDIA
Present
Son of Tarzan
Interior Art by J. Allen St. John
Pt. III: Chapters XX-XXVII
Historiated Initials ~ Decorations ~ Interior Line Art ~ International Paperback Covers
SON OF TARZAN
PART I :: PART II :: PART III

J. ALLEN ST. JOHN INTERIOR ART




Click for full-size images

.
XX

It was still dark when
the Hon. Morison Baynes
set forth for the trysting place.


XX. Korak looked searchingly down
.
XXI

The black boy
whom Malbihn had left
awaiting him in the clearing
with instructions to remain
until he returned
sat crouched at the foot of a tree
for an hour
when he was suddenly startled
by the coughing grunt of
a lion behind him.


XXI. The black came upon the spoor of two ponies
.
XXII

As Meriem struggled
with Malbihn,
her hands pinioned to her sides
by his brawny grip,
hope died within her.


XXII. The flight of Meriem
.
XXIII

Meriem
had traversed
half the length
of the village street
when a score of
white-robed negroes
and half-castes
leaped out upon her
from the dark interiors
of surrounding huts.


XXIII. With a wild whoop of exultation
.
XXIV

Sometimes lolling
upon tantor's back,
sometimes roaming
the jungle in solitude,
Korak made his way
slowly toward
the West and South.


XXIV: Hammock, canopy and man were
swung high above Tantor's head
.
XXV

THE SHEIK
glowered at the prisoner
which his two men
brought back to him
from the North.


XXV. A terrific blow
.
XXVI

MERIEM,
dazed by the unexpected sight
of Korak
whom she had long
given up as dead,
permitted herself to be
led away by Baynes.


XXVI. He commanded the elephant
to lift him and carry him
.
XXVII

Korak
screamed commands
to his huge protector,
in an effort to halt him;
but all to no avail.


XXVII. With naked hands he faced the maddened Tantor


LORD GREYSTOKE'S GALLERY
British Paperback Editions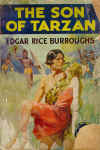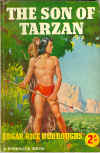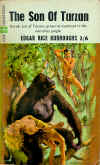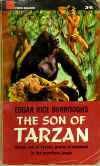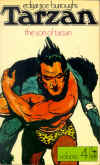 1. Pinnacle Edition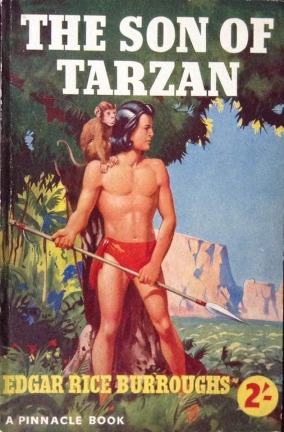 .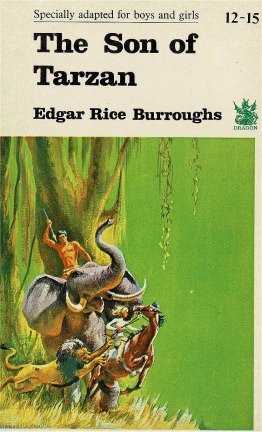 2. UK Green Dragon Edition
(Edward Mortlemans Cover Art)
From the Laurence Dunn Collection

---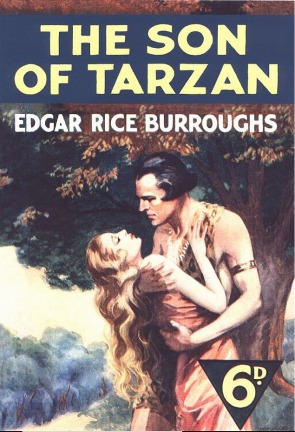 From the Laurence Dunn Collection
UK C.A. Ransome '30s Edition ~ Cover Art by Harry Woolley
| | |
| --- | --- |
| 1950 edition from Norway. | . |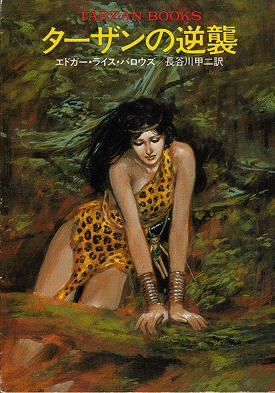 Naoyuki Kato Art ~ Released on July 15, 1982
Tarzan no Gyakushu (The Counterattack of Tarzan)
Hayakawa SF Books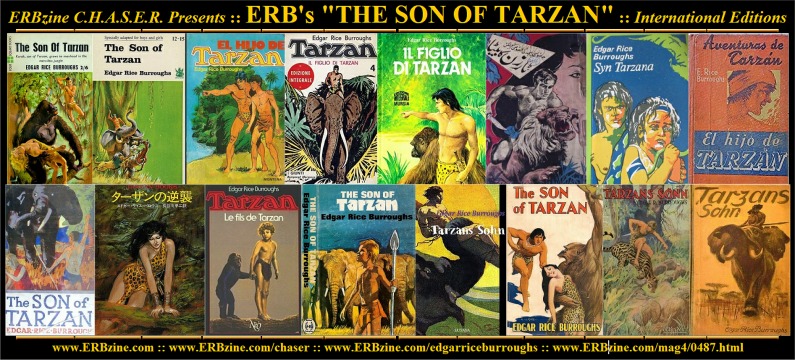 Click for full size

---
SON OF TARZAN
PART I :: PART II :: PART III
---
.


BACK TO ERB C.H.A.S.E.R. NAVIGATION CHART



Volume 0489


BILL HILLMAN
Visit our thousands of other sites at:
BILL and SUE-ON HILLMAN ECLECTIC STUDIO
All ERB Images© and Tarzan® are Copyright ERB, Inc.- All Rights Reserved.
All Original Work © 1996-2002/2022 by Bill Hillman and/or Contributing Authors/Owners
No part of this web site may be reproduced without permission from the respective owners.


The Fantastic Worlds of Edgar Rice Burroughs
ERB Companion Sites Created by Bill Hillman
| | | | |
| --- | --- | --- | --- |
| Tarzan.com | ERBzine.com | DantonBurroughs.com | Tarzan.org |
| BurroughsBibliophiles.com | JohnColemanBurroughs.com | Tarzan.com/tarzine | JohnCarterOfMars.ca |
| EdgarRiceBurroughs | Weekly Webzine | Weekly Webzine | Pellucidar.org |
| John Carter Film | ERB, Inc. Corporate Site | ERB Centennial | tarzana.ca |