Official Edgar Rice Burroughs Tribute Site
Since 1996 ~ Over 15,000 Webpages in Archive
Volume 0488
Presents
Son of Tarzan
Interior Art by J. Allen St. John
Part II: Chapters IX-XIX
Historiated Initials ~ Decorations ~ Interior Line Art ~ US Paperback Covers
Written by ERB between January 21 and May 11, 1915
Continued from Part I
SON OF TARZAN
PART I :: PART II :: PART III

J. ALLEN ST. JOHN INTERIOR ART




Click for full-size images

.
IX

It was an unhappy Korak
who wandered aimlessly through the jungle
the day following his inhospitable reception
by the great apes.
.
X

As the leopard leaped for the great ape
Meriem gasped in surprise and horror -
not for the impending fate of the anthroid,
but at the act of the youth
who but an instant before
had angrily struck his strange companion;
for scarce had the carnivore burst into view
than with drawn knife the youth had leaped
far out above him, so that as
Sheeta was almost in the act of sinking fangs
and talons in Akut's broad back
the Killer landed full upon the leopard's shoulders.


X. The victory cry of the bull ape
.
XI

Korak,
returning from the hunt,
heard the jabbering of
the excited monkeys.


XI. The capture of Meriem
.
XII

Two tall,
bearded white men
moved cautiously
through the jungle
from their camp
beside a great river.
.
XIII

Meriem,
again bound
and under heavy guard
in Kovudoo's own hut,
saw the night pass
and the new day come
without bringing
the momentarily looked for
return of Korak.


XIII. Meriem was brought forth into the sunlight
.
XIV

With wide eyes fixed upon him,
like a trapped creature
horrified beneath the mesmeric gaze
of a great serpent,
the girl watched
the approach of the man.


XIV. Both men fired at once
.
XV

And out in the jungle,
far away,
Korak,
covered with wounds,
stiff with clotted blood,
burning with
rage and sorrow,
swung back upon
the trail of
the great baboons.


XV. The baboons rout the blacks
.
XVI

To Meriem,
in her new home,
the days passed quickly.


XVI. Numa the Lion
.
XVII

Meriem returned slowly
toward the tree
in which she had
left her skirt,
her shoes and her stockings.


XVII. Slowly and one by one they approached the girl
.
XVIII

Meriem and Bwana
were sitting on
the verandah together
the following day
when a horseman appeared
in the distance
riding across the plain
toward the bungalow.


XVIII. Meriem's leap saved her from a horrible death
.
XIX

Behind them
Korak emerged
from the jungle
and recovered his spear
from Numa's side.


XIX. Meriem stopped short
.
Continued in
Part III: Chapters XX-XXVII

LORD GREYSTOKE'S GALLERY
American Paperback Editions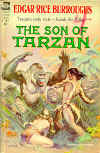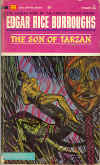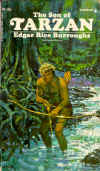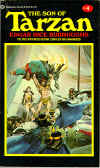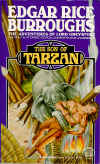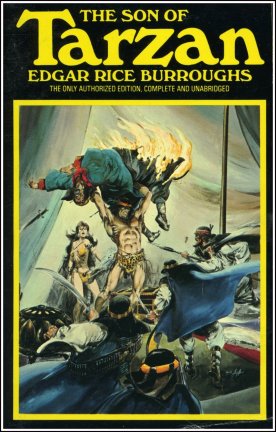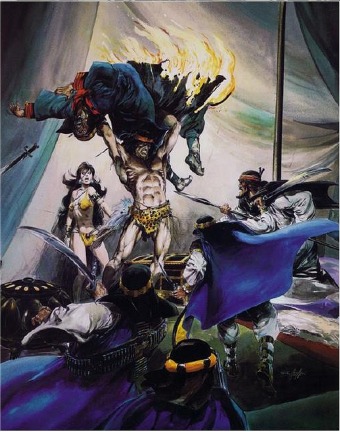 From our series of Neal Adams Ballantine covers:
www.erbzine.com/mag36/3610.html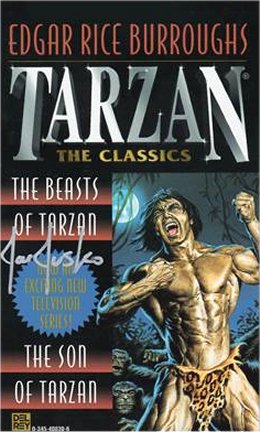 Art by Joe Jusko
Del Rey Doubles Series
---
UK EDITION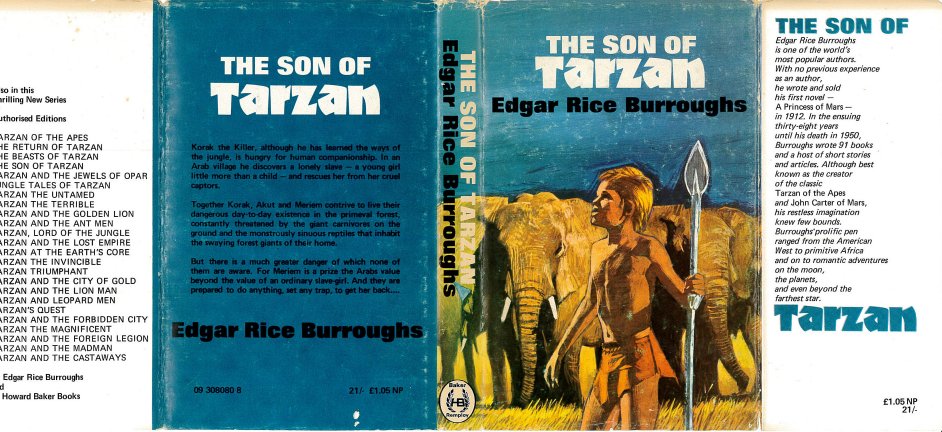 ---
SON OF TARZAN
PART I :: PART II :: PART III
---
.

BACK TO ERB C.H.A.S.E.R. NAVIGATION CHART


Volume 0488


BILL HILLMAN
Visit our thousands of other sites at:
BILL and SUE-ON HILLMAN ECLECTIC STUDIO
All ERB Images© and Tarzan® are Copyright ERB, Inc.- All Rights Reserved.
All Original Work © 1996-2002/2019 by Bill Hillman and/or Contributing Authors/Owners
No part of this web site may be reproduced without permission from the respective owners.

The Fantastic Worlds of Edgar Rice Burroughs
ERB Companion Sites Created by Bill Hillman
| | | | |
| --- | --- | --- | --- |
| Tarzan.com | ERBzine.com | DantonBurroughs.com | Tarzan.org |
| BurroughsBibliophiles.com | JohnColemanBurroughs.com | Tarzan.com/tarzine | JohnCarterOfMars.ca |
| www.erbzine.com/edgarriceburroughs | Weekly Webzine | Weekly Webzine | Pellucidar.org |
| John Carter Film | ERB, Inc. Corporate Site | ERB Centennial | tarzana.ca |